Enable WhatsApp Web for older iPhones running iOS 4, 5, 6, 7, 8, using a Jailbreak tweak
Enable WhatsApp Web for older iPhones running iOS 4, 5, 6, 7, 8, using a Jailbreak tweak
As you know, WhatsApp Web is now available natively for iPhones running iOS 8.1+. That's fine if your device iOS is up-to-date, but older iOS devices, such as iPhone 4 who can't update past iOS 7, are left out. This is where this guide comes in handy.
In this tutorial we'll show you how to add WhatsApp Web Enabler from Cydia, a tweak that will enable the WhatsApp Web feature for any jailbroken iOS device running iOS 4 to 8.x.
The WhatsApp Web Enabler tweak will simply enable the native WhatsApp web service in WhatsApp and will block the jailbreak check for the WhatsApp app only.
The step-by-step guide to enable WhatsApp Web on older iOS devices:
1. Make sure your device is jailbroken. Jailbreaks are available for iOS 6 (evasi0n), 7 (pangu, evasi0n), 8 (pangu, taig).
2. If your device is jailbroken, you'll have Cydia added to your Home Screen (Springboard). Open Cydia.
3. Go to Sources and make sure the BigBoss repository is added there. If not, follow the tutorial below, then continue with step 4.
4. On the bottom bar, tap Search and search for WhatsApp Web Enabler.
5. Once you've found it, tap Install, then Confirm on the next screen.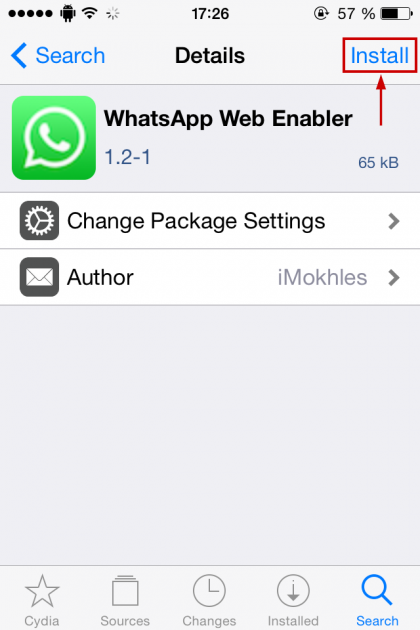 6. At the end of the procedure, you'll be prompted to Restart SpringBoard. Do so.
7. Once you're back on the Home Screen, you can open WhatsApp and go to the Settings tab. You'll find there the option to use WhatsApp Web, explained in detail in this tutorial.
You can watch the same tutorial in the video below.
How to add the BigBoss repo to Cydia:
Method 1
a. On the Cydia main screen, scroll to More Package Sources.
b. Under Default Sources you should see the BigBoss repo. Tap on it and then tap OK to add this repo as a source.
Method 2
If method A did not work, then you can do this:
a. On the bottom bar, go to Sources and tap Edit > Add.
b. Enter the BigBoss repo URL http://apt.thebigboss.org/repofiles/cydia/ and tap Add Source.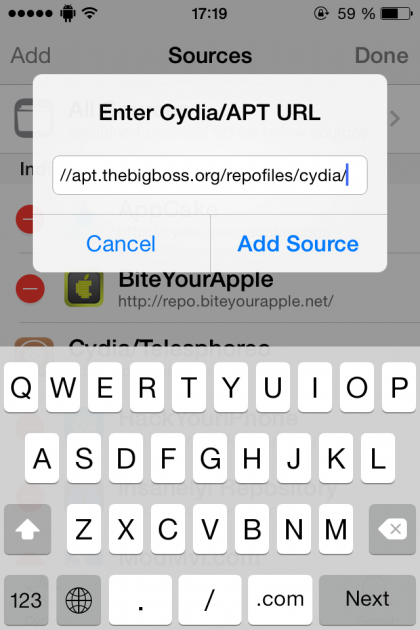 Done. Leave a comment with your suggestions or questions.
Stay Connected
Follow us to get the latest tech tutorials, news, and giveaways as soon as we post them.
Have a Tech Question or News Tip?