Antivirus report for VisualCron8.exe (138.51 MB)
Download3k has downloaded and tested version 8.2.5 of VisualCron on 14 Mar 2017 using only the best antivirus engines available Today. We have found it to be clean of any form of badware (viruses, spyware, adware, etc.). You can view the full scan logs below. We will test VisualCron again on the next version release so make sure you check back for updated reports in the near future.
Avast:

Clean

AVG:

Clean

Avira:

Clean

Kaspersky:

Clean

NOD32:

Clean
Detailed logs
click + to expand log
Avast
scan report: Clean
VisualCron8.exe|>[Embedded:pbwaterm.bmp] OK
VisualCron8.exe|>[Embedded:pbwelcEnglish.rtf] OK
VisualCron8.exe|>[Embedded:pbdlg.dat] OK
VisualCron8.exe|>[Embedded:pblng.dat] OK
VisualCron8.exe|>[Embedded:PBCore.dll] OK
VisualCron8.exe|>WebClient.7z|>App_Data\VCWeb.sdf OK
VisualCron8.exe|>WebClient.7z|>Content\bootstrap\config.json OK
VisualCron8.exe|>WebClient.7z|>Content\bootstrap\css\bootstrap-theme.css OK
VisualCron8.exe|>WebClient.7z|>Content\bootstrap\css\bootstrap-theme.min.css OK
VisualCron8.exe|>WebClient.7z|>Content\bootstrap\css\bootstrap.css OK
VisualCron8.exe|>WebClient.7z|>Content\bootstrap\css\bootstrap.min.css OK
VisualCron8.exe|>WebClient.7z|>Content\bootstrap\fonts\glyphicons-halflings-regular.eot|>[Embedded:EmbeddedOpenType.ttf] OK
VisualCron8.exe|>WebClient.7z|>Content\bootstrap\fonts\glyphicons-halflings-regular.eot OK
VisualCron8.exe|>WebClient.7z|>Content\bootstrap\fonts\glyphicons-halflings-regular.svg OK
VisualCron8.exe|>WebClient.7z|>Content\bootstrap\fonts\glyphicons-halflings-regular.ttf OK
VisualCron8.exe|>WebClient.7z|>Content\bootstrap\fonts\glyphicons-halflings-regular.woff OK
VisualCron8.exe|>WebClient.7z|>Content\bootstrap\fonts\glyphicons-halflings-regular.woff2 OK
VisualCron8.exe|>WebClient.7z|>Content\bootstrap\js\bootstrap.js OK
VisualCron8.exe|>WebClient.7z|>Content\bootstrap\js\bootstrap.min.js OK
VisualCron8.exe|>WebClient.7z|>Content\bootstrap\js\bootstrap.min.js.map OK
VisualCron8.exe|>WebClient.7z|>Content\codemirror\codemirror.css OK
VisualCron8.exe|>WebClient.7z|>Content\images\Active.gif OK
VisualCron8.exe|>WebClient.7z|>Content\images\Activity.gif OK
VisualCron8.exe|>WebClient.7z|>Content\images\ActivityActive.gif OK
VisualCron8.exe|>WebClient.7z|>Content\images\ActivityInactive.gif OK
VisualCron8.exe|>WebClient.7z|>Content\images\add.gif OK
VisualCron8.exe|>WebClient.7z|>Content\images\banner.png OK
VisualCron8.exe|>WebClient.7z|>Content\images\blueDots.gif OK
VisualCron8.exe|>WebClient.7z|>Content\images\ClientSettings.gif OK
VisualCron8.exe|>WebClient.7z|>Content\images\delete.gif OK
VisualCron8.exe|>WebClient.7z|>Content\images\edit.gif OK
VisualCron8.exe|>WebClient.7z|>Content\images\Empty.png OK
VisualCron8.exe|>WebClient.7z|>Content\images\icons\auditlog\AuditLog.png OK
VisualCron8.exe|>WebClient.7z|>Content\images\icons\auditlog\AuditVersions.png OK
VisualCron8.exe|>WebClient.7z|>Content\images\icons\auditlog\diff.png OK
VisualCron8.exe|>WebClient.7z|>Content\images\icons\auditlog\Revert.png OK
VisualCron8.exe|>WebClient.7z|>Content\images\icons\calendar32.gif OK
VisualCron8.exe|>WebClient.7z|>Content\images\icons\certificates.png OK
VisualCron8.exe|>WebClient.7z|>Content\images\icons\checkforupdates32.gif OK
VisualCron8.exe|>WebClient.7z|>Content\images\icons\ClientConnections.gif OK
VisualCron8.exe|>WebClient.7z|>Content\images\icons\conditions.gif OK
VisualCron8.exe|>WebClient.7z|>Content\images\icons\Connections.png OK
VisualCron8.exe|>WebClient.7z|>Content\images\icons\contactus.png OK
VisualCron8.exe|>WebClient.7z|>Content\images\icons\Credentials.gif OK
VisualCron8.exe|>WebClient.7z|>Content\images\icons\documentation.png OK
VisualCron8.exe|>WebClient.7z|>Content\images\icons\favico\128x32bit.png OK
VisualCron8.exe|>WebClient.7z|>Content\images\icons\favico\32x32bit.png OK
VisualCron8.exe|>WebClient.7z|>Content\images\icons\favico\48x32bit.png OK
VisualCron8.exe|>WebClient.7z|>Content\images\icons\favico\64x32bit.png OK
VisualCron8.exe|>WebClient.7z|>Content\images\icons\favico\V-blue.ico OK
VisualCron8.exe|>WebClient.7z|>Content\images\icons\forum.png OK
VisualCron8.exe|>WebClient.7z|>Content\images\icons\jobs.png OK
VisualCron8.exe|>WebClient.7z|>Content\images\icons\loading_async.gif OK
VisualCron8.exe|>WebClient.7z|>Content\images\icons\loading_async_big.gif OK
VisualCron8.exe|>WebClient.7z|>Content\images\icons\log.png OK
VisualCron8.exe|>WebClient.7z|>Content\images\icons\logo\VisualCronBlue.png OK
VisualCron8.exe|>WebClient.7z|>Content\images\icons\logo\VisualCronYellow.png OK
VisualCron8.exe|>WebClient.7z|>Content\images\icons\loop\loopend_blue.png OK
VisualCron8.exe|>WebClient.7z|>Content\images\icons\loop\loopend_green.png OK
VisualCron8.exe|>WebClient.7z|>Content\images\icons\loop\loopend_orange.png OK
VisualCron8.exe|>WebClient.7z|>Content\images\icons\loop\loopend_purple.png OK
VisualCron8.exe|>WebClient.7z|>Content\images\icons\loop\loopend_red.png OK
VisualCron8.exe|>WebClient.7z|>Content\images\icons\loop\loopend_yellow.png OK
VisualCron8.exe|>WebClient.7z|>Content\images\icons\loop\loopmiddle_blue.png OK
VisualCron8.exe|>WebClient.7z|>Content\images\icons\loop\loopmiddle_green.png OK
VisualCron8.exe|>WebClient.7z|>Content\images\icons\loop\loopmiddle_orange.png OK
VisualCron8.exe|>WebClient.7z|>Content\images\icons\loop\loopmiddle_purple.png OK
VisualCron8.exe|>WebClient.7z|>Content\images\icons\loop\loopmiddle_red.png OK
VisualCron8.exe|>WebClient.7z|>Content\images\icons\loop\loopmiddle_yellow.png OK
VisualCron8.exe|>WebClient.7z|>Content\images\icons\loop\loopself_blue.png OK
VisualCron8.exe|>WebClient.7z|>Content\images\icons\loop\loopself_green.png OK
VisualCron8.exe|>WebClient.7z|>Content\images\icons\loop\loopself_orange.png OK
VisualCron8.exe|>WebClient.7z|>Content\images\icons\loop\loopself_purple.png OK
VisualCron8.exe|>WebClient.7z|>Content\images\icons\loop\loopself_red.png OK
VisualCron8.exe|>WebClient.7z|>Content\images\icons\loop\loopself_yellow.png OK
VisualCron8.exe|>WebClient.7z|>Content\images\icons\loop\loopstart_blue.png OK
VisualCron8.exe|>WebClient.7z|>Content\images\icons\loop\loopstart_green.png OK
VisualCron8.exe|>WebClient.7z|>Content\images\icons\loop\loopstart_orange.png OK
VisualCron8.exe|>WebClient.7z|>Content\images\icons\loop\loopstart_purple.png OK
VisualCron8.exe|>WebClient.7z|>Content\images\icons\loop\loopstart_red.png OK
VisualCron8.exe|>WebClient.7z|>Content\images\icons\loop\loopstart_yellow.png OK
VisualCron8.exe|>WebClient.7z|>Content\images\icons\manageservers16.gif OK
VisualCron8.exe|>WebClient.7z|>Content\images\icons\manageservers32.gif OK
VisualCron8.exe|>WebClient.7z|>Content\images\icons\NetworkDrive.png OK
VisualCron8.exe|>WebClient.7z|>Content\images\icons\none.gif OK
VisualCron8.exe|>WebClient.7z|>Content\images\icons\Notifications.gif OK
VisualCron8.exe|>WebClient.7z|>Content\images\icons\PGPKeyRings.png OK
VisualCron8.exe|>WebClient.7z|>Content\images\icons\popupTask\error.png OK
VisualCron8.exe|>WebClient.7z|>Content\images\icons\popupTask\information.png OK
VisualCron8.exe|>WebClient.7z|>Content\images\icons\popupTask\question.png OK
VisualCron8.exe|>WebClient.7z|>Content\images\icons\popupTask\warning.png OK
VisualCron8.exe|>WebClient.7z|>Content\images\icons\selectcolumns.gif OK
VisualCron8.exe|>WebClient.7z|>Content\images\icons\serversettings.gif OK
VisualCron8.exe|>WebClient.7z|>Content\images\icons\system_off.png OK
VisualCron8.exe|>WebClient.7z|>Content\images\icons\system_on.png OK
VisualCron8.exe|>WebClient.7z|>Content\images\icons\timeexceptions.png OK
VisualCron8.exe|>WebClient.7z|>Content\images\icons\tutorials.png OK
VisualCron8.exe|>WebClient.7z|>Content\images\icons\userpermissions.gif OK
VisualCron8.exe|>WebClient.7z|>Content\images\icons\Variables.png OK
VisualCron8.exe|>WebClient.7z|>Content\images\icons\viewoutput.png OK
VisualCron8.exe|>WebClient.7z|>Content\images\Inactive.gif OK
VisualCron8.exe|>WebClient.7z|>Content\images\login-facebook.png OK
VisualCron8.exe|>WebClient.7z|>Content\images\login-google.png OK
VisualCron8.exe|>WebClient.7z|>Content\images\login-liveid.png OK
VisualCron8.exe|>WebClient.7z|>Content\images\login-yahoo.png OK
VisualCron8.exe|>WebClient.7z|>Content\images\manageservers16.gif OK
VisualCron8.exe|>WebClient.7z|>Content\images\none.gif OK
VisualCron8.exe|>WebClient.7z|>Content\images\openid-logos.png OK
VisualCron8.exe|>WebClient.7z|>Content\images\openid.gif OK
VisualCron8.exe|>WebClient.7z|>Content\images\rbPredefinedIcons.png OK
VisualCron8.exe|>WebClient.7z|>Content\images\result\res_.png OK
VisualCron8.exe|>WebClient.7z|>Content\images\result\res_failure.png OK
VisualCron8.exe|>WebClient.7z|>Content\images\result\res_running.png OK
VisualCron8.exe|>WebClient.7z|>Content\images\result\res_success.png OK
VisualCron8.exe|>WebClient.7z|>Content\images\runjob.gif OK
VisualCron8.exe|>WebClient.7z|>Content\images\ServerConnectedfalse.png OK
VisualCron8.exe|>WebClient.7z|>Content\images\ServerConnectedtrue.png OK
VisualCron8.exe|>WebClient.7z|>Content\images\stopjob.gif OK
VisualCron8.exe|>WebClient.7z|>Content\images\visualcron.ico OK
VisualCron8.exe|>WebClient.7z|>Content\images\visualcron.png OK
VisualCron8.exe|>WebClient.7z|>Content\kendo\2015.1.408\Black\editor.png OK
VisualCron8.exe|>WebClient.7z|>Content\kendo\2015.1.408\Black\imagebrowser.png OK
VisualCron8.exe|>WebClient.7z|>Content\kendo\2015.1.408\Black\indeterminate.gif OK
VisualCron8.exe|>WebClient.7z|>Content\kendo\2015.1.408\Black\loading-image.gif OK
VisualCron8.exe|>WebClient.7z|>Content\kendo\2015.1.408\Black\loading.gif OK
VisualCron8.exe|>WebClient.7z|>Content\kendo\2015.1.408\Black\loading_2x.gif OK
VisualCron8.exe|>WebClient.7z|>Content\kendo\2015.1.408\Black\markers.png OK
VisualCron8.exe|>WebClient.7z|>Content\kendo\2015.1.408\Black\markers_2x.png OK
VisualCron8.exe|>WebClient.7z|>Content\kendo\2015.1.408\Black\slider-h.gif OK
VisualCron8.exe|>WebClient.7z|>Content\kendo\2015.1.408\Black\slider-v.gif OK
VisualCron8.exe|>WebClient.7z|>Content\kendo\2015.1.408\Black\sprite.png OK
VisualCron8.exe|>WebClient.7z|>Content\kendo\2015.1.408\Black\sprite_2x.png OK
VisualCron8.exe|>WebClient.7z|>Content\kendo\2015.1.408\Black\sprite_kpi.png OK
VisualCron8.exe|>WebClient.7z|>Content\kendo\2015.1.408\Black\sprite_kpi_2x.png OK
VisualCron8.exe|>WebClient.7z|>Content\kendo\2015.1.408\BlueOpal\editor.png OK
VisualCron8.exe|>WebClient.7z|>Content\kendo\2015.1.408\BlueOpal\imagebrowser.png OK
VisualCron8.exe|>WebClient.7z|>Content\kendo\2015.1.408\BlueOpal\indeterminate.gif OK
VisualCron8.exe|>WebClient.7z|>Content\kendo\2015.1.408\BlueOpal\loading-image.gif OK
VisualCron8.exe|>WebClient.7z|>Content\kendo\2015.1.408\BlueOpal\loading.gif OK
VisualCron8.exe|>WebClient.7z|>Content\kendo\2015.1.408\BlueOpal\loading_2x.gif OK
VisualCron8.exe|>WebClient.7z|>Content\kendo\2015.1.408\BlueOpal\markers.png OK
VisualCron8.exe|>WebClient.7z|>Content\kendo\2015.1.408\BlueOpal\markers_2x.png OK
VisualCron8.exe|>WebClient.7z|>Content\kendo\2015.1.408\BlueOpal\slider-h.gif OK
VisualCron8.exe|>WebClient.7z|>Content\kendo\2015.1.408\BlueOpal\slider-v.gif OK
VisualCron8.exe|>WebClient.7z|>Content\kendo\2015.1.408\BlueOpal\sprite.png OK
VisualCron8.exe|>WebClient.7z|>Content\kendo\2015.1.408\BlueOpal\sprite_2x.png OK
VisualCron8.exe|>WebClient.7z|>Content\kendo\2015.1.408\BlueOpal\sprite_kpi.png OK
VisualCron8.exe|>WebClient.7z|>Content\kendo\2015.1.408\BlueOpal\sprite_kpi_2x.png OK
VisualCron8.exe|>WebClient.7z|>Content\kendo\2015.1.408\Bootstrap\editor.png OK
VisualCron8.exe|>WebClient.7z|>Content\kendo\2015.1.408\Bootstrap\imagebrowser.png OK
VisualCron8.exe|>WebClient.7z|>Content\kendo\2015.1.408\Bootstrap\indeterminate.gif OK
VisualCron8.exe|>WebClient.7z|>Content\kendo\2015.1.408\Bootstrap\loading-image.gif OK
VisualCron8.exe|>WebClient.7z|>Content\kendo\2015.1.408\Bootstrap\loading.gif OK
VisualCron8.exe|>WebClient.7z|>Content\kendo\2015.1.408\Bootstrap\loading_2x.gif OK
VisualCron8.exe|>WebClient.7z|>Content\kendo\2015.1.408\Bootstrap\markers.png OK
VisualCron8.exe|>WebClient.7z|>Content\kendo\2015.1.408\Bootstrap\markers_2x.png OK
VisualCron8.exe|>WebClient.7z|>Content\kendo\2015.1.408\Bootstrap\slider-h.gif OK
VisualCron8.exe|>WebClient.7z|>Content\kendo\2015.1.408\Bootstrap\slider-v.gif OK
VisualCron8.exe|>WebClient.7z|>Content\kendo\2015.1.408\Bootstrap\sprite.png OK
VisualCron8.exe|>WebClient.7z|>Content\kendo\2015.1.408\Bootstrap\sprite_2x.png OK
VisualCron8.exe|>WebClient.7z|>Content\kendo\2015.1.408\Bootstrap\sprite_kpi.png OK
VisualCron8.exe|>WebClient.7z|>Content\kendo\2015.1.408\Bootstrap\sprite_kpi_2x.png OK
VisualCron8.exe|>WebClient.7z|>Content\kendo\2015.1.408\Default\editor.png OK
VisualCron8.exe|>WebClient.7z|>Content\kendo\2015.1.408\Default\imagebrowser.png OK
VisualCron8.exe|>WebClient.7z|>Content\kendo\2015.1.408\Default\indeterminate.gif OK
VisualCron8.exe|>WebClient.7z|>Content\kendo\2015.1.408\Default\loading-image.gif OK
VisualCron8.exe|>WebClient.7z|>Content\kendo\2015.1.408\Default\loading.gif OK
VisualCron8.exe|>WebClient.7z|>Content\kendo\2015.1.408\Default\loading_2x.gif OK
VisualCron8.exe|>WebClient.7z|>Content\kendo\2015.1.408\Default\markers.png OK
VisualCron8.exe|>WebClient.7z|>Content\kendo\2015.1.408\Default\markers_2x.png OK
VisualCron8.exe|>WebClient.7z|>Content\kendo\2015.1.408\Default\slider-h.gif OK
VisualCron8.exe|>WebClient.7z|>Content\kendo\2015.1.408\Default\slider-v.gif OK
VisualCron8.exe|>WebClient.7z|>Content\kendo\2015.1.408\Default\sprite.png OK
VisualCron8.exe|>WebClient.7z|>Content\kendo\2015.1.408\Default\sprite_2x.png OK
VisualCron8.exe|>WebClient.7z|>Content\kendo\2015.1.408\Default\sprite_kpi.png OK
VisualCron8.exe|>WebClient.7z|>Content\kendo\2015.1.408\Default\sprite_kpi_2x.png OK
VisualCron8.exe|>WebClient.7z|>Content\kendo\2015.1.408\Fiori\editor.png OK
VisualCron8.exe|>WebClient.7z|>Content\kendo\2015.1.408\Fiori\imagebrowser.png OK
VisualCron8.exe|>WebClient.7z|>Content\kendo\2015.1.408\Fiori\indeterminate.gif OK
VisualCron8.exe|>WebClient.7z|>Content\kendo\2015.1.408\Fiori\loading-image.gif OK
VisualCron8.exe|>WebClient.7z|>Content\kendo\2015.1.408\Fiori\loading.gif OK
VisualCron8.exe|>WebClient.7z|>Content\kendo\2015.1.408\Fiori\loading_2x.gif OK
VisualCron8.exe|>WebClient.7z|>Content\kendo\2015.1.408\Fiori\markers.png OK
VisualCron8.exe|>WebClient.7z|>Content\kendo\2015.1.408\Fiori\markers_2x.png OK
VisualCron8.exe|>WebClient.7z|>Content\kendo\2015.1.408\Fiori\slider-h.gif OK
VisualCron8.exe|>WebClient.7z|>Content\kendo\2015.1.408\Fiori\slider-v.gif OK
VisualCron8.exe|>WebClient.7z|>Content\kendo\2015.1.408\Fiori\sprite.png OK
VisualCron8.exe|>WebClient.7z|>Content\kendo\2015.1.408\Fiori\sprite_2x.png OK
VisualCron8.exe|>WebClient.7z|>Content\kendo\2015.1.408\Fiori\sprite_kpi.png OK
VisualCron8.exe|>WebClient.7z|>Content\kendo\2015.1.408\Fiori\sprite_kpi_2x.png OK
VisualCron8.exe|>WebClient.7z|>Content\kendo\2015.1.408\Flat\editor.png OK
VisualCron8.exe|>WebClient.7z|>Content\kendo\2015.1.408\Flat\imagebrowser.png OK
VisualCron8.exe|>WebClient.7z|>Content\kendo\2015.1.408\Flat\indeterminate.gif OK
VisualCron8.exe|>WebClient.7z|>Content\kendo\2015.1.408\Flat\loading-image.gif OK
VisualCron8.exe|>WebClient.7z|>Content\kendo\2015.1.408\Flat\loading.gif OK
VisualCron8.exe|>WebClient.7z|>Content\kendo\2015.1.408\Flat\loading_2x.gif OK
VisualCron8.exe|>WebClient.7z|>Content\kendo\2015.1.408\Flat\markers.png OK
VisualCron8.exe|>WebClient.7z|>Content\kendo\2015.1.408\Flat\markers_2x.png OK
VisualCron8.exe|>WebClient.7z|>Content\kendo\2015.1.408\Flat\slider-h.gif OK
VisualCron8.exe|>WebClient.7z|>Content\kendo\2015.1.408\Flat\slider-v.gif OK
VisualCron8.exe|>WebClient.7z|>Content\kendo\2015.1.408\Flat\sprite.png OK
VisualCron8.exe|>WebClient.7z|>Content\kendo\2015.1.408\Flat\sprite_2x.png OK
VisualCron8.exe|>WebClient.7z|>Content\kendo\2015.1.408\Flat\sprite_kpi.png OK
VisualCron8.exe|>WebClient.7z|>Content\kendo\2015.1.408\Flat\sprite_kpi_2x.png OK
VisualCron8.exe|>WebClient.7z|>Content\kendo\2015.1.408\fonts\DejaVu\DejaVuSans-Bold.ttf OK
VisualCron8.exe|>WebClient.7z|>Content\kendo\2015.1.408\fonts\DejaVu\DejaVuSans-BoldOblique.ttf OK
VisualCron8.exe|>WebClient.7z|>Content\kendo\2015.1.408\fonts\DejaVu\DejaVuSans-Oblique.ttf OK
VisualCron8.exe|>WebClient.7z|>Content\kendo\2015.1.408\fonts\DejaVu\DejaVuSans.ttf OK
VisualCron8.exe|>WebClient.7z|>Content\kendo\2015.1.408\fonts\DejaVu\DejaVuSansMono-Bold.ttf OK
VisualCron8.exe|>WebClient.7z|>Content\kendo\2015.1.408\fonts\DejaVu\DejaVuSansMono-BoldOblique.ttf OK
VisualCron8.exe|>WebClient.7z|>Content\kendo\2015.1.408\fonts\DejaVu\DejaVuSansMono-Oblique.ttf OK
VisualCron8.exe|>WebClient.7z|>Content\kendo\2015.1.408\fonts\DejaVu\DejaVuSansMono.ttf OK
VisualCron8.exe|>WebClient.7z|>Content\kendo\2015.1.408\fonts\DejaVu\DejaVuSerif-Bold.ttf OK
VisualCron8.exe|>WebClient.7z|>Content\kendo\2015.1.408\fonts\DejaVu\DejaVuSerif-BoldItalic.ttf OK
VisualCron8.exe|>WebClient.7z|>Content\kendo\2015.1.408\fonts\DejaVu\DejaVuSerif-Italic.ttf OK
VisualCron8.exe|>WebClient.7z|>Content\kendo\2015.1.408\fonts\DejaVu\DejaVuSerif.ttf OK
VisualCron8.exe|>WebClient.7z|>Content\kendo\2015.1.408\fonts\DejaVu\LICENSE.txt OK
VisualCron8.exe|>WebClient.7z|>Content\kendo\2015.1.408\fonts\WebComponentsIcons.ttf OK
VisualCron8.exe|>WebClient.7z|>Content\kendo\2015.1.408\HighContrast\editor.png OK
VisualCron8.exe|>WebClient.7z|>Content\kendo\2015.1.408\HighContrast\imagebrowser.png OK
VisualCron8.exe|>WebClient.7z|>Content\kendo\2015.1.408\HighContrast\indeterminate.gif OK
VisualCron8.exe|>WebClient.7z|>Content\kendo\2015.1.408\HighContrast\loading-image.gif OK
VisualCron8.exe|>WebClient.7z|>Content\kendo\2015.1.408\HighContrast\loading.gif OK
VisualCron8.exe|>WebClient.7z|>Content\kendo\2015.1.408\HighContrast\loading_2x.gif OK
VisualCron8.exe|>WebClient.7z|>Content\kendo\2015.1.408\HighContrast\markers.png OK
VisualCron8.exe|>WebClient.7z|>Content\kendo\2015.1.408\HighContrast\markers_2x.png OK
VisualCron8.exe|>WebClient.7z|>Content\kendo\2015.1.408\HighContrast\slider-h.gif OK
VisualCron8.exe|>WebClient.7z|>Content\kendo\2015.1.408\HighContrast\slider-v.gif OK
VisualCron8.exe|>WebClient.7z|>Content\kendo\2015.1.408\HighContrast\sprite.png OK
VisualCron8.exe|>WebClient.7z|>Content\kendo\2015.1.408\HighContrast\sprite_2x.png OK
VisualCron8.exe|>WebClient.7z|>Content\kendo\2015.1.408\HighContrast\sprite_kpi.png OK
VisualCron8.exe|>WebClient.7z|>Content\kendo\2015.1.408\HighContrast\sprite_kpi_2x.png OK
VisualCron8.exe|>WebClient.7z|>Content\kendo\2015.1.408\images\back.png OK
VisualCron8.exe|>WebClient.7z|>Content\kendo\2015.1.408\images\kendoui.svg OK
VisualCron8.exe|>WebClient.7z|>Content\kendo\2015.1.408\images\kendoui.ttf OK
VisualCron8.exe|>WebClient.7z|>Content\kendo\2015.1.408\images\kendoui.woff OK
VisualCron8.exe|>WebClient.7z|>Content\kendo\2015.1.408\images\wp8_icons.png OK
VisualCron8.exe|>WebClient.7z|>Content\kendo\2015.1.408\images\wp8_inverseicons.png OK
VisualCron8.exe|>WebClient.7z|>Content\kendo\2015.1.408\kendo.black.min.css OK
VisualCron8.exe|>WebClient.7z|>Content\kendo\2015.1.408\kendo.black.mobile.min.css OK
VisualCron8.exe|>WebClient.7z|>Content\kendo\2015.1.408\kendo.blueopal.min.css OK
VisualCron8.exe|>WebClient.7z|>Content\kendo\2015.1.408\kendo.blueopal.mobile.min.css OK
VisualCron8.exe|>WebClient.7z|>Content\kendo\2015.1.408\kendo.bootstrap.min.css OK
VisualCron8.exe|>WebClient.7z|>Content\kendo\2015.1.408\kendo.bootstrap.mobile.min.css OK
VisualCron8.exe|>WebClient.7z|>Content\kendo\2015.1.408\kendo.common-bootstrap.core.min.css OK
VisualCron8.exe|>WebClient.7z|>Content\kendo\2015.1.408\kendo.common-bootstrap.min.css OK
VisualCron8.exe|>WebClient.7z|>Content\kendo\2015.1.408\kendo.common-fiori.core.min.css OK
VisualCron8.exe|>WebClient.7z|>Content\kendo\2015.1.408\kendo.common-fiori.min.css OK
VisualCron8.exe|>WebClient.7z|>Content\kendo\2015.1.408\kendo.common-material.core.min.css OK
VisualCron8.exe|>WebClient.7z|>Content\kendo\2015.1.408\kendo.common-material.min.css OK
VisualCron8.exe|>WebClient.7z|>Content\kendo\2015.1.408\kendo.common.core.min.css OK
VisualCron8.exe|>WebClient.7z|>Content\kendo\2015.1.408\kendo.common.min.css OK
VisualCron8.exe|>WebClient.7z|>Content\kendo\2015.1.408\kendo.dataviz.black.min.css OK
VisualCron8.exe|>WebClient.7z|>Content\kendo\2015.1.408\kendo.dataviz.blueopal.min.css OK
VisualCron8.exe|>WebClient.7z|>Content\kendo\2015.1.408\kendo.dataviz.bootstrap.min.css OK
VisualCron8.exe|>WebClient.7z|>Content\kendo\2015.1.408\kendo.dataviz.default.min.css OK
VisualCron8.exe|>WebClient.7z|>Content\kendo\2015.1.408\kendo.dataviz.fiori.min.css OK
VisualCron8.exe|>WebClient.7z|>Content\kendo\2015.1.408\kendo.dataviz.flat.min.css OK
VisualCron8.exe|>WebClient.7z|>Content\kendo\2015.1.408\kendo.dataviz.highcontrast.min.css OK
VisualCron8.exe|>WebClient.7z|>Content\kendo\2015.1.408\kendo.dataviz.material.min.css OK
VisualCron8.exe|>WebClient.7z|>Content\kendo\2015.1.408\kendo.dataviz.materialblack.min.css OK
VisualCron8.exe|>WebClient.7z|>Content\kendo\2015.1.408\kendo.dataviz.metro.min.css OK
VisualCron8.exe|>WebClient.7z|>Content\kendo\2015.1.408\kendo.dataviz.metroblack.min.css OK
VisualCron8.exe|>WebClient.7z|>Content\kendo\2015.1.408\kendo.dataviz.min.css OK
VisualCron8.exe|>WebClient.7z|>Content\kendo\2015.1.408\kendo.dataviz.mobile.min.css OK
VisualCron8.exe|>WebClient.7z|>Content\kendo\2015.1.408\kendo.dataviz.moonlight.min.css OK
VisualCron8.exe|>WebClient.7z|>Content\kendo\2015.1.408\kendo.dataviz.silver.min.css OK
VisualCron8.exe|>WebClient.7z|>Content\kendo\2015.1.408\kendo.dataviz.uniform.min.css OK
VisualCron8.exe|>WebClient.7z|>Content\kendo\2015.1.408\kendo.default.min.css OK
VisualCron8.exe|>WebClient.7z|>Content\kendo\2015.1.408\kendo.default.mobile.min.css OK
VisualCron8.exe|>WebClient.7z|>Content\kendo\2015.1.408\kendo.fiori.min.css OK
VisualCron8.exe|>WebClient.7z|>Content\kendo\2015.1.408\kendo.fiori.mobile.min.css OK
VisualCron8.exe|>WebClient.7z|>Content\kendo\2015.1.408\kendo.flat.min.css OK
VisualCron8.exe|>WebClient.7z|>Content\kendo\2015.1.408\kendo.flat.mobile.min.css OK
VisualCron8.exe|>WebClient.7z|>Content\kendo\2015.1.408\kendo.highcontrast.min.css OK
VisualCron8.exe|>WebClient.7z|>Content\kendo\2015.1.408\kendo.highcontrast.mobile.min.css OK
VisualCron8.exe|>WebClient.7z|>Content\kendo\2015.1.408\kendo.material.min.css OK
VisualCron8.exe|>WebClient.7z|>Content\kendo\2015.1.408\kendo.material.mobile.min.css OK
VisualCron8.exe|>WebClient.7z|>Content\kendo\2015.1.408\kendo.materialblack.min.css OK
VisualCron8.exe|>WebClient.7z|>Content\kendo\2015.1.408\kendo.materialblack.mobile.min.css OK
VisualCron8.exe|>WebClient.7z|>Content\kendo\2015.1.408\kendo.metro.min.css OK
VisualCron8.exe|>WebClient.7z|>Content\kendo\2015.1.408\kendo.metro.mobile.min.css OK
VisualCron8.exe|>WebClient.7z|>Content\kendo\2015.1.408\kendo.metroblack.min.css OK
VisualCron8.exe|>WebClient.7z|>Content\kendo\2015.1.408\kendo.metroblack.mobile.min.css OK
VisualCron8.exe|>WebClient.7z|>Content\kendo\2015.1.408\kendo.mobile.all.min.css OK
VisualCron8.exe|>WebClient.7z|>Content\kendo\2015.1.408\kendo.mobile.android.dark.min.css OK
VisualCron8.exe|>WebClient.7z|>Content\kendo\2015.1.408\kendo.mobile.android.light.min.css OK
VisualCron8.exe|>WebClient.7z|>Content\kendo\2015.1.408\kendo.mobile.blackberry.min.css OK
VisualCron8.exe|>WebClient.7z|>Content\kendo\2015.1.408\kendo.mobile.common.min.css OK
VisualCron8.exe|>WebClient.7z|>Content\kendo\2015.1.408\kendo.mobile.fiori.min.css OK
VisualCron8.exe|>WebClient.7z|>Content\kendo\2015.1.408\kendo.mobile.flat.min.css OK
VisualCron8.exe|>WebClient.7z|>Content\kendo\2015.1.408\kendo.mobile.ios.min.css OK
VisualCron8.exe|>WebClient.7z|>Content\kendo\2015.1.408\kendo.mobile.material.min.css OK
VisualCron8.exe|>WebClient.7z|>Content\kendo\2015.1.408\kendo.mobile.meego.min.css OK
VisualCron8.exe|>WebClient.7z|>Content\kendo\2015.1.408\kendo.mobile.wp8.min.css OK
VisualCron8.exe|>WebClient.7z|>Content\kendo\2015.1.408\kendo.moonlight.min.css OK
VisualCron8.exe|>WebClient.7z|>Content\kendo\2015.1.408\kendo.moonlight.mobile.min.css OK
VisualCron8.exe|>WebClient.7z|>Content\kendo\2015.1.408\kendo.rtl.css OK
VisualCron8.exe|>WebClient.7z|>Content\kendo\2015.1.408\kendo.rtl.min.css OK
VisualCron8.exe|>WebClient.7z|>Content\kendo\2015.1.408\kendo.silver.min.css OK
VisualCron8.exe|>WebClient.7z|>Content\kendo\2015.1.408\kendo.silver.mobile.min.css OK
VisualCron8.exe|>WebClient.7z|>Content\kendo\2015.1.408\kendo.uniform.min.css OK
VisualCron8.exe|>WebClient.7z|>Content\kendo\2015.1.408\kendo.uniform.mobile.min.css OK
VisualCron8.exe|>WebClient.7z|>Content\kendo\2015.1.408\Material\editor.png OK
VisualCron8.exe|>WebClient.7z|>Content\kendo\2015.1.408\Material\imagebrowser.png OK
VisualCron8.exe|>WebClient.7z|>Content\kendo\2015.1.408\Material\indeterminate.gif OK
VisualCron8.exe|>WebClient.7z|>Content\kendo\2015.1.408\Material\loading-image.gif OK
VisualCron8.exe|>WebClient.7z|>Content\kendo\2015.1.408\Material\loading.gif OK
VisualCron8.exe|>WebClient.7z|>Content\kendo\2015.1.408\Material\loading_2x.gif OK
VisualCron8.exe|>WebClient.7z|>Content\kendo\2015.1.408\Material\slider-h.gif OK
VisualCron8.exe|>WebClient.7z|>Content\kendo\2015.1.408\Material\slider-v.gif OK
VisualCron8.exe|>WebClient.7z|>Content\kendo\2015.1.408\Material\sprite.png OK
VisualCron8.exe|>WebClient.7z|>Content\kendo\2015.1.408\Material\sprite_2x.png OK
VisualCron8.exe|>WebClient.7z|>Content\kendo\2015.1.408\Material\sprite_kpi.png OK
VisualCron8.exe|>WebClient.7z|>Content\kendo\2015.1.408\Material\sprite_kpi_2x.png OK
VisualCron8.exe|>WebClient.7z|>Content\kendo\2015.1.408\MaterialBlack\editor.png OK
VisualCron8.exe|>WebClient.7z|>Content\kendo\2015.1.408\MaterialBlack\imagebrowser.png OK
VisualCron8.exe|>WebClient.7z|>Content\kendo\2015.1.408\MaterialBlack\indeterminate.gif OK
VisualCron8.exe|>WebClient.7z|>Content\kendo\2015.1.408\MaterialBlack\loading-image.gif OK
VisualCron8.exe|>WebClient.7z|>Content\kendo\2015.1.408\MaterialBlack\loading.gif OK
VisualCron8.exe|>WebClient.7z|>Content\kendo\2015.1.408\MaterialBlack\loading_2x.gif OK
VisualCron8.exe|>WebClient.7z|>Content\kendo\2015.1.408\MaterialBlack\slider-h.gif OK
VisualCron8.exe|>WebClient.7z|>Content\kendo\2015.1.408\MaterialBlack\slider-v.gif OK
VisualCron8.exe|>WebClient.7z|>Content\kendo\2015.1.408\MaterialBlack\sprite.png OK
VisualCron8.exe|>WebClient.7z|>Content\kendo\2015.1.408\MaterialBlack\sprite_2x.png OK
VisualCron8.exe|>WebClient.7z|>Content\kendo\2015.1.408\MaterialBlack\sprite_kpi.png OK
VisualCron8.exe|>WebClient.7z|>Content\kendo\2015.1.408\MaterialBlack\sprite_kpi_2x.png OK
VisualCron8.exe|>WebClient.7z|>Content\kendo\2015.1.408\Metro\editor.png OK
VisualCron8.exe|>WebClient.7z|>Content\kendo\2015.1.408\Metro\imagebrowser.png OK
VisualCron8.exe|>WebClient.7z|>Content\kendo\2015.1.408\Metro\indeterminate.gif OK
VisualCron8.exe|>WebClient.7z|>Content\kendo\2015.1.408\Metro\loading-image.gif OK
VisualCron8.exe|>WebClient.7z|>Content\kendo\2015.1.408\Metro\loading.gif OK
VisualCron8.exe|>WebClient.7z|>Content\kendo\2015.1.408\Metro\loading_2x.gif OK
VisualCron8.exe|>WebClient.7z|>Content\kendo\2015.1.408\Metro\markers.png OK
VisualCron8.exe|>WebClient.7z|>Content\kendo\2015.1.408\Metro\markers_2x.png OK
VisualCron8.exe|>WebClient.7z|>Content\kendo\2015.1.408\Metro\slider-h.gif OK
VisualCron8.exe|>WebClient.7z|>Content\kendo\2015.1.408\Metro\slider-v.gif OK
VisualCron8.exe|>WebClient.7z|>Content\kendo\2015.1.408\Metro\sprite.png OK
VisualCron8.exe|>WebClient.7z|>Content\kendo\2015.1.408\Metro\sprite_2x.png OK
VisualCron8.exe|>WebClient.7z|>Content\kendo\2015.1.408\Metro\sprite_kpi.png OK
VisualCron8.exe|>WebClient.7z|>Content\kendo\2015.1.408\Metro\sprite_kpi_2x.png OK
VisualCron8.exe|>WebClient.7z|>Content\kendo\2015.1.408\MetroBlack\editor.png OK
VisualCron8.exe|>WebClient.7z|>Content\kendo\2015.1.408\MetroBlack\imagebrowser.png OK
VisualCron8.exe|>WebClient.7z|>Content\kendo\2015.1.408\MetroBlack\indeterminate.gif OK
VisualCron8.exe|>WebClient.7z|>Content\kendo\2015.1.408\MetroBlack\loading-image.gif OK
VisualCron8.exe|>WebClient.7z|>Content\kendo\2015.1.408\MetroBlack\loading.gif OK
VisualCron8.exe|>WebClient.7z|>Content\kendo\2015.1.408\MetroBlack\loading_2x.gif OK
VisualCron8.exe|>WebClient.7z|>Content\kendo\2015.1.408\MetroBlack\markers.png OK
VisualCron8.exe|>WebClient.7z|>Content\kendo\2015.1.408\MetroBlack\markers_2x.png OK
VisualCron8.exe|>WebClient.7z|>Content\kendo\2015.1.408\MetroBlack\slider-h.gif OK
VisualCron8.exe|>WebClient.7z|>Content\kendo\2015.1.408\MetroBlack\slider-v.gif OK
VisualCron8.exe|>WebClient.7z|>Content\kendo\2015.1.408\MetroBlack\sprite.png OK
VisualCron8.exe|>WebClient.7z|>Content\kendo\2015.1.408\MetroBlack\sprite_2x.png OK
VisualCron8.exe|>WebClient.7z|>Content\kendo\2015.1.408\MetroBlack\sprite_kpi.png OK
VisualCron8.exe|>WebClient.7z|>Content\kendo\2015.1.408\MetroBlack\sprite_kpi_2x.png OK
VisualCron8.exe|>WebClient.7z|>Content\kendo\2015.1.408\Moonlight\editor.png OK
VisualCron8.exe|>WebClient.7z|>Content\kendo\2015.1.408\Moonlight\imagebrowser.png OK
VisualCron8.exe|>WebClient.7z|>Content\kendo\2015.1.408\Moonlight\indeterminate.gif OK
VisualCron8.exe|>WebClient.7z|>Content\kendo\2015.1.408\Moonlight\loading-image.gif OK
VisualCron8.exe|>WebClient.7z|>Content\kendo\2015.1.408\Moonlight\loading.gif OK
VisualCron8.exe|>WebClient.7z|>Content\kendo\2015.1.408\Moonlight\loading_2x.gif OK
VisualCron8.exe|>WebClient.7z|>Content\kendo\2015.1.408\Moonlight\markers.png OK
VisualCron8.exe|>WebClient.7z|>Content\kendo\2015.1.408\Moonlight\markers_2x.png OK
VisualCron8.exe|>WebClient.7z|>Content\kendo\2015.1.408\Moonlight\slider-h.gif OK
VisualCron8.exe|>WebClient.7z|>Content\kendo\2015.1.408\Moonlight\slider-v.gif OK
VisualCron8.exe|>WebClient.7z|>Content\kendo\2015.1.408\Moonlight\sprite.png OK
VisualCron8.exe|>WebClient.7z|>Content\kendo\2015.1.408\Moonlight\sprite_2x.png OK
VisualCron8.exe|>WebClient.7z|>Content\kendo\2015.1.408\Moonlight\sprite_kpi.png OK
VisualCron8.exe|>WebClient.7z|>Content\kendo\2015.1.408\Moonlight\sprite_kpi_2x.png OK
VisualCron8.exe|>WebClient.7z|>Content\kendo\2015.1.408\Silver\editor.png OK
VisualCron8.exe|>WebClient.7z|>Content\kendo\2015.1.408\Silver\imagebrowser.png OK
VisualCron8.exe|>WebClient.7z|>Content\kendo\2015.1.408\Silver\indeterminate.gif OK
VisualCron8.exe|>WebClient.7z|>Content\kendo\2015.1.408\Silver\loading-image.gif OK
VisualCron8.exe|>WebClient.7z|>Content\kendo\2015.1.408\Silver\loading.gif OK
VisualCron8.exe|>WebClient.7z|>Content\kendo\2015.1.408\Silver\loading_2x.gif OK
VisualCron8.exe|>WebClient.7z|>Content\kendo\2015.1.408\Silver\markers.png OK
VisualCron8.exe|>WebClient.7z|>Content\kendo\2015.1.408\Silver\markers_2x.png OK
VisualCron8.exe|>WebClient.7z|>Content\kendo\2015.1.408\Silver\slider-h.gif OK
VisualCron8.exe|>WebClient.7z|>Content\kendo\2015.1.408\Silver\slider-v.gif OK
VisualCron8.exe|>WebClient.7z|>Content\kendo\2015.1.408\Silver\sprite.png OK
VisualCron8.exe|>WebClient.7z|>Content\kendo\2015.1.408\Silver\sprite_2x.png OK
VisualCron8.exe|>WebClient.7z|>Content\kendo\2015.1.408\Silver\sprite_kpi.png OK
VisualCron8.exe|>WebClient.7z|>Content\kendo\2015.1.408\Silver\sprite_kpi_2x.png OK
VisualCron8.exe|>WebClient.7z|>Content\kendo\2015.1.408\textures\brushed-metal.png OK
VisualCron8.exe|>WebClient.7z|>Content\kendo\2015.1.408\textures\dots1.png OK
VisualCron8.exe|>WebClient.7z|>Content\kendo\2015.1.408\textures\dots10.png OK
VisualCron8.exe|>WebClient.7z|>Content\kendo\2015.1.408\textures\dots11.png OK
VisualCron8.exe|>WebClient.7z|>Content\kendo\2015.1.408\textures\dots12.png OK
VisualCron8.exe|>WebClient.7z|>Content\kendo\2015.1.408\textures\dots13.png OK
VisualCron8.exe|>WebClient.7z|>Content\kendo\2015.1.408\textures\dots2.png OK
VisualCron8.exe|>WebClient.7z|>Content\kendo\2015.1.408\textures\dots3.png OK
VisualCron8.exe|>WebClient.7z|>Content\kendo\2015.1.408\textures\dots4.png OK
VisualCron8.exe|>WebClient.7z|>Content\kendo\2015.1.408\textures\dots5.png OK
VisualCron8.exe|>WebClient.7z|>Content\kendo\2015.1.408\textures\dots6.png OK
VisualCron8.exe|>WebClient.7z|>Content\kendo\2015.1.408\textures\dots7.png OK
VisualCron8.exe|>WebClient.7z|>Content\kendo\2015.1.408\textures\dots8.png OK
VisualCron8.exe|>WebClient.7z|>Content\kendo\2015.1.408\textures\dots9.png OK
VisualCron8.exe|>WebClient.7z|>Content\kendo\2015.1.408\textures\glass-lighter.png OK
VisualCron8.exe|>WebClient.7z|>Content\kendo\2015.1.408\textures\glass.png OK
VisualCron8.exe|>WebClient.7z|>Content\kendo\2015.1.408\textures\highlight.png OK
VisualCron8.exe|>WebClient.7z|>Content\kendo\2015.1.408\textures\hsv-gradient.png OK
VisualCron8.exe|>WebClient.7z|>Content\kendo\2015.1.408\textures\hue.png OK
VisualCron8.exe|>WebClient.7z|>Content\kendo\2015.1.408\textures\leather1.png OK
VisualCron8.exe|>WebClient.7z|>Content\kendo\2015.1.408\textures\leather2.png OK
VisualCron8.exe|>WebClient.7z|>Content\kendo\2015.1.408\textures\noise.png OK
VisualCron8.exe|>WebClient.7z|>Content\kendo\2015.1.408\textures\stripe1.png OK
VisualCron8.exe|>WebClient.7z|>Content\kendo\2015.1.408\textures\stripe2.png OK
VisualCron8.exe|>WebClient.7z|>Content\kendo\2015.1.408\textures\stripe3.png OK
VisualCron8.exe|>WebClient.7z|>Content\kendo\2015.1.408\textures\stripe4.png OK
VisualCron8.exe|>WebClient.7z|>Content\kendo\2015.1.408\textures\stripe5.png OK
VisualCron8.exe|>WebClient.7z|>Content\kendo\2015.1.408\textures\stripe6.png OK
VisualCron8.exe|>WebClient.7z|>Content\kendo\2015.1.408\textures\transparency.png OK
VisualCron8.exe|>WebClient.7z|>Content\kendo\2015.1.408\textures\transtexture.png OK
VisualCron8.exe|>WebClient.7z|>Content\kendo\2015.1.408\Uniform\editor.png OK
VisualCron8.exe|>WebClient.7z|>Content\kendo\2015.1.408\Uniform\imagebrowser.png OK
VisualCron8.exe|>WebClient.7z|>Content\kendo\2015.1.408\Uniform\indeterminate.gif OK
VisualCron8.exe|>WebClient.7z|>Content\kendo\2015.1.408\Uniform\loading-image.gif OK
VisualCron8.exe|>WebClient.7z|>Content\kendo\2015.1.408\Uniform\loading.gif OK
VisualCron8.exe|>WebClient.7z|>Content\kendo\2015.1.408\Uniform\loading_2x.gif OK
VisualCron8.exe|>WebClient.7z|>Content\kendo\2015.1.408\Uniform\markers.png OK
VisualCron8.exe|>WebClient.7z|>Content\kendo\2015.1.408\Uniform\markers_2x.png OK
VisualCron8.exe|>WebClient.7z|>Content\kendo\2015.1.408\Uniform\slider-h.gif OK
VisualCron8.exe|>WebClient.7z|>Content\kendo\2015.1.408\Uniform\slider-v.gif OK
VisualCron8.exe|>WebClient.7z|>Content\kendo\2015.1.408\Uniform\sprite.png OK
VisualCron8.exe|>WebClient.7z|>Content\kendo\2015.1.408\Uniform\sprite_2x.png OK
VisualCron8.exe|>WebClient.7z|>Content\kendo\2015.1.408\Uniform\sprite_kpi.png OK
VisualCron8.exe|>WebClient.7z|>Content\kendo\2015.1.408\Uniform\sprite_kpi_2x.png OK
VisualCron8.exe|>WebClient.7z|>Content\ribbon\images\icons.png OK
VisualCron8.exe|>WebClient.7z|>Content\ribbon\ribbon.css OK
VisualCron8.exe|>WebClient.7z|>Content\Site.css OK
VisualCron8.exe|>WebClient.7z|>Content\svg\icons.svg OK
VisualCron8.exe|>WebClient.7z|>Content\svg\keys.svg OK
VisualCron8.exe|>WebClient.7z|>Content\svg\logo.svg OK
VisualCron8.exe|>WebClient.7z|>docs\Live-Authentication-Setup.txt OK
VisualCron8.exe|>WebClient.7z|>Global.asax OK
VisualCron8.exe|>WebClient.7z|>packages.config OK
VisualCron8.exe|>WebClient.7z|>Required.txt OK
VisualCron8.exe|>WebClient.7z|>Scripts\codemirror\codemirror.js OK
VisualCron8.exe|>WebClient.7z|>Scripts\codemirror\css.js OK
VisualCron8.exe|>WebClient.7z|>Scripts\codemirror\htmlmixed.js OK
VisualCron8.exe|>WebClient.7z|>Scripts\codemirror\javascript.js OK
VisualCron8.exe|>WebClient.7z|>Scripts\codemirror\xml.js OK
VisualCron8.exe|>WebClient.7z|>Scripts\cron\ConnectionController.js OK
VisualCron8.exe|>WebClient.7z|>Scripts\cron\ConnectionsWindowController.js OK
VisualCron8.exe|>WebClient.7z|>Scripts\cron\GridDataSourceController.js OK
VisualCron8.exe|>WebClient.7z|>Scripts\cron\HistoryWindowController.js OK
VisualCron8.exe|>WebClient.7z|>Scripts\cron\HubController.js OK
VisualCron8.exe|>WebClient.7z|>Scripts\cron\InitializationControllers.js OK
VisualCron8.exe|>WebClient.7z|>Scripts\cron\OutputWindowController.js OK
VisualCron8.exe|>WebClient.7z|>Scripts\cron\RibbonBarController.js OK
VisualCron8.exe|>WebClient.7z|>Scripts\cron\ServerTreeController.js OK
VisualCron8.exe|>WebClient.7z|>Scripts\cron\TasksGridController.js OK
VisualCron8.exe|>WebClient.7z|>Scripts\jquery.signalR-1.2.1.js OK
VisualCron8.exe|>WebClient.7z|>Scripts\jquery.signalR-1.2.1.min.js OK
VisualCron8.exe|>WebClient.7z|>Scripts\jquery.signalR-1.2.1.min.js.map OK
VisualCron8.exe|>WebClient.7z|>Scripts\jquery.unobtrusive-ajax.js OK
VisualCron8.exe|>WebClient.7z|>Scripts\jquery.unobtrusive-ajax.min.js OK
VisualCron8.exe|>WebClient.7z|>Scripts\jquery.unobtrusive-ajax.min.js.map OK
VisualCron8.exe|>WebClient.7z|>Scripts\jquery.validate.js OK
VisualCron8.exe|>WebClient.7z|>Scripts\jquery.validate.min.js OK
VisualCron8.exe|>WebClient.7z|>Scripts\jquery.validate.min.js.map OK
VisualCron8.exe|>WebClient.7z|>Scripts\jquery.validate.unobtrusive.js OK
VisualCron8.exe|>WebClient.7z|>Scripts\jquery.validate.unobtrusive.min.js OK
VisualCron8.exe|>WebClient.7z|>Scripts\jquery.validate.unobtrusive.min.js.map OK
VisualCron8.exe|>WebClient.7z|>Scripts\js.cookie.js OK
VisualCron8.exe|>WebClient.7z|>Scripts\kendo.modernizr.custom.js OK
VisualCron8.exe|>WebClient.7z|>Scripts\kendo\2015.1.408\angular.min.js OK
VisualCron8.exe|>WebClient.7z|>Scripts\kendo\2015.1.408\jquery.min.js OK
VisualCron8.exe|>WebClient.7z|>Scripts\kendo\2015.1.408\jquery.min.map OK
VisualCron8.exe|>WebClient.7z|>Scripts\kendo\2015.1.408\jszip.min.js OK
VisualCron8.exe|>WebClient.7z|>Scripts\kendo\2015.1.408\kendo.all.min.js OK
VisualCron8.exe|>WebClient.7z|>Scripts\kendo\2015.1.408\kendo.all.min.js.map OK
VisualCron8.exe|>WebClient.7z|>Scripts\kendo\2015.1.408\kendo.angular.min.js OK
VisualCron8.exe|>WebClient.7z|>Scripts\kendo\2015.1.408\kendo.angular.min.js.map OK
VisualCron8.exe|>WebClient.7z|>Scripts\kendo\2015.1.408\kendo.aspnetmvc.min.js OK
VisualCron8.exe|>WebClient.7z|>Scripts\kendo\2015.1.408\kendo.aspnetmvc.min.js.map OK
VisualCron8.exe|>WebClient.7z|>Scripts\kendo\2015.1.408\kendo.autocomplete.min.js OK
VisualCron8.exe|>WebClient.7z|>Scripts\kendo\2015.1.408\kendo.autocomplete.min.js.map OK
VisualCron8.exe|>WebClient.7z|>Scripts\kendo\2015.1.408\kendo.binder.min.js OK
VisualCron8.exe|>WebClient.7z|>Scripts\kendo\2015.1.408\kendo.binder.min.js.map OK
VisualCron8.exe|>WebClient.7z|>Scripts\kendo\2015.1.408\kendo.button.min.js OK
VisualCron8.exe|>WebClient.7z|>Scripts\kendo\2015.1.408\kendo.button.min.js.map OK
VisualCron8.exe|>WebClient.7z|>Scripts\kendo\2015.1.408\kendo.calendar.min.js OK
VisualCron8.exe|>WebClient.7z|>Scripts\kendo\2015.1.408\kendo.calendar.min.js.map OK
VisualCron8.exe|>WebClient.7z|>Scripts\kendo\2015.1.408\kendo.color.min.js OK
VisualCron8.exe|>WebClient.7z|>Scripts\kendo\2015.1.408\kendo.color.min.js.map OK
VisualCron8.exe|>WebClient.7z|>Scripts\kendo\2015.1.408\kendo.colorpicker.min.js OK
VisualCron8.exe|>WebClient.7z|>Scripts\kendo\2015.1.408\kendo.colorpicker.min.js.map OK
VisualCron8.exe|>WebClient.7z|>Scripts\kendo\2015.1.408\kendo.columnmenu.min.js OK
VisualCron8.exe|>WebClient.7z|>Scripts\kendo\2015.1.408\kendo.columnmenu.min.js.map OK
VisualCron8.exe|>WebClient.7z|>Scripts\kendo\2015.1.408\kendo.columnsorter.min.js OK
VisualCron8.exe|>WebClient.7z|>Scripts\kendo\2015.1.408\kendo.columnsorter.min.js.map OK
VisualCron8.exe|>WebClient.7z|>Scripts\kendo\2015.1.408\kendo.combobox.min.js OK
VisualCron8.exe|>WebClient.7z|>Scripts\kendo\2015.1.408\kendo.combobox.min.js.map OK
VisualCron8.exe|>WebClient.7z|>Scripts\kendo\2015.1.408\kendo.core.min.js OK
VisualCron8.exe|>WebClient.7z|>Scripts\kendo\2015.1.408\kendo.core.min.js.map OK
VisualCron8.exe|>WebClient.7z|>Scripts\kendo\2015.1.408\kendo.data.min.js OK
VisualCron8.exe|>WebClient.7z|>Scripts\kendo\2015.1.408\kendo.data.min.js.map OK
VisualCron8.exe|>WebClient.7z|>Scripts\kendo\2015.1.408\kendo.data.odata.min.js OK
VisualCron8.exe|>WebClient.7z|>Scripts\kendo\2015.1.408\kendo.data.odata.min.js.map OK
VisualCron8.exe|>WebClient.7z|>Scripts\kendo\2015.1.408\kendo.data.signalr.min.js OK
VisualCron8.exe|>WebClient.7z|>Scripts\kendo\2015.1.408\kendo.data.signalr.min.js.map OK
VisualCron8.exe|>WebClient.7z|>Scripts\kendo\2015.1.408\kendo.data.xml.min.js OK
VisualCron8.exe|>WebClient.7z|>Scripts\kendo\2015.1.408\kendo.data.xml.min.js.map OK
VisualCron8.exe|>WebClient.7z|>Scripts\kendo\2015.1.408\kendo.dataviz.barcode.min.js OK
VisualCron8.exe|>WebClient.7z|>Scripts\kendo\2015.1.408\kendo.dataviz.barcode.min.js.map OK
VisualCron8.exe|>WebClient.7z|>Scripts\kendo\2015.1.408\kendo.dataviz.chart.funnel.min.js OK
VisualCron8.exe|>WebClient.7z|>Scripts\kendo\2015.1.408\kendo.dataviz.chart.funnel.min.js.map OK
VisualCron8.exe|>WebClient.7z|>Scripts\kendo\2015.1.408\kendo.dataviz.chart.min.js OK
VisualCron8.exe|>WebClient.7z|>Scripts\kendo\2015.1.408\kendo.dataviz.chart.min.js.map OK
VisualCron8.exe|>WebClient.7z|>Scripts\kendo\2015.1.408\kendo.dataviz.chart.polar.min.js OK
VisualCron8.exe|>WebClient.7z|>Scripts\kendo\2015.1.408\kendo.dataviz.chart.polar.min.js.map OK
VisualCron8.exe|>WebClient.7z|>Scripts\kendo\2015.1.408\kendo.dataviz.core.min.js OK
VisualCron8.exe|>WebClient.7z|>Scripts\kendo\2015.1.408\kendo.dataviz.core.min.js.map OK
VisualCron8.exe|>WebClient.7z|>Scripts\kendo\2015.1.408\kendo.dataviz.diagram.min.js OK
VisualCron8.exe|>WebClient.7z|>Scripts\kendo\2015.1.408\kendo.dataviz.diagram.min.js.map OK
VisualCron8.exe|>WebClient.7z|>Scripts\kendo\2015.1.408\kendo.dataviz.gauge.min.js OK
VisualCron8.exe|>WebClient.7z|>Scripts\kendo\2015.1.408\kendo.dataviz.gauge.min.js.map OK
VisualCron8.exe|>WebClient.7z|>Scripts\kendo\2015.1.408\kendo.dataviz.map.min.js OK
VisualCron8.exe|>WebClient.7z|>Scripts\kendo\2015.1.408\kendo.dataviz.map.min.js.map OK
VisualCron8.exe|>WebClient.7z|>Scripts\kendo\2015.1.408\kendo.dataviz.min.js OK
VisualCron8.exe|>WebClient.7z|>Scripts\kendo\2015.1.408\kendo.dataviz.min.js.map OK
VisualCron8.exe|>WebClient.7z|>Scripts\kendo\2015.1.408\kendo.dataviz.mobile.min.js OK
VisualCron8.exe|>WebClient.7z|>Scripts\kendo\2015.1.408\kendo.dataviz.mobile.min.js.map OK
VisualCron8.exe|>WebClient.7z|>Scripts\kendo\2015.1.408\kendo.dataviz.qrcode.min.js OK
VisualCron8.exe|>WebClient.7z|>Scripts\kendo\2015.1.408\kendo.dataviz.qrcode.min.js.map OK
VisualCron8.exe|>WebClient.7z|>Scripts\kendo\2015.1.408\kendo.dataviz.sparkline.min.js OK
VisualCron8.exe|>WebClient.7z|>Scripts\kendo\2015.1.408\kendo.dataviz.sparkline.min.js.map OK
VisualCron8.exe|>WebClient.7z|>Scripts\kendo\2015.1.408\kendo.dataviz.stock.min.js OK
VisualCron8.exe|>WebClient.7z|>Scripts\kendo\2015.1.408\kendo.dataviz.stock.min.js.map OK
VisualCron8.exe|>WebClient.7z|>Scripts\kendo\2015.1.408\kendo.dataviz.themes.min.js OK
VisualCron8.exe|>WebClient.7z|>Scripts\kendo\2015.1.408\kendo.dataviz.themes.min.js.map OK
VisualCron8.exe|>WebClient.7z|>Scripts\kendo\2015.1.408\kendo.dataviz.treemap.min.js OK
VisualCron8.exe|>WebClient.7z|>Scripts\kendo\2015.1.408\kendo.dataviz.treemap.min.js.map OK
VisualCron8.exe|>WebClient.7z|>Scripts\kendo\2015.1.408\kendo.datepicker.min.js OK
VisualCron8.exe|>WebClient.7z|>Scripts\kendo\2015.1.408\kendo.datepicker.min.js.map OK
VisualCron8.exe|>WebClient.7z|>Scripts\kendo\2015.1.408\kendo.datetimepicker.min.js OK
VisualCron8.exe|>WebClient.7z|>Scripts\kendo\2015.1.408\kendo.datetimepicker.min.js.map OK
VisualCron8.exe|>WebClient.7z|>Scripts\kendo\2015.1.408\kendo.dom.min.js OK
VisualCron8.exe|>WebClient.7z|>Scripts\kendo\2015.1.408\kendo.dom.min.js.map OK
VisualCron8.exe|>WebClient.7z|>Scripts\kendo\2015.1.408\kendo.draganddrop.min.js OK
VisualCron8.exe|>WebClient.7z|>Scripts\kendo\2015.1.408\kendo.draganddrop.min.js.map OK
VisualCron8.exe|>WebClient.7z|>Scripts\kendo\2015.1.408\kendo.drawing.min.js OK
VisualCron8.exe|>WebClient.7z|>Scripts\kendo\2015.1.408\kendo.drawing.min.js.map OK
VisualCron8.exe|>WebClient.7z|>Scripts\kendo\2015.1.408\kendo.dropdownlist.min.js OK
VisualCron8.exe|>WebClient.7z|>Scripts\kendo\2015.1.408\kendo.dropdownlist.min.js.map OK
VisualCron8.exe|>WebClient.7z|>Scripts\kendo\2015.1.408\kendo.editable.min.js OK
VisualCron8.exe|>WebClient.7z|>Scripts\kendo\2015.1.408\kendo.editable.min.js.map OK
VisualCron8.exe|>WebClient.7z|>Scripts\kendo\2015.1.408\kendo.editor.min.js OK
VisualCron8.exe|>WebClient.7z|>Scripts\kendo\2015.1.408\kendo.editor.min.js.map OK
VisualCron8.exe|>WebClient.7z|>Scripts\kendo\2015.1.408\kendo.excel.min.js OK
VisualCron8.exe|>WebClient.7z|>Scripts\kendo\2015.1.408\kendo.excel.min.js.map OK
VisualCron8.exe|>WebClient.7z|>Scripts\kendo\2015.1.408\kendo.filebrowser.min.js OK
VisualCron8.exe|>WebClient.7z|>Scripts\kendo\2015.1.408\kendo.filebrowser.min.js.map OK
VisualCron8.exe|>WebClient.7z|>Scripts\kendo\2015.1.408\kendo.filtercell.min.js OK
VisualCron8.exe|>WebClient.7z|>Scripts\kendo\2015.1.408\kendo.filtercell.min.js.map OK
VisualCron8.exe|>WebClient.7z|>Scripts\kendo\2015.1.408\kendo.filtermenu.min.js OK
VisualCron8.exe|>WebClient.7z|>Scripts\kendo\2015.1.408\kendo.filtermenu.min.js.map OK
VisualCron8.exe|>WebClient.7z|>Scripts\kendo\2015.1.408\kendo.fx.min.js OK
VisualCron8.exe|>WebClient.7z|>Scripts\kendo\2015.1.408\kendo.fx.min.js.map OK
VisualCron8.exe|>WebClient.7z|>Scripts\kendo\2015.1.408\kendo.gantt.list.min.js OK
VisualCron8.exe|>WebClient.7z|>Scripts\kendo\2015.1.408\kendo.gantt.list.min.js.map OK
VisualCron8.exe|>WebClient.7z|>Scripts\kendo\2015.1.408\kendo.gantt.min.js OK
VisualCron8.exe|>WebClient.7z|>Scripts\kendo\2015.1.408\kendo.gantt.min.js.map OK
VisualCron8.exe|>WebClient.7z|>Scripts\kendo\2015.1.408\kendo.gantt.timeline.min.js OK
VisualCron8.exe|>WebClient.7z|>Scripts\kendo\2015.1.408\kendo.gantt.timeline.min.js.map OK
VisualCron8.exe|>WebClient.7z|>Scripts\kendo\2015.1.408\kendo.grid.min.js OK
VisualCron8.exe|>WebClient.7z|>Scripts\kendo\2015.1.408\kendo.grid.min.js.map OK
VisualCron8.exe|>WebClient.7z|>Scripts\kendo\2015.1.408\kendo.groupable.min.js OK
VisualCron8.exe|>WebClient.7z|>Scripts\kendo\2015.1.408\kendo.groupable.min.js.map OK
VisualCron8.exe|>WebClient.7z|>Scripts\kendo\2015.1.408\kendo.imagebrowser.min.js OK
VisualCron8.exe|>WebClient.7z|>Scripts\kendo\2015.1.408\kendo.imagebrowser.min.js.map OK
VisualCron8.exe|>WebClient.7z|>Scripts\kendo\2015.1.408\kendo.list.min.js OK
VisualCron8.exe|>WebClient.7z|>Scripts\kendo\2015.1.408\kendo.list.min.js.map OK
VisualCron8.exe|>WebClient.7z|>Scripts\kendo\2015.1.408\kendo.listview.min.js OK
VisualCron8.exe|>WebClient.7z|>Scripts\kendo\2015.1.408\kendo.listview.min.js.map OK
VisualCron8.exe|>WebClient.7z|>Scripts\kendo\2015.1.408\kendo.maskedtextbox.min.js OK
VisualCron8.exe|>WebClient.7z|>Scripts\kendo\2015.1.408\kendo.maskedtextbox.min.js.map OK
VisualCron8.exe|>WebClient.7z|>Scripts\kendo\2015.1.408\kendo.menu.min.js OK
VisualCron8.exe|>WebClient.7z|>Scripts\kendo\2015.1.408\kendo.menu.min.js.map OK
VisualCron8.exe|>WebClient.7z|>Scripts\kendo\2015.1.408\kendo.mobile.actionsheet.min.js OK
VisualCron8.exe|>WebClient.7z|>Scripts\kendo\2015.1.408\kendo.mobile.actionsheet.min.js.map OK
VisualCron8.exe|>WebClient.7z|>Scripts\kendo\2015.1.408\kendo.mobile.application.min.js OK
VisualCron8.exe|>WebClient.7z|>Scripts\kendo\2015.1.408\kendo.mobile.application.min.js.map OK
VisualCron8.exe|>WebClient.7z|>Scripts\kendo\2015.1.408\kendo.mobile.button.min.js OK
VisualCron8.exe|>WebClient.7z|>Scripts\kendo\2015.1.408\kendo.mobile.button.min.js.map OK
VisualCron8.exe|>WebClient.7z|>Scripts\kendo\2015.1.408\kendo.mobile.buttongroup.min.js OK
VisualCron8.exe|>WebClient.7z|>Scripts\kendo\2015.1.408\kendo.mobile.buttongroup.min.js.map OK
VisualCron8.exe|>WebClient.7z|>Scripts\kendo\2015.1.408\kendo.mobile.collapsible.min.js OK
VisualCron8.exe|>WebClient.7z|>Scripts\kendo\2015.1.408\kendo.mobile.collapsible.min.js.map OK
VisualCron8.exe|>WebClient.7z|>Scripts\kendo\2015.1.408\kendo.mobile.drawer.min.js OK
VisualCron8.exe|>WebClient.7z|>Scripts\kendo\2015.1.408\kendo.mobile.drawer.min.js.map OK
VisualCron8.exe|>WebClient.7z|>Scripts\kendo\2015.1.408\kendo.mobile.listview.min.js OK
VisualCron8.exe|>WebClient.7z|>Scripts\kendo\2015.1.408\kendo.mobile.listview.min.js.map OK
VisualCron8.exe|>WebClient.7z|>Scripts\kendo\2015.1.408\kendo.mobile.loader.min.js OK
VisualCron8.exe|>WebClient.7z|>Scripts\kendo\2015.1.408\kendo.mobile.loader.min.js.map OK
VisualCron8.exe|>WebClient.7z|>Scripts\kendo\2015.1.408\kendo.mobile.min.js OK
VisualCron8.exe|>WebClient.7z|>Scripts\kendo\2015.1.408\kendo.mobile.min.js.map OK
VisualCron8.exe|>WebClient.7z|>Scripts\kendo\2015.1.408\kendo.mobile.modalview.min.js OK
VisualCron8.exe|>WebClient.7z|>Scripts\kendo\2015.1.408\kendo.mobile.modalview.min.js.map OK
VisualCron8.exe|>WebClient.7z|>Scripts\kendo\2015.1.408\kendo.mobile.navbar.min.js OK
VisualCron8.exe|>WebClient.7z|>Scripts\kendo\2015.1.408\kendo.mobile.navbar.min.js.map OK
VisualCron8.exe|>WebClient.7z|>Scripts\kendo\2015.1.408\kendo.mobile.pane.min.js OK
VisualCron8.exe|>WebClient.7z|>Scripts\kendo\2015.1.408\kendo.mobile.pane.min.js.map OK
VisualCron8.exe|>WebClient.7z|>Scripts\kendo\2015.1.408\kendo.mobile.popover.min.js OK
VisualCron8.exe|>WebClient.7z|>Scripts\kendo\2015.1.408\kendo.mobile.popover.min.js.map OK
VisualCron8.exe|>WebClient.7z|>Scripts\kendo\2015.1.408\kendo.mobile.scroller.min.js OK
VisualCron8.exe|>WebClient.7z|>Scripts\kendo\2015.1.408\kendo.mobile.scroller.min.js.map OK
VisualCron8.exe|>WebClient.7z|>Scripts\kendo\2015.1.408\kendo.mobile.scrollview.min.js OK
VisualCron8.exe|>WebClient.7z|>Scripts\kendo\2015.1.408\kendo.mobile.scrollview.min.js.map OK
VisualCron8.exe|>WebClient.7z|>Scripts\kendo\2015.1.408\kendo.mobile.shim.min.js OK
VisualCron8.exe|>WebClient.7z|>Scripts\kendo\2015.1.408\kendo.mobile.shim.min.js.map OK
VisualCron8.exe|>WebClient.7z|>Scripts\kendo\2015.1.408\kendo.mobile.splitview.min.js OK
VisualCron8.exe|>WebClient.7z|>Scripts\kendo\2015.1.408\kendo.mobile.splitview.min.js.map OK
VisualCron8.exe|>WebClient.7z|>Scripts\kendo\2015.1.408\kendo.mobile.switch.min.js OK
VisualCron8.exe|>WebClient.7z|>Scripts\kendo\2015.1.408\kendo.mobile.switch.min.js.map OK
VisualCron8.exe|>WebClient.7z|>Scripts\kendo\2015.1.408\kendo.mobile.tabstrip.min.js OK
VisualCron8.exe|>WebClient.7z|>Scripts\kendo\2015.1.408\kendo.mobile.tabstrip.min.js.map OK
VisualCron8.exe|>WebClient.7z|>Scripts\kendo\2015.1.408\kendo.mobile.view.min.js OK
VisualCron8.exe|>WebClient.7z|>Scripts\kendo\2015.1.408\kendo.mobile.view.min.js.map OK
VisualCron8.exe|>WebClient.7z|>Scripts\kendo\2015.1.408\kendo.multiselect.min.js OK
VisualCron8.exe|>WebClient.7z|>Scripts\kendo\2015.1.408\kendo.multiselect.min.js.map OK
VisualCron8.exe|>WebClient.7z|>Scripts\kendo\2015.1.408\kendo.notification.min.js OK
VisualCron8.exe|>WebClient.7z|>Scripts\kendo\2015.1.408\kendo.notification.min.js.map OK
VisualCron8.exe|>WebClient.7z|>Scripts\kendo\2015.1.408\kendo.numerictextbox.min.js OK
VisualCron8.exe|>WebClient.7z|>Scripts\kendo\2015.1.408\kendo.numerictextbox.min.js.map OK
VisualCron8.exe|>WebClient.7z|>Scripts\kendo\2015.1.408\kendo.ooxml.min.js OK
VisualCron8.exe|>WebClient.7z|>Scripts\kendo\2015.1.408\kendo.ooxml.min.js.map OK
VisualCron8.exe|>WebClient.7z|>Scripts\kendo\2015.1.408\kendo.pager.min.js OK
VisualCron8.exe|>WebClient.7z|>Scripts\kendo\2015.1.408\kendo.pager.min.js.map OK
VisualCron8.exe|>WebClient.7z|>Scripts\kendo\2015.1.408\kendo.panelbar.min.js OK
VisualCron8.exe|>WebClient.7z|>Scripts\kendo\2015.1.408\kendo.panelbar.min.js.map OK
VisualCron8.exe|>WebClient.7z|>Scripts\kendo\2015.1.408\kendo.pdf.min.js OK
VisualCron8.exe|>WebClient.7z|>Scripts\kendo\2015.1.408\kendo.pdf.min.js.map OK
VisualCron8.exe|>WebClient.7z|>Scripts\kendo\2015.1.408\kendo.pivot.configurator.min.js OK
VisualCron8.exe|>WebClient.7z|>Scripts\kendo\2015.1.408\kendo.pivot.configurator.min.js.map OK
VisualCron8.exe|>WebClient.7z|>Scripts\kendo\2015.1.408\kendo.pivot.fieldmenu.min.js OK
VisualCron8.exe|>WebClient.7z|>Scripts\kendo\2015.1.408\kendo.pivot.fieldmenu.min.js.map OK
VisualCron8.exe|>WebClient.7z|>Scripts\kendo\2015.1.408\kendo.pivotgrid.min.js OK
VisualCron8.exe|>WebClient.7z|>Scripts\kendo\2015.1.408\kendo.pivotgrid.min.js.map OK
VisualCron8.exe|>WebClient.7z|>Scripts\kendo\2015.1.408\kendo.popup.min.js OK
VisualCron8.exe|>WebClient.7z|>Scripts\kendo\2015.1.408\kendo.popup.min.js.map OK
VisualCron8.exe|>WebClient.7z|>Scripts\kendo\2015.1.408\kendo.progressbar.min.js OK
VisualCron8.exe|>WebClient.7z|>Scripts\kendo\2015.1.408\kendo.progressbar.min.js.map OK
VisualCron8.exe|>WebClient.7z|>Scripts\kendo\2015.1.408\kendo.reorderable.min.js OK
VisualCron8.exe|>WebClient.7z|>Scripts\kendo\2015.1.408\kendo.reorderable.min.js.map OK
VisualCron8.exe|>WebClient.7z|>Scripts\kendo\2015.1.408\kendo.resizable.min.js OK
VisualCron8.exe|>WebClient.7z|>Scripts\kendo\2015.1.408\kendo.resizable.min.js.map OK
VisualCron8.exe|>WebClient.7z|>Scripts\kendo\2015.1.408\kendo.responsivepanel.min.js OK
VisualCron8.exe|>WebClient.7z|>Scripts\kendo\2015.1.408\kendo.responsivepanel.min.js.map OK
VisualCron8.exe|>WebClient.7z|>Scripts\kendo\2015.1.408\kendo.router.min.js OK
VisualCron8.exe|>WebClient.7z|>Scripts\kendo\2015.1.408\kendo.router.min.js.map OK
VisualCron8.exe|>WebClient.7z|>Scripts\kendo\2015.1.408\kendo.scheduler.agendaview.min.js OK
VisualCron8.exe|>WebClient.7z|>Scripts\kendo\2015.1.408\kendo.scheduler.agendaview.min.js.map OK
VisualCron8.exe|>WebClient.7z|>Scripts\kendo\2015.1.408\kendo.scheduler.dayview.min.js OK
VisualCron8.exe|>WebClient.7z|>Scripts\kendo\2015.1.408\kendo.scheduler.dayview.min.js.map OK
VisualCron8.exe|>WebClient.7z|>Scripts\kendo\2015.1.408\kendo.scheduler.min.js OK
VisualCron8.exe|>WebClient.7z|>Scripts\kendo\2015.1.408\kendo.scheduler.min.js.map OK
VisualCron8.exe|>WebClient.7z|>Scripts\kendo\2015.1.408\kendo.scheduler.monthview.min.js OK
VisualCron8.exe|>WebClient.7z|>Scripts\kendo\2015.1.408\kendo.scheduler.monthview.min.js.map OK
VisualCron8.exe|>WebClient.7z|>Scripts\kendo\2015.1.408\kendo.scheduler.recurrence.min.js OK
VisualCron8.exe|>WebClient.7z|>Scripts\kendo\2015.1.408\kendo.scheduler.recurrence.min.js.map OK
VisualCron8.exe|>WebClient.7z|>Scripts\kendo\2015.1.408\kendo.scheduler.timelineview.min.js OK
VisualCron8.exe|>WebClient.7z|>Scripts\kendo\2015.1.408\kendo.scheduler.timelineview.min.js.map OK
VisualCron8.exe|>WebClient.7z|>Scripts\kendo\2015.1.408\kendo.scheduler.view.min.js OK
VisualCron8.exe|>WebClient.7z|>Scripts\kendo\2015.1.408\kendo.scheduler.view.min.js.map OK
VisualCron8.exe|>WebClient.7z|>Scripts\kendo\2015.1.408\kendo.selectable.min.js OK
VisualCron8.exe|>WebClient.7z|>Scripts\kendo\2015.1.408\kendo.selectable.min.js.map OK
VisualCron8.exe|>WebClient.7z|>Scripts\kendo\2015.1.408\kendo.slider.min.js OK
VisualCron8.exe|>WebClient.7z|>Scripts\kendo\2015.1.408\kendo.slider.min.js.map OK
VisualCron8.exe|>WebClient.7z|>Scripts\kendo\2015.1.408\kendo.sortable.min.js OK
VisualCron8.exe|>WebClient.7z|>Scripts\kendo\2015.1.408\kendo.sortable.min.js.map OK
VisualCron8.exe|>WebClient.7z|>Scripts\kendo\2015.1.408\kendo.splitter.min.js OK
VisualCron8.exe|>WebClient.7z|>Scripts\kendo\2015.1.408\kendo.splitter.min.js.map OK
VisualCron8.exe|>WebClient.7z|>Scripts\kendo\2015.1.408\kendo.tabstrip.min.js OK
VisualCron8.exe|>WebClient.7z|>Scripts\kendo\2015.1.408\kendo.tabstrip.min.js.map OK
VisualCron8.exe|>WebClient.7z|>Scripts\kendo\2015.1.408\kendo.timepicker.min.js OK
VisualCron8.exe|>WebClient.7z|>Scripts\kendo\2015.1.408\kendo.timepicker.min.js.map OK
VisualCron8.exe|>WebClient.7z|>Scripts\kendo\2015.1.408\kendo.timezones.min.js OK
VisualCron8.exe|>WebClient.7z|>Scripts\kendo\2015.1.408\kendo.toolbar.min.js OK
VisualCron8.exe|>WebClient.7z|>Scripts\kendo\2015.1.408\kendo.toolbar.min.js.map OK
VisualCron8.exe|>WebClient.7z|>Scripts\kendo\2015.1.408\kendo.tooltip.min.js OK
VisualCron8.exe|>WebClient.7z|>Scripts\kendo\2015.1.408\kendo.tooltip.min.js.map OK
VisualCron8.exe|>WebClient.7z|>Scripts\kendo\2015.1.408\kendo.touch.min.js OK
VisualCron8.exe|>WebClient.7z|>Scripts\kendo\2015.1.408\kendo.touch.min.js.map OK
VisualCron8.exe|>WebClient.7z|>Scripts\kendo\2015.1.408\kendo.treelist.min.js OK
VisualCron8.exe|>WebClient.7z|>Scripts\kendo\2015.1.408\kendo.treelist.min.js.map OK
VisualCron8.exe|>WebClient.7z|>Scripts\kendo\2015.1.408\kendo.treeview.min.js OK
VisualCron8.exe|>WebClient.7z|>Scripts\kendo\2015.1.408\kendo.treeview.min.js.map OK
VisualCron8.exe|>WebClient.7z|>Scripts\kendo\2015.1.408\kendo.upload.min.js OK
VisualCron8.exe|>WebClient.7z|>Scripts\kendo\2015.1.408\kendo.upload.min.js.map OK
VisualCron8.exe|>WebClient.7z|>Scripts\kendo\2015.1.408\kendo.userevents.min.js OK
VisualCron8.exe|>WebClient.7z|>Scripts\kendo\2015.1.408\kendo.userevents.min.js.map OK
VisualCron8.exe|>WebClient.7z|>Scripts\kendo\2015.1.408\kendo.validator.min.js OK
VisualCron8.exe|>WebClient.7z|>Scripts\kendo\2015.1.408\kendo.validator.min.js.map OK
VisualCron8.exe|>WebClient.7z|>Scripts\kendo\2015.1.408\kendo.view.min.js OK
VisualCron8.exe|>WebClient.7z|>Scripts\kendo\2015.1.408\kendo.view.min.js.map OK
VisualCron8.exe|>WebClient.7z|>Scripts\kendo\2015.1.408\kendo.virtuallist.min.js OK
VisualCron8.exe|>WebClient.7z|>Scripts\kendo\2015.1.408\kendo.virtuallist.min.js.map OK
VisualCron8.exe|>WebClient.7z|>Scripts\kendo\2015.1.408\kendo.web.min.js OK
VisualCron8.exe|>WebClient.7z|>Scripts\kendo\2015.1.408\kendo.web.min.js.map OK
VisualCron8.exe|>WebClient.7z|>Scripts\kendo\2015.1.408\kendo.window.min.js OK
VisualCron8.exe|>WebClient.7z|>Scripts\kendo\2015.1.408\kendo.window.min.js.map OK
VisualCron8.exe|>WebClient.7z|>Scripts\kendo\2015.1.408\pako_deflate.min.js OK
VisualCron8.exe|>WebClient.7z|>Scripts\knockout-2.1.0.debug.js OK
VisualCron8.exe|>WebClient.7z|>Scripts\knockout-2.1.0.js OK
VisualCron8.exe|>WebClient.7z|>Scripts\modernizr-2.5.3.js OK
VisualCron8.exe|>WebClient.7z|>Scripts\ribbon\ribbon.js OK
VisualCron8.exe|>WebClient.7z|>Scripts\ribbon\ribbon_init.js OK
VisualCron8.exe|>WebClient.7z|>Scripts\typeCron\tsOutput\ClientConnectionsController.js OK
VisualCron8.exe|>WebClient.7z|>Scripts\typeCron\tsOutput\ClientConnectionsController.js.map OK
VisualCron8.exe|>WebClient.7z|>Scripts\typeCron\tsOutput\ClientSettingsController.js OK
VisualCron8.exe|>WebClient.7z|>Scripts\typeCron\tsOutput\ClientSettingsController.js.map OK
VisualCron8.exe|>WebClient.7z|>Scripts\typeCron\tsOutput\ContextMenuController.js OK
VisualCron8.exe|>WebClient.7z|>Scripts\typeCron\tsOutput\ContextMenuController.js.map OK
VisualCron8.exe|>WebClient.7z|>Scripts\typeCron\tsOutput\GridController.js OK
VisualCron8.exe|>WebClient.7z|>Scripts\typeCron\tsOutput\GridController.js.map OK
VisualCron8.exe|>WebClient.7z|>Scripts\typeCron\tsOutput\Interfaces.js OK
VisualCron8.exe|>WebClient.7z|>Scripts\typeCron\tsOutput\Interfaces.js.map OK
VisualCron8.exe|>WebClient.7z|>Scripts\typeCron\tsOutput\JQueryExtend.js OK
VisualCron8.exe|>WebClient.7z|>Scripts\typeCron\tsOutput\JQueryExtend.js.map OK
VisualCron8.exe|>WebClient.7z|>Scripts\typeCron\tsOutput\NotificationController.js OK
VisualCron8.exe|>WebClient.7z|>Scripts\typeCron\tsOutput\NotificationController.js.map OK
VisualCron8.exe|>WebClient.7z|>Scripts\typeCron\tsOutput\PopupTaskController.js OK
VisualCron8.exe|>WebClient.7z|>Scripts\typeCron\tsOutput\PopupTaskController.js.map OK
VisualCron8.exe|>WebClient.7z|>Scripts\typeCron\tsOutput\PromptPasswordController.js OK
VisualCron8.exe|>WebClient.7z|>Scripts\typeCron\tsOutput\PromptPasswordController.js.map OK
VisualCron8.exe|>WebClient.7z|>Scripts\typeCron\tsOutput\RunningJobsController.js OK
VisualCron8.exe|>WebClient.7z|>Scripts\typeCron\tsOutput\RunningJobsController.js.map OK
VisualCron8.exe|>WebClient.7z|>Scripts\typeCron\tsOutput\ServerObjects\ServerObjectCertificates.js OK
VisualCron8.exe|>WebClient.7z|>Scripts\typeCron\tsOutput\ServerObjects\ServerObjectCertificates.js.map OK
VisualCron8.exe|>WebClient.7z|>Scripts\typeCron\tsOutput\ServerObjects\ServerObjectConditions.js OK
VisualCron8.exe|>WebClient.7z|>Scripts\typeCron\tsOutput\ServerObjects\ServerObjectConditions.js.map OK
VisualCron8.exe|>WebClient.7z|>Scripts\typeCron\tsOutput\ServerObjects\ServerObjectConnections.js OK
VisualCron8.exe|>WebClient.7z|>Scripts\typeCron\tsOutput\ServerObjects\ServerObjectConnections.js.map OK
VisualCron8.exe|>WebClient.7z|>Scripts\typeCron\tsOutput\ServerObjects\ServerObjectController.js OK
VisualCron8.exe|>WebClient.7z|>Scripts\typeCron\tsOutput\ServerObjects\ServerObjectController.js.map OK
VisualCron8.exe|>WebClient.7z|>Scripts\typeCron\tsOutput\ServerObjects\ServerObjectCredentials.js OK
VisualCron8.exe|>WebClient.7z|>Scripts\typeCron\tsOutput\ServerObjects\ServerObjectCredentials.js.map OK
VisualCron8.exe|>WebClient.7z|>Scripts\typeCron\tsOutput\ServerObjects\ServerObjectNetDrives.js OK
VisualCron8.exe|>WebClient.7z|>Scripts\typeCron\tsOutput\ServerObjects\ServerObjectNetDrives.js.map OK
VisualCron8.exe|>WebClient.7z|>Scripts\typeCron\tsOutput\ServerObjects\ServerObjectNotification.js OK
VisualCron8.exe|>WebClient.7z|>Scripts\typeCron\tsOutput\ServerObjects\ServerObjectNotification.js.map OK
VisualCron8.exe|>WebClient.7z|>Scripts\typeCron\tsOutput\ServerObjects\ServerObjectPgpKeyRings.js OK
VisualCron8.exe|>WebClient.7z|>Scripts\typeCron\tsOutput\ServerObjects\ServerObjectPgpKeyRings.js.map OK
VisualCron8.exe|>WebClient.7z|>Scripts\typeCron\tsOutput\ServerObjects\ServerObjectVariables.js OK
VisualCron8.exe|>WebClient.7z|>Scripts\typeCron\tsOutput\ServerObjects\ServerObjectVariables.js.map OK
VisualCron8.exe|>WebClient.7z|>Scripts\typeCron\tsOutput\TaskGridBaseController.js OK
VisualCron8.exe|>WebClient.7z|>Scripts\typeCron\tsOutput\TaskGridBaseController.js.map OK
VisualCron8.exe|>WebClient.7z|>Scripts\typeCron\tsOutput\TypeScriptOutput.js OK
VisualCron8.exe|>WebClient.7z|>Scripts\typeCron\tsOutput\TypeScriptOutput.js.map OK
VisualCron8.exe|>WebClient.7z|>Scripts\typeCron\tsOutput\UpdatableWindowBase.js OK
VisualCron8.exe|>WebClient.7z|>Scripts\typeCron\tsOutput\UpdatableWindowBase.js.map OK
VisualCron8.exe|>WebClient.7z|>Scripts\typeCron\tsOutput\WindowBase.js OK
VisualCron8.exe|>WebClient.7z|>Scripts\typeCron\tsOutput\WindowBase.js.map OK
VisualCron8.exe|>WebClient.7z|>Scripts\_references.js OK
VisualCron8.exe|>WebClient.7z|>Views\Home\Index.cshtml OK
VisualCron8.exe|>WebClient.7z|>Views\Home\Login.cshtml OK
VisualCron8.exe|>WebClient.7z|>Views\Home\Partial\ClientConnectionsPartial.cshtml OK
VisualCron8.exe|>WebClient.7z|>Views\Home\Partial\ClientSettingsPartial.cshtml OK
VisualCron8.exe|>WebClient.7z|>Views\Home\Partial\ConnectionsPartial.cshtml OK
VisualCron8.exe|>WebClient.7z|>Views\Home\Partial\ContextMenuLoader.cshtml OK
VisualCron8.exe|>WebClient.7z|>Views\Home\Partial\JobHistoryPartial.cshtml OK
VisualCron8.exe|>WebClient.7z|>Views\Home\Partial\OutputPartial.cshtml OK
VisualCron8.exe|>WebClient.7z|>Views\Home\Partial\PopupTaskPartial.cshtml OK
VisualCron8.exe|>WebClient.7z|>Views\Home\Partial\RunningJobs.cshtml OK
VisualCron8.exe|>WebClient.7z|>Views\Home\Partial\SObjectCertificatePartial.cshtml OK
VisualCron8.exe|>WebClient.7z|>Views\Home\Partial\SObjectConditionsPartial.cshtml OK
VisualCron8.exe|>WebClient.7z|>Views\Home\Partial\SObjectConnectionsPartial.cshtml OK
VisualCron8.exe|>WebClient.7z|>Views\Home\Partial\SObjectCredentialsPartial.cshtml OK
VisualCron8.exe|>WebClient.7z|>Views\Home\Partial\SObjectNetDrivesPartial.cshtml OK
VisualCron8.exe|>WebClient.7z|>Views\Home\Partial\SObjectNotificationPartial.cshtml OK
VisualCron8.exe|>WebClient.7z|>Views\Home\Partial\SObjectPgpKeyRingsPartial.cshtml OK
VisualCron8.exe|>WebClient.7z|>Views\Home\Partial\SObjectVariablesPartial.cshtml OK
VisualCron8.exe|>WebClient.7z|>Views\Home\Partial\TreeServersPartial.cshtml OK
VisualCron8.exe|>WebClient.7z|>Views\Home\RibbonView.cshtml OK
VisualCron8.exe|>WebClient.7z|>Views\Shared\EditorTemplates\Currency.cshtml OK
VisualCron8.exe|>WebClient.7z|>Views\Shared\EditorTemplates\Date.cshtml OK
VisualCron8.exe|>WebClient.7z|>Views\Shared\EditorTemplates\DateTime.cshtml OK
VisualCron8.exe|>WebClient.7z|>Views\Shared\EditorTemplates\Email.cshtml OK
VisualCron8.exe|>WebClient.7z|>Views\Shared\EditorTemplates\EmailAddress.cshtml OK
VisualCron8.exe|>WebClient.7z|>Views\Shared\EditorTemplates\GridForeignKey.cshtml OK
VisualCron8.exe|>WebClient.7z|>Views\Shared\EditorTemplates\Integer.cshtml OK
VisualCron8.exe|>WebClient.7z|>Views\Shared\EditorTemplates\Number.cshtml OK
VisualCron8.exe|>WebClient.7z|>Views\Shared\EditorTemplates\Password.cshtml OK
VisualCron8.exe|>WebClient.7z|>Views\Shared\EditorTemplates\String.cshtml OK
VisualCron8.exe|>WebClient.7z|>Views\Shared\EditorTemplates\Time.cshtml OK
VisualCron8.exe|>WebClient.7z|>Views\Shared\EditorTemplates\Url.cshtml OK
VisualCron8.exe|>WebClient.7z|>Views\Shared\_Layout.cshtml OK
VisualCron8.exe|>WebClient.7z|>Views\Web.config OK
VisualCron8.exe|>WebClient.7z|>Views\_ViewStart.cshtml OK
VisualCron8.exe|>WebClient.7z|>Web.config OK
VisualCron8.exe|>WebClient.7z|>bin\Antlr3.Runtime.dll OK
VisualCron8.exe|>WebClient.7z|>bin\CommClient.dll OK
VisualCron8.exe|>WebClient.7z|>bin\CommClientCore.dll OK
VisualCron8.exe|>WebClient.7z|>bin\CommServer.dll OK
VisualCron8.exe|>WebClient.7z|>bin\DotNetOpenAuth.dll OK
VisualCron8.exe|>WebClient.7z|>bin\DotNetOpenAuth.resources.dll OK
VisualCron8.exe|>WebClient.7z|>bin\EntityFramework.dll OK
VisualCron8.exe|>WebClient.7z|>bin\KellermanSoftware.Compare-NET-Objects.dll OK
VisualCron8.exe|>WebClient.7z|>bin\Kendo.Mvc.dll OK
VisualCron8.exe|>WebClient.7z|>bin\Microsoft.AspNet.SignalR.Core.dll OK
VisualCron8.exe|>WebClient.7z|>bin\Microsoft.AspNet.SignalR.Owin.dll OK
VisualCron8.exe|>WebClient.7z|>bin\Microsoft.AspNet.SignalR.SystemWeb.dll OK
VisualCron8.exe|>WebClient.7z|>bin\Microsoft.Owin.Host.SystemWeb.dll OK
VisualCron8.exe|>WebClient.7z|>bin\Microsoft.Web.Infrastructure.dll OK
VisualCron8.exe|>WebClient.7z|>bin\Microsoft.Win32.TaskScheduler.dll OK
VisualCron8.exe|>WebClient.7z|>bin\millimetrics.dll OK
VisualCron8.exe|>WebClient.7z|>bin\Newtonsoft.Json.dll OK
VisualCron8.exe|>WebClient.7z|>bin\Owin.dll OK
VisualCron8.exe|>WebClient.7z|>bin\System.Net.Http.dll OK
VisualCron8.exe|>WebClient.7z|>bin\System.Net.Http.Formatting.dll OK
VisualCron8.exe|>WebClient.7z|>bin\System.Web.Helpers.dll OK
VisualCron8.exe|>WebClient.7z|>bin\System.Web.Http.dll OK
VisualCron8.exe|>WebClient.7z|>bin\System.Web.Http.WebHost.dll OK
VisualCron8.exe|>WebClient.7z|>bin\System.Web.Mvc.dll OK
VisualCron8.exe|>WebClient.7z|>bin\System.Web.Optimization.dll OK
VisualCron8.exe|>WebClient.7z|>bin\System.Web.Razor.dll OK
VisualCron8.exe|>WebClient.7z|>bin\System.Web.WebPages.Deployment.dll OK
VisualCron8.exe|>WebClient.7z|>bin\System.Web.WebPages.dll OK
VisualCron8.exe|>WebClient.7z|>bin\System.Web.WebPages.Razor.dll OK
VisualCron8.exe|>WebClient.7z|>bin\VisualCron.dll OK
VisualCron8.exe|>WebClient.7z|>bin\VisualCronAPI.dll OK
VisualCron8.exe|>WebClient.7z|>bin\VisualCronWebClient.dll OK
VisualCron8.exe|>WebClient.7z|>bin\WebGrease.dll OK
VisualCron8.exe|>WebClient.7z|>bin\WebMatrix.Data.dll OK
VisualCron8.exe|>WebClient.7z|>bin\WebMatrix.WebData.dll OK
VisualCron8.exe|>WebClient.7z OK
VisualCron8.exe|>install\iisexpress_1_11_x86_en-US.msi|>01UIText OK
VisualCron8.exe|>install\iisexpress_1_11_x86_en-US.msi|>01File OK
VisualCron8.exe|>install\iisexpress_1_11_x86_en-US.msi|>01Dialog OK
VisualCron8.exe|>install\iisexpress_1_11_x86_en-US.msi|>01_Columns OK
VisualCron8.exe|>install\iisexpress_1_11_x86_en-US.msi|>01Error OK
VisualCron8.exe|>install\iisexpress_1_11_x86_en-US.msi|>01_Tables OK
VisualCron8.exe|>install\iisexpress_1_11_x86_en-US.msi|>01Control OK
VisualCron8.exe|>install\iisexpress_1_11_x86_en-US.msi|>01Registry OK
VisualCron8.exe|>install\iisexpress_1_11_x86_en-US.msi|>01Property OK
VisualCron8.exe|>install\iisexpress_1_11_x86_en-US.msi|>01AppSearch OK
VisualCron8.exe|>install\iisexpress_1_11_x86_en-US.msi|>01ActionText OK
VisualCron8.exe|>install\iisexpress_1_11_x86_en-US.msi|>Binary.wixca OK
VisualCron8.exe|>install\iisexpress_1_11_x86_en-US.msi|>01RegLocator OK
VisualCron8.exe|>install\iisexpress_1_11_x86_en-US.msi|>01Directory OK
VisualCron8.exe|>install\iisexpress_1_11_x86_en-US.msi|>01Component OK
VisualCron8.exe|>install\iisexpress_1_11_x86_en-US.msi|>01_Validation OK
VisualCron8.exe|>install\iisexpress_1_11_x86_en-US.msi|>01_StringData OK
VisualCron8.exe|>install\iisexpress_1_11_x86_en-US.msi|>IisExpress.cab|>C_Release_Notes.url OK
VisualCron8.exe|>install\iisexpress_1_11_x86_en-US.msi|>IisExpress.cab|>F_Microsoft.Web.Administration.dll OK
VisualCron8.exe|>install\iisexpress_1_11_x86_en-US.msi|>IisExpress.cab|>F_Microsoft.Web.Diagnostics.resources.dll OK
VisualCron8.exe|>install\iisexpress_1_11_x86_en-US.msi|>IisExpress.cab|>F_iisexpresstray.resources.dll OK
VisualCron8.exe|>install\iisexpress_1_11_x86_en-US.msi|>IisExpress.cab|>F_Microsoft.Web.Administration.resources.dll OK
VisualCron8.exe|>install\iisexpress_1_11_x86_en-US.msi|>IisExpress.cab|>F_IisExpressTray.exe.mui OK
VisualCron8.exe|>install\iisexpress_1_11_x86_en-US.msi|>IisExpress.cab|>F_iisres.dll.mui OK
VisualCron8.exe|>install\iisexpress_1_11_x86_en-US.msi|>IisExpress.cab|>F_WCF35Setup.js OK
VisualCron8.exe|>install\iisexpress_1_11_x86_en-US.msi|>IisExpress.cab|>F_appcmd.exe OK
VisualCron8.exe|>install\iisexpress_1_11_x86_en-US.msi|>IisExpress.cab|>F_appcmd.xml OK
VisualCron8.exe|>install\iisexpress_1_11_x86_en-US.msi|>IisExpress.cab|>F_REDIST.TXT OK
VisualCron8.exe|>install\iisexpress_1_11_x86_en-US.msi|>IisExpress.cab|>F_appobj.dll OK
VisualCron8.exe|>install\iisexpress_1_11_x86_en-US.msi|>IisExpress.cab|>F_asp.dll OK
VisualCron8.exe|>install\iisexpress_1_11_x86_en-US.msi|>IisExpress.cab|>F_asptlb.tlb OK
VisualCron8.exe|>install\iisexpress_1_11_x86_en-US.msi|>IisExpress.cab|>F_authanon.dll OK
VisualCron8.exe|>install\iisexpress_1_11_x86_en-US.msi|>IisExpress.cab|>F_authbas.dll OK
VisualCron8.exe|>install\iisexpress_1_11_x86_en-US.msi|>IisExpress.cab|>F_authcert.dll OK
VisualCron8.exe|>install\iisexpress_1_11_x86_en-US.msi|>IisExpress.cab|>F_authmap.dll OK
VisualCron8.exe|>install\iisexpress_1_11_x86_en-US.msi|>IisExpress.cab|>F_authsspi.dll OK
VisualCron8.exe|>install\iisexpress_1_11_x86_en-US.msi|>IisExpress.cab|>F_browscap.dll OK
VisualCron8.exe|>install\iisexpress_1_11_x86_en-US.msi|>IisExpress.cab|>F_browscap.ini OK
VisualCron8.exe|>install\iisexpress_1_11_x86_en-US.msi|>IisExpress.cab|>F_cachtokn.dll OK
VisualCron8.exe|>install\iisexpress_1_11_x86_en-US.msi|>IisExpress.cab|>F_cachuri.dll OK
VisualCron8.exe|>install\iisexpress_1_11_x86_en-US.msi|>IisExpress.cab|>F_cgi.dll OK
VisualCron8.exe|>install\iisexpress_1_11_x86_en-US.msi|>IisExpress.cab|>F_compdyn.dll OK
VisualCron8.exe|>install\iisexpress_1_11_x86_en-US.msi|>IisExpress.cab|>F_compstat.dll OK
VisualCron8.exe|>install\iisexpress_1_11_x86_en-US.msi|>IisExpress.cab|>F_custerr.dll OK
VisualCron8.exe|>install\iisexpress_1_11_x86_en-US.msi|>IisExpress.cab|>F_defdoc.dll OK
VisualCron8.exe|>install\iisexpress_1_11_x86_en-US.msi|>IisExpress.cab|>F_detoured.dll OK
VisualCron8.exe|>install\iisexpress_1_11_x86_en-US.msi|>IisExpress.cab|>F_dirlist.dll OK
VisualCron8.exe|>install\iisexpress_1_11_x86_en-US.msi|>IisExpress.cab|>F_filter.dll OK
VisualCron8.exe|>install\iisexpress_1_11_x86_en-US.msi|>IisExpress.cab|>F_gzip.dll OK
VisualCron8.exe|>install\iisexpress_1_11_x86_en-US.msi|>IisExpress.cab|>F_hwebcore.dll OK
VisualCron8.exe|>install\iisexpress_1_11_x86_en-US.msi|>IisExpress.cab|>F_iiscore.dll OK
VisualCron8.exe|>install\iisexpress_1_11_x86_en-US.msi|>IisExpress.cab|>F_iisexpress.exe OK
VisualCron8.exe|>install\iisexpress_1_11_x86_en-US.msi|>IisExpress.cab|>F_iisexpress.exe.manifest OK
VisualCron8.exe|>install\iisexpress_1_11_x86_en-US.msi|>IisExpress.cab|>F_iisexpresstray.exe OK
VisualCron8.exe|>install\iisexpress_1_11_x86_en-US.msi|>IisExpress.cab|>F_iisexpresstray.dll OK
VisualCron8.exe|>install\iisexpress_1_11_x86_en-US.msi|>IisExpress.cab|>F_iisexpresstray.exe.config OK
VisualCron8.exe|>install\iisexpress_1_11_x86_en-US.msi|>IisExpress.cab|>F_iisexpresstray.exe.manifest OK
VisualCron8.exe|>install\iisexpress_1_11_x86_en-US.msi|>IisExpress.cab|>F_IisExpressAdminCmd.exe OK
VisualCron8.exe|>install\iisexpress_1_11_x86_en-US.msi|>IisExpress.cab|>F_IisExpressAdminCmd.exe.config OK
VisualCron8.exe|>install\iisexpress_1_11_x86_en-US.msi|>IisExpress.cab|>F_iisfcgi.dll OK
VisualCron8.exe|>install\iisexpress_1_11_x86_en-US.msi|>IisExpress.cab|>F_iisfreb.dll OK
VisualCron8.exe|>install\iisexpress_1_11_x86_en-US.msi|>IisExpress.cab|>F_iisreqs.dll OK
VisualCron8.exe|>install\iisexpress_1_11_x86_en-US.msi|>IisExpress.cab|>F_iisres.dll OK
VisualCron8.exe|>install\iisexpress_1_11_x86_en-US.msi|>IisExpress.cab|>F_iisres_xp.dll OK
VisualCron8.exe|>install\iisexpress_1_11_x86_en-US.msi|>IisExpress.cab|>F_iisRtl.dll OK
VisualCron8.exe|>install\iisexpress_1_11_x86_en-US.msi|>IisExpress.cab|>F_iisutil2.dll OK
VisualCron8.exe|>install\iisexpress_1_11_x86_en-US.msi|>IisExpress.cab|>F_iisvermg.dll OK
VisualCron8.exe|>install\iisexpress_1_11_x86_en-US.msi|>IisExpress.cab|>F_iis_ssi.dll OK
VisualCron8.exe|>install\iisexpress_1_11_x86_en-US.msi|>IisExpress.cab|>F_iprestr.dll OK
VisualCron8.exe|>install\iisexpress_1_11_x86_en-US.msi|>IisExpress.cab|>F_isapi.dll OK
VisualCron8.exe|>install\iisexpress_1_11_x86_en-US.msi|>IisExpress.cab|>F_logcust.dll OK
VisualCron8.exe|>install\iisexpress_1_11_x86_en-US.msi|>IisExpress.cab|>F_loghttp.dll OK
VisualCron8.exe|>install\iisexpress_1_11_x86_en-US.msi|>IisExpress.cab|>F_Microsoft.Web.dll OK
VisualCron8.exe|>install\iisexpress_1_11_x86_en-US.msi|>IisExpress.cab|>F_Microsoft.Web.Diagnostics.dll OK
VisualCron8.exe|>install\iisexpress_1_11_x86_en-US.msi|>IisExpress.cab|>F_IisExpressadminCmd.resources.dll OK
VisualCron8.exe|>install\iisexpress_1_11_x86_en-US.msi|>IisExpress.cab|>F_Microsoft.Web.Tasks.dll OK
VisualCron8.exe|>install\iisexpress_1_11_x86_en-US.msi|>IisExpress.cab|>F_GAC_Microsoft.Web.Tasks.dll OK
VisualCron8.exe|>install\iisexpress_1_11_x86_en-US.msi|>IisExpress.cab|>F_modrqflt.dll OK
VisualCron8.exe|>install\iisexpress_1_11_x86_en-US.msi|>IisExpress.cab|>F_nativrd2.dll OK
VisualCron8.exe|>install\iisexpress_1_11_x86_en-US.msi|>IisExpress.cab|>F_protsup.dll OK
VisualCron8.exe|>install\iisexpress_1_11_x86_en-US.msi|>IisExpress.cab|>F_redirect.dll OK
VisualCron8.exe|>install\iisexpress_1_11_x86_en-US.msi|>IisExpress.cab|>F_rsca2.dll OK
VisualCron8.exe|>install\iisexpress_1_11_x86_en-US.msi|>IisExpress.cab|>F_rscaext.dll OK
VisualCron8.exe|>install\iisexpress_1_11_x86_en-US.msi|>IisExpress.cab|>F_rtinfo.dll OK
VisualCron8.exe|>install\iisexpress_1_11_x86_en-US.msi|>IisExpress.cab|>F_static.dll OK
VisualCron8.exe|>install\iisexpress_1_11_x86_en-US.msi|>IisExpress.cab|>F_urlauthz.dll OK
VisualCron8.exe|>install\iisexpress_1_11_x86_en-US.msi|>IisExpress.cab|>F_validcfg.dll OK
VisualCron8.exe|>install\iisexpress_1_11_x86_en-US.msi|>IisExpress.cab|>F_w3dt.dll OK
VisualCron8.exe|>install\iisexpress_1_11_x86_en-US.msi|>IisExpress.cab|>F_w3tp.dll OK
VisualCron8.exe|>install\iisexpress_1_11_x86_en-US.msi|>IisExpress.cab|>F_w3wphost.dll OK
VisualCron8.exe|>install\iisexpress_1_11_x86_en-US.msi|>IisExpress.cab|>F_wbhst_pm.dll OK
VisualCron8.exe|>install\iisexpress_1_11_x86_en-US.msi|>IisExpress.cab|>F_webdav.dll OK
VisualCron8.exe|>install\iisexpress_1_11_x86_en-US.msi|>IisExpress.cab|>F_webdav_simple_lock.dll OK
VisualCron8.exe|>install\iisexpress_1_11_x86_en-US.msi|>IisExpress.cab|>F_webdav_simple_prop.dll OK
VisualCron8.exe|>install\iisexpress_1_11_x86_en-US.msi|>IisExpress.cab|>FILE_iisexpresshelper.dll OK
VisualCron8.exe|>install\iisexpress_1_11_x86_en-US.msi|>IisExpress.cab|>FILE_webmatrixsup.dll OK
VisualCron8.exe|>install\iisexpress_1_11_x86_en-US.msi|>IisExpress.cab|>FILE_LICENSE.RTF OK
VisualCron8.exe|>install\iisexpress_1_11_x86_en-US.msi|>IisExpress.cab|>F_rewrite.dll OK
VisualCron8.exe|>install\iisexpress_1_11_x86_en-US.msi|>IisExpress.cab|>F_default.htm OK
VisualCron8.exe|>install\iisexpress_1_11_x86_en-US.msi|>IisExpress.cab|>F_favicon.ico OK
VisualCron8.exe|>install\iisexpress_1_11_x86_en-US.msi|>IisExpress.cab|>F_webx_bkg.png OK
VisualCron8.exe|>install\iisexpress_1_11_x86_en-US.msi|>IisExpress.cab|>F_webx_content_bkg.jpg OK
VisualCron8.exe|>install\iisexpress_1_11_x86_en-US.msi|>IisExpress.cab|>F_C_webx_icon.png OK
VisualCron8.exe|>install\iisexpress_1_11_x86_en-US.msi|>IisExpress.cab|>F_401_1.htm OK
VisualCron8.exe|>install\iisexpress_1_11_x86_en-US.msi|>IisExpress.cab|>F_401_2.htm OK
VisualCron8.exe|>install\iisexpress_1_11_x86_en-US.msi|>IisExpress.cab|>F_401_3.htm OK
VisualCron8.exe|>install\iisexpress_1_11_x86_en-US.msi|>IisExpress.cab|>F_401_4.htm OK
VisualCron8.exe|>install\iisexpress_1_11_x86_en-US.msi|>IisExpress.cab|>F_401_5.htm OK
VisualCron8.exe|>install\iisexpress_1_11_x86_en-US.msi|>IisExpress.cab|>F_401.htm OK
VisualCron8.exe|>install\iisexpress_1_11_x86_en-US.msi|>IisExpress.cab|>F_403_1.htm OK
VisualCron8.exe|>install\iisexpress_1_11_x86_en-US.msi|>IisExpress.cab|>F_403_10.htm OK
VisualCron8.exe|>install\iisexpress_1_11_x86_en-US.msi|>IisExpress.cab|>F_403_11.htm OK
VisualCron8.exe|>install\iisexpress_1_11_x86_en-US.msi|>IisExpress.cab|>F_403_12.htm OK
VisualCron8.exe|>install\iisexpress_1_11_x86_en-US.msi|>IisExpress.cab|>F_403_13.htm OK
VisualCron8.exe|>install\iisexpress_1_11_x86_en-US.msi|>IisExpress.cab|>F_403_14.htm OK
VisualCron8.exe|>install\iisexpress_1_11_x86_en-US.msi|>IisExpress.cab|>F_403_15.htm OK
VisualCron8.exe|>install\iisexpress_1_11_x86_en-US.msi|>IisExpress.cab|>F_403_16.htm OK
Visual
-Cut-

# Number of scanned files: 9643
# Number of scanned folders: 0
# Number of infected files: 0
# Total size of scanned files: 767784648
# Virus database: 170314-2, 03/14/17
# Total scan time: 0:2:16


















AVG
scan report: Clean
AVG AntiVirus command line scanner
Copyright (c) 1992 - 2016 AVG Technologies
Program version 2016.0.8007, engine 2016.0.4756
Virus Database: Version 4756/14117 2017-03-14
VisualCron8.exe is OK.

------------------------------------------------------------
Test started: 15.3.2017 3:22:09
Duration of test: 5 second(s)
------------------------------------------------------------
Objects scanned : 1
Found infections : 0
Rootkits found : 0
Found high severity : 0
Found med severity : 0
Found info severity : 0
Rootkits fixed : 0
Fixed high severity : 0
Fixed med severity : 0
Fixed info severity : 0
------------------------------------------------------------


















Avira
scan report: Clean
Avira / Windows Version 1.9.161.2
Copyright (c) 2010 by Avira GmbH
All rights reserved.

engine set: 8.3.44.10
VDF Version: 7.12.159.78


Scan start time: 3/15/2017 5:22:36 AM
Command line: g:\scancl.exe --nombr --showall --verboselog /a /z /s --log=output.tmp VisualCron8.exe

configuration file: g:\scancl.conf
VisualCron8.exe
Date: 15.03.2017 Time: 05:22:04 Size: 145328728



Statistics :
Directories............... : 0
Archives.................. : 1
Files..................... : 8451
Infected.............. : 0
Warnings.............. : 0
Suspicious............ : 0
Infections................ : 0
Time...................... : 00:01:53



















Kaspersky
scan report: Clean
; --- Settings ---
; Action on detect: Disinfect automatically
; Scan objects: All objects
; Use iChecker: No
; Use iSwift: No
; Try disinfect: No
; Try delete: No
; Try delete container: No
; Exclude by mask: No
; Include by mask: No
; Objects to scan:
; "VisualCron8.exe" Enable = Yes Recursive = No
; ------------------
2017-03-15 05:22:16 Scan_Objects$3662 starting 1%
2017-03-15 05:22:16 Scan_Objects$3662 running 1%
2017-03-15 05:22:20 VisualCron8.exe archive 7-Zip
2017-03-15 05:22:21 VisualCron8.exe//WebClient.7z archive 7-Zip
2017-03-15 05:22:22 VisualCron8.exe//WebClient.7z//App_Data/VCWeb.sdf ok
2017-03-15 05:22:22 VisualCron8.exe//WebClient.7z//Content/bootstrap/config.json ok
2017-03-15 05:22:22 VisualCron8.exe//WebClient.7z//Content/bootstrap/css/bootstrap-theme.css ok
2017-03-15 05:22:22 VisualCron8.exe//WebClient.7z//Content/bootstrap/css/bootstrap-theme.min.css ok
2017-03-15 05:22:22 VisualCron8.exe//WebClient.7z//Content/bootstrap/css/bootstrap.css ok
2017-03-15 05:22:22 VisualCron8.exe//WebClient.7z//Content/bootstrap/css/bootstrap.min.css ok
2017-03-15 05:22:22 VisualCron8.exe//WebClient.7z//Content/bootstrap/fonts/glyphicons-halflings-regular.eot packed EOT
2017-03-15 05:22:22 VisualCron8.exe//WebClient.7z//Content/bootstrap/fonts/glyphicons-halflings-regular.eot ok
2017-03-15 05:22:22 VisualCron8.exe//WebClient.7z//Content/bootstrap/fonts/glyphicons-halflings-regular.eot ok
2017-03-15 05:22:23 VisualCron8.exe//WebClient.7z//Content/bootstrap/fonts/glyphicons-halflings-regular.svg ok
2017-03-15 05:22:23 VisualCron8.exe//WebClient.7z//Content/bootstrap/fonts/glyphicons-halflings-regular.ttf ok
2017-03-15 05:22:23 VisualCron8.exe//WebClient.7z//Content/bootstrap/fonts/glyphicons-halflings-regular.woff ok
2017-03-15 05:22:23 VisualCron8.exe//WebClient.7z//Content/bootstrap/fonts/glyphicons-halflings-regular.woff2 ok
2017-03-15 05:22:23 VisualCron8.exe//WebClient.7z//Content/bootstrap/js/bootstrap.js ok
2017-03-15 05:22:23 VisualCron8.exe//WebClient.7z//Content/bootstrap/js/bootstrap.min.js ok
2017-03-15 05:22:23 VisualCron8.exe//WebClient.7z//Content/bootstrap/js/bootstrap.min.js.map ok
2017-03-15 05:22:23 VisualCron8.exe//WebClient.7z//Content/codemirror/codemirror.css ok
2017-03-15 05:22:23 VisualCron8.exe//WebClient.7z//Content/images/Active.gif ok
2017-03-15 05:22:23 VisualCron8.exe//WebClient.7z//Content/images/Activity.gif ok
2017-03-15 05:22:23 VisualCron8.exe//WebClient.7z//Content/images/ActivityActive.gif ok
2017-03-15 05:22:23 VisualCron8.exe//WebClient.7z//Content/images/ActivityInactive.gif ok
2017-03-15 05:22:23 VisualCron8.exe//WebClient.7z//Content/images/add.gif ok
2017-03-15 05:22:23 VisualCron8.exe//WebClient.7z//Content/images/banner.png ok
2017-03-15 05:22:23 VisualCron8.exe//WebClient.7z//Content/images/blueDots.gif ok
2017-03-15 05:22:23 VisualCron8.exe//WebClient.7z//Content/images/ClientSettings.gif ok
2017-03-15 05:22:24 VisualCron8.exe//WebClient.7z//Content/images/delete.gif ok
2017-03-15 05:22:24 VisualCron8.exe//WebClient.7z//Content/images/edit.gif ok
2017-03-15 05:22:24 VisualCron8.exe//WebClient.7z//Content/images/Empty.png ok
2017-03-15 05:22:24 VisualCron8.exe//WebClient.7z//Content/images/icons/auditlog/AuditLog.png ok
2017-03-15 05:22:24 VisualCron8.exe//WebClient.7z//Content/images/icons/auditlog/AuditVersions.png ok
2017-03-15 05:22:24 VisualCron8.exe//WebClient.7z//Content/images/icons/auditlog/diff.png ok
2017-03-15 05:22:24 VisualCron8.exe//WebClient.7z//Content/images/icons/auditlog/Revert.png ok
2017-03-15 05:22:24 VisualCron8.exe//WebClient.7z//Content/images/icons/calendar32.gif ok
2017-03-15 05:22:24 VisualCron8.exe//WebClient.7z//Content/images/icons/certificates.png ok
2017-03-15 05:22:24 VisualCron8.exe//WebClient.7z//Content/images/icons/checkforupdates32.gif ok
2017-03-15 05:22:24 VisualCron8.exe//WebClient.7z//Content/images/icons/ClientConnections.gif ok
2017-03-15 05:22:24 VisualCron8.exe//WebClient.7z//Content/images/icons/conditions.gif ok
2017-03-15 05:22:24 VisualCron8.exe//WebClient.7z//Content/images/icons/Connections.png ok
2017-03-15 05:22:24 VisualCron8.exe//WebClient.7z//Content/images/icons/contactus.png ok
2017-03-15 05:22:24 VisualCron8.exe//WebClient.7z//Content/images/icons/Credentials.gif ok
2017-03-15 05:22:24 VisualCron8.exe//WebClient.7z//Content/images/icons/documentation.png ok
2017-03-15 05:22:24 VisualCron8.exe//WebClient.7z//Content/images/icons/favico/128x32bit.png ok
2017-03-15 05:22:24 VisualCron8.exe//WebClient.7z//Content/images/icons/favico/32x32bit.png ok
2017-03-15 05:22:24 VisualCron8.exe//WebClient.7z//Content/images/icons/favico/48x32bit.png ok
2017-03-15 05:22:24 VisualCron8.exe//WebClient.7z//Content/images/icons/favico/64x32bit.png ok
2017-03-15 05:22:24 VisualCron8.exe//WebClient.7z//Content/images/icons/favico/V-blue.ico ok
2017-03-15 05:22:24 VisualCron8.exe//WebClient.7z//Content/images/icons/forum.png ok
2017-03-15 05:22:24 VisualCron8.exe//WebClient.7z//Content/images/icons/jobs.png ok
2017-03-15 05:22:24 VisualCron8.exe//WebClient.7z//Content/images/icons/loading_async.gif ok
2017-03-15 05:22:24 VisualCron8.exe//WebClient.7z//Content/images/icons/loading_async_big.gif ok
2017-03-15 05:22:24 VisualCron8.exe//WebClient.7z//Content/images/icons/log.png ok
2017-03-15 05:22:25 VisualCron8.exe//WebClient.7z//Content/images/icons/logo/VisualCronBlue.png ok
2017-03-15 05:22:25 VisualCron8.exe//WebClient.7z//Content/images/icons/logo/VisualCronYellow.png ok
2017-03-15 05:22:25 VisualCron8.exe//WebClient.7z//Content/images/icons/loop/loopend_blue.png ok
2017-03-15 05:22:25 VisualCron8.exe//WebClient.7z//Content/images/icons/loop/loopend_green.png ok
2017-03-15 05:22:25 VisualCron8.exe//WebClient.7z//Content/images/icons/loop/loopend_orange.png ok
2017-03-15 05:22:25 VisualCron8.exe//WebClient.7z//Content/images/icons/loop/loopend_purple.png ok
2017-03-15 05:22:25 VisualCron8.exe//WebClient.7z//Content/images/icons/loop/loopend_red.png ok
2017-03-15 05:22:25 VisualCron8.exe//WebClient.7z//Content/images/icons/loop/loopend_yellow.png ok
2017-03-15 05:22:25 VisualCron8.exe//WebClient.7z//Content/images/icons/loop/loopmiddle_blue.png ok
2017-03-15 05:22:25 VisualCron8.exe//WebClient.7z//Content/images/icons/loop/loopmiddle_green.png ok
2017-03-15 05:22:25 VisualCron8.exe//WebClient.7z//Content/images/icons/loop/loopmiddle_orange.png ok
2017-03-15 05:22:25 VisualCron8.exe//WebClient.7z//Content/images/icons/loop/loopmiddle_purple.png ok
2017-03-15 05:22:25 VisualCron8.exe//WebClient.7z//Content/images/icons/loop/loopmiddle_red.png ok
2017-03-15 05:22:25 VisualCron8.exe//WebClient.7z//Content/images/icons/loop/loopmiddle_yellow.png ok
2017-03-15 05:22:25 VisualCron8.exe//WebClient.7z//Content/images/icons/loop/loopself_blue.png ok
2017-03-15 05:22:25 VisualCron8.exe//WebClient.7z//Content/images/icons/loop/loopself_green.png ok
2017-03-15 05:22:25 VisualCron8.exe//WebClient.7z//Content/images/icons/loop/loopself_orange.png ok
2017-03-15 05:22:25 VisualCron8.exe//WebClient.7z//Content/images/icons/loop/loopself_purple.png ok
2017-03-15 05:22:25 VisualCron8.exe//WebClient.7z//Content/images/icons/loop/loopself_red.png ok
2017-03-15 05:22:25 VisualCron8.exe//WebClient.7z//Content/images/icons/loop/loopself_yellow.png ok
2017-03-15 05:22:25 VisualCron8.exe//WebClient.7z//Content/images/icons/loop/loopstart_blue.png ok
2017-03-15 05:22:25 VisualCron8.exe//WebClient.7z//Content/images/icons/loop/loopstart_green.png ok
2017-03-15 05:22:25 VisualCron8.exe//WebClient.7z//Content/images/icons/loop/loopstart_orange.png ok
2017-03-15 05:22:25 VisualCron8.exe//WebClient.7z//Content/images/icons/loop/loopstart_purple.png ok
2017-03-15 05:22:25 VisualCron8.exe//WebClient.7z//Content/images/icons/loop/loopstart_red.png ok
2017-03-15 05:22:25 VisualCron8.exe//WebClient.7z//Content/images/icons/loop/loopstart_yellow.png ok
2017-03-15 05:22:25 VisualCron8.exe//WebClient.7z//Content/images/icons/manageservers16.gif ok
2017-03-15 05:22:25 VisualCron8.exe//WebClient.7z//Content/images/icons/manageservers32.gif ok
2017-03-15 05:22:25 VisualCron8.exe//WebClient.7z//Content/images/icons/NetworkDrive.png ok
2017-03-15 05:22:25 VisualCron8.exe//WebClient.7z//Content/images/icons/none.gif ok
2017-03-15 05:22:25 VisualCron8.exe//WebClient.7z//Content/images/icons/Notifications.gif ok
2017-03-15 05:22:25 VisualCron8.exe//WebClient.7z//Content/images/icons/PGPKeyRings.png ok
2017-03-15 05:22:25 VisualCron8.exe//WebClient.7z//Content/images/icons/popupTask/error.png ok
2017-03-15 05:22:26 VisualCron8.exe//WebClient.7z//Content/images/icons/popupTask/information.png ok
2017-03-15 05:22:26 VisualCron8.exe//WebClient.7z//Content/images/icons/popupTask/question.png ok
2017-03-15 05:22:26 VisualCron8.exe//WebClient.7z//Content/images/icons/popupTask/warning.png ok
2017-03-15 05:22:26 VisualCron8.exe//WebClient.7z//Content/images/icons/selectcolumns.gif ok
2017-03-15 05:22:26 VisualCron8.exe//WebClient.7z//Content/images/icons/serversettings.gif ok
2017-03-15 05:22:26 VisualCron8.exe//WebClient.7z//Content/images/icons/system_off.png ok
2017-03-15 05:22:26 VisualCron8.exe//WebClient.7z//Content/images/icons/system_on.png ok
2017-03-15 05:22:26 VisualCron8.exe//WebClient.7z//Content/images/icons/timeexceptions.png ok
2017-03-15 05:22:26 VisualCron8.exe//WebClient.7z//Content/images/icons/tutorials.png ok
2017-03-15 05:22:26 VisualCron8.exe//WebClient.7z//Content/images/icons/userpermissions.gif ok
2017-03-15 05:22:26 VisualCron8.exe//WebClient.7z//Content/images/icons/Variables.png ok
2017-03-15 05:22:26 VisualCron8.exe//WebClient.7z//Content/images/icons/viewoutput.png ok
2017-03-15 05:22:26 VisualCron8.exe//WebClient.7z//Content/images/Inactive.gif ok
2017-03-15 05:22:26 VisualCron8.exe//WebClient.7z//Content/images/login-facebook.png ok
2017-03-15 05:22:26 VisualCron8.exe//WebClient.7z//Content/images/login-google.png ok
2017-03-15 05:22:26 VisualCron8.exe//WebClient.7z//Content/images/login-liveid.png ok
2017-03-15 05:22:26 VisualCron8.exe//WebClient.7z//Content/images/login-yahoo.png ok
2017-03-15 05:22:26 VisualCron8.exe//WebClient.7z//Content/images/manageservers16.gif ok
2017-03-15 05:22:26 VisualCron8.exe//WebClient.7z//Content/images/none.gif ok
2017-03-15 05:22:26 VisualCron8.exe//WebClient.7z//Content/images/openid-logos.png ok
2017-03-15 05:22:26 VisualCron8.exe//WebClient.7z//Content/images/openid.gif ok
2017-03-15 05:22:26 VisualCron8.exe//WebClient.7z//Content/images/rbPredefinedIcons.png ok
2017-03-15 05:22:26 VisualCron8.exe//WebClient.7z//Content/images/result/res_.png ok
2017-03-15 05:22:26 VisualCron8.exe//WebClient.7z//Content/images/result/res_failure.png ok
2017-03-15 05:22:26 VisualCron8.exe//WebClient.7z//Content/images/result/res_running.png ok
2017-03-15 05:22:26 VisualCron8.exe//WebClient.7z//Content/images/result/res_success.png ok
2017-03-15 05:22:26 VisualCron8.exe//WebClient.7z//Content/images/runjob.gif ok
2017-03-15 05:22:26 VisualCron8.exe//WebClient.7z//Content/images/ServerConnectedfalse.png ok
2017-03-15 05:22:26 VisualCron8.exe//WebClient.7z//Content/images/ServerConnectedtrue.png ok
2017-03-15 05:22:26 VisualCron8.exe//WebClient.7z//Content/images/stopjob.gif ok
2017-03-15 05:22:26 VisualCron8.exe//WebClient.7z//Content/images/visualcron.ico ok
2017-03-15 05:22:26 VisualCron8.exe//WebClient.7z//Content/images/visualcron.png ok
2017-03-15 05:22:26 VisualCron8.exe//WebClient.7z//Content/kendo/2015.1.408/Black/editor.png ok
2017-03-15 05:22:26 VisualCron8.exe//WebClient.7z//Content/kendo/2015.1.408/Black/imagebrowser.png ok
2017-03-15 05:22:26 VisualCron8.exe//WebClient.7z//Content/kendo/2015.1.408/Black/indeterminate.gif ok
2017-03-15 05:22:26 VisualCron8.exe//WebClient.7z//Content/kendo/2015.1.408/Black/loading-image.gif ok
2017-03-15 05:22:26 VisualCron8.exe//WebClient.7z//Content/kendo/2015.1.408/Black/loading.gif ok
2017-03-15 05:22:26 VisualCron8.exe//WebClient.7z//Content/kendo/2015.1.408/Black/loading_2x.gif ok
2017-03-15 05:22:27 VisualCron8.exe//WebClient.7z//Content/kendo/2015.1.408/Black/markers.png ok
2017-03-15 05:22:27 VisualCron8.exe//WebClient.7z//Content/kendo/2015.1.408/Black/markers_2x.png ok
2017-03-15 05:22:27 VisualCron8.exe//WebClient.7z//Content/kendo/2015.1.408/Black/slider-h.gif ok
2017-03-15 05:22:27 VisualCron8.exe//WebClient.7z//Content/kendo/2015.1.408/Black/slider-v.gif ok
2017-03-15 05:22:27 VisualCron8.exe//WebClient.7z//Content/kendo/2015.1.408/Black/sprite.png ok
2017-03-15 05:22:27 VisualCron8.exe//WebClient.7z//Content/kendo/2015.1.408/Black/sprite_2x.png ok
2017-03-15 05:22:27 VisualCron8.exe//WebClient.7z//Content/kendo/2015.1.408/Black/sprite_kpi.png ok
2017-03-15 05:22:27 VisualCron8.exe//WebClient.7z//Content/kendo/2015.1.408/Black/sprite_kpi_2x.png ok
2017-03-15 05:22:27 VisualCron8.exe//WebClient.7z//Content/kendo/2015.1.408/BlueOpal/editor.png ok
2017-03-15 05:22:27 VisualCron8.exe//WebClient.7z//Content/kendo/2015.1.408/BlueOpal/imagebrowser.png ok
2017-03-15 05:22:27 VisualCron8.exe//WebClient.7z//Content/kendo/2015.1.408/BlueOpal/indeterminate.gif ok
2017-03-15 05:22:27 VisualCron8.exe//WebClient.7z//Content/kendo/2015.1.408/BlueOpal/loading-image.gif ok
2017-03-15 05:22:27 VisualCron8.exe//WebClient.7z//Content/kendo/2015.1.408/BlueOpal/loading.gif ok
2017-03-15 05:22:27 VisualCron8.exe//WebClient.7z//Content/kendo/2015.1.408/BlueOpal/loading_2x.gif ok
2017-03-15 05:22:27 VisualCron8.exe//WebClient.7z//Content/kendo/2015.1.408/BlueOpal/markers.png ok
2017-03-15 05:22:27 VisualCron8.exe//WebClient.7z//Content/kendo/2015.1.408/BlueOpal/markers_2x.png ok
2017-03-15 05:22:27 VisualCron8.exe//WebClient.7z//Content/kendo/2015.1.408/BlueOpal/slider-h.gif ok
2017-03-15 05:22:27 VisualCron8.exe//WebClient.7z//Content/kendo/2015.1.408/BlueOpal/slider-v.gif ok
2017-03-15 05:22:27 VisualCron8.exe//WebClient.7z//Content/kendo/2015.1.408/BlueOpal/sprite.png ok
2017-03-15 05:22:27 VisualCron8.exe//WebClient.7z//Content/kendo/2015.1.408/BlueOpal/sprite_2x.png ok
2017-03-15 05:22:27 VisualCron8.exe//WebClient.7z//Content/kendo/2015.1.408/BlueOpal/sprite_kpi.png ok
2017-03-15 05:22:28 VisualCron8.exe//WebClient.7z//Content/kendo/2015.1.408/BlueOpal/sprite_kpi_2x.png ok
2017-03-15 05:22:28 VisualCron8.exe//WebClient.7z//Content/kendo/2015.1.408/Bootstrap/editor.png ok
2017-03-15 05:22:28 VisualCron8.exe//WebClient.7z//Content/kendo/2015.1.408/Bootstrap/imagebrowser.png ok
2017-03-15 05:22:28 VisualCron8.exe//WebClient.7z//Content/kendo/2015.1.408/Bootstrap/indeterminate.gif ok
2017-03-15 05:22:28 VisualCron8.exe//WebClient.7z//Content/kendo/2015.1.408/Bootstrap/loading-image.gif ok
2017-03-15 05:22:28 VisualCron8.exe//WebClient.7z//Content/kendo/2015.1.408/Bootstrap/loading.gif ok
2017-03-15 05:22:28 VisualCron8.exe//WebClient.7z//Content/kendo/2015.1.408/Bootstrap/loading_2x.gif ok
2017-03-15 05:22:28 VisualCron8.exe//WebClient.7z//Content/kendo/2015.1.408/Bootstrap/markers.png ok
2017-03-15 05:22:28 VisualCron8.exe//WebClient.7z//Content/kendo/2015.1.408/Bootstrap/markers_2x.png ok
2017-03-15 05:22:28 VisualCron8.exe//WebClient.7z//Content/kendo/2015.1.408/Bootstrap/slider-h.gif ok
2017-03-15 05:22:28 VisualCron8.exe//WebClient.7z//Content/kendo/2015.1.408/Bootstrap/slider-v.gif ok
2017-03-15 05:22:28 VisualCron8.exe//WebClient.7z//Content/kendo/2015.1.408/Bootstrap/sprite.png ok
2017-03-15 05:22:28 VisualCron8.exe//WebClient.7z//Content/kendo/2015.1.408/Bootstrap/sprite_2x.png ok
2017-03-15 05:22:28 VisualCron8.exe//WebClient.7z//Content/kendo/2015.1.408/Bootstrap/sprite_kpi.png ok
2017-03-15 05:22:28 VisualCron8.exe//WebClient.7z//Content/kendo/2015.1.408/Bootstrap/sprite_kpi_2x.png ok
2017-03-15 05:22:28 VisualCron8.exe//WebClient.7z//Content/kendo/2015.1.408/Default/editor.png ok
2017-03-15 05:22:28 VisualCron8.exe//WebClient.7z//Content/kendo/2015.1.408/Default/imagebrowser.png ok
2017-03-15 05:22:28 VisualCron8.exe//WebClient.7z//Content/kendo/2015.1.408/Default/indeterminate.gif ok
2017-03-15 05:22:28 VisualCron8.exe//WebClient.7z//Content/kendo/2015.1.408/Default/loading-image.gif ok
2017-03-15 05:22:28 VisualCron8.exe//WebClient.7z//Content/kendo/2015.1.408/Default/loading.gif ok
2017-03-15 05:22:28 VisualCron8.exe//WebClient.7z//Content/kendo/2015.1.408/Default/loading_2x.gif ok
2017-03-15 05:22:28 VisualCron8.exe//WebClient.7z//Content/kendo/2015.1.408/Default/markers.png ok
2017-03-15 05:22:28 VisualCron8.exe//WebClient.7z//Content/kendo/2015.1.408/Default/markers_2x.png ok
2017-03-15 05:22:28 VisualCron8.exe//WebClient.7z//Content/kendo/2015.1.408/Default/slider-h.gif ok
2017-03-15 05:22:28 VisualCron8.exe//WebClient.7z//Content/kendo/2015.1.408/Default/slider-v.gif ok
2017-03-15 05:22:28 VisualCron8.exe//WebClient.7z//Content/kendo/2015.1.408/Default/sprite.png ok
2017-03-15 05:22:28 VisualCron8.exe//WebClient.7z//Content/kendo/2015.1.408/Default/sprite_2x.png ok
2017-03-15 05:22:28 VisualCron8.exe//WebClient.7z//Content/kendo/2015.1.408/Default/sprite_kpi.png ok
2017-03-15 05:22:28 VisualCron8.exe//WebClient.7z//Content/kendo/2015.1.408/Default/sprite_kpi_2x.png ok
2017-03-15 05:22:28 VisualCron8.exe//WebClient.7z//Content/kendo/2015.1.408/Fiori/editor.png ok
2017-03-15 05:22:28 VisualCron8.exe//WebClient.7z//Content/kendo/2015.1.408/Fiori/imagebrowser.png ok
2017-03-15 05:22:28 VisualCron8.exe//WebClient.7z//Content/kendo/2015.1.408/Fiori/indeterminate.gif ok
2017-03-15 05:22:28 VisualCron8.exe//WebClient.7z//Content/kendo/2015.1.408/Fiori/loading-image.gif ok
2017-03-15 05:22:29 VisualCron8.exe//WebClient.7z//Content/kendo/2015.1.408/Fiori/loading.gif ok
2017-03-15 05:22:29 VisualCron8.exe//WebClient.7z//Content/kendo/2015.1.408/Fiori/loading_2x.gif ok
2017-03-15 05:22:29 VisualCron8.exe//WebClient.7z//Content/kendo/2015.1.408/Fiori/markers.png ok
2017-03-15 05:22:29 VisualCron8.exe//WebClient.7z//Content/kendo/2015.1.408/Fiori/markers_2x.png ok
2017-03-15 05:22:29 VisualCron8.exe//WebClient.7z//Content/kendo/2015.1.408/Fiori/slider-h.gif ok
2017-03-15 05:22:29 VisualCron8.exe//WebClient.7z//Content/kendo/2015.1.408/Fiori/slider-v.gif ok
2017-03-15 05:22:29 VisualCron8.exe//WebClient.7z//Content/kendo/2015.1.408/Fiori/sprite.png ok
2017-03-15 05:22:29 VisualCron8.exe//WebClient.7z//Content/kendo/2015.1.408/Fiori/sprite_2x.png ok
2017-03-15 05:22:29 VisualCron8.exe//WebClient.7z//Content/kendo/2015.1.408/Fiori/sprite_kpi.png ok
2017-03-15 05:22:29 VisualCron8.exe//WebClient.7z//Content/kendo/2015.1.408/Fiori/sprite_kpi_2x.png ok
2017-03-15 05:22:29 VisualCron8.exe//WebClient.7z//Content/kendo/2015.1.408/Flat/editor.png ok
2017-03-15 05:22:29 VisualCron8.exe//WebClient.7z//Content/kendo/2015.1.408/Flat/imagebrowser.png ok
2017-03-15 05:22:29 VisualCron8.exe//WebClient.7z//Content/kendo/2015.1.408/Flat/indeterminate.gif ok
2017-03-15 05:22:29 VisualCron8.exe//WebClient.7z//Content/kendo/2015.1.408/Flat/loading-image.gif ok
2017-03-15 05:22:29 VisualCron8.exe//WebClient.7z//Content/kendo/2015.1.408/Flat/loading.gif ok
2017-03-15 05:22:29 VisualCron8.exe//WebClient.7z//Content/kendo/2015.1.408/Flat/loading_2x.gif ok
2017-03-15 05:22:29 VisualCron8.exe//WebClient.7z//Content/kendo/2015.1.408/Flat/markers.png ok
2017-03-15 05:22:29 VisualCron8.exe//WebClient.7z//Content/kendo/2015.1.408/Flat/markers_2x.png ok
2017-03-15 05:22:29 VisualCron8.exe//WebClient.7z//Content/kendo/2015.1.408/Flat/slider-h.gif ok
2017-03-15 05:22:29 VisualCron8.exe//WebClient.7z//Content/kendo/2015.1.408/Flat/slider-v.gif ok
2017-03-15 05:22:29 VisualCron8.exe//WebClient.7z//Content/kendo/2015.1.408/Flat/sprite.png ok
2017-03-15 05:22:29 VisualCron8.exe//WebClient.7z//Content/kendo/2015.1.408/Flat/sprite_2x.png ok
2017-03-15 05:22:29 VisualCron8.exe//WebClient.7z//Content/kendo/2015.1.408/Flat/sprite_kpi.png ok
2017-03-15 05:22:29 VisualCron8.exe//WebClient.7z//Content/kendo/2015.1.408/Flat/sprite_kpi_2x.png ok
2017-03-15 05:22:29 VisualCron8.exe//WebClient.7z//Content/kendo/2015.1.408/fonts/DejaVu/DejaVuSans-Bold.ttf ok
2017-03-15 05:22:29 VisualCron8.exe//WebClient.7z//Content/kendo/2015.1.408/fonts/DejaVu/DejaVuSans-BoldOblique.ttf ok
2017-03-15 05:22:30 VisualCron8.exe//WebClient.7z//Content/kendo/2015.1.408/fonts/DejaVu/DejaVuSans-Oblique.ttf ok
2017-03-15 05:22:30 VisualCron8.exe//WebClient.7z//Content/kendo/2015.1.408/fonts/DejaVu/DejaVuSans.ttf ok
2017-03-15 05:22:30 VisualCron8.exe//WebClient.7z//Content/kendo/2015.1.408/fonts/DejaVu/DejaVuSansMono-Bold.ttf ok
2017-03-15 05:22:30 VisualCron8.exe//WebClient.7z//Content/kendo/2015.1.408/fonts/DejaVu/DejaVuSansMono-BoldOblique.ttf ok
2017-03-15 05:22:30 VisualCron8.exe//WebClient.7z//Content/kendo/2015.1.408/fonts/DejaVu/DejaVuSansMono-Oblique.ttf ok
2017-03-15 05:22:30 VisualCron8.exe//WebClient.7z//Content/kendo/2015.1.408/fonts/DejaVu/DejaVuSansMono.ttf ok
2017-03-15 05:22:30 VisualCron8.exe//WebClient.7z//Content/kendo/2015.1.408/fonts/DejaVu/DejaVuSerif-Bold.ttf ok
2017-03-15 05:22:30 VisualCron8.exe//WebClient.7z//Content/kendo/2015.1.408/fonts/DejaVu/DejaVuSerif-BoldItalic.ttf ok
2017-03-15 05:22:30 VisualCron8.exe//WebClient.7z//Content/kendo/2015.1.408/fonts/DejaVu/DejaVuSerif-Italic.ttf ok
2017-03-15 05:22:30 VisualCron8.exe//WebClient.7z//Content/kendo/2015.1.408/fonts/DejaVu/DejaVuSerif.ttf ok
2017-03-15 05:22:30 VisualCron8.exe//WebClient.7z//Content/kendo/2015.1.408/fonts/DejaVu/LICENSE.txt ok
2017-03-15 05:22:30 VisualCron8.exe//WebClient.7z//Content/kendo/2015.1.408/fonts/WebComponentsIcons.ttf ok
2017-03-15 05:22:30 VisualCron8.exe//WebClient.7z//Content/kendo/2015.1.408/HighContrast/editor.png ok
2017-03-15 05:22:30 VisualCron8.exe//WebClient.7z//Content/kendo/2015.1.408/HighContrast/imagebrowser.png ok
2017-03-15 05:22:30 VisualCron8.exe//WebClient.7z//Content/kendo/2015.1.408/HighContrast/indeterminate.gif ok
2017-03-15 05:22:31 VisualCron8.exe//WebClient.7z//Content/kendo/2015.1.408/HighContrast/loading-image.gif ok
2017-03-15 05:22:31 VisualCron8.exe//WebClient.7z//Content/kendo/2015.1.408/HighContrast/loading.gif ok
2017-03-15 05:22:31 VisualCron8.exe//WebClient.7z//Content/kendo/2015.1.408/HighContrast/loading_2x.gif ok
2017-03-15 05:22:31 VisualCron8.exe//WebClient.7z//Content/kendo/2015.1.408/HighContrast/markers.png ok
2017-03-15 05:22:31 VisualCron8.exe//WebClient.7z//Content/kendo/2015.1.408/HighContrast/markers_2x.png ok
2017-03-15 05:22:31 VisualCron8.exe//WebClient.7z//Content/kendo/2015.1.408/HighContrast/slider-h.gif ok
2017-03-15 05:22:31 VisualCron8.exe//WebClient.7z//Content/kendo/2015.1.408/HighContrast/slider-v.gif ok
2017-03-15 05:22:31 VisualCron8.exe//WebClient.7z//Content/kendo/2015.1.408/HighContrast/sprite.png ok
2017-03-15 05:22:31 VisualCron8.exe//WebClient.7z//Content/kendo/2015.1.408/HighContrast/sprite_2x.png ok
2017-03-15 05:22:31 VisualCron8.exe//WebClient.7z//Content/kendo/2015.1.408/HighContrast/sprite_kpi.png ok
2017-03-15 05:22:31 VisualCron8.exe//WebClient.7z//Content/kendo/2015.1.408/HighContrast/sprite_kpi_2x.png ok
2017-03-15 05:22:31 VisualCron8.exe//WebClient.7z//Content/kendo/2015.1.408/images/back.png ok
2017-03-15 05:22:31 VisualCron8.exe//WebClient.7z//Content/kendo/2015.1.408/images/kendoui.svg ok
2017-03-15 05:22:31 VisualCron8.exe//WebClient.7z//Content/kendo/2015.1.408/images/kendoui.ttf ok
2017-03-15 05:22:31 VisualCron8.exe//WebClient.7z//Content/kendo/2015.1.408/images/kendoui.woff ok
2017-03-15 05:22:31 VisualCron8.exe//WebClient.7z//Content/kendo/2015.1.408/images/wp8_icons.png ok
2017-03-15 05:22:31 VisualCron8.exe//WebClient.7z//Content/kendo/2015.1.408/images/wp8_inverseicons.png ok
2017-03-15 05:22:31 VisualCron8.exe//WebClient.7z//Content/kendo/2015.1.408/kendo.black.min.css ok
2017-03-15 05:22:31 VisualCron8.exe//WebClient.7z//Content/kendo/2015.1.408/kendo.black.mobile.min.css ok
2017-03-15 05:22:31 VisualCron8.exe//WebClient.7z//Content/kendo/2015.1.408/kendo.blueopal.min.css ok
2017-03-15 05:22:31 VisualCron8.exe//WebClient.7z//Content/kendo/2015.1.408/kendo.blueopal.mobile.min.css ok
2017-03-15 05:22:31 VisualCron8.exe//WebClient.7z//Content/kendo/2015.1.408/kendo.bootstrap.min.css ok
2017-03-15 05:22:31 VisualCron8.exe//WebClient.7z//Content/kendo/2015.1.408/kendo.bootstrap.mobile.min.css ok
2017-03-15 05:22:31 VisualCron8.exe//WebClient.7z//Content/kendo/2015.1.408/kendo.common-bootstrap.core.min.css ok
2017-03-15 05:22:31 VisualCron8.exe//WebClient.7z//Content/kendo/2015.1.408/kendo.common-bootstrap.min.css ok
2017-03-15 05:22:31 VisualCron8.exe//WebClient.7z//Content/kendo/2015.1.408/kendo.common-fiori.core.min.css ok
2017-03-15 05:22:32 VisualCron8.exe//WebClient.7z//Content/kendo/2015.1.408/kendo.common-fiori.min.css ok
2017-03-15 05:22:32 VisualCron8.exe//WebClient.7z//Content/kendo/2015.1.408/kendo.common-material.core.min.css ok
2017-03-15 05:22:32 VisualCron8.exe//WebClient.7z//Content/kendo/2015.1.408/kendo.common-material.min.css ok
2017-03-15 05:22:32 VisualCron8.exe//WebClient.7z//Content/kendo/2015.1.408/kendo.common.core.min.css ok
2017-03-15 05:22:32 VisualCron8.exe//WebClient.7z//Content/kendo/2015.1.408/kendo.common.min.css ok
2017-03-15 05:22:32 VisualCron8.exe//WebClient.7z//Content/kendo/2015.1.408/kendo.dataviz.black.min.css ok
2017-03-15 05:22:32 VisualCron8.exe//WebClient.7z//Content/kendo/2015.1.408/kendo.dataviz.blueopal.min.css ok
2017-03-15 05:22:32 VisualCron8.exe//WebClient.7z//Content/kendo/2015.1.408/kendo.dataviz.bootstrap.min.css ok
2017-03-15 05:22:32 VisualCron8.exe//WebClient.7z//Content/kendo/2015.1.408/kendo.dataviz.default.min.css ok
2017-03-15 05:22:32 VisualCron8.exe//WebClient.7z//Content/kendo/2015.1.408/kendo.dataviz.fiori.min.css ok
2017-03-15 05:22:32 VisualCron8.exe//WebClient.7z//Content/kendo/2015.1.408/kendo.dataviz.flat.min.css ok
2017-03-15 05:22:32 VisualCron8.exe//WebClient.7z//Content/kendo/2015.1.408/kendo.dataviz.highcontrast.min.css ok
2017-03-15 05:22:32 VisualCron8.exe//WebClient.7z//Content/kendo/2015.1.408/kendo.dataviz.material.min.css ok
2017-03-15 05:22:32 VisualCron8.exe//WebClient.7z//Content/kendo/2015.1.408/kendo.dataviz.materialblack.min.css ok
2017-03-15 05:22:32 VisualCron8.exe//WebClient.7z//Content/kendo/2015.1.408/kendo.dataviz.metro.min.css ok
2017-03-15 05:22:32 VisualCron8.exe//WebClient.7z//Content/kendo/2015.1.408/kendo.dataviz.metroblack.min.css ok
2017-03-15 05:22:32 VisualCron8.exe//WebClient.7z//Content/kendo/2015.1.408/kendo.dataviz.min.css ok
2017-03-15 05:22:32 VisualCron8.exe//WebClient.7z//Content/kendo/2015.1.408/kendo.dataviz.mobile.min.css ok
2017-03-15 05:22:32 VisualCron8.exe//WebClient.7z//Content/kendo/2015.1.408/kendo.dataviz.moonlight.min.css ok
2017-03-15 05:22:32 VisualCron8.exe//WebClient.7z//Content/kendo/2015.1.408/kendo.dataviz.silver.min.css ok
2017-03-15 05:22:32 VisualCron8.exe//WebClient.7z//Content/kendo/2015.1.408/kendo.dataviz.uniform.min.css ok
2017-03-15 05:22:32 VisualCron8.exe//WebClient.7z//Content/kendo/2015.1.408/kendo.default.min.css ok
2017-03-15 05:22:33 VisualCron8.exe//WebClient.7z//Content/kendo/2015.1.408/kendo.default.mobile.min.css ok
2017-03-15 05:22:33 VisualCron8.exe//WebClient.7z//Content/kendo/2015.1.408/kendo.fiori.min.css ok
2017-03-15 05:22:33 VisualCron8.exe//WebClient.7z//Content/kendo/2015.1.408/kendo.fiori.mobile.min.css ok
2017-03-15 05:22:33 VisualCron8.exe//WebClient.7z//Content/kendo/2015.1.408/kendo.flat.min.css ok
2017-03-15 05:22:33 VisualCron8.exe//WebClient.7z//Content/kendo/2015.1.408/kendo.flat.mobile.min.css ok
2017-03-15 05:22:33 VisualCron8.exe//WebClient.7z//Content/kendo/2015.1.408/kendo.highcontrast.min.css ok
2017-03-15 05:22:33 VisualCron8.exe//WebClient.7z//Content/kendo/2015.1.408/kendo.highcontrast.mobile.min.css ok
2017-03-15 05:22:33 VisualCron8.exe//WebClient.7z//Content/kendo/2015.1.408/kendo.material.min.css ok
2017-03-15 05:22:33 VisualCron8.exe//WebClient.7z//Content/kendo/2015.1.408/kendo.material.mobile.min.css ok
2017-03-15 05:22:33 VisualCron8.exe//WebClient.7z//Content/kendo/2015.1.408/kendo.materialblack.min.css ok
2017-03-15 05:22:33 VisualCron8.exe//WebClient.7z//Content/kendo/2015.1.408/kendo.materialblack.mobile.min.css ok
2017-03-15 05:22:33 VisualCron8.exe//WebClient.7z//Content/kendo/2015.1.408/kendo.metro.min.css ok
2017-03-15 05:22:33 VisualCron8.exe//WebClient.7z//Content/kendo/2015.1.408/kendo.metro.mobile.min.css ok
2017-03-15 05:22:33 VisualCron8.exe//WebClient.7z//Content/kendo/2015.1.408/kendo.metroblack.min.css ok
2017-03-15 05:22:33 VisualCron8.exe//WebClient.7z//Content/kendo/2015.1.408/kendo.metroblack.mobile.min.css ok
2017-03-15 05:22:33 VisualCron8.exe//WebClient.7z//Content/kendo/2015.1.408/kendo.mobile.all.min.css ok
2017-03-15 05:22:34 VisualCron8.exe//WebClient.7z//Content/kendo/2015.1.408/kendo.mobile.android.dark.min.css ok
2017-03-15 05:22:34 VisualCron8.exe//WebClient.7z//Content/kendo/2015.1.408/kendo.mobile.android.light.min.css ok
2017-03-15 05:22:34 VisualCron8.exe//WebClient.7z//Content/kendo/2015.1.408/kendo.mobile.blackberry.min.css ok
2017-03-15 05:22:34 VisualCron8.exe//WebClient.7z//Content/kendo/2015.1.408/kendo.mobile.common.min.css ok
2017-03-15 05:22:34 VisualCron8.exe//WebClient.7z//Content/kendo/2015.1.408/kendo.mobile.fiori.min.css ok
2017-03-15 05:22:34 VisualCron8.exe//WebClient.7z//Content/kendo/2015.1.408/kendo.mobile.flat.min.css ok
2017-03-15 05:22:34 VisualCron8.exe//WebClient.7z//Content/kendo/2015.1.408/kendo.mobile.ios.min.css ok
2017-03-15 05:22:34 VisualCron8.exe//WebClient.7z//Content/kendo/2015.1.408/kendo.mobile.material.min.css ok
2017-03-15 05:22:34 VisualCron8.exe//WebClient.7z//Content/kendo/2015.1.408/kendo.mobile.meego.min.css ok
2017-03-15 05:22:34 VisualCron8.exe//WebClient.7z//Content/kendo/2015.1.408/kendo.mobile.wp8.min.css ok
2017-03-15 05:22:34 VisualCron8.exe//WebClient.7z//Content/kendo/2015.1.408/kendo.moonlight.min.css ok
2017-03-15 05:22:34 VisualCron8.exe//WebClient.7z//Content/kendo/2015.1.408/kendo.moonlight.mobile.min.css ok
2017-03-15 05:22:34 VisualCron8.exe//WebClient.7z//Content/kendo/2015.1.408/kendo.rtl.css ok
2017-03-15 05:22:34 VisualCron8.exe//WebClient.7z//Content/kendo/2015.1.408/kendo.rtl.min.css ok
2017-03-15 05:22:34 VisualCron8.exe//WebClient.7z//Content/kendo/2015.1.408/kendo.silver.min.css ok
2017-03-15 05:22:34 VisualCron8.exe//WebClient.7z//Content/kendo/2015.1.408/kendo.silver.mobile.min.css ok
2017-03-15 05:22:34 VisualCron8.exe//WebClient.7z//Content/kendo/2015.1.408/kendo.uniform.min.css ok
2017-03-15 05:22:35 VisualCron8.exe//WebClient.7z//Content/kendo/2015.1.408/kendo.uniform.mobile.min.css ok
2017-03-15 05:22:35 VisualCron8.exe//WebClient.7z//Content/kendo/2015.1.408/Material/editor.png ok
2017-03-15 05:22:35 VisualCron8.exe//WebClient.7z//Content/kendo/2015.1.408/Material/imagebrowser.png ok
2017-03-15 05:22:35 VisualCron8.exe//WebClient.7z//Content/kendo/2015.1.408/Material/indeterminate.gif ok
2017-03-15 05:22:35 VisualCron8.exe//WebClient.7z//Content/kendo/2015.1.408/Material/loading-image.gif ok
2017-03-15 05:22:35 VisualCron8.exe//WebClient.7z//Content/kendo/2015.1.408/Material/loading.gif ok
2017-03-15 05:22:35 VisualCron8.exe//WebClient.7z//Content/kendo/2015.1.408/Material/loading_2x.gif ok
2017-03-15 05:22:35 VisualCron8.exe//WebClient.7z//Content/kendo/2015.1.408/Material/slider-h.gif ok
2017-03-15 05:22:35 VisualCron8.exe//WebClient.7z//Content/kendo/2015.1.408/Material/slider-v.gif ok
2017-03-15 05:22:35 VisualCron8.exe//WebClient.7z//Content/kendo/2015.1.408/Material/sprite.png ok
2017-03-15 05:22:35 VisualCron8.exe//WebClient.7z//Content/kendo/2015.1.408/Material/sprite_2x.png ok
2017-03-15 05:22:35 VisualCron8.exe//WebClient.7z//Content/kendo/2015.1.408/Material/sprite_kpi.png ok
2017-03-15 05:22:35 VisualCron8.exe//WebClient.7z//Content/kendo/2015.1.408/Material/sprite_kpi_2x.png ok
2017-03-15 05:22:35 VisualCron8.exe//WebClient.7z//Content/kendo/2015.1.408/MaterialBlack/editor.png ok
2017-03-15 05:22:35 VisualCron8.exe//WebClient.7z//Content/kendo/2015.1.408/MaterialBlack/imagebrowser.png ok
2017-03-15 05:22:35 VisualCron8.exe//WebClient.7z//Content/kendo/2015.1.408/MaterialBlack/indeterminate.gif ok
2017-03-15 05:22:35 VisualCron8.exe//WebClient.7z//Content/kendo/2015.1.408/MaterialBlack/loading-image.gif ok
2017-03-15 05:22:35 VisualCron8.exe//WebClient.7z//Content/kendo/2015.1.408/MaterialBlack/loading.gif ok
2017-03-15 05:22:35 VisualCron8.exe//WebClient.7z//Content/kendo/2015.1.408/MaterialBlack/loading_2x.gif ok
2017-03-15 05:22:35 VisualCron8.exe//WebClient.7z//Content/kendo/2015.1.408/MaterialBlack/slider-h.gif ok
2017-03-15 05:22:35 VisualCron8.exe//WebClient.7z//Content/kendo/2015.1.408/MaterialBlack/slider-v.gif ok
2017-03-15 05:22:35 VisualCron8.exe//WebClient.7z//Content/kendo/2015.1.408/MaterialBlack/sprite.png ok
2017-03-15 05:22:35 VisualCron8.exe//WebClient.7z//Content/kendo/2015.1.408/MaterialBlack/sprite_2x.png ok
2017-03-15 05:22:35 VisualCron8.exe//WebClient.7z//Content/kendo/2015.1.408/MaterialBlack/sprite_kpi.png ok
2017-03-15 05:22:35 VisualCron8.exe//WebClient.7z//Content/kendo/2015.1.408/MaterialBlack/sprite_kpi_2x.png ok
2017-03-15 05:22:35 VisualCron8.exe//WebClient.7z//Content/kendo/2015.1.408/Metro/editor.png ok
2017-03-15 05:22:35 VisualCron8.exe//WebClient.7z//Content/kendo/2015.1.408/Metro/imagebrowser.png ok
2017-03-15 05:22:35 VisualCron8.exe//WebClient.7z//Content/kendo/2015.1.408/Metro/indeterminate.gif ok
2017-03-15 05:22:35 VisualCron8.exe//WebClient.7z//Content/kendo/2015.1.408/Metro/loading-image.gif ok
2017-03-15 05:22:36 VisualCron8.exe//WebClient.7z//Content/kendo/2015.1.408/Metro/loading.gif ok
2017-03-15 05:22:36 VisualCron8.exe//WebClient.7z//Content/kendo/2015.1.408/Metro/loading_2x.gif ok
2017-03-15 05:22:36 VisualCron8.exe//WebClient.7z//Content/kendo/2015.1.408/Metro/markers.png ok
2017-03-15 05:22:36 VisualCron8.exe//WebClient.7z//Content/kendo/2015.1.408/Metro/markers_2x.png ok
2017-03-15 05:22:36 VisualCron8.exe//WebClient.7z//Content/kendo/2015.1.408/Metro/slider-h.gif ok
2017-03-15 05:22:36 VisualCron8.exe//WebClient.7z//Content/kendo/2015.1.408/Metro/slider-v.gif ok
2017-03-15 05:22:36 VisualCron8.exe//WebClient.7z//Content/kendo/2015.1.408/Metro/sprite.png ok
2017-03-15 05:22:36 VisualCron8.exe//WebClient.7z//Content/kendo/2015.1.408/Metro/sprite_2x.png ok
2017-03-15 05:22:36 VisualCron8.exe//WebClient.7z//Content/kendo/2015.1.408/Metro/sprite_kpi.png ok
2017-03-15 05:22:36 VisualCron8.exe//WebClient.7z//Content/kendo/2015.1.408/Metro/sprite_kpi_2x.png ok
2017-03-15 05:22:36 VisualCron8.exe//WebClient.7z//Content/kendo/2015.1.408/MetroBlack/editor.png ok
2017-03-15 05:22:36 VisualCron8.exe//WebClient.7z//Content/kendo/2015.1.408/MetroBlack/imagebrowser.png ok
2017-03-15 05:22:36 VisualCron8.exe//WebClient.7z//Content/kendo/2015.1.408/MetroBlack/indeterminate.gif ok
2017-03-15 05:22:36 VisualCron8.exe//WebClient.7z//Content/kendo/2015.1.408/MetroBlack/loading-image.gif ok
2017-03-15 05:22:36 VisualCron8.exe//WebClient.7z//Content/kendo/2015.1.408/MetroBlack/loading.gif ok
2017-03-15 05:22:36 VisualCron8.exe//WebClient.7z//Content/kendo/2015.1.408/MetroBlack/loading_2x.gif ok
2017-03-15 05:22:36 VisualCron8.exe//WebClient.7z//Content/kendo/2015.1.408/MetroBlack/markers.png ok
2017-03-15 05:22:36 VisualCron8.exe//WebClient.7z//Content/kendo/2015.1.408/MetroBlack/markers_2x.png ok
2017-03-15 05:22:36 VisualCron8.exe//WebClient.7z//Content/kendo/2015.1.408/MetroBlack/slider-h.gif ok
2017-03-15 05:22:36 VisualCron8.exe//WebClient.7z//Content/kendo/2015.1.408/MetroBlack/slider-v.gif ok
2017-03-15 05:22:36 VisualCron8.exe//WebClient.7z//Content/kendo/2015.1.408/MetroBlack/sprite.png ok
2017-03-15 05:22:36 VisualCron8.exe//WebClient.7z//Content/kendo/2015.1.408/MetroBlack/sprite_2x.png ok
2017-03-15 05:22:36 VisualCron8.exe//WebClient.7z//Content/kendo/2015.1.408/MetroBlack/sprite_kpi.png ok
2017-03-15 05:22:36 VisualCron8.exe//WebClient.7z//Content/kendo/2015.1.408/MetroBlack/sprite_kpi_2x.png ok
2017-03-15 05:22:36 VisualCron8.exe//WebClient.7z//Content/kendo/2015.1.408/Moonlight/editor.png ok
2017-03-15 05:22:36 VisualCron8.exe//WebClient.7z//Content/kendo/2015.1.408/Moonlight/imagebrowser.png ok
2017-03-15 05:22:36 VisualCron8.exe//WebClient.7z//Content/kendo/2015.1.408/Moonlight/indeterminate.gif ok
2017-03-15 05:22:36 VisualCron8.exe//WebClient.7z//Content/kendo/2015.1.408/Moonlight/loading-image.gif ok
2017-03-15 05:22:36 VisualCron8.exe//WebClient.7z//Content/kendo/2015.1.408/Moonlight/loading.gif ok
2017-03-15 05:22:36 VisualCron8.exe//WebClient.7z//Content/kendo/2015.1.408/Moonlight/loading_2x.gif ok
2017-03-15 05:22:36 VisualCron8.exe//WebClient.7z//Content/kendo/2015.1.408/Moonlight/markers.png ok
2017-03-15 05:22:36 VisualCron8.exe//WebClient.7z//Content/kendo/2015.1.408/Moonlight/markers_2x.png ok
2017-03-15 05:22:36 VisualCron8.exe//WebClient.7z//Content/kendo/2015.1.408/Moonlight/slider-h.gif ok
2017-03-15 05:22:36 VisualCron8.exe//WebClient.7z//Content/kendo/2015.1.408/Moonlight/slider-v.gif ok
2017-03-15 05:22:36 VisualCron8.exe//WebClient.7z//Content/kendo/2015.1.408/Moonlight/sprite.png ok
2017-03-15 05:22:36 VisualCron8.exe//WebClient.7z//Content/kendo/2015.1.408/Moonlight/sprite_2x.png ok
2017-03-15 05:22:36 VisualCron8.exe//WebClient.7z//Content/kendo/2015.1.408/Moonlight/sprite_kpi.png ok
2017-03-15 05:22:36 VisualCron8.exe//WebClient.7z//Content/kendo/2015.1.408/Moonlight/sprite_kpi_2x.png ok
2017-03-15 05:22:36 VisualCron8.exe//WebClient.7z//Content/kendo/2015.1.408/Silver/editor.png ok
2017-03-15 05:22:36 VisualCron8.exe//WebClient.7z//Content/kendo/2015.1.408/Silver/imagebrowser.png ok
2017-03-15 05:22:36 VisualCron8.exe//WebClient.7z//Content/kendo/2015.1.408/Silver/indeterminate.gif ok
2017-03-15 05:22:36 VisualCron8.exe//WebClient.7z//Content/kendo/2015.1.408/Silver/loading-image.gif ok
2017-03-15 05:22:36 VisualCron8.exe//WebClient.7z//Content/kendo/2015.1.408/Silver/loading.gif ok
2017-03-15 05:22:36 VisualCron8.exe//WebClient.7z//Content/kendo/2015.1.408/Silver/loading_2x.gif ok
2017-03-15 05:22:36 VisualCron8.exe//WebClient.7z//Content/kendo/2015.1.408/Silver/markers.png ok
2017-03-15 05:22:36 VisualCron8.exe//WebClient.7z//Content/kendo/2015.1.408/Silver/markers_2x.png ok
2017-03-15 05:22:36 VisualCron8.exe//WebClient.7z//Content/kendo/2015.1.408/Silver/slider-h.gif ok
2017-03-15 05:22:36 VisualCron8.exe//WebClient.7z//Content/kendo/2015.1.408/Silver/slider-v.gif ok
2017-03-15 05:22:36 VisualCron8.exe//WebClient.7z//Content/kendo/2015.1.408/Silver/sprite.png ok
2017-03-15 05:22:36 VisualCron8.exe//WebClient.7z//Content/kendo/2015.1.408/Silver/sprite_2x.png ok
2017-03-15 05:22:36 VisualCron8.exe//WebClient.7z//Content/kendo/2015.1.408/Silver/sprite_kpi.png ok
2017-03-15 05:22:36 VisualCron8.exe//WebClient.7z//Content/kendo/2015.1.408/Silver/sprite_kpi_2x.png ok
2017-03-15 05:22:36 VisualCron8.exe//WebClient.7z//Content/kendo/2015.1.408/textures/brushed-metal.png ok
2017-03-15 05:22:36 VisualCron8.exe//WebClient.7z//Content/kendo/2015.1.408/textures/dots1.png ok
2017-03-15 05:22:36 VisualCron8.exe//WebClient.7z//Content/kendo/2015.1.408/textures/dots10.png ok
2017-03-15 05:22:36 VisualCron8.exe//WebClient.7z//Content/kendo/2015.1.408/textures/dots11.png ok
2017-03-15 05:22:36 VisualCron8.exe//WebClient.7z//Content/kendo/2015.1.408/textures/dots12.png ok
2017-03-15 05:22:36 VisualCron8.exe//WebClient.7z//Content/kendo/2015.1.408/textures/dots13.png ok
2017-03-15 05:22:37 VisualCron8.exe//WebClient.7z//Content/kendo/2015.1.408/textures/dots2.png ok
2017-03-15 05:22:37 VisualCron8.exe//WebClient.7z//Content/kendo/2015.1.408/textures/dots3.png ok
2017-03-15 05:22:37 VisualCron8.exe//WebClient.7z//Content/kendo/2015.1.408/textures/dots4.png ok
2017-03-15 05:22:37 VisualCron8.exe//WebClient.7z//Content/kendo/2015.1.408/textures/dots5.png ok
2017-03-15 05:22:37 VisualCron8.exe//WebClient.7z//Content/kendo/2015.1.408/textures/dots6.png ok
2017-03-15 05:22:37 VisualCron8.exe//WebClient.7z//Content/kendo/2015.1.408/textures/dots7.png ok
2017-03-15 05:22:37 VisualCron8.exe//WebClient.7z//Content/kendo/2015.1.408/textures/dots8.png ok
2017-03-15 05:22:37 VisualCron8.exe//WebClient.7z//Content/kendo/2015.1.408/textures/dots9.png ok
2017-03-15 05:22:37 VisualCron8.exe//WebClient.7z//Content/kendo/2015.1.408/textures/glass-lighter.png ok
2017-03-15 05:22:37 VisualCron8.exe//WebClient.7z//Content/kendo/2015.1.408/textures/glass.png ok
2017-03-15 05:22:37 VisualCron8.exe//WebClient.7z//Content/kendo/2015.1.408/textures/highlight.png ok
2017-03-15 05:22:37 VisualCron8.exe//WebClient.7z//Content/kendo/2015.1.408/textures/hsv-gradient.png ok
2017-03-15 05:22:37 VisualCron8.exe//WebClient.7z//Content/kendo/2015.1.408/textures/hue.png ok
2017-03-15 05:22:37 VisualCron8.exe//WebClient.7z//Content/kendo/2015.1.408/textures/leather1.png ok
2017-03-15 05:22:37 VisualCron8.exe//WebClient.7z//Content/kendo/2015.1.408/textures/leather2.png ok
2017-03-15 05:22:37 VisualCron8.exe//WebClient.7z//Content/kendo/2015.1.408/textures/noise.png ok
2017-03-15 05:22:37 VisualCron8.exe//WebClient.7z//Content/kendo/2015.1.408/textures/stripe1.png ok
2017-03-15 05:22:37 VisualCron8.exe//WebClient.7z//Content/kendo/2015.1.408/textures/stripe2.png ok
2017-03-15 05:22:37 VisualCron8.exe//WebClient.7z//Content/kendo/2015.1.408/textures/stripe3.png ok
2017-03-15 05:22:37 VisualCron8.exe//WebClient.7z//Content/kendo/2015.1.408/textures/stripe4.png ok
2017-03-15 05:22:37 VisualCron8.exe//WebClient.7z//Content/kendo/2015.1.408/textures/stripe5.png ok
2017-03-15 05:22:37 VisualCron8.exe//WebClient.7z//Content/kendo/2015.1.408/textures/stripe6.png ok
2017-03-15 05:22:37 VisualCron8.exe//WebClient.7z//Content/kendo/2015.1.408/textures/transparency.png ok
2017-03-15 05:22:37 VisualCron8.exe//WebClient.7z//Content/kendo/2015.1.408/textures/transtexture.png ok
2017-03-15 05:22:37 VisualCron8.exe//WebClient.7z//Content/kendo/2015.1.408/Uniform/editor.png ok
2017-03-15 05:22:37 VisualCron8.exe//WebClient.7z//Content/kendo/2015.1.408/Uniform/imagebrowser.png ok
2017-03-15 05:22:37 VisualCron8.exe//WebClient.7z//Content/kendo/2015.1.408/Uniform/indeterminate.gif ok
2017-03-15 05:22:37 VisualCron8.exe//WebClient.7z//Content/kendo/2015.1.408/Uniform/loading-image.gif ok
2017-03-15 05:22:37 VisualCron8.exe//WebClient.7z//Content/kendo/2015.1.408/Uniform/loading.gif ok
2017-03-15 05:22:37 VisualCron8.exe//WebClient.7z//Content/kendo/2015.1.408/Uniform/loading_2x.gif ok
2017-03-15 05:22:37 VisualCron8.exe//WebClient.7z//Content/kendo/2015.1.408/Uniform/markers.png ok
2017-03-15 05:22:37 VisualCron8.exe//WebClient.7z//Content/kendo/2015.1.408/Uniform/markers_2x.png ok
2017-03-15 05:22:37 VisualCron8.exe//WebClient.7z//Content/kendo/2015.1.408/Uniform/slider-h.gif ok
2017-03-15 05:22:37 VisualCron8.exe//WebClient.7z//Content/kendo/2015.1.408/Uniform/slider-v.gif ok
2017-03-15 05:22:37 VisualCron8.exe//WebClient.7z//Content/kendo/2015.1.408/Uniform/sprite.png ok
2017-03-15 05:22:37 VisualCron8.exe//WebClient.7z//Content/kendo/2015.1.408/Uniform/sprite_2x.png ok
2017-03-15 05:22:37 VisualCron8.exe//WebClient.7z//Content/kendo/2015.1.408/Uniform/sprite_kpi.png ok
2017-03-15 05:22:37 VisualCron8.exe//WebClient.7z//Content/kendo/2015.1.408/Uniform/sprite_kpi_2x.png ok
2017-03-15 05:22:37 VisualCron8.exe//WebClient.7z//Content/ribbon/images/icons.png ok
2017-03-15 05:22:37 VisualCron8.exe//WebClient.7z//Content/ribbon/ribbon.css ok
2017-03-15 05:22:37 VisualCron8.exe//WebClient.7z//Content/Site.css ok
2017-03-15 05:22:37 VisualCron8.exe//WebClient.7z//Content/svg/icons.svg archive EmbeddedBase64
2017-03-15 05:22:37 VisualCron8.exe//WebClient.7z//Content/svg/icons.svg//data0000 ok
2017-03-15 05:22:37 VisualCron8.exe//WebClient.7z//Content/svg/icons.svg//data0001 ok
2017-03-15 05:22:38 VisualCron8.exe//WebClient.7z//Content/svg/icons.svg//data0002 ok
2017-03-15 05:22:38 VisualCron8.exe//WebClient.7z//Content/svg/icons.svg ok
2017-03-15 05:22:38 VisualCron8.exe//WebClient.7z//Content/svg/keys.svg archive EmbeddedBase64
2017-03-15 05:22:38 VisualCron8.exe//WebClient.7z//Content/svg/keys.svg//data0000 ok
2017-03-15 05:22:38 VisualCron8.exe//WebClient.7z//Content/svg/keys.svg//data0001 ok
2017-03-15 05:22:38 VisualCron8.exe//WebClient.7z//Content/svg/keys.svg//data0002 ok
2017-03-15 05:22:38 VisualCron8.exe//WebClient.7z//Content/svg/keys.svg//data0003 ok
2017-03-15 05:22:38 VisualCron8.exe//WebClient.7z//Content/svg/keys.svg ok
2017-03-15 05:22:38 VisualCron8.exe//WebClient.7z//Content/svg/logo.svg archive EmbeddedBase64
2017-03-15 05:22:38 VisualCron8.exe//WebClient.7z//Content/svg/logo.svg//data0000 ok
2017-03-15 05:22:38 VisualCron8.exe//WebClient.7z//Content/svg/logo.svg ok
2017-03-15 05:22:38 VisualCron8.exe//WebClient.7z//docs/Live-Authentication-Setup.txt ok
2017-03-15 05:22:38 VisualCron8.exe//WebClient.7z//Global.asax ok
2017-03-15 05:22:39 VisualCron8.exe//WebClient.7z//packages.config ok
2017-03-15 05:22:39 VisualCron8.exe//WebClient.7z//Required.txt ok
2017-03-15 05:22:39 VisualCron8.exe//WebClient.7z//Scripts/codemirror/codemirror.js ok
2017-03-15 05:22:39 VisualCron8.exe//WebClient.7z//Scripts/codemirror/css.js ok
2017-03-15 05:22:39 VisualCron8.exe//WebClient.7z//Scripts/codemirror/htmlmixed.js ok
2017-03-15 05:22:39 VisualCron8.exe//WebClient.7z//Scripts/codemirror/javascript.js ok
2017-03-15 05:22:39 VisualCron8.exe//WebClient.7z//Scripts/codemirror/xml.js ok
2017-03-15 05:22:39 VisualCron8.exe//WebClient.7z//Scripts/cron/ConnectionController.js ok
2017-03-15 05:22:40 VisualCron8.exe//WebClient.7z//Scripts/cron/ConnectionsWindowController.js ok
2017-03-15 05:22:40 VisualCron8.exe//WebClient.7z//Scripts/cron/GridDataSourceController.js ok
2017-03-15 05:22:40 VisualCron8.exe//WebClient.7z//Scripts/cron/HistoryWindowController.js ok
2017-03-15 05:22:40 VisualCron8.exe//WebClient.7z//Scripts/cron/HubController.js ok
2017-03-15 05:22:40 VisualCron8.exe//WebClient.7z//Scripts/cron/InitializationControllers.js ok
2017-03-15 05:22:40 VisualCron8.exe//WebClient.7z//Scripts/cron/OutputWindowController.js ok
2017-03-15 05:22:40 VisualCron8.exe//WebClient.7z//Scripts/cron/RibbonBarController.js ok
2017-03-15 05:22:40 VisualCron8.exe//WebClient.7z//Scripts/cron/ServerTreeController.js ok
2017-03-15 05:22:40 VisualCron8.exe//WebClient.7z//Scripts/cron/TasksGridController.js ok
2017-03-15 05:22:40 VisualCron8.exe//WebClient.7z//Scripts/jquery.signalR-1.2.1.js ok
2017-03-15 05:22:40 VisualCron8.exe//WebClient.7z//Scripts/jquery.signalR-1.2.1.min.js ok
2017-03-15 05:22:41 VisualCron8.exe//WebClient.7z//Scripts/jquery.signalR-1.2.1.min.js.map ok
2017-03-15 05:22:41 VisualCron8.exe//WebClient.7z//Scripts/jquery.unobtrusive-ajax.js ok
2017-03-15 05:22:41 VisualCron8.exe//WebClient.7z//Scripts/jquery.unobtrusive-ajax.min.js ok
2017-03-15 05:22:41 VisualCron8.exe//WebClient.7z//Scripts/jquery.unobtrusive-ajax.min.js.map ok
2017-03-15 05:22:41 VisualCron8.exe//WebClient.7z//Scripts/jquery.validate.js ok
2017-03-15 05:22:41 VisualCron8.exe//WebClient.7z//Scripts/jquery.validate.min.js ok
2017-03-15 05:22:41 VisualCron8.exe//WebClient.7z//Scripts/jquery.validate.min.js.map ok
2017-03-15 05:22:41 VisualCron8.exe//WebClient.7z//Scripts/jquery.validate.unobtrusive.js ok
2017-03-15 05:22:41 VisualCron8.exe//WebClient.7z//Scripts/jquery.validate.unobtrusive.min.js ok
2017-03-15 05:22:41 VisualCron8.exe//WebClient.7z//Scripts/jquery.validate.unobtrusive.min.js.map ok
2017-03-15 05:22:42 VisualCron8.exe//WebClient.7z//Scripts/js.cookie.js ok
2017-03-15 05:22:42 VisualCron8.exe//WebClient.7z//Scripts/kendo.modernizr.custom.js ok
2017-03-15 05:22:42 VisualCron8.exe//WebClient.7z//Scripts/kendo/2015.1.408/angular.min.js ok
2017-03-15 05:22:42 VisualCron8.exe//WebClient.7z//Scripts/kendo/2015.1.408/jquery.min.js ok
2017-03-15 05:22:42 VisualCron8.exe//WebClient.7z//Scripts/kendo/2015.1.408/jquery.min.map ok
2017-03-15 05:22:42 VisualCron8.exe//WebClient.7z//Scripts/kendo/2015.1.408/jszip.min.js ok
2017-03-15 05:22:42 VisualCron8.exe//WebClient.7z//Scripts/kendo/2015.1.408/kendo.all.min.js ok
2017-03-15 05:22:42 VisualCron8.exe//WebClient.7z//Scripts/kendo/2015.1.408/kendo.all.min.js.map ok
2017-03-15 05:22:42 VisualCron8.exe//WebClient.7z//Scripts/kendo/2015.1.408/kendo.angular.min.js ok
2017-03-15 05:22:42 VisualCron8.exe//WebClient.7z//Scripts/kendo/2015.1.408/kendo.angular.min.js.map ok
2017-03-15 05:22:42 VisualCron8.exe//WebClient.7z//Scripts/kendo/2015.1.408/kendo.aspnetmvc.min.js ok
2017-03-15 05:22:42 VisualCron8.exe//WebClient.7z//Scripts/kendo/2015.1.408/kendo.aspnetmvc.min.js.map ok
2017-03-15 05:22:42 VisualCron8.exe//WebClient.7z//Scripts/kendo/2015.1.408/kendo.autocomplete.min.js ok
2017-03-15 05:22:42 VisualCron8.exe//WebClient.7z//Scripts/kendo/2015.1.408/kendo.autocomplete.min.js.map ok
2017-03-15 05:22:42 VisualCron8.exe//WebClient.7z//Scripts/kendo/2015.1.408/kendo.binder.min.js ok
2017-03-15 05:22:42 VisualCron8.exe//WebClient.7z//Scripts/kendo/2015.1.408/kendo.binder.min.js.map ok
2017-03-15 05:22:43 VisualCron8.exe//WebClient.7z//Scripts/kendo/2015.1.408/kendo.button.min.js ok
2017-03-15 05:22:43 VisualCron8.exe//WebClient.7z//Scripts/kendo/2015.1.408/kendo.button.min.js.map ok
2017-03-15 05:22:43 VisualCron8.exe//WebClient.7z//Scripts/kendo/2015.1.408/kendo.calendar.min.js ok
2017-03-15 05:22:43 VisualCron8.exe//WebClient.7z//Scripts/kendo/2015.1.408/kendo.calendar.min.js.map ok
2017-03-15 05:22:43 VisualCron8.exe//WebClient.7z//Scripts/kendo/2015.1.408/kendo.color.min.js ok
2017-03-15 05:22:43 VisualCron8.exe//WebClient.7z//Scripts/kendo/2015.1.408/kendo.color.min.js.map ok
2017-03-15 05:22:43 VisualCron8.exe//WebClient.7z//Scripts/kendo/2015.1.408/kendo.colorpicker.min.js ok
2017-03-15 05:22:43 VisualCron8.exe//WebClient.7z//Scripts/kendo/2015.1.408/kendo.colorpicker.min.js.map ok
2017-03-15 05:22:43 VisualCron8.exe//WebClient.7z//Scripts/kendo/2015.1.408/kendo.columnmenu.min.js ok
2017-03-15 05:22:43 VisualCron8.exe//WebClient.7z//Scripts/kendo/2015.1.408/kendo.columnmenu.min.js.map ok
2017-03-15 05:22:43 VisualCron8.exe//WebClient.7z//Scripts/kendo/2015.1.408/kendo.columnsorter.min.js ok
2017-03-15 05:22:43 VisualCron8.exe//WebClient.7z//Scripts/kendo/2015.1.408/kendo.columnsorter.min.js.map ok
2017-03-15 05:22:43 VisualCron8.exe//WebClient.7z//Scripts/kendo/2015.1.408/kendo.combobox.min.js ok
2017-03-15 05:22:43 VisualCron8.exe//WebClient.7z//Scripts/kendo/2015.1.408/kendo.combobox.min.js.map ok
2017-03-15 05:22:43 VisualCron8.exe//WebClient.7z//Scripts/kendo/2015.1.408/kendo.core.min.js ok
2017-03-15 05:22:43 VisualCron8.exe//WebClient.7z//Scripts/kendo/2015.1.408/kendo.core.min.js.map ok
2017-03-15 05:22:43 VisualCron8.exe//WebClient.7z//Scripts/kendo/2015.1.408/kendo.data.min.js ok
2017-03-15 05:22:43 VisualCron8.exe//WebClient.7z//Scripts/kendo/2015.1.408/kendo.data.min.js.map ok
2017-03-15 05:22:43 VisualCron8.exe//WebClient.7z//Scripts/kendo/2015.1.408/kendo.data.odata.min.js ok
2017-03-15 05:22:43 VisualCron8.exe//WebClient.7z//Scripts/kendo/2015.1.408/kendo.data.odata.min.js.map ok
2017-03-15 05:22:43 VisualCron8.exe//WebClient.7z//Scripts/kendo/2015.1.408/kendo.data.signalr.min.js ok
2017-03-15 05:22:43 VisualCron8.exe//WebClient.7z//Scripts/kendo/2015.1.408/kendo.data.signalr.min.js.map ok
2017-03-15 05:22:43 VisualCron8.exe//WebClient.7z//Scripts/kendo/2015.1.408/kendo.data.xml.min.js ok
2017-03-15 05:22:43 VisualCron8.exe//WebClient.7z//Scripts/kendo/2015.1.408/kendo.data.xml.min.js.map ok
2017-03-15 05:22:43 VisualCron8.exe//WebClient.7z//Scripts/kendo/2015.1.408/kendo.dataviz.barcode.min.js ok
2017-03-15 05:22:43 VisualCron8.exe//WebClient.7z//Scripts/kendo/2015.1.408/kendo.dataviz.barcode.min.js.map ok
2017-03-15 05:22:43 VisualCron8.exe//WebClient.7z//Scripts/kendo/2015.1.408/kendo.dataviz.chart.funnel.min.js ok
2017-03-15 05:22:43 VisualCron8.exe//WebClient.7z//Scripts/kendo/2015.1.408/kendo.dataviz.chart.funnel.min.js.map ok
2017-03-15 05:22:43 VisualCron8.exe//WebClient.7z//Scripts/kendo/2015.1.408/kendo.dataviz.chart.min.js ok
2017-03-15 05:22:43 VisualCron8.exe//WebClient.7z//Scripts/kendo/2015.1.408/kendo.dataviz.chart.min.js.map ok
2017-03-15 05:22:43 VisualCron8.exe//WebClient.7z//Scripts/kendo/2015.1.408/kendo.dataviz.chart.polar.min.js ok
2017-03-15 05:22:43 VisualCron8.exe//WebClient.7z//Scripts/kendo/2015.1.408/kendo.dataviz.chart.polar.min.js.map ok
2017-03-15 05:22:43 VisualCron8.exe//WebClient.7z//Scripts/kendo/2015.1.408/kendo.dataviz.core.min.js ok
2017-03-15 05:22:44 VisualCron8.exe//WebClient.7z//Scripts/kendo/2015.1.408/kendo.dataviz.core.min.js.map ok
2017-03-15 05:22:44 VisualCron8.exe//WebClient.7z//Scripts/kendo/2015.1.408/kendo.dataviz.diagram.min.js ok
2017-03-15 05:22:44 VisualCron8.exe//WebClient.7z//Scripts/kendo/2015.1.408/kendo.dataviz.diagram.min.js.map ok
2017-03-15 05:22:44 VisualCron8.exe//WebClient.7z//Scripts/kendo/2015.1.408/kendo.dataviz.gauge.min.js ok
2017-03-15 05:22:44 VisualCron8.exe//WebClient.7z//Scripts/kendo/2015.1.408/kendo.dataviz.gauge.min.js.map ok
2017-03-15 05:22:44 VisualCron8.exe//WebClient.7z//Scripts/kendo/2015.1.408/kendo.dataviz.map.min.js ok
2017-03-15 05:22:44 VisualCron8.exe//WebClient.7z//Scripts/kendo/2015.1.408/kendo.dataviz.map.min.js.map ok
2017-03-15 05:22:44 VisualCron8.exe//WebClient.7z//Scripts/kendo/2015.1.408/kendo.dataviz.min.js ok
2017-03-15 05:22:44 VisualCron8.exe//WebClient.7z//Scripts/kendo/2015.1.408/kendo.dataviz.min.js.map ok
2017-03-15 05:22:44 VisualCron8.exe//WebClient.7z//Scripts/kendo/2015.1.408/kendo.dataviz.mobile.min.js ok
2017-03-15 05:22:44 VisualCron8.exe//WebClient.7z//Scripts/kendo/2015.1.408/kendo.dataviz.mobile.min.js.map ok
2017-03-15 05:22:44 VisualCron8.exe//WebClient.7z//Scripts/kendo/2015.1.408/kendo.dataviz.qrcode.min.js ok
2017-03-15 05:22:44 VisualCron8.exe//WebClient.7z//Scripts/kendo/2015.1.408/kendo.dataviz.qrcode.min.js.map ok
2017-03-15 05:22:44 VisualCron8.exe//WebClient.7z//Scripts/kendo/2015.1.408/kendo.dataviz.sparkline.min.js ok
2017-03-15 05:22:44 VisualCron8.exe//WebClient.7z//Scripts/kendo/2015.1.408/kendo.dataviz.sparkline.min.js.map ok
2017-03-15 05:22:44 VisualCron8.exe//WebClient.7z//Scripts/kendo/2015.1.408/kendo.dataviz.stock.min.js ok
2017-03-15 05:22:44 VisualCron8.exe//WebClient.7z//Scripts/kendo/2015.1.408/kendo.dataviz.stock.min.js.map ok
2017-03-15 05:22:44 VisualCron8.exe//WebClient.7z//Scripts/kendo/2015.1.408/kendo.dataviz.themes.min.js ok
2017-03-15 05:22:44 VisualCron8.exe//WebClient.7z//Scripts/kendo/2015.1.408/kendo.dataviz.themes.min.js.map ok
2017-03-15 05:22:44 VisualCron8.exe//WebClient.7z//Scripts/kendo/2015.1.408/kendo.dataviz.treemap.min.js ok
2017-03-15 05:22:44 VisualCron8.exe//WebClient.7z//Scripts/kendo/2015.1.408/kendo.dataviz.treemap.min.js.map ok
2017-03-15 05:22:44 VisualCron8.exe//WebClient.7z//Scripts/kendo/2015.1.408/kendo.datepicker.min.js ok
2017-03-15 05:22:44 VisualCron8.exe//WebClient.7z//Scripts/kendo/2015.1.408/kendo.datepicker.min.js.map ok
2017-03-15 05:22:44 VisualCron8.exe//WebClient.7z//Scripts/kendo/2015.1.408/kendo.datetimepicker.min.js ok
2017-03-15 05:22:44 VisualCron8.exe//WebClient.7z//Scripts/kendo/2015.1.408/kendo.datetimepicker.min.js.map ok
2017-03-15 05:22:44 VisualCron8.exe//WebClient.7z//Scripts/kendo/2015.1.408/kendo.dom.min.js ok
2017-03-15 05:22:44 VisualCron8.exe//WebClient.7z//Scripts/kendo/2015.1.408/kendo.dom.min.js.map ok
2017-03-15 05:22:44 VisualCron8.exe//WebClient.7z//Scripts/kendo/2015.1.408/kendo.draganddrop.min.js ok
2017-03-15 05:22:44 VisualCron8.exe//WebClient.7z//Scripts/kendo/2015.1.408/kendo.draganddrop.min.js.map ok
2017-03-15 05:22:44 VisualCron8.exe//WebClient.7z//Scripts/kendo/2015.1.408/kendo.drawing.min.js ok
2017-03-15 05:22:44 VisualCron8.exe//WebClient.7z//Scripts/kendo/2015.1.408/kendo.drawing.min.js.map ok
2017-03-15 05:22:44 VisualCron8.exe//WebClient.7z//Scripts/kendo/2015.1.408/kendo.dropdownlist.min.js ok
2017-03-15 05:22:45 VisualCron8.exe//WebClient.7z//Scripts/kendo/2015.1.408/kendo.dropdownlist.min.js.map ok
2017-03-15 05:22:45 VisualCron8.exe//WebClient.7z//Scripts/kendo/2015.1.408/kendo.editable.min.js ok
2017-03-15 05:22:45 VisualCron8.exe//WebClient.7z//Scripts/kendo/2015.1.408/kendo.editable.min.js.map ok
2017-03-15 05:22:45 VisualCron8.exe//WebClient.7z//Scripts/kendo/2015.1.408/kendo.editor.min.js ok
2017-03-15 05:22:45 VisualCron8.exe//WebClient.7z//Scripts/kendo/2015.1.408/kendo.editor.min.js.map ok
2017-03-15 05:22:45 VisualCron8.exe//WebClient.7z//Scripts/kendo/2015.1.408/kendo.excel.min.js ok
2017-03-15 05:22:45 VisualCron8.exe//WebClient.7z//Scripts/kendo/2015.1.408/kendo.excel.min.js.map ok
2017-03-15 05:22:45 VisualCron8.exe//WebClient.7z//Scripts/kendo/2015.1.408/kendo.filebrowser.min.js ok
2017-03-15 05:22:45 VisualCron8.exe//WebClient.7z//Scripts/kendo/2015.1.408/kendo.filebrowser.min.js.map ok
2017-03-15 05:22:45 VisualCron8.exe//WebClient.7z//Scripts/kendo/2015.1.408/kendo.filtercell.min.js ok
2017-03-15 05:22:45 VisualCron8.exe//WebClient.7z//Scripts/kendo/2015.1.408/kendo.filtercell.min.js.map ok
2017-03-15 05:22:45 VisualCron8.exe//WebClient.7z//Scripts/kendo/2015.1.408/kendo.filtermenu.min.js ok
2017-03-15 05:22:45 VisualCron8.exe//WebClient.7z//Scripts/kendo/2015.1.408/kendo.filtermenu.min.js.map ok
2017-03-15 05:22:45 VisualCron8.exe//WebClient.7z//Scripts/kendo/2015.1.408/kendo.fx.min.js ok
2017-03-15 05:22:45 VisualCron8.exe//WebClient.7z//Scripts/kendo/2015.1.408/kendo.fx.min.js.map ok
2017-03-15 05:22:45 VisualCron8.exe//WebClient.7z//Scripts/kendo/2015.1.408/kendo.gantt.list.min.js ok
2017-03-15 05:22:45 VisualCron8.exe//WebClient.7z//Scripts/kendo/2015.1.408/kendo.gantt.list.min.js.map ok
2017-03-15 05:22:45 VisualCron8.exe//WebClient.7z//Scripts/kendo/2015.1.408/kendo.gantt.min.js ok
2017-03-15 05:22:45 VisualCron8.exe//WebClient.7z//Scripts/kendo/2015.1.408/kendo.gantt.min.js.map ok
2017-03-15 05:22:45 VisualCron8.exe//WebClient.7z//Scripts/kendo/2015.1.408/kendo.gantt.timeline.min.js ok
2017-03-15 05:22:45 VisualCron8.exe//WebClient.7z//Scripts/kendo/2015.1.408/kendo.gantt.timeline.min.js.map ok
2017-03-15 05:22:45 VisualCron8.exe//WebClient.7z//Scripts/kendo/2015.1.408/kendo.grid.min.js ok
2017-03-15 05:22:45 VisualCron8.exe//WebClient.7z//Scripts/kendo/2015.1.408/kendo.grid.min.js.map ok
2017-03-15 05:22:45 VisualCron8.exe//WebClient.7z//Scripts/kendo/2015.1.408/kendo.groupable.min.js ok
2017-03-15 05:22:45 VisualCron8.exe//WebClient.7z//Scripts/kendo/2015.1.408/kendo.groupable.min.js.map ok
2017-03-15 05:22:46 VisualCron8.exe//WebClient.7z//Scripts/kendo/2015.1.408/kendo.imagebrowser.min.js ok
2017-03-15 05:22:46 VisualCron8.exe//WebClient.7z//Scripts/kendo/2015.1.408/kendo.imagebrowser.min.js.map ok
2017-03-15 05:22:46 VisualCron8.exe//WebClient.7z//Scripts/kendo/2015.1.408/kendo.list.min.js ok
2017-03-15 05:22:46 VisualCron8.exe//WebClient.7z//Scripts/kendo/2015.1.408/kendo.list.min.js.map ok
2017-03-15 05:22:46 VisualCron8.exe//WebClient.7z//Scripts/kendo/2015.1.408/kendo.listview.min.js ok
2017-03-15 05:22:46 VisualCron8.exe//WebClient.7z//Scripts/kendo/2015.1.408/kendo.listview.min.js.map ok
2017-03-15 05:22:46 VisualCron8.exe//WebClient.7z//Scripts/kendo/2015.1.408/kendo.maskedtextbox.min.js ok
2017-03-15 05:22:46 VisualCron8.exe//WebClient.7z//Scripts/kendo/2015.1.408/kendo.maskedtextbox.min.js.map ok
2017-03-15 05:22:46 VisualCron8.exe//WebClient.7z//Scripts/kendo/2015.1.408/kendo.menu.min.js ok
2017-03-15 05:22:46 VisualCron8.exe//WebClient.7z//Scripts/kendo/2015.1.408/kendo.menu.min.js.map ok
2017-03-15 05:22:46 VisualCron8.exe//WebClient.7z//Scripts/kendo/2015.1.408/kendo.mobile.actionsheet.min.js ok
2017-03-15 05:22:46 VisualCron8.exe//WebClient.7z//Scripts/kendo/2015.1.408/kendo.mobile.actionsheet.min.js.map ok
2017-03-15 05:22:46 VisualCron8.exe//WebClient.7z//Scripts/kendo/2015.1.408/kendo.mobile.application.min.js ok
2017-03-15 05:22:46 VisualCron8.exe//WebClient.7z//Scripts/kendo/2015.1.408/kendo.mobile.application.min.js.map ok
2017-03-15 05:22:47 VisualCron8.exe//WebClient.7z//Scripts/kendo/2015.1.408/kendo.mobile.button.min.js ok
2017-03-15 05:22:47 VisualCron8.exe//WebClient.7z//Scripts/kendo/2015.1.408/kendo.mobile.button.min.js.map ok
2017-03-15 05:22:47 VisualCron8.exe//WebClient.7z//Scripts/kendo/2015.1.408/kendo.mobile.buttongroup.min.js ok
2017-03-15 05:22:47 VisualCron8.exe//WebClient.7z//Scripts/kendo/2015.1.408/kendo.mobile.buttongroup.min.js.map ok
2017-03-15 05:22:47 VisualCron8.exe//WebClient.7z//Scripts/kendo/2015.1.408/kendo.mobile.collapsible.min.js ok
2017-03-15 05:22:47 VisualCron8.exe//WebClient.7z//Scripts/kendo/2015.1.408/kendo.mobile.collapsible.min.js.map ok
2017-03-15 05:22:47 VisualCron8.exe//WebClient.7z//Scripts/kendo/2015.1.408/kendo.mobile.drawer.min.js ok
2017-03-15 05:22:47 VisualCron8.exe//WebClient.7z//Scripts/kendo/2015.1.408/kendo.mobile.drawer.min.js.map ok
2017-03-15 05:22:47 VisualCron8.exe//WebClient.7z//Scripts/kendo/2015.1.408/kendo.mobile.listview.min.js ok
2017-03-15 05:22:47 VisualCron8.exe//WebClient.7z//Scripts/kendo/2015.1.408/kendo.mobile.listview.min.js.map ok
2017-03-15 05:22:47 VisualCron8.exe//WebClient.7z//Scripts/kendo/2015.1.408/kendo.mobile.loader.min.js ok
2017-03-15 05:22:47 VisualCron8.exe//WebClient.7z//Scripts/kendo/2015.1.408/kendo.mobile.loader.min.js.map ok
2017-03-15 05:22:47 VisualCron8.exe//WebClient.7z//Scripts/kendo/2015.1.408/kendo.mobile.min.js ok
2017-03-15 05:22:47 VisualCron8.exe//WebClient.7z//Scripts/kendo/2015.1.408/kendo.mobile.min.js.map ok
2017-03-15 05:22:47 VisualCron8.exe//WebClient.7z//Scripts/kendo/2015.1.408/kendo.mobile.modalview.min.js ok
2017-03-15 05:22:47 VisualCron8.exe//WebClient.7z//Scripts/kendo/2015.1.408/kendo.mobile.modalview.min.js.map ok
2017-03-15 05:22:48 VisualCron8.exe//WebClient.7z//Scripts/kendo/2015.1.408/kendo.mobile.navbar.min.js ok
2017-03-15 05:22:48 VisualCron8.exe//WebClient.7z//Scripts/kendo/2015.1.408/kendo.mobile.navbar.min.js.map ok
2017-03-15 05:22:48 VisualCron8.exe//WebClient.7z//Scripts/kendo/2015.1.408/kendo.mobile.pane.min.js ok
2017-03-15 05:22:48 VisualCron8.exe//WebClient.7z//Scripts/kendo/2015.1.408/kendo.mobile.pane.min.js.map ok
2017-03-15 05:22:48 VisualCron8.exe//WebClient.7z//Scripts/kendo/2015.1.408/kendo.mobile.popover.min.js ok
2017-03-15 05:22:48 VisualCron8.exe//WebClient.7z//Scripts/kendo/2015.1.408/kendo.mobile.popover.min.js.map ok
2017-03-15 05:22:48 VisualCron8.exe//WebClient.7z//Scripts/kendo/2015.1.408/kendo.mobile.scroller.min.js ok
2017-03-15 05:22:48 VisualCron8.exe//WebClient.7z//Scripts/kendo/2015.1.408/kendo.mobile.scroller.min.js.map ok
2017-03-15 05:22:48 VisualCron8.exe//WebClient.7z//Scripts/kendo/2015.1.408/kendo.mobile.scrollview.min.js ok
2017-03-15 05:22:48 VisualCron8.exe//WebClient.7z//Scripts/kendo/2015.1.408/kendo.mobile.scrollview.min.js.map ok
2017-03-15 05:22:48 VisualCron8.exe//WebClient.7z//Scripts/kendo/2015.1.408/kendo.mobile.shim.min.js ok
2017-03-15 05:22:48 VisualCron8.exe//WebClient.7z//Scripts/kendo/2015.1.408/kendo.mobile.shim.min.js.map ok
2017-03-15 05:22:48 VisualCron8.exe//WebClient.7z//Scripts/kendo/2015.1.408/kendo.mobile.splitview.min.js ok
2017-03-15 05:22:48 VisualCron8.exe//WebClient.7z//Scripts/kendo/2015.1.408/kendo.mobile.splitview.min.js.map ok
2017-03-15 05:22:48 VisualCron8.exe//WebClient.7z//Scripts/kendo/2015.1.408/kendo.mobile.switch.min.js ok
2017-03-15 05:22:48 VisualCron8.exe//WebClient.7z//Scripts/kendo/2015.1.408/kendo.mobile.switch.min.js.map ok
2017-03-15 05:22:48 VisualCron8.exe//WebClient.7z//Scripts/kendo/2015.1.408/kendo.mobile.tabstrip.min.js ok
2017-03-15 05:22:48 VisualCron8.exe//WebClient.7z//Scripts/kendo/2015.1.408/kendo.mobile.tabstrip.min.js.map ok
2017-03-15 05:22:48 VisualCron8.exe//WebClient.7z//Scripts/kendo/2015.1.408/kendo.mobile.view.min.js ok
2017-03-15 05:22:48 VisualCron8.exe//WebClient.7z//Scripts/kendo/2015.1.408/kendo.mobile.view.min.js.map ok
2017-03-15 05:22:48 VisualCron8.exe//WebClient.7z//Scripts/kendo/2015.1.408/kendo.multiselect.min.js ok
2017-03-15 05:22:49 VisualCron8.exe//WebClient.7z//Scripts/kendo/2015.1.408/kendo.multiselect.min.js.map ok
2017-03-15 05:22:49 VisualCron8.exe//WebClient.7z//Scripts/kendo/2015.1.408/kendo.notification.min.js ok
2017-03-15 05:22:49 VisualCron8.exe//WebClient.7z//Scripts/kendo/2015.1.408/kendo.notification.min.js.map ok
2017-03-15 05:22:49 VisualCron8.exe//WebClient.7z//Scripts/kendo/2015.1.408/kendo.numerictextbox.min.js ok
2017-03-15 05:22:49 VisualCron8.exe//WebClient.7z//Scripts/kendo/2015.1.408/kendo.numerictextbox.min.js.map ok
2017-03-15 05:22:49 VisualCron8.exe//WebClient.7z//Scripts/kendo/2015.1.408/kendo.ooxml.min.js ok
2017-03-15 05:22:49 VisualCron8.exe//WebClient.7z//Scripts/kendo/2015.1.408/kendo.ooxml.min.js.map ok
2017-03-15 05:22:49 VisualCron8.exe//WebClient.7z//Scripts/kendo/2015.1.408/kendo.pager.min.js ok
2017-03-15 05:22:49 VisualCron8.exe//WebClient.7z//Scripts/kendo/2015.1.408/kendo.pager.min.js.map ok
2017-03-15 05:22:49 VisualCron8.exe//WebClient.7z//Scripts/kendo/2015.1.408/kendo.panelbar.min.js ok
2017-03-15 05:22:49 VisualCron8.exe//WebClient.7z//Scripts/kendo/2015.1.408/kendo.panelbar.min.js.map ok
2017-03-15 05:22:49 VisualCron8.exe//WebClient.7z//Scripts/kendo/2015.1.408/kendo.pdf.min.js ok
2017-03-15 05:22:49 VisualCron8.exe//WebClient.7z//Scripts/kendo/2015.1.408/kendo.pdf.min.js.map ok
2017-03-15 05:22:49 VisualCron8.exe//WebClient.7z//Scripts/kendo/2015.1.408/kendo.pivot.configurator.min.js ok
2017-03-15 05:22:49 VisualCron8.exe//WebClient.7z//Scripts/kendo/2015.1.408/kendo.pivot.configurator.min.js.map ok
2017-03-15 05:22:49 VisualCron8.exe//WebClient.7z//Scripts/kendo/2015.1.408/kendo.pivot.fieldmenu.min.js ok
2017-03-15 05:22:50 VisualCron8.exe//WebClient.7z//Scripts/kendo/2015.1.408/kendo.pivot.fieldmenu.min.js.map ok
2017-03-15 05:22:50 VisualCron8.exe//WebClient.7z//Scripts/kendo/2015.1.408/kendo.pivotgrid.min.js ok
2017-03-15 05:22:50 VisualCron8.exe//WebClient.7z//Scripts/kendo/2015.1.408/kendo.pivotgrid.min.js.map ok
2017-03-15 05:22:50 VisualCron8.exe//WebClient.7z//Scripts/kendo/2015.1.408/kendo.popup.min.js ok
2017-03-15 05:22:50 VisualCron8.exe//WebClient.7z//Scripts/kendo/2015.1.408/kendo.popup.min.js.map ok
2017-03-15 05:22:50 VisualCron8.exe//WebClient.7z//Scripts/kendo/2015.1.408/kendo.progressbar.min.js ok
2017-03-15 05:22:50 VisualCron8.exe//WebClient.7z//Scripts/kendo/2015.1.408/kendo.progressbar.min.js.map ok
2017-03-15 05:22:50 VisualCron8.exe//WebClient.7z//Scripts/kendo/2015.1.408/kendo.reorderable.min.js ok
2017-03-15 05:22:50 VisualCron8.exe//WebClient.7z//Scripts/kendo/2015.1.408/kendo.reorderable.min.js.map ok
2017-03-15 05:22:50 VisualCron8.exe//WebClient.7z//Scripts/kendo/2015.1.408/kendo.resizable.min.js ok
2017-03-15 05:22:50 VisualCron8.exe//WebClient.7z//Scripts/kendo/2015.1.408/kendo.resizable.min.js.map ok
2017-03-15 05:22:50 VisualCron8.exe//WebClient.7z//Scripts/kendo/2015.1.408/kendo.responsivepanel.min.js ok
2017-03-15 05:22:50 VisualCron8.exe//WebClient.7z//Scripts/kendo/2015.1.408/kendo.responsivepanel.min.js.map ok
2017-03-15 05:22:50 VisualCron8.exe//WebClient.7z//Scripts/kendo/2015.1.408/kendo.router.min.js ok
2017-03-15 05:22:50 VisualCron8.exe//WebClient.7z//Scripts/kendo/2015.1.408/kendo.router.min.js.map ok
2017-03-15 05:22:50 VisualCron8.exe//WebClient.7z//Scripts/kendo/2015.1.408/kendo.scheduler.agendaview.min.js ok
2017-03-15 05:22:50 VisualCron8.exe//WebClient.7z//Scripts/kendo/2015.1.408/kendo.scheduler.agendaview.min.js.map ok
2017-03-15 05:22:50 VisualCron8.exe//WebClient.7z//Scripts/kendo/2015.1.408/kendo.scheduler.dayview.min.js ok
2017-03-15 05:22:50 VisualCron8.exe//WebClient.7z//Scripts/kendo/2015.1.408/kendo.scheduler.dayview.min.js.map ok
2017-03-15 05:22:50 VisualCron8.exe//WebClient.7z//Scripts/kendo/2015.1.408/kendo.scheduler.min.js ok
2017-03-15 05:22:50 VisualCron8.exe//WebClient.7z//Scripts/kendo/2015.1.408/kendo.scheduler.min.js.map ok
2017-03-15 05:22:50 VisualCron8.exe//WebClient.7z//Scripts/kendo/2015.1.408/kendo.scheduler.monthview.min.js ok
2017-03-15 05:22:50 VisualCron8.exe//WebClient.7z//Scripts/kendo/2015.1.408/kendo.scheduler.monthview.min.js.map ok
2017-03-15 05:22:50 VisualCron8.exe//WebClient.7z//Scripts/kendo/2015.1.408/kendo.scheduler.recurrence.min.js ok
2017-03-15 05:22:50 VisualCron8.exe//WebClient.7z//Scripts/kendo/2015.1.408/kendo.scheduler.recurrence.min.js.map ok
2017-03-15 05:22:50 VisualCron8.exe//WebClient.7z//Scripts/kendo/2015.1.408/kendo.scheduler.timelineview.min.js ok
2017-03-15 05:22:50 VisualCron8.exe//WebClient.7z//Scripts/kendo/2015.1.408/kendo.scheduler.timelineview.min.js.map ok
2017-03-15 05:22:50 VisualCron8.exe//WebClient.7z//Scripts/kendo/2015.1.408/kendo.scheduler.view.min.js ok
2017-03-15 05:22:51 VisualCron8.exe//WebClient.7z//Scripts/kendo/2015.1.408/kendo.scheduler.view.min.js.map ok
2017-03-15 05:22:51 VisualCron8.exe//WebClient.7z//Scripts/kendo/2015.1.408/kendo.selectable.min.js ok
2017-03-15 05:22:51 VisualCron8.exe//WebClient.7z//Scripts/kendo/2015.1.408/kendo.selectable.min.js.map ok
2017-03-15 05:22:51 VisualCron8.exe//WebClient.7z//Scripts/kendo/2015.1.408/kendo.slider.min.js ok
2017-03-15 05:22:51 VisualCron8.exe//WebClient.7z//Scripts/kendo/2015.1.408/kendo.slider.min.js.map ok
2017-03-15 05:22:51 VisualCron8.exe//WebClient.7z//Scripts/kendo/2015.1.408/kendo.sortable.min.js ok
2017-03-15 05:22:51 VisualCron8.exe//WebClient.7z//Scripts/kendo/2015.1.408/kendo.sortable.min.js.map ok
2017-03-15 05:22:51 VisualCron8.exe//WebClient.7z//Scripts/kendo/2015.1.408/kendo.splitter.min.js ok
2017-03-15 05:22:51 VisualCron8.exe//WebClient.7z//Scripts/kendo/2015.1.408/kendo.splitter.min.js.map ok
2017-03-15 05:22:51 VisualCron8.exe//WebClient.7z//Scripts/kendo/2015.1.408/kendo.tabstrip.min.js ok
2017-03-15 05:22:51 VisualCron8.exe//WebClient.7z//Scripts/kendo/2015.1.408/kendo.tabstrip.min.js.map ok
2017-03-15 05:22:51 VisualCron8.exe//WebClient.7z//Scripts/kendo/2015.1.408/kendo.timepicker.min.js ok
2017-03-15 05:22:51 VisualCron8.exe//WebClient.7z//Scripts/kendo/2015.1.408/kendo.timepicker.min.js.map ok
2017-03-15 05:22:52 VisualCron8.exe//WebClient.7z//Scripts/kendo/2015.1.408/kendo.timezones.min.js ok
2017-03-15 05:22:52 VisualCron8.exe//WebClient.7z//Scripts/kendo/2015.1.408/kendo.toolbar.min.js ok
2017-03-15 05:22:52 VisualCron8.exe//WebClient.7z//Scripts/kendo/2015.1.408/kendo.toolbar.min.js.map ok
2017-03-15 05:22:52 VisualCron8.exe//WebClient.7z//Scripts/kendo/2015.1.408/kendo.tooltip.min.js ok
2017-03-15 05:22:52 VisualCron8.exe//WebClient.7z//Scripts/kendo/2015.1.408/kendo.tooltip.min.js.map ok
2017-03-15 05:22:52 VisualCron8.exe//WebClient.7z//Scripts/kendo/2015.1.408/kendo.touch.min.js ok
2017-03-15 05:22:52 VisualCron8.exe//WebClient.7z//Scripts/kendo/2015.1.408/kendo.touch.min.js.map ok
2017-03-15 05:22:52 VisualCron8.exe//WebClient.7z//Scripts/kendo/2015.1.408/kendo.treelist.min.js ok
2017-03-15 05:22:52 VisualCron8.exe//WebClient.7z//Scripts/kendo/2015.1.408/kendo.treelist.min.js.map ok
2017-03-15 05:22:52 VisualCron8.exe//WebClient.7z//Scripts/kendo/2015.1.408/kendo.treeview.min.js ok
2017-03-15 05:22:52 VisualCron8.exe//WebClient.7z//Scripts/kendo/2015.1.408/kendo.treeview.min.js.map ok
2017-03-15 05:22:52 VisualCron8.exe//WebClient.7z//Scripts/kendo/2015.1.408/kendo.upload.min.js ok
2017-03-15 05:22:53 VisualCron8.exe//WebClient.7z//Scripts/kendo/2015.1.408/kendo.upload.min.js.map ok
2017-03-15 05:22:53 VisualCron8.exe//WebClient.7z//Scripts/kendo/2015.1.408/kendo.userevents.min.js ok
2017-03-15 05:22:53 VisualCron8.exe//WebClient.7z//Scripts/kendo/2015.1.408/kendo.userevents.min.js.map ok
2017-03-15 05:22:53 VisualCron8.exe//WebClient.7z//Scripts/kendo/2015.1.408/kendo.validator.min.js ok
2017-03-15 05:22:53 VisualCron8.exe//WebClient.7z//Scripts/kendo/2015.1.408/kendo.validator.min.js.map ok
2017-03-15 05:22:53 VisualCron8.exe//WebClient.7z//Scripts/kendo/2015.1.408/kendo.view.min.js ok
2017-03-15 05:22:53 VisualCron8.exe//WebClient.7z//Scripts/kendo/2015.1.408/kendo.view.min.js.map ok
2017-03-15 05:22:53 VisualCron8.exe//WebClient.7z//Scripts/kendo/2015.1.408/kendo.virtuallist.min.js ok
2017-03-15 05:22:53 VisualCron8.exe//WebClient.7z//Scripts/kendo/2015.1.408/kendo.virtuallist.min.js.map ok
2017-03-15 05:22:53 VisualCron8.exe//WebClient.7z//Scripts/kendo/2015.1.408/kendo.web.min.js ok
2017-03-15 05:22:53 VisualCron8.exe//WebClient.7z//Scripts/kendo/2015.1.408/kendo.web.min.js.map ok
2017-03-15 05:22:53 VisualCron8.exe//WebClient.7z//Scripts/kendo/2015.1.408/kendo.window.min.js ok
2017-03-15 05:22:53 VisualCron8.exe//WebClient.7z//Scripts/kendo/2015.1.408/kendo.window.min.js.map ok
2017-03-15 05:22:53 VisualCron8.exe//WebClient.7z//Scripts/kendo/2015.1.408/pako_deflate.min.js ok
2017-03-15 05:22:54 VisualCron8.exe//WebClient.7z//Scripts/knockout-2.1.0.debug.js ok
2017-03-15 05:22:54 VisualCron8.exe//WebClient.7z//Scripts/knockout-2.1.0.js ok
2017-03-15 05:22:54 VisualCron8.exe//WebClient.7z//Scripts/modernizr-2.5.3.js ok
2017-03-15 05:22:54 VisualCron8.exe//WebClient.7z//Scripts/ribbon/ribbon.js ok
2017-03-15 05:22:54 VisualCron8.exe//WebClient.7z//Scripts/ribbon/ribbon_init.js ok
2017-03-15 05:22:54 VisualCron8.exe//WebClient.7z//Scripts/typeCron/tsOutput/ClientConnectionsController.js ok
2017-03-15 05:22:54 VisualCron8.exe//WebClient.7z//Scripts/typeCron/tsOutput/ClientConnectionsController.js.map ok
2017-03-15 05:22:54 VisualCron8.exe//WebClient.7z//Scripts/typeCron/tsOutput/ClientSettingsController.js ok
2017-03-15 05:22:54 VisualCron8.exe//WebClient.7z//Scripts/typeCron/tsOutput/ClientSettingsController.js.map ok
2017-03-15 05:22:54 VisualCron8.exe//WebClient.7z//Scripts/typeCron/tsOutput/ContextMenuController.js ok
2017-03-15 05:22:54 VisualCron8.exe//WebClient.7z//Scripts/typeCron/tsOutput/ContextMenuController.js.map ok
2017-03-15 05:22:54 VisualCron8.exe//WebClient.7z//Scripts/typeCron/tsOutput/GridController.js ok
2017-03-15 05:22:54 VisualCron8.exe//WebClient.7z//Scripts/typeCron/tsOutput/GridController.js.map ok
2017-03-15 05:22:54 VisualCron8.exe//WebClient.7z//Scripts/typeCron/tsOutput/Interfaces.js ok
2017-03-15 05:22:54 VisualCron8.exe//WebClient.7z//Scripts/typeCron/tsOutput/Interfaces.js.map ok
2017-03-15 05:22:55 VisualCron8.exe//WebClient.7z//Scripts/typeCron/tsOutput/JQueryExtend.js ok
2017-03-15 05:22:55 VisualCron8.exe//WebClient.7z//Scripts/typeCron/tsOutput/JQueryExtend.js.map ok
2017-03-15 05:22:55 VisualCron8.exe//WebClient.7z//Scripts/typeCron/tsOutput/NotificationController.js ok
2017-03-15 05:22:55 VisualCron8.exe//WebClient.7z//Scripts/typeCron/tsOutput/NotificationController.js.map ok
2017-03-15 05:22:55 VisualCron8.exe//WebClient.7z//Scripts/typeCron/tsOutput/PopupTaskController.js ok
2017-03-15 05:22:55 VisualCron8.exe//WebClient.7z//Scripts/typeCron/tsOutput/PopupTaskController.js.map ok
2017-03-15 05:22:55 VisualCron8.exe//WebClient.7z//Scripts/typeCron/tsOutput/PromptPasswordController.js ok
2017-03-15 05:22:55 VisualCron8.exe//WebClient.7z//Scripts/typeCron/tsOutput/PromptPasswordController.js.map ok
2017-03-15 05:22:55 VisualCron8.exe//WebClient.7z//Scripts/typeCron/tsOutput/RunningJobsController.js ok
2017-03-15 05:22:55 VisualCron8.exe//WebClient.7z//Scripts/typeCron/tsOutput/RunningJobsController.js.map ok
2017-03-15 05:22:55 VisualCron8.exe//WebClient.7z//Scripts/typeCron/tsOutput/ServerObjects/ServerObjectCertificates.js ok
2017-03-15 05:22:55 VisualCron8.exe//WebClient.7z//Scripts/typeCron/tsOutput/ServerObjects/ServerObjectCertificates.js.map ok
2017-03-15 05:22:55 VisualCron8.exe//WebClient.7z//Scripts/typeCron/tsOutput/ServerObjects/ServerObjectConditions.js ok
2017-03-15 05:22:55 VisualCron8.exe//WebClient.7z//Scripts/typeCron/tsOutput/ServerObjects/ServerObjectConditions.js.map ok
2017-03-15 05:22:55 VisualCron8.exe//WebClient.7z//Scripts/typeCron/tsOutput/ServerObjects/ServerObjectConnections.js ok
2017-03-15 05:22:55 VisualCron8.exe//WebClient.7z//Scripts/typeCron/tsOutput/ServerObjects/ServerObjectConnections.js.map ok
2017-03-15 05:22:55 VisualCron8.exe//WebClient.7z//Scripts/typeCron/tsOutput/ServerObjects/ServerObjectController.js ok
2017-03-15 05:22:55 VisualCron8.exe//WebClient.7z//Scripts/typeCron/tsOutput/ServerObjects/ServerObjectController.js.map ok
2017-03-15 05:22:55 VisualCron8.exe//WebClient.7z//Scripts/typeCron/tsOutput/ServerObjects/ServerObjectCredentials.js ok
2017-03-15 05:22:55 VisualCron8.exe//WebClient.7z//Scripts/typeCron/tsOutput/ServerObjects/ServerObjectCredentials.js.map ok
2017-03-15 05:22:56 VisualCron8.exe//WebClient.7z//Scripts/typeCron/tsOutput/ServerObjects/ServerObjectNetDrives.js ok
2017-03-15 05:22:56 VisualCron8.exe//WebClient.7z//Scripts/typeCron/tsOutput/ServerObjects/ServerObjectNetDrives.js.map ok
2017-03-15 05:22:56 VisualCron8.exe//WebClient.7z//Scripts/typeCron/tsOutput/ServerObjects/ServerObjectNotification.js ok
2017-03-15 05:22:56 VisualCron8.exe//WebClient.7z//Scripts/typeCron/tsOutput/ServerObjects/ServerObjectNotification.js.map ok
2017-03-15 05:22:56 VisualCron8.exe//WebClient.7z//Scripts/typeCron/tsOutput/ServerObjects/ServerObjectPgpKeyRings.js ok
2017-03-15 05:22:56 VisualCron8.exe//WebClient.7z//Scripts/typeCron/tsOutput/ServerObjects/ServerObjectPgpKeyRings.js.map ok
2017-03-15 05:22:56 VisualCron8.exe//WebClient.7z//Scripts/typeCron/tsOutput/ServerObjects/ServerObjectVariables.js ok
2017-03-15 05:22:56 VisualCron8.exe//WebClient.7z//Scripts/typeCron/tsOutput/ServerObjects/ServerObjectVariables.js.map ok
2017-03-15 05:22:56 VisualCron8.exe//WebClient.7z//Scripts/typeCron/tsOutput/TaskGridBaseControlle
-Cut-

; --- Statistics ---
; Time Start: 2017-03-15 05:22:16
; Time Finish: 2017-03-15 05:25:28
; Processed objects: 1400
; Total OK: 1400
; Total detected: 0
; Suspicions: 0
; Total skipped: 0
; Password protected: 0
; Corrupted: 0
; Errors: 0
; ------------------


















NOD32
scan report: Clean

ECLS Command-line scanner, version 10.0.386.0, (C) 1992-2016 ESET, spol. s r.o.
Module loader, version 1009 (20161205), build 1014
Module perseus, version 1513 (20170306), build 1835
Module scanner, version 15089 (20170314), build 32716
Module archiver, version 1261 (20170222), build 1305
Module advheur, version 1176 (20170116), build 1143
Module cleaner, version 1131 (20170222), build 1165

Command line: /log-rewrite /log-all /files /no-boots /no-heur /no-adv-heur /mail /sfx /rtp /adware /unsafe /unwanted /pattern /action=none /no-quarantine /log-file=output.tmp VisualCron8.exe

Scan started at: 03/15/17 05:22:12
name="VisualCron8.exe", threat="is OK", action="", info=""
name="VisualCron8.exe - 7ZIP - WebClient.7z", threat="is OK", action="", info=""
name="VisualCron8.exe - 7ZIP - WebClient.7z - 7ZIP - App_Data/VCWeb.sdf", threat="is OK", action="", info=""
name="VisualCron8.exe - 7ZIP - WebClient.7z - 7ZIP - Content/bootstrap/config.json", threat="is OK", action="", info=""
name="VisualCron8.exe - 7ZIP - WebClient.7z - 7ZIP - Content/bootstrap/css/bootstrap-theme.css", threat="is OK", action="", info=""
name="VisualCron8.exe - 7ZIP - WebClient.7z - 7ZIP - Content/bootstrap/css/bootstrap-theme.min.css", threat="is OK", action="", info=""
name="VisualCron8.exe - 7ZIP - WebClient.7z - 7ZIP - Content/bootstrap/css/bootstrap.css", threat="is OK", action="", info=""
name="VisualCron8.exe - 7ZIP - WebClient.7z - 7ZIP - Content/bootstrap/css/bootstrap.min.css", threat="is OK", action="", info=""
name="VisualCron8.exe - 7ZIP - WebClient.7z - 7ZIP - Content/bootstrap/fonts/glyphicons-halflings-regular.eot", threat="is OK", action="", info=""
name="VisualCron8.exe - 7ZIP - WebClient.7z - 7ZIP - Content/bootstrap/fonts/glyphicons-halflings-regular.svg", threat="is OK", action="", info=""
name="VisualCron8.exe - 7ZIP - WebClient.7z - 7ZIP - Content/bootstrap/fonts/glyphicons-halflings-regular.ttf", threat="is OK", action="", info=""
name="VisualCron8.exe - 7ZIP - WebClient.7z - 7ZIP - Content/bootstrap/fonts/glyphicons-halflings-regular.woff", threat="is OK", action="", info=""
name="VisualCron8.exe - 7ZIP - WebClient.7z - 7ZIP - Content/bootstrap/fonts/glyphicons-halflings-regular.woff2", threat="is OK", action="", info=""
name="VisualCron8.exe - 7ZIP - WebClient.7z - 7ZIP - Content/bootstrap/js/bootstrap.js", threat="is OK", action="", info=""
name="VisualCron8.exe - 7ZIP - WebClient.7z - 7ZIP - Content/bootstrap/js/bootstrap.min.js", threat="is OK", action="", info=""
name="VisualCron8.exe - 7ZIP - WebClient.7z - 7ZIP - Content/bootstrap/js/bootstrap.min.js.map", threat="is OK", action="", info=""
name="VisualCron8.exe - 7ZIP - WebClient.7z - 7ZIP - Content/codemirror/codemirror.css", threat="is OK", action="", info=""
name="VisualCron8.exe - 7ZIP - WebClient.7z - 7ZIP - Content/images/Active.gif", threat="is OK", action="", info=""
name="VisualCron8.exe - 7ZIP - WebClient.7z - 7ZIP - Content/images/Activity.gif", threat="is OK", action="", info=""
name="VisualCron8.exe - 7ZIP - WebClient.7z - 7ZIP - Content/images/ActivityActive.gif", threat="is OK", action="", info=""
name="VisualCron8.exe - 7ZIP - WebClient.7z - 7ZIP - Content/images/ActivityInactive.gif", threat="is OK", action="", info=""
name="VisualCron8.exe - 7ZIP - WebClient.7z - 7ZIP - Content/images/add.gif", threat="is OK", action="", info=""
name="VisualCron8.exe - 7ZIP - WebClient.7z - 7ZIP - Content/images/banner.png", threat="is OK", action="", info=""
name="VisualCron8.exe - 7ZIP - WebClient.7z - 7ZIP - Content/images/blueDots.gif", threat="is OK", action="", info=""
name="VisualCron8.exe - 7ZIP - WebClient.7z - 7ZIP - Content/images/ClientSettings.gif", threat="is OK", action="", info=""
name="VisualCron8.exe - 7ZIP - WebClient.7z - 7ZIP - Content/images/delete.gif", threat="is OK", action="", info=""
name="VisualCron8.exe - 7ZIP - WebClient.7z - 7ZIP - Content/images/edit.gif", threat="is OK", action="", info=""
name="VisualCron8.exe - 7ZIP - WebClient.7z - 7ZIP - Content/images/Empty.png", threat="is OK", action="", info=""
name="VisualCron8.exe - 7ZIP - WebClient.7z - 7ZIP - Content/images/icons/auditlog/AuditLog.png", threat="is OK", action="", info=""
name="VisualCron8.exe - 7ZIP - WebClient.7z - 7ZIP - Content/images/icons/auditlog/AuditVersions.png", threat="is OK", action="", info=""
name="VisualCron8.exe - 7ZIP - WebClient.7z - 7ZIP - Content/images/icons/auditlog/diff.png", threat="is OK", action="", info=""
name="VisualCron8.exe - 7ZIP - WebClient.7z - 7ZIP - Content/images/icons/auditlog/Revert.png", threat="is OK", action="", info=""
name="VisualCron8.exe - 7ZIP - WebClient.7z - 7ZIP - Content/images/icons/calendar32.gif", threat="is OK", action="", info=""
name="VisualCron8.exe - 7ZIP - WebClient.7z - 7ZIP - Content/images/icons/certificates.png", threat="is OK", action="", info=""
name="VisualCron8.exe - 7ZIP - WebClient.7z - 7ZIP - Content/images/icons/checkforupdates32.gif", threat="is OK", action="", info=""
name="VisualCron8.exe - 7ZIP - WebClient.7z - 7ZIP - Content/images/icons/ClientConnections.gif", threat="is OK", action="", info=""
name="VisualCron8.exe - 7ZIP - WebClient.7z - 7ZIP - Content/images/icons/conditions.gif", threat="is OK", action="", info=""
name="VisualCron8.exe - 7ZIP - WebClient.7z - 7ZIP - Content/images/icons/Connections.png", threat="is OK", action="", info=""
name="VisualCron8.exe - 7ZIP - WebClient.7z - 7ZIP - Content/images/icons/contactus.png", threat="is OK", action="", info=""
name="VisualCron8.exe - 7ZIP - WebClient.7z - 7ZIP - Content/images/icons/Credentials.gif", threat="is OK", action="", info=""
name="VisualCron8.exe - 7ZIP - WebClient.7z - 7ZIP - Content/images/icons/documentation.png", threat="is OK", action="", info=""
name="VisualCron8.exe - 7ZIP - WebClient.7z - 7ZIP - Content/images/icons/favico/128x32bit.png", threat="is OK", action="", info=""
name="VisualCron8.exe - 7ZIP - WebClient.7z - 7ZIP - Content/images/icons/favico/32x32bit.png", threat="is OK", action="", info=""
name="VisualCron8.exe - 7ZIP - WebClient.7z - 7ZIP - Content/images/icons/favico/48x32bit.png", threat="is OK", action="", info=""
name="VisualCron8.exe - 7ZIP - WebClient.7z - 7ZIP - Content/images/icons/favico/64x32bit.png", threat="is OK", action="", info=""
name="VisualCron8.exe - 7ZIP - WebClient.7z - 7ZIP - Content/images/icons/favico/V-blue.ico", threat="is OK", action="", info=""
name="VisualCron8.exe - 7ZIP - WebClient.7z - 7ZIP - Content/images/icons/forum.png", threat="is OK", action="", info=""
name="VisualCron8.exe - 7ZIP - WebClient.7z - 7ZIP - Content/images/icons/jobs.png", threat="is OK", action="", info=""
name="VisualCron8.exe - 7ZIP - WebClient.7z - 7ZIP - Content/images/icons/loading_async.gif", threat="is OK", action="", info=""
name="VisualCron8.exe - 7ZIP - WebClient.7z - 7ZIP - Content/images/icons/loading_async_big.gif", threat="is OK", action="", info=""
name="VisualCron8.exe - 7ZIP - WebClient.7z - 7ZIP - Content/images/icons/log.png", threat="is OK", action="", info=""
name="VisualCron8.exe - 7ZIP - WebClient.7z - 7ZIP - Content/images/icons/logo/VisualCronBlue.png", threat="is OK", action="", info=""
name="VisualCron8.exe - 7ZIP - WebClient.7z - 7ZIP - Content/images/icons/logo/VisualCronYellow.png", threat="is OK", action="", info=""
name="VisualCron8.exe - 7ZIP - WebClient.7z - 7ZIP - Content/images/icons/loop/loopend_blue.png", threat="is OK", action="", info=""
name="VisualCron8.exe - 7ZIP - WebClient.7z - 7ZIP - Content/images/icons/loop/loopend_green.png", threat="is OK", action="", info=""
name="VisualCron8.exe - 7ZIP - WebClient.7z - 7ZIP - Content/images/icons/loop/loopend_orange.png", threat="is OK", action="", info=""
name="VisualCron8.exe - 7ZIP - WebClient.7z - 7ZIP - Content/images/icons/loop/loopend_purple.png", threat="is OK", action="", info=""
name="VisualCron8.exe - 7ZIP - WebClient.7z - 7ZIP - Content/images/icons/loop/loopend_red.png", threat="is OK", action="", info=""
name="VisualCron8.exe - 7ZIP - WebClient.7z - 7ZIP - Content/images/icons/loop/loopend_yellow.png", threat="is OK", action="", info=""
name="VisualCron8.exe - 7ZIP - WebClient.7z - 7ZIP - Content/images/icons/loop/loopmiddle_blue.png", threat="is OK", action="", info=""
name="VisualCron8.exe - 7ZIP - WebClient.7z - 7ZIP - Content/images/icons/loop/loopmiddle_green.png", threat="is OK", action="", info=""
name="VisualCron8.exe - 7ZIP - WebClient.7z - 7ZIP - Content/images/icons/loop/loopmiddle_orange.png", threat="is OK", action="", info=""
name="VisualCron8.exe - 7ZIP - WebClient.7z - 7ZIP - Content/images/icons/loop/loopmiddle_purple.png", threat="is OK", action="", info=""
name="VisualCron8.exe - 7ZIP - WebClient.7z - 7ZIP - Content/images/icons/loop/loopmiddle_red.png", threat="is OK", action="", info=""
name="VisualCron8.exe - 7ZIP - WebClient.7z - 7ZIP - Content/images/icons/loop/loopmiddle_yellow.png", threat="is OK", action="", info=""
name="VisualCron8.exe - 7ZIP - WebClient.7z - 7ZIP - Content/images/icons/loop/loopself_blue.png", threat="is OK", action="", info=""
name="VisualCron8.exe - 7ZIP - WebClient.7z - 7ZIP - Content/images/icons/loop/loopself_green.png", threat="is OK", action="", info=""
name="VisualCron8.exe - 7ZIP - WebClient.7z - 7ZIP - Content/images/icons/loop/loopself_orange.png", threat="is OK", action="", info=""
name="VisualCron8.exe - 7ZIP - WebClient.7z - 7ZIP - Content/images/icons/loop/loopself_purple.png", threat="is OK", action="", info=""
name="VisualCron8.exe - 7ZIP - WebClient.7z - 7ZIP - Content/images/icons/loop/loopself_red.png", threat="is OK", action="", info=""
name="VisualCron8.exe - 7ZIP - WebClient.7z - 7ZIP - Content/images/icons/loop/loopself_yellow.png", threat="is OK", action="", info=""
name="VisualCron8.exe - 7ZIP - WebClient.7z - 7ZIP - Content/images/icons/loop/loopstart_blue.png", threat="is OK", action="", info=""
name="VisualCron8.exe - 7ZIP - WebClient.7z - 7ZIP - Content/images/icons/loop/loopstart_green.png", threat="is OK", action="", info=""
name="VisualCron8.exe - 7ZIP - WebClient.7z - 7ZIP - Content/images/icons/loop/loopstart_orange.png", threat="is OK", action="", info=""
name="VisualCron8.exe - 7ZIP - WebClient.7z - 7ZIP - Content/images/icons/loop/loopstart_purple.png", threat="is OK", action="", info=""
name="VisualCron8.exe - 7ZIP - WebClient.7z - 7ZIP - Content/images/icons/loop/loopstart_red.png", threat="is OK", action="", info=""
name="VisualCron8.exe - 7ZIP - WebClient.7z - 7ZIP - Content/images/icons/loop/loopstart_yellow.png", threat="is OK", action="", info=""
name="VisualCron8.exe - 7ZIP - WebClient.7z - 7ZIP - Content/images/icons/manageservers16.gif", threat="is OK", action="", info=""
name="VisualCron8.exe - 7ZIP - WebClient.7z - 7ZIP - Content/images/icons/manageservers32.gif", threat="is OK", action="", info=""
name="VisualCron8.exe - 7ZIP - WebClient.7z - 7ZIP - Content/images/icons/NetworkDrive.png", threat="is OK", action="", info=""
name="VisualCron8.exe - 7ZIP - WebClient.7z - 7ZIP - Content/images/icons/none.gif", threat="is OK", action="", info=""
name="VisualCron8.exe - 7ZIP - WebClient.7z - 7ZIP - Content/images/icons/Notifications.gif", threat="is OK", action="", info=""
name="VisualCron8.exe - 7ZIP - WebClient.7z - 7ZIP - Content/images/icons/PGPKeyRings.png", threat="is OK", action="", info=""
name="VisualCron8.exe - 7ZIP - WebClient.7z - 7ZIP - Content/images/icons/popupTask/error.png", threat="is OK", action="", info=""
name="VisualCron8.exe - 7ZIP - WebClient.7z - 7ZIP - Content/images/icons/popupTask/information.png", threat="is OK", action="", info=""
name="VisualCron8.exe - 7ZIP - WebClient.7z - 7ZIP - Content/images/icons/popupTask/question.png", threat="is OK", action="", info=""
name="VisualCron8.exe - 7ZIP - WebClient.7z - 7ZIP - Content/images/icons/popupTask/warning.png", threat="is OK", action="", info=""
name="VisualCron8.exe - 7ZIP - WebClient.7z - 7ZIP - Content/images/icons/selectcolumns.gif", threat="is OK", action="", info=""
name="VisualCron8.exe - 7ZIP - WebClient.7z - 7ZIP - Content/images/icons/serversettings.gif", threat="is OK", action="", info=""
name="VisualCron8.exe - 7ZIP - WebClient.7z - 7ZIP - Content/images/icons/system_off.png", threat="is OK", action="", info=""
name="VisualCron8.exe - 7ZIP - WebClient.7z - 7ZIP - Content/images/icons/system_on.png", threat="is OK", action="", info=""
name="VisualCron8.exe - 7ZIP - WebClient.7z - 7ZIP - Content/images/icons/timeexceptions.png", threat="is OK", action="", info=""
name="VisualCron8.exe - 7ZIP - WebClient.7z - 7ZIP - Content/images/icons/tutorials.png", threat="is OK", action="", info=""
name="VisualCron8.exe - 7ZIP - WebClient.7z - 7ZIP - Content/images/icons/userpermissions.gif", threat="is OK", action="", info=""
name="VisualCron8.exe - 7ZIP - WebClient.7z - 7ZIP - Content/images/icons/Variables.png", threat="is OK", action="", info=""
name="VisualCron8.exe - 7ZIP - WebClient.7z - 7ZIP - Content/images/icons/viewoutput.png", threat="is OK", action="", info=""
name="VisualCron8.exe - 7ZIP - WebClient.7z - 7ZIP - Content/images/Inactive.gif", threat="is OK", action="", info=""
name="VisualCron8.exe - 7ZIP - WebClient.7z - 7ZIP - Content/images/login-facebook.png", threat="is OK", action="", info=""
name="VisualCron8.exe - 7ZIP - WebClient.7z - 7ZIP - Content/images/login-google.png", threat="is OK", action="", info=""
name="VisualCron8.exe - 7ZIP - WebClient.7z - 7ZIP - Content/images/login-liveid.png", threat="is OK", action="", info=""
name="VisualCron8.exe - 7ZIP - WebClient.7z - 7ZIP - Content/images/login-yahoo.png", threat="is OK", action="", info=""
name="VisualCron8.exe - 7ZIP - WebClient.7z - 7ZIP - Content/images/manageservers16.gif", threat="is OK", action="", info=""
name="VisualCron8.exe - 7ZIP - WebClient.7z - 7ZIP - Content/images/none.gif", threat="is OK", action="", info=""
name="VisualCron8.exe - 7ZIP - WebClient.7z - 7ZIP - Content/images/openid-logos.png", threat="is OK", action="", info=""
name="VisualCron8.exe - 7ZIP - WebClient.7z - 7ZIP - Content/images/openid.gif", threat="is OK", action="", info=""
name="VisualCron8.exe - 7ZIP - WebClient.7z - 7ZIP - Content/images/rbPredefinedIcons.png", threat="is OK", action="", info=""
name="VisualCron8.exe - 7ZIP - WebClient.7z - 7ZIP - Content/images/result/res_.png", threat="is OK", action="", info=""
name="VisualCron8.exe - 7ZIP - WebClient.7z - 7ZIP - Content/images/result/res_failure.png", threat="is OK", action="", info=""
name="VisualCron8.exe - 7ZIP - WebClient.7z - 7ZIP - Content/images/result/res_running.png", threat="is OK", action="", info=""
name="VisualCron8.exe - 7ZIP - WebClient.7z - 7ZIP - Content/images/result/res_success.png", threat="is OK", action="", info=""
name="VisualCron8.exe - 7ZIP - WebClient.7z - 7ZIP - Content/images/runjob.gif", threat="is OK", action="", info=""
name="VisualCron8.exe - 7ZIP - WebClient.7z - 7ZIP - Content/images/ServerConnectedfalse.png", threat="is OK", action="", info=""
name="VisualCron8.exe - 7ZIP - WebClient.7z - 7ZIP - Content/images/ServerConnectedtrue.png", threat="is OK", action="", info=""
name="VisualCron8.exe - 7ZIP - WebClient.7z - 7ZIP - Content/images/stopjob.gif", threat="is OK", action="", info=""
name="VisualCron8.exe - 7ZIP - WebClient.7z - 7ZIP - Content/images/visualcron.ico", threat="is OK", action="", info=""
name="VisualCron8.exe - 7ZIP - WebClient.7z - 7ZIP - Content/images/visualcron.png", threat="is OK", action="", info=""
name="VisualCron8.exe - 7ZIP - WebClient.7z - 7ZIP - Content/kendo/2015.1.408/Black/editor.png", threat="is OK", action="", info=""
name="VisualCron8.exe - 7ZIP - WebClient.7z - 7ZIP - Content/kendo/2015.1.408/Black/imagebrowser.png", threat="is OK", action="", info=""
name="VisualCron8.exe - 7ZIP - WebClient.7z - 7ZIP - Content/kendo/2015.1.408/Black/indeterminate.gif", threat="is OK", action="", info=""
name="VisualCron8.exe - 7ZIP - WebClient.7z - 7ZIP - Content/kendo/2015.1.408/Black/loading-image.gif", threat="is OK", action="", info=""
name="VisualCron8.exe - 7ZIP - WebClient.7z - 7ZIP - Content/kendo/2015.1.408/Black/loading.gif", threat="is OK", action="", info=""
name="VisualCron8.exe - 7ZIP - WebClient.7z - 7ZIP - Content/kendo/2015.1.408/Black/loading_2x.gif", threat="is OK", action="", info=""
name="VisualCron8.exe - 7ZIP - WebClient.7z - 7ZIP - Content/kendo/2015.1.408/Black/markers.png", threat="is OK", action="", info=""
name="VisualCron8.exe - 7ZIP - WebClient.7z - 7ZIP - Content/kendo/2015.1.408/Black/markers_2x.png", threat="is OK", action="", info=""
name="VisualCron8.exe - 7ZIP - WebClient.7z - 7ZIP - Content/kendo/2015.1.408/Black/slider-h.gif", threat="is OK", action="", info=""
name="VisualCron8.exe - 7ZIP - WebClient.7z - 7ZIP - Content/kendo/2015.1.408/Black/slider-v.gif", threat="is OK", action="", info=""
name="VisualCron8.exe - 7ZIP - WebClient.7z - 7ZIP - Content/kendo/2015.1.408/Black/sprite.png", threat="is OK", action="", info=""
name="VisualCron8.exe - 7ZIP - WebClient.7z - 7ZIP - Content/kendo/2015.1.408/Black/sprite_2x.png", threat="is OK", action="", info=""
name="VisualCron8.exe - 7ZIP - WebClient.7z - 7ZIP - Content/kendo/2015.1.408/Black/sprite_kpi.png", threat="is OK", action="", info=""
name="VisualCron8.exe - 7ZIP - WebClient.7z - 7ZIP - Content/kendo/2015.1.408/Black/sprite_kpi_2x.png", threat="is OK", action="", info=""
name="VisualCron8.exe - 7ZIP - WebClient.7z - 7ZIP - Content/kendo/2015.1.408/BlueOpal/editor.png", threat="is OK", action="", info=""
name="VisualCron8.exe - 7ZIP - WebClient.7z - 7ZIP - Content/kendo/2015.1.408/BlueOpal/imagebrowser.png", threat="is OK", action="", info=""
name="VisualCron8.exe - 7ZIP - WebClient.7z - 7ZIP - Content/kendo/2015.1.408/BlueOpal/indeterminate.gif", threat="is OK", action="", info=""
name="VisualCron8.exe - 7ZIP - WebClient.7z - 7ZIP - Content/kendo/2015.1.408/BlueOpal/loading-image.gif", threat="is OK", action="", info=""
name="VisualCron8.exe - 7ZIP - WebClient.7z - 7ZIP - Content/kendo/2015.1.408/BlueOpal/loading.gif", threat="is OK", action="", info=""
name="VisualCron8.exe - 7ZIP - WebClient.7z - 7ZIP - Content/kendo/2015.1.408/BlueOpal/loading_2x.gif", threat="is OK", action="", info=""
name="VisualCron8.exe - 7ZIP - WebClient.7z - 7ZIP - Content/kendo/2015.1.408/BlueOpal/markers.png", threat="is OK", action="", info=""
name="VisualCron8.exe - 7ZIP - WebClient.7z - 7ZIP - Content/kendo/2015.1.408/BlueOpal/markers_2x.png", threat="is OK", action="", info=""
name="VisualCron8.exe - 7ZIP - WebClient.7z - 7ZIP - Content/kendo/2015.1.408/BlueOpal/slider-h.gif", threat="is OK", action="", info=""
name="VisualCron8.exe - 7ZIP - WebClient.7z - 7ZIP - Content/kendo/2015.1.408/BlueOpal/slider-v.gif", threat="is OK", action="", info=""
name="VisualCron8.exe - 7ZIP - WebClient.7z - 7ZIP - Content/kendo/2015.1.408/BlueOpal/sprite.png", threat="is OK", action="", info=""
name="VisualCron8.exe - 7ZIP - WebClient.7z - 7ZIP - Content/kendo/2015.1.408/BlueOpal/sprite_2x.png", threat="is OK", action="", info=""
name="VisualCron8.exe - 7ZIP - WebClient.7z - 7ZIP - Content/kendo/2015.1.408/BlueOpal/sprite_kpi.png", threat="is OK", action="", info=""
name="VisualCron8.exe - 7ZIP - WebClient.7z - 7ZIP - Content/kendo/2015.1.408/BlueOpal/sprite_kpi_2x.png", threat="is OK", action="", info=""
name="VisualCron8.exe - 7ZIP - WebClient.7z - 7ZIP - Content/kendo/2015.1.408/Bootstrap/editor.png", threat="is OK", action="", info=""
name="VisualCron8.exe - 7ZIP - WebClient.7z - 7ZIP - Content/kendo/2015.1.408/Bootstrap/imagebrowser.png", threat="is OK", action="", info=""
name="VisualCron8.exe - 7ZIP - WebClient.7z - 7ZIP - Content/kendo/2015.1.408/Bootstrap/indeterminate.gif", threat="is OK", action="", info=""
name="VisualCron8.exe - 7ZIP - WebClient.7z - 7ZIP - Content/kendo/2015.1.408/Bootstrap/loading-image.gif", threat="is OK", action="", info=""
name="VisualCron8.exe - 7ZIP - WebClient.7z - 7ZIP - Content/kendo/2015.1.408/Bootstrap/loading.gif", threat="is OK", action="", info=""
name="VisualCron8.exe - 7ZIP - WebClient.7z - 7ZIP - Content/kendo/2015.1.408/Bootstrap/loading_2x.gif", threat="is OK", action="", info=""
name="VisualCron8.exe - 7ZIP - WebClient.7z - 7ZIP - Content/kendo/2015.1.408/Bootstrap/markers.png", threat="is OK", action="", info=""
name="VisualCron8.exe - 7ZIP - WebClient.7z - 7ZIP - Content/kendo/2015.1.408/Bootstrap/markers_2x.png", threat="is OK", action="", info=""
name="VisualCron8.exe - 7ZIP - WebClient.7z - 7ZIP - Content/kendo/2015.1.408/Bootstrap/slider-h.gif", threat="is OK", action="", info=""
name="VisualCron8.exe - 7ZIP - WebClient.7z - 7ZIP - Content/kendo/2015.1.408/Bootstrap/slider-v.gif", threat="is OK", action="", info=""
name="VisualCron8.exe - 7ZIP - WebClient.7z - 7ZIP - Content/kendo/2015.1.408/Bootstrap/sprite.png", threat="is OK", action="", info=""
name="VisualCron8.exe - 7ZIP - WebClient.7z - 7ZIP - Content/kendo/2015.1.408/Bootstrap/sprite_2x.png", threat="is OK", action="", info=""
name="VisualCron8.exe - 7ZIP - WebClient.7z - 7ZIP - Content/kendo/2015.1.408/Bootstrap/sprite_kpi.png", threat="is OK", action="", info=""
name="VisualCron8.exe - 7ZIP - WebClient.7z - 7ZIP - Content/kendo/2015.1.408/Bootstrap/sprite_kpi_2x.png", threat="is OK", action="", info=""
name="VisualCron8.exe - 7ZIP - WebClient.7z - 7ZIP - Content/kendo/2015.1.408/Default/editor.png", threat="is OK", action="", info=""
name="VisualCron8.exe - 7ZIP - WebClient.7z - 7ZIP - Content/kendo/2015.1.408/Default/imagebrowser.png", threat="is OK", action="", info=""
name="VisualCron8.exe - 7ZIP - WebClient.7z - 7ZIP - Content/kendo/2015.1.408/Default/indeterminate.gif", threat="is OK", action="", info=""
name="VisualCron8.exe - 7ZIP - WebClient.7z - 7ZIP - Content/kendo/2015.1.408/Default/loading-image.gif", threat="is OK", action="", info=""
name="VisualCron8.exe - 7ZIP - WebClient.7z - 7ZIP - Content/kendo/2015.1.408/Default/loading.gif", threat="is OK", action="", info=""
name="VisualCron8.exe - 7ZIP - WebClient.7z - 7ZIP - Content/kendo/2015.1.408/Default/loading_2x.gif", threat="is OK", action="", info=""
name="VisualCron8.exe - 7ZIP - WebClient.7z - 7ZIP - Content/kendo/2015.1.408/Default/markers.png", threat="is OK", action="", info=""
name="VisualCron8.exe - 7ZIP - WebClient.7z - 7ZIP - Content/kendo/2015.1.408/Default/markers_2x.png", threat="is OK", action="", info=""
name="VisualCron8.exe - 7ZIP - WebClient.7z - 7ZIP - Content/kendo/2015.1.408/Default/slider-h.gif", threat="is OK", action="", info=""
name="VisualCron8.exe - 7ZIP - WebClient.7z - 7ZIP - Content/kendo/2015.1.408/Default/slider-v.gif", threat="is OK", action="", info=""
name="VisualCron8.exe - 7ZIP - WebClient.7z - 7ZIP - Content/kendo/2015.1.408/Default/sprite.png", threat="is OK", action="", info=""
name="VisualCron8.exe - 7ZIP - WebClient.7z - 7ZIP - Content/kendo/2015.1.408/Default/sprite_2x.png", threat="is OK", action="", info=""
name="VisualCron8.exe - 7ZIP - WebClient.7z - 7ZIP - Content/kendo/2015.1.408/Default/sprite_kpi.png", threat="is OK", action="", info=""
name="VisualCron8.exe - 7ZIP - WebClient.7z - 7ZIP - Content/kendo/2015.1.408/Default/sprite_kpi_2x.png", threat="is OK", action="", info=""
name="VisualCron8.exe - 7ZIP - WebClient.7z - 7ZIP - Content/kendo/2015.1.408/Fiori/editor.png", threat="is OK", action="", info=""
name="VisualCron8.exe - 7ZIP - WebClient.7z - 7ZIP - Content/kendo/2015.1.408/Fiori/imagebrowser.png", threat="is OK", action="", info=""
name="VisualCron8.exe - 7ZIP - WebClient.7z - 7ZIP - Content/kendo/2015.1.408/Fiori/indeterminate.gif", threat="is OK", action="", info=""
name="VisualCron8.exe - 7ZIP - WebClient.7z - 7ZIP - Content/kendo/2015.1.408/Fiori/loading-image.gif", threat="is OK", action="", info=""
name="VisualCron8.exe - 7ZIP - WebClient.7z - 7ZIP - Content/kendo/2015.1.408/Fiori/loading.gif", threat="is OK", action="", info=""
name="VisualCron8.exe - 7ZIP - WebClient.7z - 7ZIP - Content/kendo/2015.1.408/Fiori/loading_2x.gif", threat="is OK", action="", info=""
name="VisualCron8.exe - 7ZIP - WebClient.7z - 7ZIP - Content/kendo/2015.1.408/Fiori/markers.png", threat="is OK", action="", info=""
name="VisualCron8.exe - 7ZIP - WebClient.7z - 7ZIP - Content/kendo/2015.1.408/Fiori/markers_2x.png", threat="is OK", action="", info=""
name="VisualCron8.exe - 7ZIP - WebClient.7z - 7ZIP - Content/kendo/2015.1.408/Fiori/slider-h.gif", threat="is OK", action="", info=""
name="VisualCron8.exe - 7ZIP - WebClient.7z - 7ZIP - Content/kendo/2015.1.408/Fiori/slider-v.gif", threat="is OK", action="", info=""
name="VisualCron8.exe - 7ZIP - WebClient.7z - 7ZIP - Content/kendo/2015.1.408/Fiori/sprite.png", threat="is OK", action="", info=""
name="VisualCron8.exe - 7ZIP - WebClient.7z - 7ZIP - Content/kendo/2015.1.408/Fiori/sprite_2x.png", threat="is OK", action="", info=""
name="VisualCron8.exe - 7ZIP - WebClient.7z - 7ZIP - Content/kendo/2015.1.408/Fiori/sprite_kpi.png", threat="is OK", action="", info=""
name="VisualCron8.exe - 7ZIP - WebClient.7z - 7ZIP - Content/kendo/2015.1.408/Fiori/sprite_kpi_2x.png", threat="is OK", action="", info=""
name="VisualCron8.exe - 7ZIP - WebClient.7z - 7ZIP - Content/kendo/2015.1.408/Flat/editor.png", threat="is OK", action="", info=""
name="VisualCron8.exe - 7ZIP - WebClient.7z - 7ZIP - Content/kendo/2015.1.408/Flat/imagebrowser.png", threat="is OK", action="", info=""
name="VisualCron8.exe - 7ZIP - WebClient.7z - 7ZIP - Content/kendo/2015.1.408/Flat/indeterminate.gif", threat="is OK", action="", info=""
name="VisualCron8.exe - 7ZIP - WebClient.7z - 7ZIP - Content/kendo/2015.1.408/Flat/loading-image.gif", threat="is OK", action="", info=""
name="VisualCron8.exe - 7ZIP - WebClient.7z - 7ZIP - Content/kendo/2015.1.408/Flat/loading.gif", threat="is OK", action="", info=""
name="VisualCron8.exe - 7ZIP - WebClient.7z - 7ZIP - Content/kendo/2015.1.408/Flat/loading_2x.gif", threat="is OK", action="", info=""
name="VisualCron8.exe - 7ZIP - WebClient.7z - 7ZIP - Content/kendo/2015.1.408/Flat/markers.png", threat="is OK", action="", info=""
name="VisualCron8.exe - 7ZIP - WebClient.7z - 7ZIP - Content/kendo/2015.1.408/Flat/markers_2x.png", threat="is OK", action="", info=""
name="VisualCron8.exe - 7ZIP - WebClient.7z - 7ZIP - Content/kendo/2015.1.408/Flat/slider-h.gif", threat="is OK", action="", info=""
name="VisualCron8.exe - 7ZIP - WebClient.7z - 7ZIP - Content/kendo/2015.1.408/Flat/slider-v.gif", threat="is OK", action="", info=""
name="VisualCron8.exe - 7ZIP - WebClient.7z - 7ZIP - Content/kendo/2015.1.408/Flat/sprite.png", threat="is OK", action="", info=""
name="VisualCron8.exe - 7ZIP - WebClient.7z - 7ZIP - Content/kendo/2015.1.408/Flat/sprite_2x.png", threat="is OK", action="", info=""
name="VisualCron8.exe - 7ZIP - WebClient.7z - 7ZIP - Content/kendo/2015.1.408/Flat/sprite_kpi.png", threat="is OK", action="", info=""
name="VisualCron8.exe - 7ZIP - WebClient.7z - 7ZIP - Content/kendo/2015.1.408/Flat/sprite_kpi_2x.png", threat="is OK", action="", info=""
name="VisualCron8.exe - 7ZIP - WebClient.7z - 7ZIP - Content/kendo/2015.1.408/fonts/DejaVu/DejaVuSans-Bold.ttf", threat="is OK", action="", info=""
name="VisualCron8.exe - 7ZIP - WebClient.7z - 7ZIP - Content/kendo/2015.1.408/fonts/DejaVu/DejaVuSans-BoldOblique.ttf", threat="is OK", action="", info=""
name="VisualCron8.exe - 7ZIP - WebClient.7z - 7ZIP - Content/kendo/2015.1.408/fonts/DejaVu/DejaVuSans-Oblique.ttf", threat="is OK", action="", info=""
name="VisualCron8.exe - 7ZIP - WebClient.7z - 7ZIP - Content/kendo/2015.1.408/fonts/DejaVu/DejaVuSans.ttf", threat="is OK", action="", info=""
name="VisualCron8.exe - 7ZIP - WebClient.7z - 7ZIP - Content/kendo/2015.1.408/fonts/DejaVu/DejaVuSansMono-Bold.ttf", threat="is OK", action="", info=""
name="VisualCron8.exe - 7ZIP - WebClient.7z - 7ZIP - Content/kendo/2015.1.408/fonts/DejaVu/DejaVuSansMono-BoldOblique.ttf", threat="is OK", action="", info=""
name="VisualCron8.exe - 7ZIP - WebClient.7z - 7ZIP - Content/kendo/2015.1.408/fonts/DejaVu/DejaVuSansMono-Oblique.ttf", threat="is OK", action="", info=""
name="VisualCron8.exe - 7ZIP - WebClient.7z - 7ZIP - Content/kendo/2015.1.408/fonts/DejaVu/DejaVuSansMono.ttf", threat="is OK", action="", info=""
name="VisualCron8.exe - 7ZIP - WebClient.7z - 7ZIP - Content/kendo/2015.1.408/fonts/DejaVu/DejaVuSerif-Bold.ttf", threat="is OK", action="", info=""
name="VisualCron8.exe - 7ZIP - WebClient.7z - 7ZIP - Content/kendo/2015.1.408/fonts/DejaVu/DejaVuSerif-BoldItalic.ttf", threat="is OK", action="", info=""
name="VisualCron8.exe - 7ZIP - WebClient.7z - 7ZIP - Content/kendo/2015.1.408/fonts/DejaVu/DejaVuSerif-Italic.ttf", threat="is OK", action="", info=""
name="VisualCron8.exe - 7ZIP - WebClient.7z - 7ZIP - Content/kendo/2015.1.408/fonts/DejaVu/DejaVuSerif.ttf", threat="is OK", action="", info=""
name="VisualCron8.exe - 7ZIP - WebClient.7z - 7ZIP - Content/kendo/2015.1.408/fonts/DejaVu/LICENSE.txt", threat="is OK", action="", info=""
name="VisualCron8.exe - 7ZIP - WebClient.7z - 7ZIP - Content/kendo/2015.1.408/fonts/WebComponentsIcons.ttf", threat="is OK", action="", info=""
name="VisualCron8.exe - 7ZIP - WebClient.7z - 7ZIP - Content/kendo/2015.1.408/HighContrast/editor.png", threat="is OK", action="", info=""
name="VisualCron8.exe - 7ZIP - WebClient.7z - 7ZIP - Content/kendo/2015.1.408/HighContrast/imagebrowser.png", threat="is OK", action="", info=""
name="VisualCron8.exe - 7ZIP - WebClient.7z - 7ZIP - Content/kendo/2015.1.408/HighContrast/indeterminate.gif", threat="is OK", action="", info=""
name="VisualCron8.exe - 7ZIP - WebClient.7z - 7ZIP - Content/kendo/2015.1.408/HighContrast/loading-image.gif", threat="is OK", action="", info=""
name="VisualCron8.exe - 7ZIP - WebClient.7z - 7ZIP - Content/kendo/2015.1.408/HighContrast/loading.gif", threat="is OK", action="", info=""
name="VisualCron8.exe - 7ZIP - WebClient.7z - 7ZIP - Content/kendo/2015.1.408/HighContrast/loading_2x.gif", threat="is OK", action="", info=""
name="VisualCron8.exe - 7ZIP - WebClient.7z - 7ZIP - Content/kendo/2015.1.408/HighContrast/markers.png", threat="is OK", action="", info=""
name="VisualCron8.exe - 7ZIP - WebClient.7z - 7ZIP - Content/kendo/2015.1.408/HighContrast/markers_2x.png", threat="is OK", action="", info=""
name="VisualCron8.exe - 7ZIP - WebClient.7z - 7ZIP - Content/kendo/2015.1.408/HighContrast/slider-h.gif", threat="is OK", action="", info=""
name="VisualCron8.exe - 7ZIP - WebClient.7z - 7ZIP - Content/kendo/2015.1.408/HighContrast/slider-v.gif", threat="is OK", action="", info=""
name="VisualCron8.exe - 7ZIP - WebClient.7z - 7ZIP - Content/kendo/2015.1.408/HighContrast/sprite.png", threat="is OK", action="", info=""
name="VisualCron8.exe - 7ZIP - WebClient.7z - 7ZIP - Content/kendo/2015.1.408/HighContrast/sprite_2x.png", threat="is OK", action="", info=""
name="VisualCron8.exe - 7ZIP - WebClient.7z - 7ZIP - Content/kendo/2015.1.408/HighContrast/sprite_kpi.png", threat="is OK", action="", info=""
name="VisualCron8.exe - 7ZIP - WebClient.7z - 7ZIP - Content/kendo/2015.1.408/HighContrast/sprite_kpi_2x.png", threat="is OK", action="", info=""
name="VisualCron8.exe - 7ZIP - WebClient.7z - 7ZIP - Content/kendo/2015.1.408/images/back.png", threat="is OK", action="", info=""
name="VisualCron8.exe - 7ZIP - WebClient.7z - 7ZIP - Content/kendo/2015.1.408/images/kendoui.svg", threat="is OK", action="", info=""
name="VisualCron8.exe - 7ZIP - WebClient.7z - 7ZIP - Content/kendo/2015.1.408/images/kendoui.ttf", threat="is OK", action="", info=""
name="VisualCron8.exe - 7ZIP - WebClient.7z - 7ZIP - Content/kendo/2015.1.408/images/kendoui.woff", threat="is OK", action="", info=""
name="VisualCron8.exe - 7ZIP - WebClient.7z - 7ZIP - Content/kendo/2015.1.408/images/wp8_icons.png", threat="is OK", action="", info=""
name="VisualCron8.exe - 7ZIP - WebClient.7z - 7ZIP - Content/kendo/2015.1.408/images/wp8_inverseicons.png", threat="is OK", action="", info=""
name="VisualCron8.exe - 7ZIP - WebClient.7z - 7ZIP - Content/kendo/2015.1.408/kendo.black.min.css", threat="is OK", action="", info=""
name="VisualCron8.exe - 7ZIP - WebClient.7z - 7ZIP - Content/kendo/2015.1.408/kendo.black.mobile.min.css", threat="is OK", action="", info=""
name="VisualCron8.exe - 7ZIP - WebClient.7z - 7ZIP - Content/kendo/2015.1.408/kendo.blueopal.min.css", threat="is OK", action="", info=""
name="VisualCron8.exe - 7ZIP - WebClient.7z - 7ZIP - Content/kendo/2015.1.408/kendo.blueopal.mobile.min.css", threat="is OK", action="", info=""
name="VisualCron8.exe - 7ZIP - WebClient.7z - 7ZIP - Content/kendo/2015.1.408/kendo.bootstrap.min.css", threat="is OK", action="", info=""
name="VisualCron8.exe - 7ZIP - WebClient.7z - 7ZIP - Content/kendo/2015.1.408/kendo.bootstrap.mobile.min.css", threat="is OK", action="", info=""
name="VisualCron8.exe - 7ZIP - WebClient.7z - 7ZIP - Content/kendo/2015.1.408/kendo.common-bootstrap.core.min.css", threat="is OK", action="", info=""
name="VisualCron8.exe - 7ZIP - WebClient.7z - 7ZIP - Content/kendo/2015.1.408/kendo.common-bootstrap.min.css", threat="is OK", action="", info=""
name="VisualCron8.exe - 7ZIP - WebClient.7z - 7ZIP - Content/kendo/2015.1.408/kendo.common-fiori.core.min.css", threat="is OK", action="", info=""
name="VisualCron8.exe - 7ZIP - WebClient.7z - 7ZIP - Content/kendo/2015.1.408/kendo.common-fiori.min.css", threat="is OK", action="", info=""
name="VisualCron8.exe - 7ZIP - WebClient.7z - 7ZIP - Content/kendo/2015.1.408/kendo.common-material.core.min.css", threat="is OK", action="", info=""
name="VisualCron8.exe - 7ZIP - WebClient.7z - 7ZIP - Content/kendo/2015.1.408/kendo.common-material.min.css", threat="is OK", action="", info=""
name="VisualCron8.exe - 7ZIP - WebClient.7z - 7ZIP - Content/kendo/2015.1.408/kendo.common.core.min.css", threat="is OK", action="", info=""
name="VisualCron8.exe - 7ZIP - WebClient.7z - 7ZIP - Content/kendo/2015.1.408/kendo.common.min.css", threat="is OK", action="", info=""
name="VisualCron8.exe - 7ZIP - WebClient.7z - 7ZIP - Content/kendo/2015.1.408/kendo.dataviz.black.min.css", threat="is OK", action="", info=""
name="VisualCron8.exe - 7ZIP - WebClient.7z - 7ZIP - Content/kendo/2015.1.408/kendo.dataviz.blueopal.min.css", threat="is OK", action="", info=""
name="VisualCron8.exe - 7ZIP - WebClient.7z - 7ZIP - Content/kendo/2015.1.408/kendo.dataviz.bootstrap.min.css", threat="is OK", action="", info=""
name="VisualCron8.exe - 7ZIP - WebClient.7z - 7ZIP - Content/kendo/2015.1.408/kendo.dataviz.default.min.css", threat="is OK", action="", info=""
name="VisualCron8.exe - 7ZIP - WebClient.7z - 7ZIP - Content/kendo/2015.1.408/kendo.dataviz.fiori.min.css", threat="is OK", action="", info=""
name="VisualCron8.exe - 7ZIP - WebClient.7z - 7ZIP - Content/kendo/2015.1.408/kendo.dataviz.flat.min.css", threat="is OK", action="", info=""
name="VisualCron8.exe - 7ZIP - WebClient.7z - 7ZIP - Content/kendo/2015.1.408/kendo.dataviz.highcontrast.min.css", threat="is OK", action="", info=""
name="VisualCron8.exe - 7ZIP - WebClient.7z - 7ZIP - Content/kendo/2015.1.408/kendo.dataviz.material.min.css", threat="is OK", action="", info=""
name="VisualCron8.exe - 7ZIP - WebClient.7z - 7ZIP - Content/kendo/2015.1.408/kendo.dataviz.materialblack.min.css", threat="is OK", action="", info=""
name="VisualCron8.exe - 7ZIP - WebClient.7z - 7ZIP - Content/kendo/2015.1.408/kendo.dataviz.metro.min.css", threat="is OK", action="", info=""
name="VisualCron8.exe - 7ZIP - WebClient.7z - 7ZIP - Content/kendo/2015.1.408/kendo.dataviz.metroblack.min.css", threat="is OK", action="", info=""
name="VisualCron8.exe - 7ZIP - WebClient.7z - 7ZIP - Content/kendo/2015.1.408/kendo.dataviz.min.css", threat="is OK", action="", info=""
name="VisualCron8.exe - 7ZIP - WebClient.7z - 7ZIP - Content/kendo/2015.1.408/kendo.dataviz.mobile.min.css", threat="is OK", action="", info=""
name="VisualCron8.exe - 7ZIP - WebClient.7z - 7ZIP - Content/kendo/2015.1.408/kendo.dataviz.moonlight.min.css", threat="is OK", action="", info=""
name="VisualCron8.exe - 7ZIP - WebClient.7z - 7ZIP - Content/kendo/2015.1.408/kendo.dataviz.silver.min.css", threat="is OK", action="", info=""
name="VisualCron8.exe - 7ZIP - WebClient.7z - 7ZIP - Content/kendo/2015.1.408/kendo.dataviz.uniform.min.css", threat="is OK", action="", info=""
name="VisualCron8.exe - 7ZIP - WebClient.7z - 7ZIP - Content/kendo/2015.1.408/kendo.default.min.css", threat="is OK", action="", info=""
name="VisualCron8.exe - 7ZIP - WebClient.7z - 7ZIP - Content/kendo/2015.1.408/kendo.default.mobile.min.css", threat="is OK", action="", info=""
name="VisualCron8.exe - 7ZIP - WebClient.7z - 7ZIP - Content/kendo/2015.1.408/kendo.fiori.min.css", threat="is OK", action="", info=""
name="VisualCron8.exe - 7ZIP - WebClient.7z - 7ZIP - Content/kendo/2015.1.408/kendo.fiori.mobile.min.css", threat="is OK", action="", info=""
name="VisualCron8.exe - 7ZIP - WebClient.7z - 7ZIP - Content/kendo/2015.1.408/kendo.flat.min.css", threat="is OK", action="", info=""
name="VisualCron8.exe - 7ZIP - WebClient.7z - 7ZIP - Content/kendo/2015.1.408/kendo.flat.mobile.min.css", threat="is OK", action="", info=""
name="VisualCron8.exe - 7ZIP - WebClient.7z - 7ZIP - Content/kendo/2015.1.408/kendo.highcontrast.min.css", threat="is OK", action="", info=""
name="VisualCron8.exe - 7ZIP - WebClient.7z - 7ZIP - Content/kendo/2015.1.408/kendo.highcontrast.mobile.min.css", threat="is OK", action="", info=""
name="VisualCron8.exe - 7ZIP - WebClient.7z - 7ZIP - Content/kendo/2015.1.408/kendo.material.min.css", threat="is OK", action="", info=""
name="VisualCron8.exe - 7ZIP - WebClient.7z - 7ZIP - Content/kendo/2015.1.408/kendo.material.mobile.min.css", threat="is OK", action="", info=""
name="VisualCron8.exe - 7ZIP - WebClient.7z - 7ZIP - Content/kendo/2015.1.408/kendo.materialblack.min.css", threat="is OK", action="", info=""
name="VisualCron8.exe - 7ZIP - WebClient.7z - 7ZIP - Content/kendo/2015.1.408/kendo.materialblack.mobile.min.css", threat="is OK", action="", info=""
name="VisualCron8.exe - 7ZIP - WebClient.7z - 7ZIP - Content/kendo/2015.1.408/kendo.metro.min.css", threat="is OK", action="", info=""
name="VisualCron8.exe - 7ZIP - WebClient.7z - 7ZIP - Content/kendo/2015.1.408/kendo.metro.mobile.min.css", threat="is OK", action="", info=""
name="VisualCron8.exe - 7ZIP - WebClient.7z - 7ZIP - Content/kendo/2015.1.408/kendo.metroblack.min.css", threat="is OK", action="", info=""
name="VisualCron8.exe - 7ZIP - WebClient.7z - 7ZIP - Content/kendo/2015.1.408/kendo.metroblack.mobile.min.css", threat="is OK", action="", info=""
name="VisualCron8.exe - 7ZIP - WebClient.7z - 7ZIP - Content/kendo/2015.1.408/kendo.mobile.all.min.css", threat="is OK", action="", info=""
name="VisualCron8.exe - 7ZIP - WebClient.7z - 7ZIP - Content/kendo/2015.1.408/kendo.mobile.android.dark.min.css", threat="is OK", action="", info=""
name="VisualCron8.exe - 7ZIP - WebClient.7z - 7ZIP - Content/kendo/2015.1.408/kendo.mobile.android.light.min.css", threat="is OK", action="", info=""
name="VisualCron8.exe - 7ZIP - WebClient.7z - 7ZIP - Content/kendo/2015.1.408/kendo.mobile.blackberry.min.css", threat="is OK", action="", info=""
name="VisualCron8.exe - 7ZIP - WebClient.7z - 7ZIP - Content/kendo/2015.1.408/kendo.mobile.common.min.css", threat="is OK", action="", info=""
name="VisualCron8.exe - 7ZIP - WebClient.7z - 7ZIP - Content/kendo/2015.1.408/kendo.mobile.fiori.min.css", threat="is OK", action="", info=""
name="VisualCron8.exe - 7ZIP - WebClient.7z - 7ZIP - Content/kendo/2015.1.408/kendo.mobile.flat.min.css", threat="is OK", action="", info=""
name="VisualCron8.exe - 7ZIP - WebClient.7z - 7ZIP - Content/kendo/2015.1.408/kendo.mobile.ios.min.css", threat="is OK", action="", info=""
name="VisualCron8.exe - 7ZIP - WebClient.7z - 7ZIP - Content/kendo/2015.1.408/kendo.mobile.material.min.css", threat="is OK", action="", info=""
name="VisualCron8.exe - 7ZIP - WebClient.7z - 7ZIP - Content/kendo/2015.1.408/kendo.mobile.meego.min.css", threat="is OK", action="", info=""
name="VisualCron8.exe - 7ZIP - WebClient.7z - 7ZIP - Content/kendo/2015.1.408/kendo.mobile.wp8.min.css", threat="is OK", action="", info=""
name="VisualCron8.exe - 7ZIP - WebClient.7z - 7ZIP - Content/kendo/2015.1.408/kendo.moonlight.min.css", threat="is OK", action="", info=""
name="VisualCron8.exe - 7ZIP - WebClient.7z - 7ZIP - Content/kendo/2015.1.408/kendo.moonlight.mobile.min.css", threat="is OK", action="", info=""
name="VisualCron8.exe - 7ZIP - WebClient.7z - 7ZIP - Content/kendo/2015.1.408/kendo.rtl.css", threat="is OK", action="", info=""
name="VisualCron8.exe - 7ZIP - WebClient.7z - 7ZIP - Content/kendo/2015.1.408/kendo.rtl.min.css", threat="is OK", action="", info=""
name="VisualCron8.exe - 7ZIP - WebClient.7z - 7ZIP - Content/kendo/2015.1.408/kendo.silver.min.css", threat="is OK", action="", info=""
name="VisualCron8.exe - 7ZIP - WebClient.7z - 7ZIP - Content/kendo/2015.1.408/kendo.silver.mobile.min.css", threat="is OK", action="", info=""
name="VisualCron8.exe - 7ZIP - WebClient.7z - 7ZIP - Content/kendo/2015.1.408/kendo.uniform.min.css", threat="is OK", action="", info=""
name="VisualCron8.exe - 7ZIP - WebClient.7z - 7ZIP - Content/kendo/2015.1.408/kendo.uniform.mobile.min.css", threat="is OK", action="", info=""
name="VisualCron8.exe - 7ZIP - WebClient.7z - 7ZIP - Content/kendo/2015.1.408/Material/editor.png", threat="is OK", action="", info=""
name="VisualCron8.exe - 7ZIP - WebClient.7z - 7ZIP - Content/kendo/2015.1.408/Material/imagebrowser.png", threat="is OK", action="", info=""
name="VisualCron8.exe - 7ZIP - WebClient.7z - 7ZIP - Content/kendo/2015.1.408/Material/indeterminate.gif", threat="is OK", action="", info=""
name="VisualCron8.exe - 7ZIP - WebClient.7z - 7ZIP - Content/kendo/2015.1.408/Material/loading-image.gif", threat="is OK", action="", info=""
name="VisualCron8.exe - 7ZIP - WebClient.7z - 7ZIP - Content/kendo/2015.1.408/Material/loading.gif", threat="is OK", action="", info=""
name="VisualCron8.exe - 7ZIP - WebClient.7z - 7ZIP - Content/kendo/2015.1.408/Material/loading_2x.gif", threat="is OK", action="", info=""
name="VisualCron8.exe - 7ZIP - WebClient.7z - 7ZIP - Content/kendo/2015.1.408/Material/slider-h.gif", threat="is OK", action="", info=""
name="VisualCron8.exe - 7ZIP - WebClient.7z - 7ZIP - Content/kendo/2015.1.408/Material/slider-v.gif", threat="is OK", action="", info=""
name="VisualCron8.exe - 7ZIP - WebClient.7z - 7ZIP - Content/kendo/2015.1.408/Material/sprite.png", threat="is OK", action="", info=""
name="VisualCron8.exe - 7ZIP - WebClient.7z - 7ZIP - Content/kendo/2015.1.408/Material/sprite_2x.png", threat="is OK", action="", info=""
name="VisualCron8.exe - 7ZIP - WebClient.7z - 7ZIP - Content/kendo/2015.1.408/Material/sprite_kpi.png", threat="is OK", action="", info=""
name="VisualCron8.exe - 7ZIP - WebClient.7z - 7ZIP - Content/kendo/2015.1.408/Material/sprite_kpi_2x.png", threat="is OK", action="", info=""
name="VisualCron8.exe - 7ZIP - WebClient.7z - 7ZIP - Content/kendo/2015.1.408/MaterialBlack/editor.png", threat="is OK", action="", info=""
name="VisualCron8.exe - 7ZIP - WebClient.7z - 7ZIP - Content/kendo/2015.1.408/MaterialBlack/imagebrowser.png", threat="is OK", action="", info=""
name="VisualCron8.exe - 7ZIP - WebClient.7z - 7ZIP - Content/kendo/2015.1.408/MaterialBlack/indeterminate.gif", threat="is OK", action="", info=""
name="VisualCron8.exe - 7ZIP - WebClient.7z - 7ZIP - Content/kendo/2015.1.408/MaterialBlack/loading-image.gif", threat="is OK", action="", info=""
name="VisualCron8.exe - 7ZIP - WebClient.7z - 7ZIP - Content/kendo/2015.1.408/MaterialBlack/loading.gif", threat="is OK", action="", info=""
name="VisualCron8.exe - 7ZIP - WebClient.7z - 7ZIP - Content/kendo/2015.1.408/MaterialBlack/loading_2x.gif", threat="is OK", action="", info=""
name="VisualCron8.exe - 7ZIP - WebClient.7z - 7ZIP - Content/kendo/2015.1.408/MaterialBlack/slider-h.gif", threat="is OK", action="", info=""
name="VisualCron8.exe - 7ZIP - WebClient.7z - 7ZIP - Content/kendo/2015.1.408/MaterialBlack/slider-v.gif", threat="is OK", action="", info=""
name="VisualCron8.exe - 7ZIP - WebClient.7z - 7ZIP - Content/kendo/2015.1.408/MaterialBlack/sprite.png", threat="is OK", action="", info=""
name="VisualCron8.exe - 7ZIP - WebClient.7z - 7ZIP - Content/kendo/2015.1.408/MaterialBlack/sprite_2x.png", threat="is OK", action="", info=""
name="VisualCron8.exe - 7ZIP - WebClient.7z - 7ZIP - Content/kendo/2015.1.408/MaterialBlack/sprite_kpi.png", threat="is OK", action="", info=""
name="VisualCron8.exe - 7ZIP - WebClient.7z - 7ZIP - Content/kendo/2015.1.408/MaterialBlack/sprite_kpi_2x.png", threat="is OK", action="", info=""
name="VisualCron8.exe - 7ZIP - WebClient.7z - 7ZIP - Content/kendo/2015.1.408/Metro/editor.png", threat="is OK", action="", info=""
name="VisualCron8.exe - 7ZIP - WebClient.7z - 7ZIP - Content/kendo/2015.1.408/Metro/imagebrowser.png", threat="is OK", action="", info=""
name="VisualCron8.exe - 7ZIP - WebClient.7z - 7ZIP - Content/kendo/2015.1.408/Metro/indeterminate.gif", threat="is OK", action="", info=""
name="VisualCron8.exe - 7ZIP - WebClient.7z - 7ZIP - Content/kendo/2015.1.408/Metro/loading-image.gif", threat="is OK", action="", info=""
name="VisualCron8.exe - 7ZIP - WebClient.7z - 7ZIP - Content/kendo/2015.1.408/Metro/loading.gif", threat="is OK", action="", info=""
name="VisualCron8.exe - 7ZIP - WebClient.7z - 7ZIP - Content/kendo/2015.1.408/Metro/loading_2x.gif", threat="is OK", action="", info=""
name="VisualCron8.exe - 7ZIP - WebClient.7z - 7ZIP - Content/kendo/2015.1.408/Metro/markers.png", threat="is OK", action="", info=""
name="VisualCron8.exe - 7ZIP - WebClient.7z - 7ZIP - Content/kendo/2015.1.408/Metro/markers_2x.png", threat="is OK", action="", info=""
name="VisualCron8.exe - 7ZIP - WebClient.7z - 7ZIP - Content/kendo/2015.1.408/Metro/slider-h.gif", threat="is OK", action="", info=""
name="VisualCron8.exe - 7ZIP - WebClient.7z - 7ZIP - Content/kendo/2015.1.408/Metro/slider-v.gif", threat="is OK", action="", info=""
name="VisualCron8.exe - 7ZIP - WebClient.7z - 7ZIP - Content/kendo/2015.1.408/Metro/sprite.png", threat="is OK", action="", info=""
name="VisualCron8.exe - 7ZIP - WebClient.7z - 7ZIP - Content/kendo/2015.1.408/Metro/sprite_2x.png", threat="is OK", action="", info=""
name="VisualCron8.exe - 7ZIP - WebClient.7z - 7ZIP - Content/kendo/2015.1.408/Metro/sprite_kpi.png", threat="is OK", action="", info=""
name="VisualCron8.exe - 7ZIP - WebClient.7z - 7ZIP - Content/kendo/2015.1.408/Metro/sprite_kpi_2x.png", threat="is OK", action="", info=""
name="VisualCron8.exe - 7ZIP - WebClient.7z - 7ZIP - Content/kendo/2015.1.408/MetroBlack/editor.png", threat="is OK", action="", info=""
name="VisualCron8.exe - 7ZIP - WebClient.7z - 7ZIP - Content/kendo/2015.1.408/MetroBlack/imagebrowser.png", threat="is OK", action="", info=""
name="VisualCron8.exe - 7ZIP - WebClient.7z - 7ZIP - Content/kendo/2015.1.408/MetroBlack/indeterminate.gif", threat="is OK", action="", info=""
name="VisualCron8.exe - 7ZIP - WebClient.7z - 7ZIP - Content/kendo/2015.1.408/MetroBlack/loading-image.gif", threat="is OK", action="", info=""
name="VisualCron8.exe - 7ZIP - WebClient.7z - 7ZIP - Content/kendo/2015.1.408/MetroBlack/loading.gif", threat="is OK", action="", info=""
name="VisualCron8.exe - 7ZIP - WebClient.7z - 7ZIP - Content/kendo/2015.1.408/MetroBlack/loading_2x.gif", threat="is OK", action="", info=""
name="VisualCron8.exe - 7ZIP - WebClient.7z - 7ZIP - Content/kendo/2015.1.408/MetroBlack/markers.png", threat="is OK", action="", info=""
name="VisualCron8.exe - 7ZIP - WebClient.7z - 7ZIP - Content/kendo/2015.1.408/MetroBlack/markers_2x.png", threat="is OK", action="", info=""
name="VisualCron8.exe - 7ZIP - WebClient.7z - 7ZIP - Content/kendo/2015.1.408/MetroBlack/slider-h.gif", threat="is OK", action="", info=""
name="VisualCron8.exe - 7ZIP - WebClient.7z - 7ZIP - Content/kendo/2015.1.408/MetroBlack/slider-v.gif", threat="is OK", action="", info=""
name="VisualCron8.exe - 7ZIP - WebClient.7z - 7ZIP - Content/kendo/2015.1.408/MetroBlack/sprite.png", threat="is OK", action="", info=""
name="VisualCron8.exe - 7ZIP - WebClient.7z - 7ZIP - Content/kendo/2015.1.408/MetroBlack/sprite_2x.png", threat="is OK", action="", info=""
name="VisualCron8.exe - 7ZIP - WebClient.7z - 7ZIP - Content/kendo/2015.1.408/MetroBlack/sprite_kpi.png", threat="is OK", action="", info=""
name="VisualCron8.exe - 7ZIP - WebClient.7z - 7ZIP - Content/kendo/2015.1.408/MetroBlack/sprite_kpi_2x.png", threat="is OK", action="", info=""
name="VisualCron8.exe - 7ZIP - WebClient.7z - 7ZIP - Content/kendo/2015.1.408/Moonlight/editor.png", threat="is OK", action="", info=""
name="VisualCron8.exe - 7ZIP - WebClient.7z - 7ZIP - Content/kendo/2015.1.408/Moonlight/imagebrowser.png", threat="is OK", action="", info=""
name="VisualCron8.exe - 7ZIP - WebClient.7z - 7ZIP - Content/kendo/2015.1.408/Moonlight/indeterminate.gif", threat="is OK", action="", info=""
name="VisualCron8.exe - 7ZIP - WebClient.7z - 7ZIP - Content/kendo/2015.1.408/Moonlight/loading-image.gif", threat="is OK", action="", info=""
name="VisualCron8.exe - 7ZIP - WebClient.7z - 7ZIP - Content/kendo/2015.1.408/Moonlight/loading.gif", threat="is OK", action="", info=""
name="VisualCron8.exe - 7ZIP - WebClient.7z - 7ZIP - Content/kendo/2015.1.408/Moonlight/loading_2x.gif", threat="is OK", action="", info=""
name="VisualCron8.exe - 7ZIP - WebClient.7z - 7ZIP - Content/kendo/2015.1.408/Moonlight/markers.png", threat="is OK", action="", info=""
name="VisualCron8.exe - 7ZIP - WebClient.7z - 7ZIP - Content/kendo/2015.1.408/Moonlight/markers_2x.png", threat="is OK", action="", info=""
name="VisualCron8.exe - 7ZIP - WebClient.7z - 7ZIP - Content/kendo/2015.1.408/Moonlight/slider-h.gif", threat="is OK", action="", info=""
name="VisualCron8.exe - 7ZIP - WebClient.7z - 7ZIP - Content/kendo/2015.1.408/Moonlight/slider-v.gif", threat="is OK", action="", info=""
name="VisualCron8.exe - 7ZIP - WebClient.7z - 7ZIP - Content/kendo/2015.1.408/Moonlight/sprite.png", threat="is OK", action="", info=""
name="VisualCron8.exe - 7ZIP - WebClient.7z - 7ZIP - Content/kendo/2015.1.408/Moonlight/sprite_2x.png", threat="is OK", action="", info=""
name="VisualCron8.exe - 7ZIP - WebClient.7z - 7ZIP - Content/kendo/2015.1.408/Moonlight/sprite_kpi.png", threat="is OK", action="", info=""
name="VisualCron8.exe - 7ZIP - WebClient.7z - 7ZIP - Content/kendo/2015.1.408/Moonlight/sprite_kpi_2x.png", threat="is OK", action="", info=""
name="VisualCron8.exe - 7ZIP - WebClient.7z - 7ZIP - Content/kendo/2015.1.408/Silver/editor.png", threat="is OK", action="", info=""
name="VisualCron8.exe - 7ZIP - WebClient.7z - 7ZIP - Content/kendo/2015.1.408/Silver/imagebrowser.png", threat="is OK", action="", info=""
name="VisualCron8.exe - 7ZIP - WebClient.7z - 7ZIP - Content/kendo/2015.1.408/Silver/indeterminate.gif", threat="is OK", action="", info=""
name="VisualCron8.exe - 7ZIP - WebClient.7z - 7ZIP - Content/kendo/2015.1.408/Silver/loading-image.gif", threat="is OK", action="", info=""
name="VisualCron8.exe - 7ZIP - WebClient.7z - 7ZIP - Content/kendo/2015.1.408/Silver/loading.gif", threat="is OK", action="", info=""
name="VisualCron8.exe - 7ZIP - WebClient.7z - 7ZIP - Content/kendo/2015.1.408/Silver/loading_2x.gif", threat="is OK", action="", info=""
name="VisualCron8.exe - 7ZIP - WebClient.7z - 7ZIP - Content/kendo/2015.1.408/Silver/markers.png", threat="is OK", action="", info=""
name="VisualCron8.exe - 7ZIP - WebClient.7z - 7ZIP - Content/kendo/2015.1.408/Silver/markers_2x.png", threat="is OK", action="", info=""
name="VisualCron8.exe - 7ZIP - WebClient.7z - 7ZIP - Content/kendo/2015.1.408/Silver/slider-h.gif", threat="is OK", action="", info=""
name="VisualCron8.exe - 7ZIP - WebClient.7z - 7ZIP - Content/kendo/2015.1.408/Silver/slider-v.gif", threat="is OK", action="", info=""
name="VisualCron8.exe - 7ZIP - WebClient.7z - 7ZIP - Content/kendo/2015.1.408/Silver/sprite.png", threat="is OK", action="", info=""
name="VisualCron8.exe - 7ZIP - WebClient.7z - 7ZIP - Content/kendo/2015.1.408/Silver/sprite_2x.png", threat="is OK", action="", info=""
name="VisualCron8.exe - 7ZIP - WebClient.7z - 7ZIP - Content/kendo/2015.1.408/Silver/sprite_kpi.png", threat="is OK", action="", info=""
name="VisualCron8.exe - 7ZIP - WebClient.7z - 7ZIP - Content/kendo/2015.1.408/Silver/sprite_kpi_2x.png", threat="is OK", action="", info=""
name="VisualCron8.exe - 7ZIP - WebClient.7z - 7ZIP - Content/kendo/2015.1.408/textures/brushed-metal.png", threat="is OK", action="", info=""
name="VisualCron8.exe - 7ZIP - WebClient.7z - 7ZIP - Content/kendo/2015.1.408/textures/dots1.png", threat="is OK", action="", info=""
name="VisualCron8.exe - 7ZIP - WebClient.7z - 7ZIP - Content/kendo/2015.1.408/textures/dots10.png", threat="is OK", action="", info=""
name="VisualCron8.exe - 7ZIP - WebClient.7z - 7ZIP - Content/kendo/2015.1.408/textures/dots11.png", threat="is OK", action="", info=""
name="VisualCron8.exe - 7ZIP - WebClient.7z - 7ZIP - Content/kendo/2015.1.408/textures/dots12.png", threat="is OK", action="", info=""
name="VisualCron8.exe - 7ZIP - WebClient.7z - 7ZIP - Content/kendo/2015.1.408/textures/dots13.png", threat="is OK", action="", info=""
name="VisualCron8.exe - 7ZIP - WebClient.7z - 7ZIP - Content/kendo/2015.1.408/textures/dots2.png", threat="is OK", action="", info=""
name="VisualCron8.exe - 7ZIP - WebClient.7z - 7ZIP - Content/kendo/2015.1.408/textures/dots3.png", threat="is OK", action="", info=""
name="VisualCron8.exe - 7ZIP - WebClient.7z - 7ZIP - Content/kendo/2015.1.408/textures/dots4.png", threat="is OK", action="", info=""
name="VisualCron8.exe - 7ZIP - WebClient.7z - 7ZIP - Content/kendo/2015.1.408/textures/dots5.png", threat="is OK", action="", info=""
name="VisualCron8.exe - 7ZIP - WebClient.7z - 7ZIP - Content/kendo/2015.1.408/textures/dots6.png", threat="is OK", action="", info=""
name="VisualCron8.exe - 7ZIP - WebClient.7z - 7ZIP - Content/kendo/2015.1.408/textures/dots7.png", threat="is OK", action="", info=""
name="VisualCron8.exe - 7ZIP - WebClient.7z - 7ZIP - Content/kendo/2015.1.408/textures/dots8.png", threat="is OK", action="", info=""
name="VisualCron8.exe - 7ZIP - WebClient.7z - 7ZIP - Content/kendo/2015.1.408/textures/dots9.png", threat="is OK", action="", info=""
name="VisualCron8.exe - 7ZIP - WebClient.7z - 7ZIP - Content/kendo/2015.1.408/textures/glass-lighter.png", threat="is OK", action="", info=""
name="VisualCron8.exe - 7ZIP - WebClient.7z - 7ZIP - Content/kendo/2015.1.408/textures/glass.png", threat="is OK", action="", info=""
name="VisualCron8.exe - 7ZIP - WebClient.7z - 7ZIP - Content/kendo/2015.1.408/textures/highlight.png", threat="is OK", action="", info=""
name="VisualCron8.exe - 7ZIP - WebClient.7z - 7ZIP - Content/kendo/2015.1.408/textures/hsv-gradient.png", threat="is OK", action="", info=""
name="VisualCron8.exe - 7ZIP - WebClient.7z - 7ZIP - Content/kendo/2015.1.408/textures/hue.png", threat="is OK", action="", info=""
name="VisualCron8.exe - 7ZIP - WebClient.7z - 7ZIP - Content/kendo/2015.1.408/textures/leather1.png", threat="is OK", action="", info=""
name="VisualCron8.exe - 7ZIP - WebClient.7z - 7ZIP - Content/kendo/2015.1.408/textures/leather2.png", threat="is OK", action="", info=""
name="VisualCron8.exe - 7ZIP - WebClient.7z - 7ZIP - Content/kendo/2015.1.408/textures/noise.png", threat="is OK", action="", info=""
name="VisualCron8.exe - 7ZIP - WebClient.7z - 7ZIP - Content/kendo/2015.1.408/textures/stripe1.png", threat="is OK", action="", info=""
name="VisualCron8.exe - 7ZIP - WebClient.7z - 7ZIP - Content/kendo/2015.1.408/textures/stripe2.png", threat="is OK", action="", info=""
name="VisualCron8.exe - 7ZIP - WebClient.7z - 7ZIP - Content/kendo/2015.1.408/textures/stripe3.png", threat="is OK", action="", info=""
name="VisualCron8.exe - 7ZIP - WebClient.7z - 7ZIP - Content/kendo/2015.1.408/textures/stripe4.png", threat="is OK", action="", info=""
name="VisualCron8.exe - 7ZIP - WebClient.7z - 7ZIP - Content/kendo/2015.1.408/textures/stripe5.png", threat="is OK", action="", info=""
name="VisualCron8.exe - 7ZIP - WebClient.7z - 7ZIP - Content/kendo/2015.1.408/textures/stripe6.png", threat="is OK", action="", info=""
name="VisualCron8.exe - 7ZIP - WebClient.7z - 7ZIP - Content/kendo/2015.1.408/textures/transparency.png", threat="is OK", action="", info=""
name="VisualCron8.exe - 7ZIP - WebClient.7z - 7ZIP - Content/kendo/2015.1.408/textures/transtexture.png", threat="is OK", action="", info=""
name="VisualCron8.exe - 7ZIP - WebClient.7z - 7ZIP - Content/kendo/2015.1.408/Uniform/editor.png", threat="is OK", action="", info=""
name="VisualCron8.exe - 7ZIP - WebClient.7z - 7ZIP - Content/kendo/2015.1.408/Uniform/imagebrowser.png", threat="is OK", action="", info=""
name="VisualCron8.exe - 7ZIP - WebClient.7z - 7ZIP - Content/kendo/2015.1.408/Uniform/indeterminate.gif", threat="is OK", action="", info=""
name="VisualCron8.exe - 7ZIP - WebClient.7z - 7ZIP - Content/kendo/2015.1.408/Uniform/loading-image.gif", threat="is OK", action="", info=""
name="VisualCron8.exe - 7ZIP - WebClient.7z - 7ZIP - Content/kendo/2015.1.408/Uniform/loading.gif", threat="is OK", action="", info=""
name="VisualCron8.exe - 7ZIP - WebClient.7z - 7ZIP - Content/kendo/2015.1.408/Uniform/loading_2x.gif", threat="is OK", action="", info=""
name="VisualCron8.exe - 7ZIP - WebClient.7z - 7ZIP - Content/kendo/2015.1.408/Uniform/markers.png", threat="is OK", action="", info=""
name="VisualCron8.exe - 7ZIP - WebClient.7z - 7ZIP - Content/kendo/2015.1.408/Uniform/markers_2x.png", threat="is OK", action="", info=""
name="VisualCron8.exe - 7ZIP - WebClient.7z - 7ZIP - Content/kendo/2015.1.408/Uniform/slider-h.gif", threat="is OK", action="", info=""
name="VisualCron8.exe - 7ZIP - WebClient.7z - 7ZIP - Content/kendo/2015.1.408/Uniform/slider-v.gif", threat="is OK", action="", info=""
name="VisualCron8.exe - 7ZIP - WebClient.7z - 7ZIP - Content/kendo/2015.1.408/Uniform/sprite.png", threat="is OK", action="", info=""
name="VisualCron8.exe - 7ZIP - WebClient.7z - 7ZIP - Content/kendo/2015.1.408/Uniform/sprite_2x.png", threat="is OK", action="", info=""
name="VisualCron8.exe - 7ZIP - WebClient.7z - 7ZIP - Content/kendo/2015.1.408/Uniform/sprite_kpi.png", threat="is OK", action="", info=""
name="VisualCron8.exe - 7ZIP - WebClient.7z - 7ZIP - Content/kendo/2015.1.408/Uniform/sprite_kpi_2x.png", threat="is OK", action="", info=""
name="VisualCron8.exe - 7ZIP - WebClient.7z - 7ZIP - Content/ribbon/images/icons.png", threat="is OK", action="", info=""
name="VisualCron8.exe - 7ZIP - WebClient.7z - 7ZIP - Content/ribbon/ribbon.css", threat="is OK", action="", info=""
name="VisualCron8.exe - 7ZIP - WebClient.7z - 7ZIP - Content/Site.css", threat="is OK", action="", info=""
name="VisualCron8.exe - 7ZIP - WebClient.7z - 7ZIP - Content/svg/icons.svg", threat="is OK", action="", info=""
name="VisualCron8.exe - 7ZIP - WebClient.7z - 7ZIP - Content/svg/keys.svg", threat="is OK", action="", info=""
name="VisualCron8.exe - 7ZIP - WebClient.7z - 7ZIP - Content/svg/logo.svg", threat="is OK", action="", info=""
name="VisualCron8.exe - 7ZIP - WebClient.7z - 7ZIP - docs/Live-Authentication-Setup.txt", threat="is OK", action="", info=""
name="VisualCron8.exe - 7ZIP - WebClient.7z - 7ZIP - Global.asax", threat="is OK", action="", info=""
name="VisualCron8.exe - 7ZIP - WebClient.7z - 7ZIP - packages.config", threat="is OK", action="", info=""
name="VisualCron8.exe - 7ZIP - WebClient.7z - 7ZIP - Required.txt", threat="is OK", action="", info=""
name="VisualCron8.exe - 7ZIP - WebClient.7z - 7ZIP - Scripts/codemirror/codemirror.js", threat="is OK", action="", info=""
name="VisualCron8.exe - 7ZIP - WebClient.7z - 7ZIP - Scripts/codemirror/css.js", threat="is OK", action="", info=""
name="VisualCron8.exe - 7ZIP - WebClient.7z - 7ZIP - Scripts/codemirror/htmlmixed.js", threat="is OK", action="", info=""
name="VisualCron8.exe - 7ZIP - WebClient.7z - 7ZIP - Scripts/codemirror/javascript.js", threat="is OK", action="", info=""
name="VisualCron8.exe - 7ZIP - WebClient.7z - 7ZIP - Scripts/codemirror/xml.js", threat="is OK", action="", info=""
name="VisualCron8.exe - 7ZIP - WebClient.7z - 7ZIP - Scripts/cron/ConnectionController.js", threat="is OK", action="", info=""
name="VisualCron8.exe - 7ZIP - WebClient.7z - 7ZIP - Scripts/cron/ConnectionsWindowController.js", threat="is OK", action="", info=""
name="VisualCron8.exe - 7ZIP - WebClient.7z - 7ZIP - Scripts/cron/GridDataSourceController.js", threat="is OK", action="", info=""
name="VisualCron8.exe - 7ZIP - WebClient.7z - 7ZIP - Scripts/cron/HistoryWindowController.js", threat="is OK", action="", info=""
name="VisualCron8.exe - 7ZIP - WebClient.7z - 7ZIP - Scripts/cron/HubController.js", threat="is OK", action="", info=""
name="VisualCron8.exe - 7ZIP - WebClient.7z - 7ZIP - Scripts/cron/InitializationControllers.js", threat="is OK", action="", info=""
name="VisualCron8.exe - 7ZIP - WebClient.7z - 7ZIP - Scripts/cron/OutputWindowController.js", threat="is OK", action="", info=""
name="VisualCron8.exe - 7ZIP - WebClient.7z - 7ZIP - Scripts/cron/RibbonBarController.js", threat="is OK", action="", info=""
name="VisualCron8.exe - 7ZIP - WebClient.7z - 7ZIP - Scripts/cron/ServerTreeController.js", threat="is OK", action="", info=""
name="VisualCron8.exe - 7ZIP - WebClient.7z - 7ZIP - Scripts/cron/TasksGridController.js", threat="is OK", action="", info=""
name="VisualCron8.exe - 7ZIP - WebClient.7z - 7ZIP - Scripts/jquery.signalR-1.2.1.js", threat="is OK", action="", info=""
name="VisualCron8.exe - 7ZIP - WebClient.7z - 7ZIP - Scripts/jquery.signalR-1.2.1.min.js", threat="is OK", action="", info=""
name="VisualCron8.exe - 7ZIP - WebClient.7z - 7ZIP - Scripts/jquery.signalR-1.2.1.min.js.map", threat="is OK", action="", info=""
name="VisualCron8.exe - 7ZIP - WebClient.7z - 7ZIP - Scripts/jquery.unobtrusive-ajax.js", threat="is OK", action="", info=""
name="VisualCron8.exe - 7ZIP - WebClient.7z - 7ZIP - Scripts/jquery.unobtrusive-ajax.min.js", threat="is OK", action="", info=""
name="VisualCron8.exe - 7ZIP - WebClient.7z - 7ZIP - Scripts/jquery.unobtrusive-ajax.min.js.map", threat="is OK", action="", info=""
name="VisualCron8.exe - 7ZIP - WebClient.7z - 7ZIP - Scripts/jquery.validate.js", threat="is OK", action="", info=""
name="VisualCron8.exe - 7ZIP - WebClient.7z - 7ZIP - Scripts/jquery.validate.min.js", threat="is OK", action="", info=""
name="VisualCron8.exe - 7ZIP - WebClient.7z - 7ZIP - Scripts/jquery.validate.min.js.map", threat="is OK", action="", info=""
name="VisualCron8.exe - 7ZIP - WebClient.7z - 7ZIP - Scripts/jquery.validate.unobtrusive.js", threat="is OK", action="", info=""
name="VisualCron8.exe - 7ZIP - WebClient.7z - 7ZIP - Scripts/jquery.validate.unobtrusive.min.js", threat="is OK", action="", info=""
name="VisualCron8.exe - 7ZIP - WebClient.7z - 7ZIP - Scripts/jquery.validate.unobtrusive.min.js.map", threat="is OK", action="", info=""
name="VisualCron8.exe - 7ZIP - WebClient.7z - 7ZIP - Scripts/js.cookie.js", threat="is OK", action="", info=""
name="VisualCron8.exe - 7ZIP - WebClient.7z - 7ZIP - Scripts/kendo.modernizr.custom.js", threat="is OK", action="", info=""
name="VisualCron8.exe - 7ZIP - WebClient.7z - 7ZIP - Scripts/kendo/2015.1.408/angular.min.js", threat="is OK", action="", info=""
name="VisualCron8.exe - 7ZIP - WebClient.7z - 7ZIP - Scripts/kendo/2015.1.408/jquery.min.js", threat="is OK", action="", info=""
name="VisualCron8.exe - 7ZIP - WebClient.7z - 7ZIP - Scripts/kendo/2015.1.408/jquery.min.map", threat="is OK", action="", info=""
name="VisualCron8.exe - 7ZIP - WebClient.7z - 7ZIP - Scripts/kendo/2015.1.408/jszip.min.js", threat="is OK", action="", info=""
name="VisualCron8.exe - 7ZIP - WebClient.7z - 7ZIP - Scripts/kendo/2015.1.408/kendo.all.min.js", threat="is OK", action="", info=""
name="VisualCron8.exe - 7ZIP - WebClient.7z - 7ZIP - Scripts/kendo/2015.1.408/kendo.all.min.js.map", threat="is OK", action="", info=""
name="VisualCron8.exe - 7ZIP - WebClient.7z - 7ZIP - Scripts/kendo/2015.1.408/kendo.angular.min.js", threat="is OK", action="", info=""
name="VisualCron8.exe - 7ZIP - WebClient.7z - 7ZIP - Scripts/kendo/2015.1.408/kendo.angular.min.js.map", threat="is OK", action="", info=""
name="VisualCron8.exe - 7ZIP - WebClient.7z - 7ZIP - Scripts/kendo/2015.1.408/kendo.aspnetmvc.min.js", threat="is OK", action="", info=""
name="VisualCron8.exe - 7ZIP - WebClient.7z - 7ZIP - Scripts/kendo/2015.1.408/kendo.aspnetmvc.min.js.map", threat="is OK", action="", info=""
name="VisualCron8.exe - 7ZIP - WebClient.7z - 7ZIP - Scripts/kendo/2015.1.408/kendo.autocomplete.min.js", threat="is OK", action="", info=""
name="VisualCron8.exe - 7ZIP - WebClient.7z - 7ZIP - Scripts/kendo/2015.1.408/kendo.autocomplete.min.js.map", threat="is OK", action="", info=""
name="VisualCron8.exe - 7ZIP - WebClient.7z - 7ZIP - Scripts/kendo/2015.1.408/kendo.binder.min.js", threat="is OK", action="", info=""
name="VisualCron8.exe - 7ZIP - WebClient.7z - 7ZIP - Scripts/kendo/2015.1.408/kendo.binder.min.js.map", threat="is OK", action="", info=""
name="VisualCron8.exe - 7ZIP - WebClient.7z - 7ZIP - Scripts/kendo/2015.1.408/kendo.button.min.js", threat="is OK", action="", info=""
name="VisualCron8.exe - 7ZIP - WebClient.7z - 7ZIP - Scripts/kendo/2015.1.408/kendo.button.min.js.map", threat="is OK", action="", info=""
name="VisualCron8.exe - 7ZIP - WebClient.7z - 7ZIP - Scripts/kendo/2015.1.408/kendo.calendar.min.js", threat="is OK", action="", info=""
name="VisualCron8.exe - 7ZIP - WebClient.7z - 7ZIP - Scripts/kendo/2015.1.408/kendo.calendar.min.js.map", threat="is OK", action="", info=""
name="VisualCron8.exe - 7ZIP - WebClient.7z - 7ZIP - Scripts/kendo/2015.1.408/kendo.color.min.js", threat="is OK", action="", info=""
name="VisualCron8.exe - 7ZIP - WebClient.7z - 7ZIP - Scripts/kendo/2015.1.408/kendo.color.min.js.map", threat="is OK", action="", info=""
name="VisualCron8.exe - 7ZIP - WebClient.7z - 7ZIP - Scripts/kendo/2015.1.408/kendo.colorpicker.min.js", threat="is OK", action="", info=""
name="VisualCron8.exe - 7ZIP - WebClient.7z - 7ZIP - Scripts/kendo/2015.1.408/kendo.colorpicker.min.js.map", threat="is OK", action="", info=""
name="VisualCron8.exe - 7ZIP - WebClient.7z - 7ZIP - Scripts/kendo/2015.1.408/kendo.columnmenu.min.js", threat="is OK", action="", info=""
name="VisualCron8.exe - 7ZIP - WebClient.7z - 7ZIP - Scripts/kendo/2015.1.408/kendo.columnmenu.min.js.map", threat="is OK", action="", info=""
name="VisualCron8.exe - 7ZIP - WebClient.7z - 7ZIP - Scripts/kendo/2015.1.408/kendo.columnsorter.min.js", threat="is OK", action="", info=""
name="VisualCron8.exe - 7ZIP - WebClient.7z - 7ZIP - Scripts/kendo/2015.1.408/kendo.columnsorter.min.js.map", threat="is OK", action="", info=""
name="VisualCron8.exe - 7ZIP - WebClient.7z - 7ZIP - Scripts/kendo/2015.1.408/kendo.combobox.min.js", threat="is OK", action="", info=""
name="VisualCron8.exe - 7ZIP - WebClient.7z - 7ZIP - Scripts/kendo/2015.1.408/kendo.combobox.min.js.map", threat="is OK", action="", info=""
name="VisualCron8.exe - 7ZIP - WebClient.7z - 7ZIP - Scripts/kendo/2015.1.408/kendo.core.min.js", threat="is OK", action="", info=""
name="VisualCron8.exe - 7ZIP - WebClient.7z - 7ZIP - Scripts/kendo/2015.1.408/kendo.core.min.js.map", threat="is OK", action="", info=""
name="VisualCron8.exe - 7ZIP - WebClient.7z - 7ZIP - Scripts/kendo/2015.1.408/kendo.data.min.js", threat="is OK", action="", info=""
name="VisualCron8.exe - 7ZIP - WebClient.7z - 7ZIP - Scripts/kendo/2015.1.408/kendo.data.min.js.map", threat="is OK", action="", info=""
name="VisualCron8.exe - 7ZIP - WebClient.7z - 7ZIP - Scripts/kendo/2015.1.408/kendo.data.odata.min.js", threat="is OK", action="", info=""
name="VisualCron8.exe - 7ZIP - WebClient.7z - 7ZIP - Scripts/kendo/2015.1.408/kendo.data.odata.min.js.map", threat="is OK", action="", info=""
name="VisualCron8.exe - 7ZIP - WebClient.7z - 7ZIP - Scripts/kendo/2015.1.408/kendo.data.signalr.min.js", threat="is OK", action="", info=""
name="VisualCron8.exe - 7ZIP - WebClient.7z - 7ZIP - Scripts/kendo/2015.1.408/kendo.data.signalr.min.js.map", threat="is OK", action="", info=""
name="VisualCron8.exe - 7ZIP - WebClient.7z - 7ZIP - Scripts/kendo/2015.1.408/kendo.data.xml.min.js", threat="is OK", action="", info=""
name="VisualCron8.exe - 7ZIP - WebClient.7z - 7ZIP - Scripts/kendo/2015.1.408/kendo.data.xml.min.js.map", threat="is OK", action="", info=""
name="VisualCron8.exe - 7ZIP - WebClient.7z - 7ZIP - Scripts/kendo/2015.1.408/kendo.dataviz.barcode.min.js", threat="is OK", action="", info=""
name="VisualCron8.exe - 7ZIP - WebClient.7z - 7ZIP - Scripts/kendo/2015.1.408/kendo.dataviz.barcode.min.js.map", threat="is OK", action="", info=""
name="VisualCron8.exe - 7ZIP - WebClient.7z - 7ZIP - Scripts/kendo/2015.1.408/kendo.dataviz.chart.funnel.min.js", threat="is OK", action="", info=""
name="VisualCron8.exe - 7ZIP - WebClient.7z - 7ZIP - Scripts/kendo/2015.1.408/kendo.dataviz.chart.funnel.min.js.map", threat="is OK", action="", info=""
name="VisualCron8.exe - 7ZIP - WebClient.7z - 7ZIP - Scripts/kendo/2015.1.408/kendo.dataviz.chart.min.js", threat="is OK", action="", info=""
name="VisualCron8.exe - 7ZIP - WebClient.7z - 7ZIP - Scripts/kendo/2015.1.408/kendo.dataviz.chart.min.js.map", threat="is OK", action="", info=""
name="VisualCron8.exe - 7ZIP - WebClient.7z - 7ZIP - Scripts/kendo/2015.1.408/kendo.dataviz.chart.polar.min.js", threat="is OK", action="", info=""
name="VisualCron8.exe - 7ZIP - WebClient.7z - 7ZIP - Scripts/kendo/2015.1.408/kendo.dataviz.chart.polar.min.js.map", threat="is OK", action="", info=""
name="VisualCron8.exe - 7ZIP - WebClient.7z - 7ZIP - Scripts/kendo/2015.1.408/kendo.dataviz.core.min.js", threat="is OK", action="", info=""
name="VisualCron8.exe - 7ZIP - WebClient.7z - 7ZIP - Scripts/kendo/2015.1.408/kendo.dataviz.core.min.js.map", threat="is OK", action="", info=""
name="VisualCron8.exe - 7ZIP - WebClient.7z - 7ZIP - Scripts/kendo/2015.1.408/kendo.dataviz.diagram.min.js", threat="is OK", action="", info=""
name="VisualCron8.exe - 7ZIP - WebClient.7z - 7ZIP - Scripts/kendo/2015.1.408/kendo.dataviz.diagram.min.js.map", threat="is OK", action="", info=""
name="VisualCron8.exe - 7ZIP - WebClient.7z - 7ZIP - Scripts/kendo/2015.1.408/kendo.dataviz.gauge.min.js", threat="is OK", action="", info=""
name="VisualCron8.exe - 7ZIP - WebClient.7z - 7ZIP - Scripts/kendo/2015.1.408/kendo.dataviz.gauge.min.js.map", threat="is OK", action="", info=""
name="VisualCron8.exe - 7ZIP - WebClient.7z - 7ZIP - Scripts/kendo/2015.1.408/kendo.dataviz.map.min.js", threat="is OK", action="", info=""
name="VisualCron8.exe - 7ZIP - WebClient.7z - 7ZIP - Scripts/kendo/2015.1.408/kendo.dataviz.map.min.js.map", threat="is OK", action="", info=""
name="VisualCron8.exe - 7ZIP - WebClient.7z - 7ZIP - Scripts/kendo/2015.1.408/kendo.dataviz.min.js", threat="is OK", action="", info=""
name="VisualCron8.exe - 7ZIP - WebClient.7z - 7ZIP - Scripts/kendo/2015.1.408/kendo.dataviz.min.js.map", threat="is OK", action="", info=""
name="VisualCron8.exe - 7ZIP - WebClient.7z - 7ZIP - Scripts/kendo/2015.1.408/kendo.dataviz.mobile.min.js", threat="is OK", action="", info=""
name="VisualCron8.exe - 7ZIP - WebClient.7z - 7ZIP - Scripts/kendo/2015.1.408/kendo.dataviz.mobile.min.js.map", threat="is OK", action="", info=""
name="VisualCron8.exe - 7ZIP - WebClient.7z - 7ZIP - Scripts/kendo/2015.1.408/kendo.dataviz.qrcode.min.js", threat="is OK", action="", info=""
name="VisualCron8.exe - 7ZIP - WebClient.7z - 7ZIP - Scripts/kendo/2015.1.408/kendo.dataviz.qrcode.min.js.map", threat="is OK", action="", info=""
name="VisualCron8.exe - 7ZIP - WebClient.7z - 7ZIP - Scripts/kendo/2015.1.408/kendo.dataviz.sparkline.min.js", threat="is OK", action="", info=""
name="VisualCron8.exe - 7ZIP - WebClient.7z - 7ZIP - Scripts/kendo/2015.1.408/kendo.dataviz.sparkline.min.js.map", threat="is OK", action="", info=""
name="VisualCron8.exe - 7ZIP - WebClient.7z - 7ZIP - Scripts/kendo/2015.1.408/kendo.dataviz.stock.min.js", threat="is OK", action="", info=""
name="VisualCron8.exe - 7ZIP - WebClient.7z - 7ZIP - Scripts/kendo/2015.1.408/kendo.dataviz.stock.min.js.map", threat="is OK", action="", info=""
name="VisualCron8.exe - 7ZIP - WebClient.7z - 7ZIP - Scripts/kendo/2015.1.408/kendo.dataviz.themes.min.js", threat="is OK", action="", info=""
name="VisualCron8.exe - 7ZIP - WebClient.7z - 7ZIP - Scripts/kendo/2015.1.408/kendo.dataviz.themes.min.js.map", threat="is OK", action="", info=""
name="VisualCron8.exe - 7ZIP - WebClient.7z - 7ZIP - Scripts/kendo/2015.1.408/kendo.dataviz.treemap.min.js", threat="is OK", action="", info=""
name="VisualCron8.exe - 7ZIP - WebClient.7z - 7ZIP - Scripts/kendo/2015.1.408/kendo.dataviz.treemap.min.js.map", threat="is OK", action="", info=""
name="VisualCron8.exe - 7ZIP - WebClient.7z - 7ZIP - Scripts/kendo/2015.1.408/kendo.datepicker.min.js", threat="is OK", action="", info=""
name="VisualCron8.exe - 7ZIP - WebClient.7z - 7ZIP - Scripts/kendo/2015.1.408/kendo.datepicker.min.js.map", threat="is OK", action="", info=""
name="VisualCron8.exe - 7ZIP - WebClient.7z - 7ZIP - Scripts/kendo/2015.1.408/kendo.datetimepicker.min.js", threat="is OK", action="", info=""
name="VisualCron8.exe - 7ZIP - WebClient.7z - 7ZIP - Scripts/kendo/2015.1.408/kendo.datetimepicker.min.js.map", threat="is OK", action="", info=""
name="VisualCron8.exe - 7ZIP - WebClient.7z - 7ZIP - Scripts/kendo/2015.1.408/kendo.dom.min.js", threat="is OK", action="", info=""
name="VisualCron8.exe - 7ZIP - WebClient.7z - 7ZIP - Scripts/kendo/2015.1.408/kendo.dom.min.js.map", threat="is OK", action="", info=""
name="VisualCron8.exe - 7ZIP - WebClient.7z - 7ZIP - Scripts/kendo/2015.1.408/kendo.draganddrop.min.js", threat="is OK", action="", info=""
name="VisualCron8.exe - 7ZIP - WebClient.7z - 7ZIP - Scripts/kendo/2015.1.408/kendo.draganddrop.min.js.map", threat="is OK", action="", info=""
name="VisualCron8.exe - 7ZIP - WebClient.7z - 7ZIP - Scripts/kendo/2015.1.408/kendo.drawing.min.js", threat="is OK", action="", info=""
name="VisualCron8.exe - 7ZIP - WebClient.7z - 7ZIP - Scripts/kendo/2015.1.408/kendo.drawing.min.js.map", threat="is OK", action="", info=""
name="VisualCron8.exe - 7ZIP - WebClient.7z - 7ZIP - Scripts/kendo/2015.1.408/kendo.dropdownlist.min.js", threat="is OK", action="", info=""
name="VisualCron8.exe - 7ZIP - WebClient.7z - 7ZIP - Scripts/kendo/2015.1.408/kendo.dropdownlist.min.js.map", threat="is OK", action="", info=""
name="VisualCron8.exe - 7ZIP - WebClient.7z - 7ZIP - Scripts/kendo/2015.1.408/kendo.editable.min.js", threat="is OK", action="", info=""
name="VisualCron8.exe - 7ZIP - WebClient.7z - 7ZIP - Scripts/kendo/2015.1.408/kendo.editable.min.js.map", threat="is OK", action="", info=""
name="VisualCron8.exe - 7ZIP - WebClient.7z - 7ZIP - Scripts/kendo/2015.1.408/kendo.editor.min.js", threat="is OK", action="", info=""
name="VisualCron8.exe - 7ZIP - WebClient.7z - 7ZIP - Scripts/kendo/2015.1.408/kendo.editor.min.js.map", threat="is OK", action="", info=""
name="VisualCron8.exe - 7ZIP - WebClient.7z - 7ZIP - Scripts/kendo/2015.1.408/kendo.excel.min.js", threat="is OK", action="", info=""
name="VisualCron8.exe - 7ZIP - WebClient.7z - 7ZIP - Scripts/kendo/2015.1.408/kendo.excel.min.js.map", threat="is OK", action="", info=""
name="VisualCron8.exe - 7ZIP - WebClient.7z - 7ZIP - Scripts/kendo/2015.1.408/kendo.filebrowser.min.js", threat="is OK", action="", info=""
name="VisualCron8.exe - 7ZIP - WebClient.7z - 7ZIP - Scripts/kendo/2015.1.408/kendo.filebrowser.min.js.map", threat="is OK", action="", info=""
name="VisualCron8.exe - 7ZIP - WebClient.7z - 7ZIP - Scripts/kendo/2015.1.408/kendo.filtercell.min.js", threat="is OK", action="", info=""
name="VisualCron8.exe - 7ZIP - WebClient.7z - 7ZIP - Scripts/kendo/2015.1.408/kendo.filtercell.min.js.map", threat="is OK", action="", info=""
name="VisualCron8.exe - 7ZIP - WebClient.7z - 7ZIP - Scripts/kendo/2015.1.408/kendo.filtermenu.min.js", threat="is OK", action="", info=""
name="VisualCron8.exe - 7ZIP - WebClient.7z - 7ZIP - Scripts/kendo/2015.1.408/kendo.filtermenu.min.js.map", threat="is OK", action="", info=""
name="VisualCron8.exe - 7ZIP - WebClient.7z - 7ZIP - Scripts/kendo/2015.1.408/kendo.fx.min.js", threat="is OK", action="", info=""
name="VisualCron8.exe - 7ZIP - WebClient.7z - 7ZIP - Scripts/kendo/2015.1.408/kendo.fx.min.js.map", threat="is OK", action="", info=""
name="VisualCron8.exe - 7ZIP - WebClient.7z - 7ZIP - Scripts/kendo/2015.1.408/kendo.gantt.list.min.js", threat="is OK", action="", info=""
name="VisualCron8.exe - 7ZIP - WebClient.7z - 7ZIP - Scripts/kendo/2015.1.408/kendo.gantt.list.min.js.map", threat="is OK", action="", info=""
name="VisualCron8.exe - 7ZIP - WebClient.7z - 7ZIP - Scripts/kendo/2015.1.408/kendo.gantt.min.js", threat="is OK", action="", info=""
name="VisualCron8.exe - 7ZIP - WebClient.7z - 7ZIP - Scripts/kendo/2015.1.408/kendo.gantt.min.js.map", threat="is OK", action="", info=""
name="VisualCron8.exe - 7ZIP - WebClient.7z - 7ZIP - Scripts/kendo/2015.1.408/kendo.gantt.timeline.min.js", threat="is OK", action="", info=""
name="VisualCron8.exe - 7ZIP - WebClient.7z - 7ZIP - Scripts/kendo/2015.1.408/kendo.gantt.timeline.min.js.map", threat="is OK", action="", info=""
name="VisualCron8.exe - 7ZIP - WebClient.7z - 7ZIP - Scripts/kendo/2015.1.408/kendo.grid.min.js", threat="is OK", action="", info=""
name="VisualCron8.exe - 7ZIP - WebClient.7z - 7ZIP - Scripts/kendo/2015.1.408/kendo.grid.min.js.map", threat="is OK", action="", info=""
name="VisualCron8.exe - 7ZIP - WebClient.7z - 7ZIP - Scripts/kendo/2015.1.408/kendo.groupable.min.js", threat="is OK", action="", info=""
name="VisualCron8.exe - 7ZIP - WebClient.7z - 7ZIP - Scripts/kendo/2015.1.408/kendo.groupable.min.js.map", threat="is OK", action="", info=""
name="VisualCron8.exe - 7ZIP - WebClient.7z - 7ZIP - Scripts/kendo/2015.1.408/kendo.imagebrowser.min.js", threat="is OK", action="", info=""
name="VisualCron8.exe - 7ZIP - WebClient.7z - 7ZIP - Scripts/kendo/2015.1.408/kendo.imagebrowser.min.js.map", threat="is OK", action="", info=""
name="VisualCron8.exe - 7ZIP - WebClient.7z - 7ZIP - Scripts/kendo/2015.1.408/kendo.list.min.js", threat="is OK", action="", info=""
name="VisualCron8.exe - 7ZIP - WebClient.7z - 7ZIP - Scripts/kendo/2015.1.408/kendo.list.min.js.map", threat="is OK", action="", info=""
name="VisualCron8.exe - 7ZIP - WebClient.7z - 7ZIP - Scripts/kendo/2015.1.408/kendo.listview.min.js", threat="is OK", action="", info=""
name="VisualCron8.exe - 7ZIP - WebClient.7z - 7ZIP - Scripts/kendo/2015.1.408/kendo.listview.min.js.map", threat="is OK", action="", info=""
name="VisualCron8.exe - 7ZIP - WebClient.7z - 7ZIP - Scripts/kendo/2015.1.408/kendo.maskedtextbox.min.js", threat="is OK", action="", info=""
name="VisualCron8.exe - 7ZIP - WebClient.7z - 7ZIP - Scripts/kendo/2015.1.408/kendo.maskedtextbox.min.js.map", threat="is OK", action="", info=""
name="VisualCron8.exe - 7ZIP - WebClient.7z - 7ZIP - Scripts/kendo/2015.1.408/kendo.menu.min.js", threat="is OK", action="", info=""
name="VisualCron8.exe - 7ZIP - WebClient.7z - 7ZIP - Scripts/kendo/2015.1.408/kendo.menu.min.js.map", threat="is OK", action="", info=""
name="VisualCron8.exe - 7ZIP - WebClient.7z - 7ZIP - Scripts/kendo/2015.1.408/kendo.mobile.actionsheet.min.js", threat="is OK", action="", info=""
name="VisualCron8.exe - 7ZIP - WebClient.7z - 7ZIP - Scripts/kendo/2015.1.408/kendo.mobile.actionsheet.min.js.map", threat="is OK", action="", info=""
name="VisualCron8.exe - 7ZIP - WebClient.7z - 7ZIP - Scripts/kendo/2015.1.408/kendo.mobile.application.min.js", threat="is OK", action="", info=""
name="VisualCron8.exe - 7ZIP - WebClient.7z - 7ZIP - Scripts/kendo/2015.1.408/kendo.mobile.application.min.js.map", threat="is OK", action="", info=""
name="VisualCron8.exe - 7ZIP - WebClient.7z - 7ZIP - Scripts/kendo/2015.1.408/kendo.mobile.button.min.js", threat="is OK", action="", info=""
name="VisualCron8.exe - 7ZIP - WebClient.7z - 7ZIP - Scripts/kendo/2015.1.408/kendo.mobile.button.min.js.map", threat="is OK", action="", info=""
name="VisualCron8.exe - 7ZIP - WebClient.7z - 7ZIP - Scripts/kendo/2015.1.408/kendo.mobile.buttongroup.min.js", threat="is OK", action="", info=""
name="VisualCron8.exe - 7ZIP - WebClient.7z - 7ZIP - Scripts/kendo/2015.1.408/kendo.mobile.buttongroup.min.js.map", threat="is OK", action="", info=""
name="VisualCron8.exe - 7ZIP - WebClient.7z - 7ZIP - Scripts/kendo/2015.1.408/kendo.mobile.collapsible.min.js", threat="is OK", action="", info=""
name="VisualCron8.exe - 7ZIP - WebClient.7z - 7ZIP - Scripts/kendo/2015.1.408/kendo.mobile.collapsible.min.js.map", threat="is OK", action="", info=""
name="VisualCron8.exe - 7ZIP - WebClient.7z - 7ZIP - Scripts/kendo/2015.1.408/kendo.mobile.drawer.min.js", threat="is OK", action="", info=""
name="VisualCron8.exe - 7ZIP - WebClient.7z - 7ZIP - Scripts/kendo/2015.1.408/kendo.mobile.drawer.min.js.map", threat="is OK", action="", info=""
name="VisualCron8.exe - 7ZIP - WebClient.7z - 7ZIP - Scripts/kendo/2015.1.408/kendo.mobile.listview.min.js", threat="is OK", action="", info=""
name="VisualCron8.exe - 7ZIP - WebClient.7z - 7ZIP - Scripts/kendo/2015.1.408/kendo.mobile.listview.min.js.map", threat="is OK", action="", info=""
name="VisualCron8.exe - 7ZIP - WebClient.7z - 7ZIP - Scripts/kendo/2015.1.408/kendo.mobile.loader.min.js", threat="is OK", action="", info=""
name="VisualCron8.exe - 7ZIP - WebClient.7z - 7ZIP - Scripts/kendo/2015.1.408/kendo.mobile.loader.min.js.map", threat="is OK", action="", info=""
name="VisualCron8.exe - 7ZIP - WebClient.7z - 7ZIP - Scripts/kendo/2015.1.408/kendo.mobile.min.js", threat="is OK", action="", info=""
name="VisualCron8.exe - 7ZIP - WebClient.7z - 7ZIP - Scripts/kendo/2015.1.408/kendo.mobile.min.js.map", threat="is OK", action="", info=""
name="VisualCron8.exe - 7ZIP - WebClient.7z - 7ZIP - Scripts/kendo/2015.1.408/kendo.mobile.modalview.min.js", threat="is OK", action="", info=""
name="VisualCron8.exe - 7ZIP - WebClient.7z - 7ZIP - Scripts/kendo/2015.1.408/kendo.mobile.modalview.min.js.map", threat="is OK", action="", info=""
name="VisualCron8.exe - 7ZIP - WebClient.7z - 7ZIP - Scripts/kendo/2015.1.408/kendo.mobile.navbar.min.js", threat="is OK", action="", info=""
name="VisualCron8.exe - 7ZIP - WebClient.7z - 7ZIP - Scripts/kendo/2015.1.408/kendo.mobile.navbar.min.js.map", threat="is OK", action="", info=""
name="VisualCron8.exe - 7ZIP - WebClient.7z - 7ZIP - Scripts/kendo/2015.1.408/kendo.mobile.pane.min.js", threat="is OK", action="", info=""
name="VisualCron8.exe - 7ZIP - WebClient.7z - 7ZIP - Scripts/kendo/2015.1.408/kendo.mobile.pane.min.js.map", threat="is OK", action="", info=""
name="VisualCron8.exe - 7ZIP - WebClient.7z - 7ZIP - Scripts/kendo/2015.1.408/kendo.mobile.popover.min.js", threat="is OK", action="", info=""
name="VisualCron8.exe - 7ZIP - WebClient.7z - 7ZIP - Scripts/kendo/2015.1.408/kendo.mobile.popover.min.js.map", threat="is OK", action="", info=""
name="VisualCron8.exe - 7ZIP - WebClient.7z - 7ZIP - Scripts/kendo/2015.1.408/kendo.mobile.scroller.min.js", threat="is OK", action="", info=""
name="VisualCron8.exe - 7ZIP - WebClient.7z - 7ZIP - Scripts/kendo/2015.1.408/kendo.mobile.scroller.min.js.map", threat="is OK", action="", info=""
name="VisualCron8.exe - 7ZIP - WebClient.7z - 7ZIP - Scripts/kendo/2015.1.408/kendo.mobile.scrollview.min.js", threat="is OK", action="", info=""
name="VisualCron8.exe - 7ZIP - WebClient.7z - 7ZIP - Scripts/kendo/2015.1.408/kendo.mobile.scrollview.min.js.map", threat="is OK", action="", info=""
name="VisualCron8.exe - 7ZIP - WebClient.7z - 7ZIP - Scripts/kendo/2015.1.408/kendo.mobile.shim.min.js", threat="is OK", action="", info=""
name="VisualCron8.exe - 7ZIP - WebClient.7z - 7ZIP - Scripts/kendo/2015.1.408/kendo.mobile.shim.min.js.map", threat="is OK", action="", info=""
name="VisualCron8.exe - 7ZIP - WebClient.7z - 7ZIP - Scripts/kendo/2015.1.408/kendo.mobile.splitview.min.js", threat="is OK", action="", info=""
name="VisualCron8.exe - 7ZIP - WebClient.7z - 7ZIP - Scripts/kendo/2015.1.408/kendo.mobile.splitview.min.js.map", threat="is OK", action="", info=""
name="VisualCron8.exe - 7ZIP - WebClient.7z - 7ZIP - Scripts/kendo/2015.1.408/kendo.mobile.switch.min.js", threat="is OK", action="", info=""
name="VisualCron8.exe - 7ZIP - WebClient.7z - 7ZIP - Scripts/kendo/2015.1.408/kendo.mobile.switch.min.js.map", threat="is OK", action="", info=""
name="VisualCron8.exe - 7ZIP - WebClient.7z - 7ZIP - Scripts/kendo/2015.1.408/kendo.mobile.tabstrip.min.js", threat="is OK", action="", info=""
name="VisualCron8.exe - 7ZIP - WebClient.7z - 7ZIP - Scripts/kendo/2015.1.408/kendo.mobile.tabstrip.min.js.map", threat="is OK", action="", info=""
name="VisualCron8.exe - 7ZIP - WebClient.7z - 7ZIP - Scripts/kendo/2015.1.408/kendo.mobile.view.min.js", threat="is OK", action="", info=""
name="VisualCron8.exe - 7ZIP - WebClient.7z - 7ZIP - Scripts/kendo/2015.1.408/kendo.mobile.view.min.js.map", threat="is OK", action="", info=""
name="VisualCron8.exe - 7ZIP - WebClient.7z - 7ZIP - Scripts/kendo/2015.1.408/kendo.multiselect.min.js", threat="is OK", action="", info=""
name="VisualCron8.exe - 7ZIP - WebClient.7z - 7ZIP - Scripts/kendo/2015.1.408/kendo.multiselect.min.js.map", threat="is OK", action="", info=""
name="VisualCron8.exe - 7ZIP - WebClient.7z - 7ZIP - Scripts/kendo/2015.1.408/kendo.notification.min.js", threat="is OK", action="", info=""
name="VisualCron8.exe - 7ZIP - WebClient.7z - 7ZIP - Scripts/kendo/2015.1.408/kendo.notification.min.js.map", threat="is OK", action="", info=""
name="VisualCron8.exe - 7ZIP - WebClient.7z - 7ZIP - Scripts/kendo/2015.1.408/kendo.numerictextbox.min.js", threat="is OK", action="", info=""
name="VisualCron8.exe - 7ZIP - WebClient.7z - 7ZIP - Scripts/kendo/2015.1.408/kendo.numerictextbox.min.js.map", threat="is OK", action="", info=""
name="VisualCron8.exe - 7ZIP - WebClient.7z - 7ZIP - Scripts/kendo/2015.1.408/kendo.ooxml.min.js", threat="is OK", action="", info=""
name="VisualCron8.exe - 7ZIP - WebClient.7z - 7ZIP - Scripts/kendo/2015.1.408/kendo.ooxml.min.js.map", threat="is OK", action="", info=""
name="VisualCron8.exe - 7ZIP - WebClient.7z - 7ZIP - Scripts/kendo/2015.1.408/kendo.pager.min.js", threat="is OK", action="", info=""
name="VisualCron8.exe - 7ZIP - WebClient.7z - 7ZIP - Scripts/kendo/2015.1.408/kendo.pager.min.js.map", threat="is OK", action="", info=""
name="VisualCron8.exe - 7ZIP - WebClient.7z - 7ZIP - Scripts/kendo/2015.1.408/kendo.panelbar.min.js", threat="is OK", action="", info=""
name="VisualCron8.exe - 7ZIP - WebClient.7z - 7ZIP - Scripts/kendo/2015.1.408/kendo.panelbar.min.js.map", threat="is OK", action="", info=""
name="VisualCron8.exe - 7ZIP - WebClient.7z - 7ZIP - Scripts/kendo/2015.1.408/kendo.pdf.min.js", threat="is OK", action="", info=""
name="VisualCron8.exe - 7ZIP - WebClient.7z - 7ZIP - Scripts/kendo/2015.1.408/kendo.pdf.min.js.map", threat="is OK", action="", info=""
name="VisualCron8.exe - 7ZIP - WebClient.7z - 7ZIP - Scripts/kendo/2015.1.408/kendo.pivot.configurator.min.js", threat="is OK", action="", info=""
name="VisualCron8.exe - 7ZIP - WebClient.7z - 7ZIP - Scripts/kendo/2015.1.408/kendo.pivot.configurator.min.js.map", threat="is OK", action="", info=""
name="VisualCron8.exe - 7ZIP - WebClient.7z - 7ZIP - Scripts/kendo/2015.1.408/kendo.pivot.fieldmenu.min.js", threat="is OK", action="", info=""
name="VisualCron8.exe - 7ZIP - WebClient.7z - 7ZIP - Scripts/kendo/2015.1.408/kendo.pivot.fieldmenu.min.js.map", threat="is OK", action="", info=""
name="VisualCron8.exe - 7ZIP - WebClient.7z - 7ZIP - Scripts/kendo/2015.1.408/kendo.pivotgrid.min.js", threat="is OK", action="", info=""
name="VisualCron8.exe - 7ZIP - WebClient.7z - 7ZIP - Scripts/kendo/2015.1.408/kendo.pivotgrid.min.js.map", threat="is OK", action="", info=""
name="VisualCron8.exe - 7ZIP - WebClient.7z - 7ZIP - Scripts/kendo/2015.1.408/kendo.popup.min.js", threat="is OK", action="", info=""
name="VisualCron8.exe - 7ZIP - WebClient.7z - 7ZIP - Scripts/kendo/2015.1.408/kendo.popup.min.js.map", threat="is OK", action="", info=""
name="VisualCron8.exe - 7ZIP - WebClient.7z - 7ZIP - Scripts/kendo/2015.1.408/kendo.progressbar.min.js", threat="is OK", action="", info=""
name="VisualCron8.exe - 7ZIP - WebClient.7z - 7ZIP - Scripts/kendo/2015.1.408/kendo.progressbar.min.js.map", threat="is OK", action="", info=""
name="VisualCron8.exe - 7ZIP - WebClient.7z - 7ZIP - Scripts/kendo/2015.1.408/kendo.reorderable.min.js", threat="is OK", action="", info=""
name="VisualCron8.exe - 7ZIP - WebClient.7z - 7ZIP - Scripts/kendo/2015.1.408/kendo.reorderable.min.js.map", threat="is OK", action="", info=""
name="VisualCron8.exe - 7ZIP - WebClient.7z - 7ZIP - Scripts/kendo/2015.1.408/kendo.resizable.min.js", threat="is OK", action="", info=""
name="VisualCron8.exe - 7ZIP - WebClient.7z - 7ZIP - Scripts/kendo/2015.1.408/kendo.resizable.min.js.map", threat="is OK", action="", info=""
name="VisualCron8.exe - 7ZIP - WebClient.7z - 7ZIP - Scripts/kendo/2015.1.408/kendo.responsivepanel.min.js", threat="is OK", action="", info=""
name="VisualCron8.exe - 7ZIP - WebClient.7z - 7ZIP - Scripts/kendo/2015.1.408/kendo.responsivepanel.min.js.map", threat="is OK", action="", info=""
name="VisualCron8.exe - 7ZIP - WebClient.7z - 7ZIP - Scripts/kendo/2015.1.408/kendo.router.min.js", threat="is OK", action="", info=""
name="VisualCron8.exe - 7ZIP - WebClient.7z - 7ZIP - Scripts/kendo/2015.1.408/kendo.router.min.js.map", threat="is OK", action="", info=""
name="VisualCron8.exe - 7ZIP - WebClient.7z - 7ZIP - Scripts/kendo/2015.1.408/kendo.scheduler.agendaview.min.js", threat="is OK", action="", info=""
name="VisualCron8.exe - 7ZIP - WebClient.7z - 7ZIP - Scripts/kendo/2015.1.408/kendo.scheduler.agendaview.min.js.map", threat="is OK", action="", info=""
name="VisualCron8.exe - 7ZIP - WebClient.7z - 7ZIP - Scripts/kendo/2015.1.408/kendo.scheduler.dayview.min.js", threat="is OK", action="", info=""
name="VisualCron8.exe - 7ZIP - WebClient.7z - 7ZIP - Scripts/kendo/2015.1.408/kendo.scheduler.dayview.min.js.map", threat="is OK", action="", info=""
name="VisualCron8.exe - 7ZIP - WebClient.7z - 7ZIP - Scripts/kendo/2015.1.408/kendo.scheduler.min.js", threat="is OK", action="", info=""
name="VisualCron8.exe - 7ZIP - WebClient.7z - 7ZIP - Scripts/kendo/2015.1.408/kendo.scheduler.min.js.map", threat="is OK", action="", info=""
name="VisualCron8.exe - 7ZIP - WebClient.7z - 7ZIP - Scripts/kendo/2015.1.408/kendo.scheduler.monthview.min.js", threat="is OK", action="", info=""
name="VisualCron8.exe - 7ZIP - WebClient.7z - 7ZIP - Scripts/kendo/2015.1.408/kendo.scheduler.monthview.min.js.map", threat="is OK", action="", info=""
name="VisualCron8.exe - 7ZIP - WebClient.7z - 7ZIP - Scripts/kendo/2015.1.408/kendo.scheduler.recurrence.min.js", threat="is OK", action="", info=""
name="VisualCron8.exe - 7ZIP - WebClient.7z - 7ZIP - Scripts/kendo/2015.1.408/kendo.scheduler.recurrence.min.js.map", threat="is OK", action="", info=""
name="VisualCron8.exe - 7ZIP - WebClient.7z - 7ZIP - Scripts/kendo/2015.1.408/kendo.scheduler.timelineview.min.js", threat="is OK", action="", info=""
name="VisualCron8.exe - 7ZIP - WebClient.7z - 7ZIP - Scripts/kendo/2015.1.408/kendo.scheduler.timelineview.min.js.map", threat="is OK", action="", info=""
name="VisualCron8.exe - 7ZIP - WebClient.7z - 7ZIP - Scripts/kendo/2015.1.408/kendo.scheduler.view.min.js", threat="is OK", action="", info=""
name="VisualCron8.exe - 7ZIP - WebClient.7z - 7ZIP - Scripts/kendo/2015.1.408/kendo.scheduler.view.min.js.map", threat="is OK", action="", info=""
name="VisualCron8.exe - 7ZIP - WebClient.7z - 7ZIP - Scripts/kendo/2015.1.408/kendo.selectable.min.js", threat="is OK", action="", info=""
name="VisualCron8.exe - 7ZIP - WebClient.7z - 7ZIP - Scripts/kendo/2015.1.408/kendo.selectable.min.js.map", threat="is OK", action="", info=""
name="VisualCron8.exe - 7ZIP - WebClient.7z - 7ZIP - Scripts/kendo/2015.1.408/kendo.slider.min.js", threat="is OK", action="", info=""
name="VisualCron8.exe - 7ZIP - WebClient.7z - 7ZIP - Scripts/kendo/2015.1.408/kendo.slider.min.js.map", threat="is OK", action="", info=""
name="VisualCron8.exe - 7ZIP - WebClient.7z - 7ZIP - Scripts/kendo/2015.1.408/kendo.sortable.min.js", threat="is OK", action="", info=""
name="VisualCron8.exe - 7ZIP - WebClient.7z - 7ZI
-Cut-

Scan completed at: 03/15/17 05:24:44
Scan time: 152 sec (0:02:32)
Total: files - 1, objects 9469
Infected: files - 0, objects 0
Cleaned: files - 0, objects 0



















General Security Recommendations
1. Install an antivirus
In order to keep your computer free of malware, we recommend that you always have an antivirus program installed, especially when downloading and installing new programs from the web. At least once a day, run its database update program. This will allow your antivirus to stay up to date with the latest badware threats and better protect your computer data.
If you don't have a powerful antivirus solution already protecting your computer, you should install one from our recommendations: Avast Free, AVG Free, Avira Free, Bitdefender, Kaspersky (50% Discount), NOD32.
2. Choose a safe web browser
An important aspect to keep in mind is what web browser you use. Most browser exploits and viruses target Internet Explorer so it's best you consider an alternative. The safest web browsers available Today are considered to be Mozilla Firefox and Google Chrome. Besides being free, they are both fast, have pop-up blocking, tabbed browsing, with privacy and security features. Give them a try: Download Mozilla Firefox or Download Google Chrome.
3. Learn more about securing your PC
These articles should help you further:
Get the HTML Code for this report
Copy any code from below and paste it into your page.
Graphic Link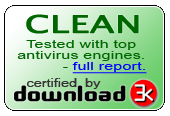 Text Link