Antivirus report for geany-1.30.1_setup.exe (14.42 MB)
Download3k has downloaded and tested version 1.30.1 of Geany on 6 Mar 2017 using only the best antivirus engines available Today. We have found it to be clean of any form of badware (viruses, spyware, adware, etc.). You can view the full scan logs below. We will test Geany again on the next version release so make sure you check back for updated reports in the near future.
Avast:

Clean

AVG:

Clean

Avira:

Clean

Kaspersky:

Clean

NOD32:

Clean
Detailed logs
click + to expand log
Avast
scan report: Clean
geany-1.30_setup.exe|>nsis.hdr OK
geany-1.30_setup.exe|>$COMMONFILES\$[34]\$PLUGINSDIR\System.dll OK
geany-1.30_setup.exe|>$INSTDIR\$PLUGINSDIR\UserInfo.dll OK
geany-1.30_setup.exe|>$PLUGINSDIR\modern-wizard.bmp OK
geany-1.30_setup.exe|>$PLUGINSDIR\nsDialogs.dll OK
geany-1.30_setup.exe|>$PLUGINSDIR\StartMenu.dll OK
geany-1.30_setup.exe|>$INSTDIR\Authors.txt OK
geany-1.30_setup.exe|>$INSTDIR\Changelog.txt OK
geany-1.30_setup.exe|>$_OUTDIR\geany\COPYING OK
geany-1.30_setup.exe|>$INSTDIR\News.txt OK
geany-1.30_setup.exe|>$INSTDIR\Readme.txt OK
geany-1.30_setup.exe|>$INSTDIR\Thanks.txt OK
geany-1.30_setup.exe|>$INSTDIR\Todo.txt OK
geany-1.30_setup.exe|>$INSTDIR\bin\geany.exe OK
geany-1.30_setup.exe|>$INSTDIR\bin\libgeany-0.dll OK
geany-1.30_setup.exe|>$INSTDIR\bin\libgcc_s_dw2-1.dll OK
geany-1.30_setup.exe|>$INSTDIR\bin\libstdc++-6.dll OK
geany-1.30_setup.exe|>$INSTDIR\bin\libwinpthread-1.dll OK
geany-1.30_setup.exe|>$_OUTDIR\geany\geany-run-helper.bat OK
geany-1.30_setup.exe|>$INSTDIR\data\GPL-2 OK
geany-1.30_setup.exe|>$INSTDIR\data\filetype_extensions.conf OK
geany-1.30_setup.exe|>$INSTDIR\data\geany.glade OK
geany-1.30_setup.exe|>$INSTDIR\data\geany.gtkrc OK
geany-1.30_setup.exe|>$INSTDIR\data\snippets.conf OK
geany-1.30_setup.exe|>$INSTDIR\data\ui_toolbar.xml OK
geany-1.30_setup.exe|>$INSTDIR\data\filedefs\filetypes.Arduino.conf OK
geany-1.30_setup.exe|>$INSTDIR\data\filedefs\filetypes.CUDA.conf OK
geany-1.30_setup.exe|>$INSTDIR\data\filedefs\filetypes.Clojure.conf OK
geany-1.30_setup.exe|>$INSTDIR\data\filedefs\filetypes.Cython.conf OK
geany-1.30_setup.exe|>$INSTDIR\data\filedefs\filetypes.Genie.conf OK
geany-1.30_setup.exe|>$INSTDIR\data\filedefs\filetypes.Graphviz.conf OK
geany-1.30_setup.exe|>$INSTDIR\data\filedefs\filetypes.JSON.conf OK
geany-1.30_setup.exe|>$INSTDIR\data\filedefs\filetypes.Scala.conf OK
geany-1.30_setup.exe|>$INSTDIR\data\filedefs\filetypes.abaqus OK
geany-1.30_setup.exe|>$INSTDIR\data\filedefs\filetypes.abc OK
geany-1.30_setup.exe|>$INSTDIR\data\filedefs\filetypes.actionscript OK
geany-1.30_setup.exe|>$INSTDIR\data\filedefs\filetypes.ada OK
geany-1.30_setup.exe|>$INSTDIR\data\filedefs\filetypes.asciidoc OK
geany-1.30_setup.exe|>$INSTDIR\data\filedefs\filetypes.asm OK
geany-1.30_setup.exe|>$INSTDIR\data\filedefs\filetypes.batch OK
geany-1.30_setup.exe|>$INSTDIR\data\filedefs\filetypes.c OK
geany-1.30_setup.exe|>$INSTDIR\data\filedefs\filetypes.caml OK
geany-1.30_setup.exe|>$INSTDIR\data\filedefs\filetypes.cmake OK
geany-1.30_setup.exe|>$INSTDIR\data\filedefs\filetypes.cobol OK
geany-1.30_setup.exe|>$INSTDIR\data\filedefs\filetypes.coffeescript OK
geany-1.30_setup.exe|>$INSTDIR\data\filedefs\filetypes.common OK
geany-1.30_setup.exe|>$INSTDIR\data\filedefs\filetypes.conf OK
geany-1.30_setup.exe|>$INSTDIR\data\filedefs\filetypes.cpp OK
geany-1.30_setup.exe|>$INSTDIR\data\filedefs\filetypes.cs OK
geany-1.30_setup.exe|>$INSTDIR\data\filedefs\filetypes.css OK
geany-1.30_setup.exe|>$INSTDIR\data\filedefs\filetypes.d OK
geany-1.30_setup.exe|>$INSTDIR\data\filedefs\filetypes.diff OK
geany-1.30_setup.exe|>$INSTDIR\data\filedefs\filetypes.docbook OK
geany-1.30_setup.exe|>$INSTDIR\data\filedefs\filetypes.erlang OK
geany-1.30_setup.exe|>$INSTDIR\data\filedefs\filetypes.f77 OK
geany-1.30_setup.exe|>$INSTDIR\data\filedefs\filetypes.ferite OK
geany-1.30_setup.exe|>$INSTDIR\data\filedefs\filetypes.forth OK
geany-1.30_setup.exe|>$INSTDIR\data\filedefs\filetypes.fortran OK
geany-1.30_setup.exe|>$INSTDIR\data\filedefs\filetypes.freebasic OK
geany-1.30_setup.exe|>$INSTDIR\data\filedefs\filetypes.glsl OK
geany-1.30_setup.exe|>$INSTDIR\data\filedefs\filetypes.go OK
geany-1.30_setup.exe|>$INSTDIR\data\filedefs\filetypes.haskell OK
geany-1.30_setup.exe|>$INSTDIR\data\filedefs\filetypes.haxe OK
geany-1.30_setup.exe|>$INSTDIR\data\filedefs\filetypes.html OK
geany-1.30_setup.exe|>$INSTDIR\data\filedefs\filetypes.java OK
geany-1.30_setup.exe|>$INSTDIR\data\filedefs\filetypes.javascript OK
geany-1.30_setup.exe|>$INSTDIR\data\filedefs\filetypes.latex OK
geany-1.30_setup.exe|>$INSTDIR\data\filedefs\filetypes.lisp OK
geany-1.30_setup.exe|>$INSTDIR\data\filedefs\filetypes.lua OK
geany-1.30_setup.exe|>$INSTDIR\data\filedefs\filetypes.makefile OK
geany-1.30_setup.exe|>$INSTDIR\data\filedefs\filetypes.markdown OK
geany-1.30_setup.exe|>$INSTDIR\data\filedefs\filetypes.matlab OK
geany-1.30_setup.exe|>$INSTDIR\data\filedefs\filetypes.nsis OK
geany-1.30_setup.exe|>$INSTDIR\data\filedefs\filetypes.objectivec OK
geany-1.30_setup.exe|>$INSTDIR\data\filedefs\filetypes.pascal OK
geany-1.30_setup.exe|>$INSTDIR\data\filedefs\filetypes.perl OK
geany-1.30_setup.exe|>$INSTDIR\data\filedefs\filetypes.php OK
geany-1.30_setup.exe|>$INSTDIR\data\filedefs\filetypes.po OK
geany-1.30_setup.exe|>$INSTDIR\data\filedefs\filetypes.powershell OK
geany-1.30_setup.exe|>$INSTDIR\data\filedefs\filetypes.python OK
geany-1.30_setup.exe|>$INSTDIR\data\filedefs\filetypes.r OK
geany-1.30_setup.exe|>$INSTDIR\data\filedefs\filetypes.restructuredtext OK
geany-1.30_setup.exe|>$INSTDIR\data\filedefs\filetypes.ruby OK
geany-1.30_setup.exe|>$INSTDIR\data\filedefs\filetypes.rust OK
geany-1.30_setup.exe|>$INSTDIR\data\filedefs\filetypes.sh OK
geany-1.30_setup.exe|>$INSTDIR\data\filedefs\filetypes.sql OK
geany-1.30_setup.exe|>$INSTDIR\data\filedefs\filetypes.tcl OK
geany-1.30_setup.exe|>$INSTDIR\data\filedefs\filetypes.txt2tags OK
geany-1.30_setup.exe|>$INSTDIR\data\filedefs\filetypes.vala OK
geany-1.30_setup.exe|>$INSTDIR\data\filedefs\filetypes.verilog OK
geany-1.30_setup.exe|>$INSTDIR\data\filedefs\filetypes.vhdl OK
geany-1.30_setup.exe|>$INSTDIR\data\filedefs\filetypes.xml OK
geany-1.30_setup.exe|>$INSTDIR\data\filedefs\filetypes.yaml OK
geany-1.30_setup.exe|>$INSTDIR\data\filedefs\filetypes.zephir OK
geany-1.30_setup.exe|>$INSTDIR\data\templates\bsd OK
geany-1.30_setup.exe|>$INSTDIR\data\templates\changelog OK
geany-1.30_setup.exe|>$INSTDIR\data\templates\fileheader OK
geany-1.30_setup.exe|>$INSTDIR\data\templates\function OK
geany-1.30_setup.exe|>$INSTDIR\data\templates\gpl OK
geany-1.30_setup.exe|>$_OUTDIR\files\file.html OK
geany-1.30_setup.exe|>$_OUTDIR\files\file.php OK
geany-1.30_setup.exe|>$_OUTDIR\files\file.rb OK
geany-1.30_setup.exe|>$_OUTDIR\files\file.tex OK
geany-1.30_setup.exe|>$_OUTDIR\files\file_html5.html OK
geany-1.30_setup.exe|>$_OUTDIR\files\main.c OK
geany-1.30_setup.exe|>$_OUTDIR\files\main.cxx OK
geany-1.30_setup.exe|>$_OUTDIR\files\main.d OK
geany-1.30_setup.exe|>$_OUTDIR\files\main.java OK
geany-1.30_setup.exe|>$_OUTDIR\files\main.py OK
geany-1.30_setup.exe|>$_OUTDIR\files\main.vala OK
geany-1.30_setup.exe|>$_OUTDIR\files\module.erl OK
geany-1.30_setup.exe|>$_OUTDIR\files\program.pas OK
geany-1.30_setup.exe|>$INSTDIR\data\colorschemes\alt.conf OK
geany-1.30_setup.exe|>$_OUTDIR\bespin.conf OK
geany-1.30_setup.exe|>$_OUTDIR\black.conf OK
geany-1.30_setup.exe|>$_OUTDIR\darcula.conf OK
geany-1.30_setup.exe|>$_OUTDIR\dark-colors.conf OK
geany-1.30_setup.exe|>$_OUTDIR\dark-fruit-salad.conf OK
geany-1.30_setup.exe|>$_OUTDIR\dark.conf OK
geany-1.30_setup.exe|>$_OUTDIR\fluffy.conf OK
geany-1.30_setup.exe|>$_OUTDIR\gedit.conf OK
geany-1.30_setup.exe|>$_OUTDIR\github.conf OK
geany-1.30_setup.exe|>$_OUTDIR\himbeere.conf OK
geany-1.30_setup.exe|>$_OUTDIR\inkpot.conf OK
geany-1.30_setup.exe|>$_OUTDIR\kugel.conf OK
geany-1.30_setup.exe|>$_OUTDIR\mc.conf OK
geany-1.30_setup.exe|>$_OUTDIR\metallic-bottle.conf OK
geany-1.30_setup.exe|>$_OUTDIR\monokai.conf OK
geany-1.30_setup.exe|>$_OUTDIR\notepad-plus-plus.conf OK
geany-1.30_setup.exe|>$_OUTDIR\oblivion2.conf OK
geany-1.30_setup.exe|>$_OUTDIR\pygments.conf OK
geany-1.30_setup.exe|>$_OUTDIR\railcasts2.conf OK
geany-1.30_setup.exe|>$_OUTDIR\retro.conf OK
geany-1.30_setup.exe|>$_OUTDIR\sleepy-pastel.conf OK
geany-1.30_setup.exe|>$_OUTDIR\slushpoppies.conf OK
geany-1.30_setup.exe|>$_OUTDIR\solarized-dark.conf OK
geany-1.30_setup.exe|>$_OUTDIR\solarized-light.conf OK
geany-1.30_setup.exe|>$_OUTDIR\spyder-dark.conf OK
geany-1.30_setup.exe|>$_OUTDIR\steampunk.conf OK
geany-1.30_setup.exe|>$_OUTDIR\tango-dark.conf OK
geany-1.30_setup.exe|>$_OUTDIR\tango-light.conf OK
geany-1.30_setup.exe|>$_OUTDIR\tinge.conf OK
geany-1.30_setup.exe|>$_OUTDIR\ubuntu.conf OK
geany-1.30_setup.exe|>$_OUTDIR\vibrant-ink.conf OK
geany-1.30_setup.exe|>$_OUTDIR\zenburn.conf OK
geany-1.30_setup.exe|>$_OUTDIR\Tango\index.theme OK
geany-1.30_setup.exe|>$_OUTDIR\Tango\16x16\actions\geany-save-all.png OK
geany-1.30_setup.exe|>$_OUTDIR\Tango\24x24\actions\geany-save-all.png OK
geany-1.30_setup.exe|>$_OUTDIR\Tango\32x32\actions\geany-save-all.png OK
geany-1.30_setup.exe|>$_OUTDIR\Tango\48x48\actions\geany-save-all.png OK
geany-1.30_setup.exe|>$_OUTDIR\Tango\scalable\actions\geany-save-all.svg OK
geany-1.30_setup.exe|>$_OUTDIR\hicolor\index.theme OK
geany-1.30_setup.exe|>$_OUTDIR\hicolor\16x16\actions\geany-build.png OK
geany-1.30_setup.exe|>$_OUTDIR\hicolor\16x16\actions\geany-close-all.png OK
geany-1.30_setup.exe|>$_OUTDIR\hicolor\16x16\actions\geany-save-all.png OK
geany-1.30_setup.exe|>$_OUTDIR\hicolor\16x16\apps\classviewer-class.png OK
geany-1.30_setup.exe|>$_OUTDIR\hicolor\16x16\apps\classviewer-macro.png OK
geany-1.30_setup.exe|>$_OUTDIR\hicolor\16x16\apps\classviewer-member.png OK
geany-1.30_setup.exe|>$_OUTDIR\hicolor\16x16\apps\classviewer-method.png OK
geany-1.30_setup.exe|>$_OUTDIR\hicolor\16x16\apps\classviewer-namespace.png OK
geany-1.30_setup.exe|>$_OUTDIR\hicolor\16x16\apps\classviewer-other.png OK
geany-1.30_setup.exe|>$_OUTDIR\hicolor\16x16\apps\classviewer-struct.png OK
geany-1.30_setup.exe|>$_OUTDIR\hicolor\16x16\apps\classviewer-var.png OK
geany-1.30_setup.exe|>$_OUTDIR\hicolor\16x16\apps\geany.png OK
geany-1.30_setup.exe|>$_OUTDIR\hicolor\24x24\actions\geany-build.png OK
geany-1.30_setup.exe|>$_OUTDIR\hicolor\24x24\actions\geany-close-all.png OK
geany-1.30_setup.exe|>$_OUTDIR\hicolor\24x24\actions\geany-save-all.png OK
geany-1.30_setup.exe|>$_OUTDIR\hicolor\32x32\actions\geany-build.png OK
geany-1.30_setup.exe|>$_OUTDIR\hicolor\32x32\actions\geany-close-all.png OK
geany-1.30_setup.exe|>$_OUTDIR\hicolor\32x32\actions\geany-save-all.png OK
geany-1.30_setup.exe|>$_OUTDIR\hicolor\32x32\apps\geany.png OK
geany-1.30_setup.exe|>$_OUTDIR\hicolor\48x48\actions\geany-build.png OK
geany-1.30_setup.exe|>$_OUTDIR\hicolor\48x48\actions\geany-close-all.png OK
geany-1.30_setup.exe|>$_OUTDIR\hicolor\48x48\actions\geany-save-all.png OK
geany-1.30_setup.exe|>$_OUTDIR\hicolor\48x48\apps\geany.png OK
geany-1.30_setup.exe|>$_OUTDIR\hicolor\scalable\actions\geany-build.svg OK
geany-1.30_setup.exe|>$_OUTDIR\hicolor\scalable\actions\geany-close-all.svg OK
geany-1.30_setup.exe|>$_OUTDIR\hicolor\scalable\actions\geany-save-all.svg OK
geany-1.30_setup.exe|>$_OUTDIR\hicolor\scalable\apps\geany.svg OK
geany-1.30_setup.exe|>$INSTDIR\lib\geany\classbuilder.dll OK
geany-1.30_setup.exe|>$INSTDIR\lib\geany\export.dll OK
geany-1.30_setup.exe|>$INSTDIR\lib\geany\filebrowser.dll OK
geany-1.30_setup.exe|>$INSTDIR\lib\geany\htmlchars.dll OK
geany-1.30_setup.exe|>$INSTDIR\lib\geany\saveactions.dll OK
geany-1.30_setup.exe|>$INSTDIR\lib\geany\splitwindow.dll OK
geany-1.30_setup.exe|>$_OUTDIR\ar\LC_MESSAGES\geany.mo OK
geany-1.30_setup.exe|>$_OUTDIR\ast\LC_MESSAGES\geany.mo OK
geany-1.30_setup.exe|>$_OUTDIR\be\LC_MESSAGES\geany.mo OK
geany-1.30_setup.exe|>$_OUTDIR\bg\LC_MESSAGES\geany.mo OK
geany-1.30_setup.exe|>$_OUTDIR\ca\LC_MESSAGES\geany.mo OK
geany-1.30_setup.exe|>$_OUTDIR\cs\LC_MESSAGES\geany.mo OK
geany-1.30_setup.exe|>$_OUTDIR\de\LC_MESSAGES\geany.mo OK
geany-1.30_setup.exe|>$_OUTDIR\el\LC_MESSAGES\geany.mo OK
geany-1.30_setup.exe|>$_OUTDIR\en_GB\LC_MESSAGES\geany.mo OK
geany-1.30_setup.exe|>$_OUTDIR\es\LC_MESSAGES\geany.mo OK
geany-1.30_setup.exe|>$_OUTDIR\et\LC_MESSAGES\geany.mo OK
geany-1.30_setup.exe|>$_OUTDIR\eu\LC_MESSAGES\geany.mo OK
geany-1.30_setup.exe|>$_OUTDIR\fa\LC_MESSAGES\geany.mo OK
geany-1.30_setup.exe|>$_OUTDIR\fi\LC_MESSAGES\geany.mo OK
geany-1.30_setup.exe|>$_OUTDIR\fr\LC_MESSAGES\geany.mo OK
geany-1.30_setup.exe|>$_OUTDIR\gl\LC_MESSAGES\geany.mo OK
geany-1.30_setup.exe|>$_OUTDIR\he\LC_MESSAGES\geany.mo OK
geany-1.30_setup.exe|>$_OUTDIR\hi\LC_MESSAGES\geany.mo OK
geany-1.30_setup.exe|>$_OUTDIR\hu\LC_MESSAGES\geany.mo OK
geany-1.30_setup.exe|>$_OUTDIR\id\LC_MESSAGES\geany.mo OK
geany-1.30_setup.exe|>$_OUTDIR\it\LC_MESSAGES\geany.mo OK
geany-1.30_setup.exe|>$_OUTDIR\ja\LC_MESSAGES\geany.mo OK
geany-1.30_setup.exe|>$_OUTDIR\kk\LC_MESSAGES\geany.mo OK
geany-1.30_setup.exe|>$_OUTDIR\ko\LC_MESSAGES\geany.mo OK
geany-1.30_setup.exe|>$_OUTDIR\lb\LC_MESSAGES\geany.mo OK
geany-1.30_setup.exe|>$_OUTDIR\lt\LC_MESSAGES\geany.mo OK
geany-1.30_setup.exe|>$_OUTDIR\mn\LC_MESSAGES\geany.mo OK
geany-1.30_setup.exe|>$_OUTDIR\nl\LC_MESSAGES\geany.mo OK
geany-1.30_setup.exe|>$_OUTDIR\nn\LC_MESSAGES\geany.mo OK
geany-1.30_setup.exe|>$_OUTDIR\pl\LC_MESSAGES\geany.mo OK
geany-1.30_setup.exe|>$_OUTDIR\pt\LC_MESSAGES\geany.mo OK
geany-1.30_setup.exe|>$_OUTDIR\pt_BR\LC_MESSAGES\geany.mo OK
geany-1.30_setup.exe|>$_OUTDIR\ro\LC_MESSAGES\geany.mo OK
geany-1.30_setup.exe|>$_OUTDIR\ru\LC_MESSAGES\geany.mo OK
geany-1.30_setup.exe|>$_OUTDIR\sk\LC_MESSAGES\geany.mo OK
geany-1.30_setup.exe|>$_OUTDIR\sl\LC_MESSAGES\geany.mo OK
geany-1.30_setup.exe|>$_OUTDIR\sr\LC_MESSAGES\geany.mo OK
geany-1.30_setup.exe|>$_OUTDIR\sv\LC_MESSAGES\geany.mo OK
geany-1.30_setup.exe|>$_OUTDIR\tr\LC_MESSAGES\geany.mo OK
geany-1.30_setup.exe|>$_OUTDIR\uk\LC_MESSAGES\geany.mo OK
geany-1.30_setup.exe|>$_OUTDIR\vi\LC_MESSAGES\geany.mo OK
geany-1.30_setup.exe|>$_OUTDIR\zh_CN\LC_MESSAGES\geany.mo OK
geany-1.30_setup.exe|>$_OUTDIR\zh_TW\LC_MESSAGES\geany.mo OK
geany-1.30_setup.exe|>$_OUTDIR\locale\locale.alias OK
geany-1.30_setup.exe|>$_OUTDIR\af\LC_MESSAGES\atk10.mo OK
geany-1.30_setup.exe|>$_OUTDIR\locale\af\LC_MESSAGES\gdk-pixbuf.mo OK
geany-1.30_setup.exe|>$_OUTDIR\locale\af\LC_MESSAGES\glib20.mo OK
geany-1.30_setup.exe|>$_OUTDIR\locale\af\LC_MESSAGES\gtk20-properties.mo OK
geany-1.30_setup.exe|>$_OUTDIR\af\LC_MESSAGES\gtk20.mo OK
geany-1.30_setup.exe|>$_OUTDIR\am\LC_MESSAGES\atk10.mo OK
geany-1.30_setup.exe|>$_OUTDIR\am\LC_MESSAGES\glib20.mo OK
geany-1.30_setup.exe|>$_OUTDIR\am\LC_MESSAGES\gtk20-properties.mo OK
geany-1.30_setup.exe|>$_OUTDIR\locale\am\LC_MESSAGES\gtk20.mo OK
geany-1.30_setup.exe|>$_OUTDIR\locale\an\LC_MESSAGES\atk10.mo OK
geany-1.30_setup.exe|>$_OUTDIR\locale\an\LC_MESSAGES\glib20.mo OK
geany-1.30_setup.exe|>$_OUTDIR\ang\LC_MESSAGES\gdk-pixbuf.mo OK
geany-1.30_setup.exe|>$_OUTDIR\locale\ang\LC_MESSAGES\gtk20-properties.mo OK
geany-1.30_setup.exe|>$_OUTDIR\locale\ang\LC_MESSAGES\gtk20.mo OK
geany-1.30_setup.exe|>$_OUTDIR\ar\LC_MESSAGES\atk10.mo OK
geany-1.30_setup.exe|>$_OUTDIR\ar\LC_MESSAGES\gdk-pixbuf.mo OK
geany-1.30_setup.exe|>$_OUTDIR\locale\ar\LC_MESSAGES\glib20.mo OK
geany-1.30_setup.exe|>$_OUTDIR\locale\ar\LC_MESSAGES\gtk20-properties.mo OK
geany-1.30_setup.exe|>$_OUTDIR\ar\LC_MESSAGES\gtk20.mo OK
geany-1.30_setup.exe|>$_OUTDIR\locale\as\LC_MESSAGES\atk10.mo OK
geany-1.30_setup.exe|>$_OUTDIR\locale\as\LC_MESSAGES\gdk-pixbuf.mo OK
geany-1.30_setup.exe|>$_OUTDIR\locale\as\LC_MESSAGES\glib20.mo OK
geany-1.30_setup.exe|>$_OUTDIR\locale\as\LC_MESSAGES\gtk20-properties.mo OK
geany-1.30_setup.exe|>$_OUTDIR\locale\as\LC_MESSAGES\gtk20.mo OK
geany-1.30_setup.exe|>$_OUTDIR\locale\ast\LC_MESSAGES\atk10.mo OK
geany-1.30_setup.exe|>$_OUTDIR\ast\LC_MESSAGES\gdk-pixbuf.mo OK
geany-1.30_setup.exe|>$_OUTDIR\ast\LC_MESSAGES\glib20.mo OK
geany-1.30_setup.exe|>$_OUTDIR\ast\LC_MESSAGES\gtk20-properties.mo OK
geany-1.30_setup.exe|>$_OUTDIR\ast\LC_MESSAGES\gtk20.mo OK
geany-1.30_setup.exe|>$_OUTDIR\az\LC_MESSAGES\atk10.mo OK
geany-1.30_setup.exe|>$_OUTDIR\az\LC_MESSAGES\gdk-pixbuf.mo OK
geany-1.30_setup.exe|>$_OUTDIR\locale\az\LC_MESSAGES\glib20.mo OK
geany-1.30_setup.exe|>$_OUTDIR\az\LC_MESSAGES\gtk20-properties.mo OK
geany-1.30_setup.exe|>$_OUTDIR\locale\az\LC_MESSAGES\gtk20.mo OK
geany-1.30_setup.exe|>$_OUTDIR\locale\az_IR\LC_MESSAGES\gtk20-properties.mo OK
geany-1.30_setup.exe|>$_OUTDIR\locale\az_IR\LC_MESSAGES\gtk20.mo OK
geany-1.30_setup.exe|>$_OUTDIR\be\LC_MESSAGES\atk10.mo OK
geany-1.30_setup.exe|>$_OUTDIR\be\LC_MESSAGES\gdk-pixbuf.mo OK
geany-1.30_setup.exe|>$_OUTDIR\be\LC_MESSAGES\gettext-runtime.mo OK
geany-1.30_setup.exe|>$_OUTDIR\locale\be\LC_MESSAGES\gettext-tools.mo OK
geany-1.30_setup.exe|>$_OUTDIR\be\LC_MESSAGES\glib20.mo OK
geany-1.30_setup.exe|>$_OUTDIR\be\LC_MESSAGES\gtk20-properties.mo OK
geany-1.30_setup.exe|>$_OUTDIR\be\LC_MESSAGES\gtk20.mo OK
geany-1.30_setup.exe|>$_OUTDIR\be@latin\LC_MESSAGES\atk10.mo OK
geany-1.30_setup.exe|>$_OUTDIR\be@latin\LC_MESSAGES\gdk-pixbuf.mo OK
geany-1.30_setup.exe|>$_OUTDIR\be@latin\LC_MESSAGES\glib20.mo OK
geany-1.30_setup.exe|>$_OUTDIR\be@latin\LC_MESSAGES\gtk20-properties.mo OK
geany-1.30_setup.exe|>$_OUTDIR\be@latin\LC_MESSAGES\gtk20.mo OK
geany-1.30_setup.exe|>$_OUTDIR\locale\bg\LC_MESSAGES\atk10.mo OK
geany-1.30_setup.exe|>$_OUTDIR\locale\bg\LC_MESSAGES\gdk-pixbuf.mo OK
geany-1.30_setup.exe|>$_OUTDIR\bg\LC_MESSAGES\gettext-runtime.mo OK
geany-1.30_setup.exe|>$_OUTDIR\locale\bg\LC_MESSAGES\gettext-tools.mo OK
geany-1.30_setup.exe|>$_OUTDIR\locale\bg\LC_MESSAGES\glib20.mo OK
geany-1.30_setup.exe|>$_OUTDIR\locale\bg\LC_MESSAGES\gtk20-properties.mo OK
geany-1.30_setup.exe|>$_OUTDIR\locale\bg\LC_MESSAGES\gtk20.mo OK
geany-1.30_setup.exe|>$_OUTDIR\locale\bn\LC_MESSAGES\atk10.mo OK
geany-1.30_setup.exe|>$_OUTDIR\locale\bn\LC_MESSAGES\gdk-pixbuf.mo OK
geany-1.30_setup.exe|>$_OUTDIR\locale\bn\LC_MESSAGES\glib20.mo OK
geany-1.30_setup.exe|>$_OUTDIR\locale\bn\LC_MESSAGES\gtk20-properties.mo OK
geany-1.30_setup.exe|>$_OUTDIR\bn\LC_MESSAGES\gtk20.mo OK
geany-1.30_setup.exe|>$_OUTDIR\bn_IN\LC_MESSAGES\atk10.mo OK
geany-1.30_setup.exe|>$_OUTDIR\bn_IN\LC_MESSAGES\gdk-pixbuf.mo OK
geany-1.30_setup.exe|>$_OUTDIR\bn_IN\LC_MESSAGES\glib20.mo OK
geany-1.30_setup.exe|>$_OUTDIR\bn_IN\LC_MESSAGES\gtk20-properties.mo OK
geany-1.30_setup.exe|>$_OUTDIR\bn_IN\LC_MESSAGES\gtk20.mo OK
geany-1.30_setup.exe|>$_OUTDIR\br\LC_MESSAGES\gdk-pixbuf.mo OK
geany-1.30_setup.exe|>$_OUTDIR\br\LC_MESSAGES\gtk20-properties.mo OK
geany-1.30_setup.exe|>$_OUTDIR\br\LC_MESSAGES\gtk20.mo OK
geany-1.30_setup.exe|>$_OUTDIR\bs\LC_MESSAGES\atk10.mo OK
geany-1.30_setup.exe|>$_OUTDIR\locale\bs\LC_MESSAGES\gdk-pixbuf.mo OK
geany-1.30_setup.exe|>$_OUTDIR\bs\LC_MESSAGES\glib20.mo OK
geany-1.30_setup.exe|>$_OUTDIR\bs\LC_MESSAGES\gtk20-properties.mo OK
geany-1.30_setup.exe|>$_OUTDIR\locale\bs\LC_MESSAGES\gtk20.mo OK
geany-1.30_setup.exe|>$_OUTDIR\ca\LC_MESSAGES\atk10.mo OK
geany-1.30_setup.exe|>$_OUTDIR\locale\ca\LC_MESSAGES\gdk-pixbuf.mo OK
geany-1.30_setup.exe|>$_OUTDIR\locale\ca\LC_MESSAGES\gettext-runtime.mo OK
geany-1.30_setup.exe|>$_OUTDIR\locale\ca\LC_MESSAGES\gettext-tools.mo OK
geany-1.30_setup.exe|>$_OUTDIR\locale\ca\LC_MESSAGES\glib20.mo OK
geany-1.30_setup.exe|>$_OUTDIR\locale\ca\LC_MESSAGES\gtk20-properties.mo OK
geany-1.30_setup.exe|>$_OUTDIR\locale\ca\LC_MESSAGES\gtk20.mo OK
geany-1.30_setup.exe|>$_OUTDIR\locale\ca@valencia\LC_MESSAGES\atk10.mo OK
geany-1.30_setup.exe|>$_OUTDIR\locale\ca@valencia\LC_MESSAGES\gdk-pixbuf.mo OK
geany-1.30_setup.exe|>$_OUTDIR\ca@valencia\LC_MESSAGES\glib20.mo OK
geany-1.30_setup.exe|>$_OUTDIR\ca@valencia\LC_MESSAGES\gtk20-properties.mo OK
geany-1.30_setup.exe|>$_OUTDIR\ca@valencia\LC_MESSAGES\gtk20.mo OK
geany-1.30_setup.exe|>$_OUTDIR\locale\crh\LC_MESSAGES\gdk-pixbuf.mo OK
geany-1.30_setup.exe|>$_OUTDIR\locale\crh\LC_MESSAGES\gtk20-properties.mo OK
geany-1.30_setup.exe|>$_OUTDIR\crh\LC_MESSAGES\gtk20.mo OK
geany-1.30_setup.exe|>$_OUTDIR\cs\LC_MESSAGES\atk10.mo OK
geany-1.30_setup.exe|>$_OUTDIR\cs\LC_MESSAGES\gdk-pixbuf.mo OK
geany-1.30_setup.exe|>$_OUTDIR\locale\cs\LC_MESSAGES\gettext-runtime.mo OK
geany-1.30_setup.exe|>$_OUTDIR\cs\LC_MESSAGES\gettext-tools.mo OK
geany-1.30_setup.exe|>$_OUTDIR\cs\LC_MESSAGES\glib20.mo OK
geany-1.30_setup.exe|>$_OUTDIR\locale\cs\LC_MESSAGES\gtk20-properties.mo OK
geany-1.30_setup.exe|>$_OUTDIR\locale\cs\LC_MESSAGES\gtk20.mo OK
geany-1.30_setup.exe|>$_OUTDIR\csb\LC_MESSAGES\gdk-pixbuf.mo OK
geany-1.30_setup.exe|>$_OUTDIR\locale\cy\LC_MESSAGES\atk10.mo OK
geany-1.30_setup.exe|>$_OUTDIR\cy\LC_MESSAGES\gdk-pixbuf.mo OK
geany-1.30_setup.exe|>$_OUTDIR\cy\LC_MESSAGES\glib20.mo OK
geany-1.30_setup.exe|>$_OUTDIR\cy\LC_MESSAGES\gtk20-properties.mo OK
geany-1.30_setup.exe|>$_OUTDIR\cy\LC_MESSAGES\gtk20.mo OK
geany-1.30_setup.exe|>$_OUTDIR\da\LC_MESSAGES\atk10.mo OK
geany-1.30_setup.exe|>$_OUTDIR\da\LC_MESSAGES\gdk-pixbuf.mo OK
geany-1.30_setup.exe|>$_OUTDIR\locale\da\LC_MESSAGES\gettext-runtime.mo OK
geany-1.30_setup.exe|>$_OUTDIR\da\LC_MESSAGES\gettext-tools.mo OK
geany-1.30_setup.exe|>$_OUTDIR\locale\da\LC_MESSAGES\glib20.mo OK
geany-1.30_setup.exe|>$_OUTDIR\da\LC_MESSAGES\gtk20-properties.mo OK
geany-1.30_setup.exe|>$_OUTDIR\da\LC_MESSAGES\gtk20.mo OK
geany-1.30_setup.exe|>$_OUTDIR\locale\de\LC_MESSAGES\atk10.mo OK
geany-1.30_setup.exe|>$_OUTDIR\locale\de\LC_MESSAGES\gdk-pixbuf.mo OK
geany-1.30_setup.exe|>$_OUTDIR\locale\de\LC_MESSAGES\gettext-runtime.mo OK
geany-1.30_setup.exe|>$_OUTDIR\locale\de\LC_MESSAGES\gettext-tools.mo OK
geany-1.30_setup.exe|>$_OUTDIR\locale\de\LC_MESSAGES\glib20.mo OK
geany-1.30_setup.exe|>$_OUTDIR\locale\de\LC_MESSAGES\gtk20-properties.mo OK
geany-1.30_setup.exe|>$_OUTDIR\locale\de\LC_MESSAGES\gtk20.mo OK
geany-1.30_setup.exe|>$_OUTDIR\dz\LC_MESSAGES\atk10.mo OK
geany-1.30_setup.exe|>$_OUTDIR\locale\dz\LC_MESSAGES\gdk-pixbuf.mo OK
geany-1.30_setup.exe|>$_OUTDIR\locale\dz\LC_MESSAGES\glib20.mo OK
geany-1.30_setup.exe|>$_OUTDIR\locale\dz\LC_MESSAGES\gtk20-properties.mo OK
geany-1.30_setup.exe|>$_OUTDIR\locale\dz\LC_MESSAGES\gtk20.mo OK
geany-1.30_setup.exe|>$_OUTDIR\el\LC_MESSAGES\atk10.mo OK
geany-1.30_setup.exe|>$_OUTDIR\locale\el\LC_MESSAGES\gdk-pixbuf.mo OK
geany-1.30_setup.exe|>$_OUTDIR\locale\el\LC_MESSAGES\gettext-runtime.mo OK
geany-1.30_setup.exe|>$_OUTDIR\locale\el\LC_MESSAGES\gettext-tools.mo OK
geany-1.30_setup.exe|>$_OUTDIR\locale\el\LC_MESSAGES\glib20.mo OK
geany-1.30_setup.exe|>$_OUTDIR\locale\el\LC_MESSAGES\gtk20-properties.mo OK
geany-1.30_setup.exe|>$_OUTDIR\locale\el\LC_MESSAGES\gtk20.mo OK
geany-1.30_setup.exe|>$_OUTDIR\en@boldquot\LC_MESSAGES\gettext-runtime.mo OK
geany-1.30_setup.exe|>$_OUTDIR\locale\en@boldquot\LC_MESSAGES\gettext-tools.mo OK
geany-1.30_setup.exe|>$_OUTDIR\en@quot\LC_MESSAGES\gettext-runtime.mo OK
geany-1.30_setup.exe|>$_OUTDIR\en@quot\LC_MESSAGES\gettext-tools.mo OK
geany-1.30_setup.exe|>$_OUTDIR\locale\en@shaw\LC_MESSAGES\atk10.mo OK
geany-1.30_setup.exe|>$_OUTDIR\en@shaw\LC_MESSAGES\gdk-pixbuf.mo OK
geany-1.30_setup.exe|>$_OUTDIR\locale\en@shaw\LC_MESSAGES\glib20.mo OK
geany-1.30_setup.exe|>$_OUTDIR\locale\en_CA\LC_MESSAGES\atk10.mo OK
geany-1.30_setup.exe|>$_OUTDIR\en_CA\LC_MESSAGES\gdk-pixbuf.mo OK
geany-1.30_setup.exe|>$_OUTDIR\en_CA\LC_MESSAGES\glib20.mo OK
geany-1.30_setup.exe|>$_OUTDIR\en_CA\LC_MESSAGES\gtk20-properties.mo OK
geany-1.30_setup.exe|>$_OUTDIR\en_CA\LC_MESSAGES\gtk20.mo OK
geany-1.30_setup.exe|>$_OUTDIR\en_GB\LC_MESSAGES\atk10.mo OK
geany-1.30_setup.exe|>$_OUTDIR\locale\en_GB\LC_MESSAGES\gdk-pixbuf.mo OK
geany-1.30_setup.exe|>$_OUTDIR\locale\en_GB\LC_MESSAGES\glib20.mo OK
geany-1.30_setup.exe|>$_OUTDIR\locale\en_GB\LC_MESSAGES\gtk20-properties.mo OK
geany-1.30_setup.exe|>$_OUTDIR\en_GB\LC_MESSAGES\gtk20.mo OK
geany-1.30_setup.exe|>$_OUTDIR\eo\LC_MESSAGES\atk10.mo OK
geany-1.30_setup.exe|>$_OUTDIR\eo\LC_MESSAGES\gdk-pixbuf.mo OK
geany-1.30_setup.exe|>$_OUTDIR\eo\LC_MESSAGES\gettext-runtime.mo OK
geany-1.30_setup.exe|>$_OUTDIR\eo\LC_MESSAGES\glib20.mo OK
geany-1.30_setup.exe|>$_OUTDIR\eo\LC_MESSAGES\gtk20-properties.mo OK
geany-1.30_setup.exe|>$_OUTDIR\eo\LC_MESSAGES\gtk20.mo OK
geany-1.30_setup.exe|>$_OUTDIR\locale\es\LC_MESSAGES\atk10.mo OK
geany-1.30_setup.exe|>$_OUTDIR\es\LC_MESSAGES\gdk-pixbuf.mo OK
geany-1.30_setup.exe|>$_OUTDIR\locale\es\LC_MESSAGES\gettext-runtime.mo OK
geany-1.30_setup.exe|>$_OUTDIR\es\LC_MESSAGES\gettext-tools.mo OK
geany-1.30_setup.exe|>$_OUTDIR\locale\es\LC_MESSAGES\glib20.mo OK
geany-1.30_setup.exe|>$_OUTDIR\locale\es\LC_MESSAGES\gtk20-properties.mo OK
geany-1.30_setup.exe|>$_OUTDIR\locale\es\LC_MESSAGES\gtk20.mo OK
geany-1.30_setup.exe|>$_OUTDIR\locale\et\LC_MESSAGES\atk10.mo OK
geany-1.30_setup.exe|>$_OUTDIR\et\LC_MESSAGES\gdk-pixbuf.mo OK
geany-1.30_setup.exe|>$_OUTDIR\et\LC_MESSAGES\gettext-runtime.mo OK
geany-1.30_setup.exe|>$_OUTDIR\locale\et\LC_MESSAGES\gettext-tools.mo OK
geany-1.30_setup.exe|>$_OUTDIR\locale\et\LC_MESSAGES\glib20.mo OK
geany-1.30_setup.exe|>$_OUTDIR\et\LC_MESSAGES\gtk20-properties.mo OK
geany-1.30_setup.exe|>$_OUTDIR\locale\et\LC_MESSAGES\gtk20.mo OK
geany-1.30_setup.exe|>$_OUTDIR\eu\LC_MESSAGES\atk10.mo OK
geany-1.30_setup.exe|>$_OUTDIR\locale\eu\LC_MESSAGES\gdk-pixbuf.mo OK
geany-1.30_setup.exe|>$_OUTDIR\locale\eu\LC_MESSAGES\gettext-tools.mo OK
geany-1.30_setup.exe|>$_OUTDIR\locale\eu\LC_MESSAGES\glib20.mo OK
geany-1.30_setup.exe|>$_OUTDIR\locale\eu\LC_MESSAGES\gtk20-properties.mo OK
geany-1.30_setup.exe|>$_OUTDIR\eu\LC_MESSAGES\gtk20.mo OK
geany-1.30_setup.exe|>$_OUTDIR\fa\LC_MESSAGES\atk10.mo OK
geany-1.30_setup.exe|>$_OUTDIR\fa\LC_MESSAGES\gdk-pixbuf.mo OK
geany-1.30_setup.exe|>$_OUTDIR\fa\LC_MESSAGES\glib20.mo OK
geany-1.30_setup.exe|>$_OUTDIR\fa\LC_MESSAGES\gtk20-properties.mo OK
geany-1.30_setup.exe|>$_OUTDIR\locale\fa\LC_MESSAGES\gtk20.mo OK
geany-1.30_setup.exe|>$_OUTDIR\locale\fi\LC_MESSAGES\atk10.mo OK
geany-1.30_setup.exe|>$_OUTDIR\fi\LC_MESSAGES\gdk-pixbuf.mo OK
geany-1.30_setup.exe|>$_OUTDIR\locale\fi\LC_MESSAGES\gettext-runtime.mo OK
geany-1.30_setup.exe|>$_OUTDIR\fi\LC_MESSAGES\gettext-tools.mo OK
geany-1.30_setup.exe|>$_OUTDIR\fi\LC_MESSAGES\glib20.mo OK
geany-1.30_setup.exe|>$_OUTDIR\fi\LC_MESSAGES\gtk20-properties.mo OK
geany-1.30_setup.exe|>$_OUTDIR\fi\LC_MESSAGES\gtk20.mo OK
geany-1.30_setup.exe|>$_OUTDIR\locale\fr\LC_MESSAGES\atk10.mo OK
geany-1.30_setup.exe|>$_OUTDIR\locale\fr\LC_MESSAGES\gdk-pixbuf.mo OK
geany-1.30_setup.exe|>$_OUTDIR\fr\LC_MESSAGES\gettext-runtime.mo OK
geany-1.30_setup.exe|>$_OUTDIR\locale\fr\LC_MESSAGES\gettext-tools.mo OK
geany-1.30_setup.exe|>$_OUTDIR\locale\fr\LC_MESSAGES\glib20.mo OK
geany-1.30_setup.exe|>$_OUTDIR\locale\fr\LC_MESSAGES\gtk20-properties.mo OK
geany-1.30_setup.exe|>$_OUTDIR\locale\fr\LC_MESSAGES\gtk20.mo OK
geany-1.30_setup.exe|>$_OUTDIR\locale\fur\LC_MESSAGES\gdk-pixbuf.mo OK
geany-1.30_setup.exe|>$_OUTDIR\ga\LC_MESSAGES\atk10.mo OK
geany-1.30_setup.exe|>$_OUTDIR\ga\LC_MESSAGES\gdk-pixbuf.mo OK
geany-1.30_setup.exe|>$_OUTDIR\ga\LC_MESSAGES\gettext-runtime.mo OK
geany-1.30_setup.exe|>$_OUTDIR\ga\LC_MESSAGES\glib20.mo OK
geany-1.30_setup.exe|>$_OUTDIR\ga\LC_MESSAGES\gtk20-properties.mo OK
geany-1.30_setup.exe|>$_OUTDIR\ga\LC_MESSAGES\gtk20.mo OK
geany-1.30_setup.exe|>$_OUTDIR\locale\gd\LC_MESSAGES\atk10.mo OK
geany-1.30_setup.exe|>$_OUTDIR\locale\gd\LC_MESSAGES\glib20.mo OK
geany-1.30_setup.exe|>$_OUTDIR\gl\LC_MESSAGES\atk10.mo OK
geany-1.30_setup.exe|>$_OUTDIR\locale\gl\LC_MESSAGES\gdk-pixbuf.mo OK
geany-1.30_setup.exe|>$_OUTDIR\locale\gl\LC_MESSAGES\gettext-runtime.mo OK
geany-1.30_setup.exe|>$_OUTDIR\locale\gl\LC_MESSAGES\gettext-tools.mo OK
geany-1.30_setup.exe|>$_OUTDIR\gl\LC_MESSAGES\glib20.mo OK
geany-1.30_setup.exe|>$_OUTDIR\gl\LC_MESSAGES\gtk20-properties.mo OK
geany-1.30_setup.exe|>$_OUTDIR\gl\LC_MESSAGES\gtk20.mo OK
geany-1.30_setup.exe|>$_OUTDIR\locale\gu\LC_MESSAGES\atk10.mo OK
geany-1.30_setup.exe|>$_OUTDIR\gu\LC_MESSAGES\gdk-pixbuf.mo OK
geany-1.30_setup.exe|>$_OUTDIR\gu\LC_MESSAGES\glib20.mo OK
geany-1.30_setup.exe|>$_OUTDIR\locale\gu\LC_MESSAGES\gtk20-properties.mo OK
geany-1.30_setup.exe|>$_OUTDIR\locale\gu\LC_MESSAGES\gtk20.mo OK
geany-1.30_setup.exe|>$_OUTDIR\locale\he\LC_MESSAGES\atk10.mo OK
geany-1.30_setup.exe|>$_OUTDIR\locale\he\LC_MESSAGES\gdk-pixbuf.mo OK
geany-1.30_setup.exe|>$_OUTDIR\locale\he\LC_MESSAGES\glib20.mo OK
geany-1.30_setup.exe|>$_OUTDIR\locale\he\LC_MESSAGES\gtk20-properties.mo OK
geany-1.30_setup.exe|>$_OUTDIR\locale\he\LC_MESSAGES\gtk20.mo OK
geany-1.30_setup.exe|>$_OUTDIR\locale\hi\LC_MESSAGES\atk10.mo OK
geany-1.30_setup.exe|>$_OUTDIR\locale\hi\LC_MESSAGES\gdk-pixbuf.mo OK
geany-1.30_setup.exe|>$_OUTDIR\locale\hi\LC_MESSAGES\glib20.mo OK
geany-1.30_setup.exe|>$_OUTDIR\hi\LC_MESSAGES\gtk20-properties.mo OK
geany-1.30_setup.exe|>$_OUTDIR\hi\LC_MESSAGES\gtk20.mo OK
geany-1.30_setup.exe|>$_OUTDIR\hr\LC_MESSAGES\atk10.mo OK
geany-1.30_setup.exe|>$_OUTDIR\hr\LC_MESSAGES\gdk-pixbuf.mo OK
geany-1.30_setup.exe|>$_OUTDIR\hr\LC_MESSAGES\gettext-runtime.mo OK
geany-1.30_setup.exe|>$_OUTDIR\hr\LC_MESSAGES\glib20.mo OK
geany-1.30_setup.exe|>$_OUTDIR\hr\LC_MESSAGES\gtk20-properties.mo OK
geany-1.30_setup.exe|>$_OUTDIR\hr\LC_MESSAGES\gtk20.mo OK
geany-1.30_setup.exe|>$_OUTDIR\hu\LC_MESSAGES\atk10.mo OK
geany-1.30_setup.exe|>$_OUTDIR\hu\LC_MESSAGES\gdk-pixbuf.mo OK
geany-1.30_setup.exe|>$_OUTDIR\hu\LC_MESSAGES\gettext-runtime.mo OK
geany-1.30_setup.exe|>$_OUTDIR\hu\LC_MESSAGES\glib20.mo OK
geany-1.30_setup.exe|>$_OUTDIR\hu\LC_MESSAGES\gtk20-properties.mo OK
geany-1.30_setup.exe|>$_OUTDIR\hu\LC_MESSAGES\gtk20.mo OK
geany-1.30_setup.exe|>$_OUTDIR\hy\LC_MESSAGES\atk10.mo OK
geany-1.30_setup.exe|>$_OUTDIR\hy\LC_MESSAGES\gdk-pixbuf.mo OK
geany-1.30_setup.exe|>$_OUTDIR\hy\LC_MESSAGES\glib20.mo OK
geany-1.30_setup.exe|>$_OUTDIR\locale\hy\LC_MESSAGES\gtk20-properties.mo OK
geany-1.30_setup.exe|>$_OUTDIR\locale\hy\LC_MESSAGES\gtk20.mo OK
geany-1.30_setup.exe|>$_OUTDIR\locale\ia\LC_MESSAGES\gdk-pixbuf.mo OK
geany-1.30_setup.exe|>$_OUTDIR\locale\ia\LC_MESSAGES\gtk20-properties.mo OK
geany-1.30_setup.exe|>$_OUTDIR\locale\ia\LC_MESSAGES\gtk20.mo OK
geany-1.30_setup.exe|>$_OUTDIR\id\LC_MESSAGES\atk10.mo OK
geany-1.30_setup.exe|>$_OUTDIR\id\LC_MESSAGES\gdk-pixbuf.mo OK
geany-1.30_setup.exe|>$_OUTDIR\id\LC_MESSAGES\gettext-runtime.mo OK
geany-1.30_setup.exe|>$_OUTDIR\id\LC_MESSAGES\gettext-tools.mo OK
geany-1.30_setup.exe|>$_OUTDIR\id\LC_MESSAGES\glib20.mo OK
geany-1.30_setup.exe|>$_OUTDIR\id\LC_MESSAGES\gtk20-properties.mo OK
geany-1.30_setup.exe|>$_OUTDIR\id\LC_MESSAGES\gtk20.mo OK
geany-1.30_setup.exe|>$_OUTDIR\io\LC_MESSAGES\gdk-pixbuf.mo OK
geany-1.30_setup.exe|>$_OUTDIR\io\LC_MESSAGES\gtk20-properties.mo OK
geany-1.30_setup.exe|>$_OUTDIR\io\LC_MESSAGES\gtk20.mo OK
geany-1.30_setup.exe|>$_OUTDIR\is\LC_MESSAGES\atk10.mo OK
geany-1.30_setup.exe|>$_OUTDIR\is\LC_MESSAGES\gdk-pixbuf.mo OK
geany-1.30_setup.exe|>$_OUTDIR\is\LC_MESSAGES\glib20.mo OK
geany-1.30_setup.exe|>$_OUTDIR\is\LC_MESSAGES\gtk20-properties.mo OK
geany-1.30_setup.exe|>$_OUTDIR\is\LC_MESSAGES\gtk20.mo OK
geany-1.30_setup.exe|>$_OUTDIR\it\LC_MESSAGES\atk10.mo OK
geany-1.30_setup.exe|>$_OUTDIR\it\LC_MESSAGES\gdk-pixbuf.mo OK
geany-1.30_setup.exe|>$_OUTDIR\it\LC_MESSAGES\gettext-runtime.mo OK
geany-1.30_setup.exe|>$_OUTDIR\it\LC_MESSAGES\gettext-tools.mo OK
geany-1.30_setup.exe|>$_OUTDIR\it\LC_MESSAGES\glib20.mo OK
geany-1.30_setup.exe|>$_OUTDIR\it\LC_MESSAGES\gtk20-properties.mo OK
geany-1.30_setup.exe|>$_OUTDIR\it\LC_MESSAGES\gtk20.mo OK
geany-1.30_setup.exe|>$_OUTDIR\locale\ja\LC_MESSAGES\atk10.mo OK
geany-1.30_setup.exe|>$_OUTDIR\locale\ja\LC_MESSAGES\gdk-pixbuf.mo OK
geany-1.30_setup.exe|>$_OUTDIR\ja\LC_MESSAGES\gettext-runtime.mo OK
geany-1.30_setup.exe|>$_OUTDIR\ja\LC_MESSAGES\gettext-tools.mo OK
geany-1.30_setup.exe|>$_OUTDIR\ja\LC_MESSAGES\glib20.mo OK
geany-1.30_setup.exe|>$_OUTDIR\ja\LC_MESSAGES\gtk20-properties.mo OK
geany-1.30_setup.exe|>$_OUTDIR\ja\LC_MESSAGES\gtk20.mo OK
geany-1.30_setup.exe|>$_OUTDIR\locale\ka\LC_MESSAGES\atk10.mo OK
geany-1.30_setup.exe|>$_OUTDIR\ka\LC_MESSAGES\gdk-pixbuf.mo OK
geany-1.30_setup.exe|>$_OUTDIR\ka\LC_MESSAGES\glib20.mo OK
geany-1.30_setup.exe|>$_OUTDIR\ka\LC_MESSAGES\gtk20-properties.mo OK
geany-1.30_setup.exe|>$_OUTDIR\ka\LC_MESSAGES\gtk20.mo OK
geany-1.30_setup.exe|>$_OUTDIR\kk\LC_MESSAGES\atk10.mo OK
geany-1.30_setup.exe|>$_OUTDIR\kk\LC_MESSAGES\gdk-pixbuf.mo OK
geany-1.30_setup.exe|>$_OUTDIR\kk\LC_MESSAGES\glib20.mo OK
geany-1.30_setup.exe|>$_OUTDIR\kk\LC_MESSAGES\gtk20-properties.mo OK
geany-1.30_setup.exe|>$_OUTDIR\kk\LC_MESSAGES\gtk20.mo OK
geany-1.30_setup.exe|>$_OUTDIR\locale\km\LC_MESSAGES\atk10.mo OK
geany-1.30_setup.exe|>$_OUTDIR\km\LC_MESSAGES\gdk-pixbuf.mo OK
geany-1.30_setup.exe|>$_OUTDIR\locale\kn\LC_MESSAGES\atk10.mo OK
geany-1.30_setup.exe|>$_OUTDIR\locale\kn\LC_MESSAGES\gdk-pixbuf.mo OK
geany-1.30_setup.exe|>$_OUTDIR\locale\kn\LC_MESSAGES\glib20.mo OK
geany-1.30_setup.exe|>$_OUTDIR\locale\kn\LC_MESSAGES\gtk20-properties.mo OK
geany-1.30_setup.exe|>$_OUTDIR\locale\kn\LC_MESSAGES\gtk20.mo OK
geany-1.30_setup.exe|>$_OUTDIR\locale\ko\LC_MESSAGES\atk10.mo OK
geany-1.30_setup.exe|>$_OUTDIR\locale\ko\LC_MESSAGES\gdk-pixbuf.mo OK
geany-1.30_setup.exe|>$_OUTDIR\locale\ko\LC_MESSAGES\gettext-runtime.mo OK
geany-1.30_setup.exe|>$_OUTDIR\ko\LC_MESSAGES\gettext-tools.mo OK
geany-1.30_setup.exe|>$_OUTDIR\locale\ko\LC_MESSAGES\glib20.mo OK
geany-1.30_setup.exe|>$_OUTDIR\ko\LC_MESSAGES\gtk20-properties.mo OK
geany-1.30_setup.exe|>$_OUTDIR\ko\LC_MESSAGES\gtk20.mo OK
geany-1.30_setup.exe|>$_OUTDIR\ku\LC_MESSAGES\atk10.mo OK
geany-1.30_setup.exe|>$_OUTDIR\ku\LC_MESSAGES\gdk-pixbuf.mo OK
geany-1.30_setup.exe|>$_OUTDIR\ku\LC_MESSAGES\glib20.mo OK
geany-1.30_setup.exe|>$_OUTDIR\ku\LC_MESSAGES\gtk20-properties.mo OK
geany-1.30_setup.exe|>$_OUTDIR\ku\LC_MESSAGES\gtk20.mo OK
geany-1.30_setup.exe|>$_OUTDIR\li\LC_MESSAGES\atk10.mo OK
geany-1.30_setup.exe|>$_OUTDIR\li\LC_MESSAGES\gdk-pixbuf.mo OK
geany-1.30_setup.exe|>$_OUTDIR\li\LC_MESSAGES\gtk20-properties.mo OK
geany-1.30_setup.exe|>$_OUTDIR\li\LC_MESSAGES\gtk20.mo OK
geany-1.30_setup.exe|>$_OUTDIR\lt\LC_MESSAGES\atk10.mo OK
geany-1.30_setup.exe|>$_OUTDIR\lt\LC_MESSAGES\gdk-pixbuf.mo OK
geany-1.30_setup.exe|>$_OUTDIR\locale\lt\LC_MESSAGES\glib20.mo OK
geany-1.30_setup.exe|>$_OUTDIR\locale\lt\LC_MESSAGES\gtk20-properties.mo OK
geany-1.30_setup.exe|>$_OUTDIR\locale\lt\LC_MESSAGES\gtk20.mo OK
geany-1.30_setup.exe|>$_OUTDIR\locale\lv\LC_MESSAGES\atk10.mo OK
geany-1.30_setup.exe|>$_OUTDIR\lv\LC_MESSAGES\gdk-pixbuf.mo OK
geany-1.30_setup.exe|>$_OUTDIR\lv\LC_MESSAGES\glib20.mo OK
geany-1.30_setup.exe|>$_OUTDIR\lv\LC_MESSAGES\gtk20-properties.mo OK
geany-1.30_setup.exe|>$_OUTDIR\lv\LC_MESSAGES\gtk20.mo OK
geany-1.30_setup.exe|>$_OUTDIR\mai\LC_MESSAGES\atk10.mo OK
geany-1.30_setup.exe|>$_OUTDIR\mai\LC_MESSAGES\gdk-pixbuf.mo OK
geany-1.30_setup.exe|>$_OUTDIR\mai\LC_MESSAGES\glib20.mo OK
geany-1.30_setup.exe|>$_OUTDIR\mai\LC_MESSAGES\gtk20-properties.mo OK
geany-1.30_setup.exe|>$_OUTDIR\mai\LC_MESSAGES\gtk20.mo OK
geany-1.30_setup.exe|>$_OUTDIR\mg\LC_MESSAGES\glib20.mo OK
geany-1.30_setup.exe|>$_OUTDIR\mi\LC_MESSAGES\gdk-pixbuf.mo OK
geany-1.30_setup.exe|>$_OUTDIR\mi\LC_MESSAGES\gtk20-properties.mo OK
geany-1.30_setup.exe|>$_OUTDIR\mi\LC_MESSAGES\gtk20.mo OK
geany-1.30_setup.exe|>$_OUTDIR\mk\LC_MESSAGES\atk10.mo OK
geany-1.30_setup.exe|>$_OUTDIR\mk\LC_MESSAGES\gdk-pixbuf.mo OK
geany-1.30_setup.exe|>$_OUTDIR\mk\LC_MESSAGES\glib20.mo OK
geany-1.30_setup.exe|>$_OUTDIR\mk\LC_MESSAGES\gtk20-properties.mo OK
geany-1.30_setup.exe|>$_OUTDIR\mk\LC_MESSAGES\gtk20.mo OK
geany-1.30_setup.exe|>$_OUTDIR\locale\ml\LC_MESSAGES\atk10.mo OK
geany-1.30_setup.exe|>$_OUTDIR\ml\LC_MESSAGES\gdk-pixbuf.mo OK
geany-1.30_setup.exe|>$_OUTDIR\ml\LC_MESSAGES\glib20.mo OK
geany-1.30_setup.exe|>$_OUTDIR\ml\LC_MESSAGES\gtk20-properties.mo OK
geany-1.30_setup.exe|>$_OUTDIR\locale\ml\LC_MESSAGES\gtk20.mo OK
geany-1.30_setup.exe|>$_OUTDIR\locale\mn\LC_MESSAGES\atk10.mo OK
geany-1.30_setup.exe|>$_OUTDIR\locale\mn\LC_MESSAGES\gdk-pixbuf.mo OK
geany-1.30_setup.exe|>$_OUTDIR\locale\mn\LC_MESSAGES\glib20.mo OK
geany-1.30_setup.exe|>$_OUTDIR\locale\mn\LC_MESSAGES\gtk20-properties.mo OK
geany-1.30_setup.exe|>$_OUTDIR\mn\LC_MESSAGES\gtk20.mo OK
geany-1.30_setup.exe|>$_OUTDIR\locale\mr\LC_MESSAGES\atk10.mo OK
geany-1.30_setup.exe|>$_OUTDIR\locale\mr\LC_MESSAGES\gdk-pixbuf.mo OK
geany-1.30_setup.exe|>$_OUTDIR\locale\mr\LC_MESSAGES\glib20.mo OK
geany-1.30_setup.exe|>$_OUTDIR\locale\mr\LC_MESSAGES\gtk20-properties.mo OK
geany-1.30_setup.exe|>$_OUTDIR\locale\mr\LC_MESSAGES\gtk20.mo OK
geany-1.30_setup.exe|>$_OUTDIR\locale\ms\LC_MESSAGES\atk10.mo OK
geany-1.30_setup.exe|>$_OUTDIR\ms\LC_MESSAGES\gdk-pixbuf.mo OK
geany-1.30_setup.exe|>$_OUTDIR\ms\LC_MESSAGES\glib20.mo OK
geany-1.30_setup.exe|>$_OUTDIR\ms\LC_MESSAGES\gtk20-properties.mo OK
geany-1.30_setup.exe|>$_OUTDIR\ms\LC_MESSAGES\gtk20.mo OK
geany-1.30_setup.exe|>$_OUTDIR\my\LC_MESSAGES\gdk-pixbuf.mo OK
geany-1.30_setup.exe|>$_OUTDIR\my\LC_MESSAGES\gtk20-properties.mo OK
geany-1.30_setup.exe|>$_OUTDIR\my\LC_MESSAGES\gtk20.mo OK
geany-1.30_setup.exe|>$_OUTDIR\nb\LC_MESSAGES\atk10.mo OK
geany-1.30_setup.exe|>$_OUTDIR\nb\LC_MESSAGES\gdk-pixbuf.mo OK
geany-1.30_setup.exe|>$_OUTDIR\nb\LC_MESSAGES\gettext-runtime.mo OK
geany-1.30_setup.exe|>$_OUTDIR\nb\LC_MESSAGES\gettext-tools.mo OK
geany-1.30_setup.exe|>$_OUTDIR\nb\LC_MESSAGES\glib20.mo OK
geany-1.30_setup.exe|>$_OUTDIR\nb\LC_MESSAGES\gtk20-properties.mo OK
geany-1.30_setup.exe|>$_OUTDIR\nb\LC_MESSAGES\gtk20.mo OK
geany-1.30_setup.exe|>$_OUTDIR\nds\LC_MESSAGES\gdk-pixbuf.mo OK
geany-1.30_setup.exe|>$_OUTDIR\locale\nds\LC_MESSAGES\glib20.mo OK
geany-1.30_setup.exe|>$_OUTDIR\locale\nds\LC_MESSAGES\gtk20-properties.mo OK
geany-1.30_setup.exe|>$_OUTDIR\locale\nds\LC_MESSAGES\gtk20.mo OK
geany-1.30_setup.exe|>$_OUTDIR\locale\ne\LC_MESSAGES\atk10.mo OK
geany-1.30_setup.exe|>$_OUTDIR\ne\LC_MESSAGES\gdk-pixbuf.mo OK
geany-1.30_setup.exe|>$_OUTDIR\ne\LC_MESSAGES\glib20.mo OK
geany-1.30_setup.exe|>$_OUTDIR\ne\LC_MESSAGES\gtk20-properties.mo OK
geany-1.30_setup.exe|>$_OUTDIR\ne\LC_MESSAGES\gtk20.mo OK
geany-1.30_setup.exe|>$_OUTDIR\nl\LC_MESSAGES\atk10.mo OK
geany-1.30_setup.exe|>$_OUTDIR\nl\LC_MESSAGES\gdk-pixbuf.mo OK
geany-1.30_setup.exe|>$_OUTDIR\nl\LC_MESSAGES\gettext-runtime.mo OK
geany-1.30_setup.exe|>$_OUTDIR\nl\LC_MESSAGES\gettext-tools.mo OK
geany-1.30_setup.exe|>$_OUTDIR\locale\nl\LC_MESSAGES\glib20.mo OK
geany-1.30_setup.exe|>$_OUTDIR\nl\LC_MESSAGES\gtk20-properties.mo OK
geany-1.30_setup.exe|>$_OUTDIR\locale\nl\LC_MESSAGES\gtk20.mo OK
geany-1.30_setup.exe|>$_OUTDIR\locale\nn\LC_MESSAGES\atk10.mo OK
geany-1.30_setup.exe|>$_OUTDIR\locale\nn\LC_MESSAGES\gdk-pixbuf.mo OK
geany-1.30_setup.exe|>$_OUTDIR\locale\nn\LC_MESSAGES\gettext-runtime.mo OK
geany-1.30_setup.exe|>$_OUTDIR\locale\nn\LC_MESSAGES\gettext-tools.mo OK
geany-1.30_setup.exe|>$_OUTDIR\locale\nn\LC_MESSAGES\glib20.mo OK
geany-1.30_setup.exe|>$_OUTDIR\nn\LC_MESSAGES\gtk20-properties.mo OK
geany-1.30_setup.exe|>$_OUTDIR\nn\LC_MESSAGES\gtk20.mo OK
geany-1.30_setup.exe|>$_OUTDIR\locale\nso\LC_MESSAGES\gdk-pixbuf.mo OK
geany-1.30_setup.exe|>$_OUTDIR\nso\LC_MESSAGES\gtk20-properties.mo OK
geany-1.30_setup.exe|>$_OUTDIR\nso\LC_MESSAGES\gtk20.mo OK
geany-1.30_setup.exe|>$_OUTDIR\oc\LC_MESSAGES\atk10.mo OK
geany-1.30_setup.exe|>$_OUTDIR\locale\oc\LC_MESSAGES\gdk-pixbuf.mo OK
geany-1.30_setup.exe|>$_OUTDIR\locale\oc\LC_MESSAGES\glib20.mo OK
geany-1.30_setup.exe|>$_OUTDIR\locale\oc\LC_MESSAGES\gtk20-properties.mo OK
geany-1.30_setup.exe|>$_OUTDIR\oc\LC_MESSAGES\gtk20.mo OK
geany-1.30_setup.exe|>$_OUTDIR\or\LC_MESSAGES\atk10.mo OK
geany-1.30_setup.exe|>$_OUTDIR\locale\or\LC_MESSAGES\gdk-pixbuf.mo OK
geany-1.30_setup.exe|>$_OUTDIR\or\LC_MESSAGES\glib20.mo OK
geany-1.30_setup.exe|>$_OUTDIR\or\LC_MESSAGES\gtk20-properties.mo OK
geany-1.30_setup.exe|>$_OUTDIR\locale\or\LC_MESSAGES\gtk20.mo OK
geany-1.30_setup.exe|>$_OUTDIR\locale\pa\LC_MESSAGES\atk10.mo OK
geany-1.30_setup.exe|>$_OUTDIR\locale\pa\LC_MESSAGES\gdk-pixbuf.mo OK
geany-1.30_setup.exe|>$_OUTDIR\pa\LC_MESSAGES\gettext-tools.mo OK
geany-1.30_setup.exe|>$_OUTDIR\pa\LC_MESSAGES\glib20.mo OK
geany-1.30_setup.exe|>$_OUTDIR\locale\pa\LC_MESSAGES\gtk20-properties.mo OK
geany-1.30_setup.exe|>$_OUTDIR\locale\pa\LC_MESSAGES\gtk20.mo OK
geany-1.30_setup.exe|>$_OUTDIR\pl\LC_MESSAGES\atk10.mo OK
geany-1.30_setup.exe|>$_OUTDIR\pl\LC_MESSAGES\gdk-pixbuf.mo OK
geany-1.30_setup.exe|>$_OUTDIR\pl\LC_MESSAGES\gettext-runtime.mo OK
geany-1.30_setup.exe|>$_OUTDIR\locale\pl\LC_MESSAGES\gettext-tools.mo OK
geany-1.30_setup.exe|>$_OUTDIR\locale\pl\LC_MESSAGES\glib20.mo OK
geany-1.30_setup.exe|>$_OUTDIR\locale\pl\LC_MESSAGES\gtk20-properties.mo OK
geany-1.30_setup.exe|>$_OUTDIR\locale\pl\LC_MESSAGES\gtk20.mo OK
geany-1.30_setup.exe|>$_OUTDIR\ps\LC_MESSAGES\atk10.mo OK
geany-1.30_setup.exe|>$_OUTDIR\ps\LC_MESSAGES\gdk-pixbuf.mo OK
geany-1.30_setup.exe|>$_OUTDIR\ps\LC_MESSAGES\glib20.mo OK
geany-1.30_setup.exe|>$_OUTDIR\ps\LC_MESSAGES\gtk20-properties.mo OK
geany-1.30_setup.exe|>$_OUTDIR\ps\LC_MESSAGES\gtk20.mo OK
geany-1.30_setup.exe|>$_OUTDIR\pt\LC_MESSAGES\atk10.mo OK
geany-1.30_setup.exe|>$_OUTDIR\locale\pt\LC_MESSAGES\gdk-pixbuf.mo OK
geany-1.30_setup.exe|>$_OUTDIR\pt\LC_MESSAGES\gettext-runtime.mo OK
geany-1.30_setup.exe|>$_OUTDIR\locale\pt\LC_MESSAGES\gettext-tools.mo OK
geany-1.30_setup.exe|>$_OUTDIR\locale\pt\LC_MESSAGES\glib20.mo OK
geany-1.30_setup.exe|>$_OUTDIR\locale\pt\LC_MESSAGES\gtk20-properties.mo OK
geany-1.30_setup.exe|>$_OUTDIR\locale\pt\LC_MESSAGES\gtk20.mo OK
geany-1.30_setup.exe|>$_OUTDIR\locale\pt_BR\LC_MESSAGES\atk10.mo OK
geany-1.30_setup.exe|>$_OUTDIR\pt_BR\LC_MESSAGES\gdk-pixbuf.mo OK
geany-1.30_setup.exe|>$_OUTDIR\pt_BR\LC_MESSAGES\gettext-runtime.mo OK
geany-1.30_setup.exe|>$_OUTDIR\pt_BR\LC_MESSAGES\gettext-tools.mo OK
geany-1.30_setup.exe|>$_OUTDIR\pt_BR\LC_MESSAGES\glib20.mo OK
geany-1.30_setup.exe|>$_OUTDIR\locale\pt_BR\LC_MESSAGES\gtk20-properties.mo OK
geany-1.30_setup.exe|>$_OUTDIR\pt_BR\LC_MESSAGES\gtk20.mo OK
geany-1.30_setup.exe|>$_OUTDIR\ro\LC_MESSAGES\atk10.mo OK
geany-1.30_setup.exe|>$_OUTDIR\locale\ro\LC_MESSAGES\gdk-pixbuf.mo OK
geany-1.30_setup.exe|>$_OUTDIR\locale\ro\LC_MESSAGES\gettext-runtime.mo OK
geany-1.30_setup.exe|>$_OUTDIR\ro\LC_MESSAGES\gettext-tools.mo OK
geany-1.30_setup.exe|>$_OUTDIR\ro\LC_MESSAGES\glib20.mo OK
geany-1.30_setup.exe|>$_OUTDIR\locale\ro\LC_MESSAGES\gtk20-properties.mo OK
geany-1.30_setup.exe|>$_OUTDIR\locale\ro\LC_MESSAGES\gtk20.mo OK
geany-1.30_setup.exe|>$_OUTDIR\locale\ru\LC_MESSAGES\atk10.mo OK
geany-1.30_setup.exe|>$_OUTDIR\locale\ru\LC_MESSAGES\gdk-pixbuf.mo OK
geany-1.30_setup.exe|>$_OUTDIR\locale\ru\LC_MESSAGES\gettext-runtime.mo OK
geany-1.30_setup.exe|>$_OUTDIR\ru\LC_MESSAGES\gettext-tools.mo OK
geany-1.30_setup.exe|>$_OUTDIR\ru\LC_MESSAGES\glib20.mo OK
geany-1.30_setup.exe|>$_OUTDIR\ru\LC_MESSAGES\gtk20-properties.mo OK
geany-1.30_setup.exe|>$_OUTDIR\ru\LC_MESSAGES\gtk20.mo OK
geany-1.30_setup.exe|>$_OUTDIR\rw\LC_MESSAGES\atk10.mo OK
geany-1.30_setup.exe|>$_OUTDIR\locale\rw\LC_MESSAGES\glib20.mo OK
geany-1.30_setup.exe|>$_OUTDIR\rw\LC_MESSAGES\gtk20-properties.mo OK
geany-1.30_setup.exe|>$_OUTDIR\locale\rw\LC_MESSAGES\gtk20.mo OK
geany-1.30_setup.exe|>$_OUTDIR\locale\si\LC_MESSAGES\atk10.mo OK
geany-1.30_setup.exe|>$_OUTDIR\locale\si\LC_MESSAGES\gdk-pixbuf.mo OK
geany-1.30_setup.exe|>$_OUTDIR\locale\si\LC_MESSAGES\glib20.mo OK
geany-1.30_setup.exe|>$_OUTDIR\locale\si\LC_MESSAGES\gtk20-properties.mo OK
geany-1.30_setup.exe|>$_OUTDIR\locale\si\LC_MESSAGES\gtk20.mo OK
geany-1.30_setup.exe|>$_OUTDIR\locale\sk\LC_MESSAGES\atk10.mo OK
geany-1.30_setup.exe|>$_OUTDIR\locale\sk\LC_MESSAGES\gdk-pixbuf.mo OK
geany-1.30_setup.exe|>$_OUTDIR\sk\LC_MESSAGES\gettext-runtime.mo OK
geany-1.30_setup.exe|>$_OUTDIR\sk\LC_MESSAGES\gettext-tools.mo OK
geany-1.30_setup.exe|>$_OUTDIR\locale\sk\LC_MESSAGES\glib20.mo OK
geany-1.30_setup.exe|>$_OUTDIR\sk\LC_MESSAGES\gtk20-properties.mo OK
geany-1.30_setup.exe|>$_OUTDIR\sk\LC_MESSAGES\gtk20.mo OK
geany-1.30_setup.exe|>$_OUTDIR\locale\sl\LC_MESSAGES\atk10.mo OK
geany-1.30_setup.exe|>$_OUTDIR\sl\LC_MESSAGES\gdk-pixbuf.mo OK
geany-1.30_setup.exe|>$_OUTDIR\locale\sl\LC_MESSAGES\gettext-runtime.mo OK
geany-1.30_setup.exe|>$_OUTDIR\locale\sl\LC_MESSAGES\gettext-tools.mo OK
geany-1.30_setup.exe|>$_OUTDIR\locale\sl\LC_MESSAGES\glib20.mo OK
geany-1.30_setup.exe|>$_OUTDIR\locale\sl\LC_MESSAGES\gtk20-properties.mo OK
geany-1.30_setup.exe|>$_OUTDIR\locale\sl\LC_MESSAGES\gtk20.mo OK
geany-1.30_setup.exe|>$_OUTDIR\locale\sq\LC_MESSAGES\atk10.mo OK
geany-1.30_setup.exe|>$_OUTDIR\locale\sq\LC_MESSAGES\gdk-pixbuf.mo OK
geany-1.30_setup.exe|>$_OUTDIR\locale\sq\LC_MESSAGES\glib20.mo OK
geany-1.30_setup.exe|>$_OUTDIR\locale\sq\LC_MESSAGES\gtk20-properties.mo OK
geany-1.30_setup.exe|>$_OUTDIR\locale\sq\LC_MESSAGES\gtk20.mo OK
geany-1.30_setup.exe|>$_OUTDIR\locale\sr\LC_MESSAGES\atk10.mo OK
geany-1.30_setup.exe|>$_OUTDIR\locale\sr\LC_MESSAGES\gdk-pixbuf.mo OK
geany-1.30_setup.exe|>$_OUTDIR\locale\sr\LC_MESSAGES\gettext-runtime.mo OK
geany-1.30_setup.exe|>$_OUTDIR\locale\sr\LC_MESSAGES\gettext-tools.mo OK
geany-1.30_setup.exe|>$_OUTDIR\locale\sr\LC_MESSAGES\glib20.mo OK
geany-1.30_setup.exe|>$_OUTDIR\locale\sr\LC_MESSAGES\gtk20-properties.mo OK
geany-1.30_setup.exe|>$_OUTDIR\sr\LC_MESSAGES\gtk20.mo OK
geany-1.30_setup.exe|>$_OUTDIR\locale\sr@ije\LC_MESSAGES\atk10.mo OK
geany-1.30_setup.exe|>$_OUTDIR\sr@ije\LC_MESSAGES\gdk-pixbuf.mo OK
geany-1.30_setup.exe|>$_OUTDIR\sr@ije\LC_MESSAGES\glib20.mo OK
geany-1.30_setup.exe|>$_OUTDIR\sr@ije\LC_MESSAGES\gtk20-properties.mo OK
geany-1.30_setup.exe|>$_OUTDIR\locale\sr@ije\LC_MESSAGES\gtk20.mo OK
geany-1.30_setup.exe|>$_OUTDIR\sr@latin\LC_MESSAGES\atk10.mo OK
geany-1.30_setup.exe|>$_OUTDIR\sr@latin\LC_MESSAGES\gdk-pixbuf.mo OK
geany-1.30_setup.exe|>$_OUTDIR\sr@latin\LC_MESSAGES\glib20.mo OK
geany-1.30_setup.exe|>$_OUTDIR\locale\sr@latin\LC_MESSAGES\gtk20-properties.mo OK
geany-1.30_setup.exe|>$_OUTDIR\locale\sr@latin\LC_MESSAGES\gtk20.mo OK
geany-1.30_setup.exe|>$_OUTDIR\sv\LC_MESSAGES\atk10.mo OK
geany-1.30_setup.exe|>$_OUTDIR\sv\LC_MESSAGES\gdk-pixbuf.mo OK
geany-1.30_setup.exe|>$_OUTDIR\locale\sv\LC_MESSAGES\gettext-runtime.mo OK
geany-1.30_setup.exe|>$_OUTDIR\sv\LC_MESSAGES\gettext-tools.mo OK
geany-1.30_setup.exe|>$_OUTDIR\sv\LC_MESSAGES\glib20.mo OK
geany-1.30_setup.exe|>$_OUTDIR\sv\LC_MESSAGES\gtk20-properties.mo OK
geany-1.30_setup.exe|>$_OUTDIR\sv\LC_MESSAGES\gtk20.mo OK
geany-1.30_setup.exe|>$_OUTDIR\ta\LC_MESSAGES\atk10.mo OK
geany-1.30_setup.exe|>$_OUTDIR\ta\LC_MESSAGES\gdk-pixbuf.mo OK
geany-1.30_setup.exe|>$_OUTDIR\locale\ta\LC_MESSAGES\glib20.mo OK
geany-1.30_setup.exe|>$_OUTDIR\ta\LC_MESSAGES\gtk20-properties.mo OK
geany-1.30_setup.exe|>$_OUTDIR\ta\LC_MESSAGES\gtk20.mo OK
geany-1.30_setup.exe|>$_OUTDIR\te\LC_MESSAGES\atk10.mo OK
geany-1.30_setup.exe|>$_OUTDIR\te\LC_MESSAGES\gdk-pixbuf.mo OK
geany-1.30_setup.exe|>$_OUTDIR\te\LC_MESSAGES\glib20.mo OK
geany-1.30_setup.exe|>$_OUTDIR\te\LC_MESSAGES\gtk20-properties.mo OK
geany-1.30_setup.exe|>$_OUTDIR\te\LC_MESSAGES\gtk20.mo OK
geany-1.30_setup.exe|>$_OUTDIR\tg\LC_MESSAGES\atk10.mo OK
geany-1.30_setup.exe|>$_OUTDIR\tg\LC_MESSAGES\gdk-pixbuf.mo OK
geany-1.30_setup.exe|>$_OUTDIR\tg\LC_MESSAGES\glib20.mo OK
geany-1.30_setup.exe|>$_OUTDIR\locale\th\LC_MESSAGES\atk10.mo OK
geany-1.30_setup.exe|>$_OUTDIR\th\LC_MESSAGES\gdk-pixbuf.mo OK
geany-1.30_setup.exe|>$_OUTDIR\th\LC_MESSAGES\glib20.mo OK
geany-1.30_setup.exe|>$_OUTDIR\locale\th\LC_MESSAGES\gtk20-properties.mo OK
geany-1.30_setup.exe|>$_OUTDIR\locale\th\LC_MESSAGES\gtk20.mo OK
geany-1.30_setup.exe|>$_OUTDIR\locale\tk\LC_MESSAGES\atk10.mo OK
geany-1.30_setup.exe|>$_OUTDIR\tk\LC_MESSAGES\gdk-pixbuf.mo OK
geany-1.30_setup.exe|>$_OUTDIR\locale\tk\LC_MESSAGES\gtk20-properties.mo OK
geany-1.30_setup.exe|>$_OUTDIR\tk\LC_MESSAGES\gtk20.mo OK
geany-1.30_setup.exe|>$_OUTDIR\locale\tl\LC_MESSAGES\glib20.mo OK
geany-1.30_setup.exe|>$_OUTDIR\tr\LC_MESSAGES\atk10.mo OK
geany-1.30_setup.exe|>$_OUTDIR\tr\LC_MESSAGES\gdk-pixbuf.mo OK
geany-1.30_setup.exe|>$_OUTDIR\locale\tr\LC_MESSAGES\gettext-runtime.mo OK
geany-1.30_setup.exe|>$_OUTDIR\locale\tr\LC_MESSAGES\gettext-tools.mo OK
geany-1.30_setup.exe|>$_OUTDIR\locale\tr\LC_MESSAGES\glib20.mo OK
geany-1.30_setup.exe|>$_OUTDIR\locale\tr\LC_MESSAGES\gtk20-properties.mo OK
geany-1.30_setup.exe|>$_OUTDIR\locale\tr\LC_MESSAGES\gtk20.mo OK
geany-1.30_setup.exe|>$_OUTDIR\locale\tt\LC_MESSAGES\atk10.mo OK
geany-1.30_setup.exe|>$_OUTDIR\locale\tt\LC_MESSAGES\gdk-pixbuf.mo OK
geany-1.30_setup.exe|>$_OUTDIR\tt\LC_MESSAGES\glib20.mo OK
geany-1.30_setup.exe|>$_OUTDIR\locale\tt\LC_MESSAGES\gtk20-properties.mo OK
geany-1.30_setup.exe|>$_OUTDIR\locale\tt\LC_MESSAGES\gtk20.mo OK
geany-1.30_setup.exe|>$_OUTDIR\locale\ug\LC_MESSAGES\atk10.mo OK
geany-1.30_setup.exe|>$_OUTDIR\ug\LC_MESSAGES\gdk-pixbuf.mo OK
geany-1.30_setup.exe|>$_OUTDIR\ug\LC_MESSAGES\glib20.mo OK
geany-1.30_setup.exe|>$_OUTDIR\ug\LC_MESSAGES\gtk20-properties.mo OK
geany-1.30_setup.exe|>$_OUTDIR\ug\LC_MESSAGES\gtk20.mo OK
geany-1.30_setup.exe|>$_OUTDIR\uk\LC_MESSAGES\atk10.mo OK
geany-1.30_setup.exe|>$_OUTDIR\uk\LC_MESSAGES\gdk-pixbuf.mo OK
geany-1.30_setup.exe|>$_OUTDIR\uk\LC_MESSAGES\gettext-runtime.mo OK
geany-1.30_setup.exe|>$_OUTDIR\uk\LC_MESSAGES\gettext-tools.mo OK
geany-1.30_setup.exe|>$_OUTDIR\uk\LC_MESSAGES\glib20.mo OK
geany-1.30_setup.exe|>$_OUTDIR\uk\LC_MESSAGES\gtk20-properties.mo OK
geany-1.30_setup.exe|>$_OUTDIR\uk\LC_MESSAGES\gtk20.mo OK
geany-1.30_setup.exe|>$_OUTDIR\ur\LC_MESSAGES\gtk20-properties.mo OK
geany-1.30_setup.exe|>$_OUTDIR\ur\LC_MESSAGES\gtk20.mo OK
geany-1.30_setup.exe|>$_OUTDIR\locale\uz\LC_MESSAGES\gdk-pixbuf.mo OK
geany-1.30_setup.exe|>$_OUTDIR\uz\LC_MESSAGES\gtk20-properties.mo OK
geany-1.30_setup.exe|>$_OUTDIR\locale\uz\LC_MESSAGES\gtk20.mo OK
geany-1.30_setup.exe|>$_OUTDIR\uz@cyrillic\LC_MESSAGES\gdk-pixbuf.mo OK
geany-1.30_setup.exe|>$_OUTDIR\uz@cyrillic\LC_MESSAGES\gtk20-properties.mo OK
geany-1.30_setup.exe|>$_OUTDIR\locale\uz@cyrillic\LC_MESSAGES\gtk20.mo OK
geany-1.30_setup.exe|>$_OUTDIR\vi\LC_MESSAGES\atk10.mo OK
geany-1.30_setup.exe|>$_OUTDIR\vi\LC_MESSAGES\gdk-pixbuf.mo OK
geany-1.30_setup.exe|>$_OUTDIR\vi\LC_MESSAGES\gettext-runtime.mo OK
geany-1.30_setup.exe|>$_OUTDIR\vi\LC_MESSAGES\gettext-tools.mo OK
geany-1.30_setup.exe|>$_OUTDIR\vi\LC_MESSAGES\glib20.mo OK
geany-1.30_setup.exe|>$_OUTDIR\vi\LC_MESSAGES\gtk20-properties.mo OK
geany-1.30_setup.exe|>$_OUTDIR\vi\LC_MESSAGES\gtk20.mo OK
geany-1.30_setup.exe|>$_OUTDIR\wa\LC_MESSAGES\atk10.mo OK
geany-1.30_setup.exe|>$_OUTDIR\wa\LC_MESSAGES\gdk-pixbuf.mo OK
geany-1.30_setup.exe|>$_OUTDIR\wa\LC_MESSAGES\glib20.mo OK
geany-1.30_setup.exe|>$_OUTDIR\wa\LC_MESSAGES\gtk20-properties.mo OK
geany-1.30_setup.exe|>$_OUTDIR\wa\LC_MESSAGES\gtk20.mo OK
geany-1.30_setup.exe|>$_OUTDIR\xh\LC_MESSAGES\atk10.mo OK
geany-1.30_setup.exe|>$_OUTDIR\xh\LC_MESSAGES\gdk-pixbuf.mo OK
geany-1.30_setup.exe|>$_OUTDIR\xh\LC_MESSAGES\glib20.mo OK
geany-1.30_setup.exe|>$_OUTDIR\xh\LC_MESSAGES\gtk20-properties.mo OK
geany-1.30_setup.exe|>$_OUTDIR\xh\LC_MESSAGES\gtk20.mo OK
geany-1.30_setup.exe|>$_OUTDIR\locale\yi\LC_MESSAGES\atk10.mo OK
geany-1.30_setup.exe|>$_OUTDIR\locale\yi\LC_MESSAGES\gdk-pixbuf.mo OK
geany-1.30_setup.exe|>$_OUTDIR\locale\yi\LC_MESSAGES\glib20.mo OK
geany-1.30_setup.exe|>$_OUTDIR\locale\yi\LC_MESSAGES\gtk20-properties.mo OK
geany-1.30_setup.exe|>$_OUTDIR\locale\yi\LC_MESSAGES\gtk20.mo OK
geany-1.30_setup.exe|>$_OUTDIR\locale\zh_CN\LC_MESSAGES\atk10.mo OK
geany-1.30_setup.exe|>$_OUTDIR\zh_CN\LC_MESSAGES\gdk-pixbuf.mo OK
geany-1.30_setup.exe|>$_OUTDIR\zh_CN\LC_MESSAGES\gettext-runtime.mo OK
geany-1.30_setup.exe|>$_OUTDIR\locale\zh_CN\LC_MESSAGES\gettext-tools.mo OK
geany-1.30_setup.exe|>$_OUTDIR\zh_CN\LC_MESSAGES\glib20.mo OK
geany-1.30_setup.exe|>$_OUTDIR\zh_CN\LC_MESSAGES\gtk20-properties.mo OK
geany-1.30_setup.exe|>$_OUTDIR\zh_CN\LC_MESSAGES\gtk20.mo OK
geany-1.30_setup.exe|>$_OUTDIR\locale\zh_HK\LC_MESSAGES\atk10.mo OK
geany-1.30_setup.exe|>$_OUTDIR\locale\zh_HK\LC_MESSAGES\gdk-pixbuf.mo OK
geany-1.30_setup.exe|>$_OUTDIR\locale\zh_HK\LC_MESSAGES\gettext-runtime.mo OK
geany-1.30_setup.exe|>$_OUTDIR\locale\zh_HK\LC_MESSAGES\glib20.mo OK
geany-1.30_setup.exe|>$_OUTDIR\zh_HK\LC_MESSAGES\gtk20-properties.mo OK
geany-1.30_setup.exe|>$_OUTDIR\locale\zh_HK\LC_MESSAGES\gtk20.mo OK
geany-1.30_setup.exe|>$_OUTDIR\zh_TW\LC_MESSAGES\atk10.mo OK
geany-1.30_setup.exe|>$_OUTDIR\zh_TW\LC_MESSAGES\gdk-pixbuf.mo OK
geany-1.30_setup.exe|>$_OUTDIR\zh_TW\LC_MESSAGES\gettext-runtime.mo OK
geany-1.30_setup.exe|>$_OUTDIR\zh_TW\LC_MESSAGES\gettext-tools.mo OK
geany-1.30_setup.exe|>$_OUTDIR\zh_TW\LC_MESSAGES\glib20.mo OK
geany-1.30_setup.exe|>$_OUTDIR\zh_TW\LC_MESSAGES\gtk20-properties.mo OK
geany-1.30_setup.exe|>$_OUTDIR\zh_TW\LC_MESSAGES\gtk20.mo OK
geany-1.30_setup.exe|>$_OUTDIR\zu\LC_MESSAGES\atk10.mo OK
geany-1.30_setup.exe|>$_OUTDIR\geany\ScintillaLicense.txt OK
geany-1.30_setup.exe|>$_OUTDIR\geany\manual.txt OK
geany-1.30_setup.exe|>$_OUTDIR\geany\html\index.html OK
geany-1.30_setup.exe|>$_OUTDIR\geany\html\images\build_menu_commands_dialog.png OK
geany-1.30_setup.exe|>$_OUTDIR\geany\html\images\find_dialog.png OK
geany-1.30_setup.exe|>$_OUTDIR\geany\html\images\find_in_files_dialog.png OK
geany-1.30_setup.exe|>$_OUTDIR\geany\html\images\main_window.png OK
geany-1.30_setup.exe|>$_OUTDIR\geany\html\images\pref_dialog_edit_completions.png OK
geany-1.30_setup.exe|>$_OUTDIR\geany\html\images\pref_dialog_edit_display.png OK
geany-1.30_setup.exe|>$_OUTDIR\geany\html\images\pref_dialog_edit_features.png OK
geany-1.30_setup.exe|>$_OUTDIR\geany\html\images\pref_dialog_edit_indentation.png OK
geany-1.30_setup.exe|>$_OUTDIR\geany\html\images\pref_dialog_files.png OK
geany-1.30_setup.exe|>$_OUTDIR\geany\html\images\pref_dialog_gen_misc.png OK
geany-1.30_setup.exe|>$_OUTDIR\geany\html\images\pref_dialog_gen_startup.png OK
geany-1.30_setup.exe|>$_OUTDIR\geany\html\images\pref_dialog_interface_interface.png OK
geany-1.30_setup.exe|>$_OUTDIR\geany\html\images\pref_dialog_interface_notebook.png OK
geany-1.30_setup.exe|>$_OUTDIR\geany\html\images\pref_dialog_interface_toolbar.png OK
geany-1.30_setup.exe|>$_OUTDIR\geany\html\images\pref_dialog_keys.png OK
geany-1.30_setup.exe|>$_OUTDIR\geany\html\images\pref_dialog_printing.png OK
geany-1.30_setup.exe|>$_OUTDIR\geany\html\images\pref_dialog_templ.png OK
geany-1.30_setup.exe|>$_OUTDIR\geany\html\images\pref_dialog_tools.png OK
geany-1.30_setup.exe|>$_OUTDIR\geany\html\images\pref_dialog_various.png OK
geany-1.30_setup.exe|>$_OUTDIR\geany\html\images\pref_dialog_vte.png OK
geany-1.30_setup.exe|>$_OUTDIR\geany\html\images\replace_dialog.png OK
geany-1.30_setup.exe|>$INSTDIR\data\tags\entities.html.tags OK
geany-1.30_setup.exe|>$INSTDIR\data\tags\std.pas.tags OK
geany-1.30_setup.exe|>$INSTDIR\data\tags\std.php.tags OK
geany-1.30_setup.exe|>$INSTDIR\data\tags\std.py.tags OK
geany-1.30_setup.exe|>$INSTDIR\data\tags\std99.c.tags OK
geany-1.30_setup.exe|>$INSTDIR\ReadMe.Dependencies.Geany.txt OK
geany-1.30_setup.exe|>$INSTDIR\bin\grep.exe OK
geany-1.30_setup.exe|>$INSTDIR\bin\libasprintf-0.dll OK
geany-1.30_setup.exe|>$INSTDIR\bin\libatk-1.0-0.dll OK
geany-1.30_setup.exe|>$INSTDIR\bin\libatomic-1.dll OK
geany-1.30_setup.exe|>$INSTDIR\bin\libbz2-1.dll OK
geany-1.30_setup.exe|>$INSTDIR\bin\libcairo-2.dll OK
geany-1.30_setup.exe|>$INSTDIR\bin\libcairo-gobject-2.dll OK
geany-1.30_setup.exe|>$INSTDIR\bin\libcairo-script-interpreter-2.dll OK
geany-1.30_setup.exe|>$INSTDIR\bin\libcharset-1.dll OK
geany-1.30_setup.exe|>$INSTDIR\bin\libexpat-1.dll OK
geany-1.30_setup.exe|>$INSTDIR\bin\libffi-6.dll OK
geany-1.30_setup.exe|>$INSTDIR\bin\libfontconfig-1.dll OK
geany-1.30_setup.exe|>$INSTDIR\bin\libfreetype-6.dll OK
geany-1.30_setup.exe|>$INSTDIR\bin\libgailutil-18.dll OK
geany-1.30_setup.exe|>$INSTDIR\bin\libgdk-win32-2.0-0.dll OK
geany-1.30_setup.exe|>$INSTDIR\bin\libgdk_pixbuf-2.0-0.dll OK
geany-1.30_setup.exe|>$INSTDIR\bin\libgettextlib-0-19-8-1.dll OK
geany-1.30_setup.exe|>$INSTDIR\bin\libgettextpo-0.dll OK
geany-1.30_setup.exe|>$INSTDIR\bin\libgettextsrc-0-19-8-1.dll OK
geany-1.30_setup.exe|>$INSTDIR\bin\libgio-2.0-0.dll OK
geany-1.30_setup.exe|>$INSTDIR\bin\libglib-2.0-0.dll OK
geany-1.30_setup.exe|>$INSTDIR\bin\libgmodule-2.0-0.dll OK
geany-1.30_setup.exe|>$INSTDIR\bin\libgobject-2.0-0.dll OK
geany-1.30_setup.exe|>$INSTDIR\bin\libgomp-1.dll OK
geany-1.30_setup.exe|>$INSTDIR\bin\libgraphite2.dll OK
geany-1.30_setup.exe|>$INSTDIR\bin\libgthread-2.0-0.dll OK
geany-1.30_setup.exe|>$INSTDIR\bin\libgtk-win32-2.0-0.dll OK
geany-1.30_setup.exe|>$INSTDIR\bin\libharfbuzz-0.dll OK
geany-1.30_setup.exe|>$INSTDIR\bin\libharfbuzz-gobject-0.dll OK
geany-1.30_setup.exe|>$INSTDIR\bin\libharfbuzz-icu-0.dll OK
geany-1.30_setup.exe|>$INSTDIR\bin\libiconv-2.dll OK
geany-1.30_setup.exe|>$INSTDIR\bin\libintl-8.dll OK
geany-1.30_setup.exe|>$INSTDIR\bin\libminizip-1.dll OK
geany-1.30_setup.exe|>$INSTDIR\bin\libpango-1.0-0.dll OK
geany-1.30_setup.exe|>$INSTDIR\bin\libpangocairo-1.0-0.dll OK
geany-1.30_setup.exe|>$INSTDIR\bin\libpangoft2-1.0-0.dll OK
geany-1.30_setup.exe|>$INSTDIR\bin\libpangowin32-1.0-0.dll OK
geany-1.30_setup.exe|>$INSTDIR\bin\libpcre-1.dll OK
geany-1.30_setup.exe|>$INSTDIR\bin\libpcre16-0.dll OK
geany-1.30_setup.exe|>$INSTDIR\bin\libpcre32-0.dll OK
geany-1.30_setup.exe|>$INSTDIR\bin\libpcrecpp-0.dll OK
geany-1.30_setup.exe|>$INSTDIR\bin\libpcreposix-0.dll OK
geany-1.30_setup.exe|>$INSTDIR\bin\libpixman-1-0.dll OK
geany-1.30_setup.exe|>$INSTDIR\bin\libpng16-16.dll OK
geany-1.30_setup.exe|>$INSTDIR\bin\libquadmath-0.dll OK
geany-1.30_setup.exe|>$INSTDIR\bin\libssp-0.dll OK
geany-1.30_setup.exe|>$INSTDIR\bin\msys-2.0.dll OK
geany-1.30_setup.exe|>$INSTDIR\bin\msys-gcc_s-1.dll OK
geany-1.30_setup.exe|>$INSTDIR\bin\msys-iconv-2.dll OK
geany-1.30_setup.exe|>$INSTDIR\bin\msys-intl-8.dll OK
geany-1.30_setup.exe|>$INSTDIR\bin\msys-pcre-1.dll OK
geany-1.30_setup.exe|>$INSTDIR\bin\sort.exe OK
geany-1.30_setup.exe|>$INSTDIR\bin\zlib1.dll OK
geany-1.30_setup.exe|>$_OUTDIR\fonts\fonts.conf OK
geany-1.30_setup.exe|>$_OUTDIR\fontconfig\conf.avail\10-hinting-slight.conf OK
geany-1.30_setup.exe|>$_OUTDIR\fontconfig\conf.avail\10-scale-bitmap-fonts.conf OK
geany-1.30_setup.exe|>$_OUTDIR\fonts\conf.d\20-unhint-small-vera.conf OK
geany-1.30_setup.exe|>$_OUTDIR\fonts\conf.d\30-metric-aliases.conf OK
geany-1.30_setup.exe|>$_OUTDIR\fontconfig\conf.avail\30-urw-aliases.conf OK
geany-1.30_setup.exe|>$_OUTDIR\fontconfig\conf.avail\40-nonlatin.conf OK
geany-1.30_setup.exe|>$_OUTDIR\fontconfig\conf.avail\45-latin.conf OK
geany-1.30_setup.exe|>$_OUTDIR\fontconfig\conf.avail\49-sansserif.conf OK
geany-1.30_setup.exe|>$_OUTDIR\fontconfig\conf.avail\50-user.conf OK
geany-1.30_setup.exe|>$_OUTDIR\fonts\conf.d\51-local.conf OK
geany-1.30_setup.exe|>$_OUTDIR\fonts\conf.d\60-latin.conf OK
geany-1.30_setup.exe|>$_OUTDIR\fonts\conf.d\65-fonts-persian.conf OK
geany-1.30_setup.exe|>$_OUTDIR\fonts\conf.d\65-nonlatin.conf OK
geany-1.30_setup.exe|>$_OUTDIR\fontconfig\conf.avail\69-unifont.conf OK
geany-1.30_setup.exe|>$_OUTDIR\fontconfig\conf.avail\80-delicious.conf OK
geany-1.30_setup.exe|>$_OUTDIR\fontconfig\conf.avail\90-synthetic.conf OK
geany-1.30_setup.exe|>$_OUTDIR\fonts\conf.d\README OK
geany-1.30_setup.exe|>$_OUTDIR\gtk-2.0\im-multipress.conf OK
geany-1.30_setup.exe|>$_OUTDIR\gdk-pixbuf-2.0\2.10.0\loaders.cache OK
geany-1.30_setup.exe|>$_OUTDIR\gdk-pixbuf-2.0\2.10.0\loaders\libpixbufloader-ani.dll OK
geany-1.30_setup.exe|>$_OUTDIR\gdk-pixbuf-2.0\2.10.0\loaders\libpixbufloader-bmp.dll OK
geany-1.30_setup.exe|>$_OUTDIR\gdk-pixbuf-2.0\2.10.0\loaders\libpixbufloader-gif.dll OK
geany-1.30_setup.exe|>$_OUTDIR\gdk-pixbuf-2.0\2.10.0\loaders\libpixbufloader-icns.dll OK
geany-1.30_setup.exe|>$_OUTDIR\gdk-pixbuf-2.0\2.10.0\loaders\libpixbufloader-ico.dll OK
geany-1.30_setup.exe|>$_OUTDIR\gdk-pixbuf-2.0\2.10.0\loaders\libpixbufloader-jpeg.dll OK
geany-1.30_setup.exe|>$_OUTDIR\gdk-pixbuf-2.0\2.10.0\loaders\libpixbufloader-pnm.dll OK
geany-1.30_setup.exe|>$_OUTDIR\gdk-pixbuf-2.0\2.10.0\loaders\libpixbufloader-qtif.dll OK
geany-1.30_setup.exe|>$_OUTDIR\gdk-pixbuf-2.0\2.10.0\loaders\libpixbufloader-tga.dll OK
geany-1.30_setup.exe|>$_OUTDIR\gdk-pixbuf-2.0\2.10.0\loaders\libpixbufloader-tiff.dll OK
geany-1.30_setup.exe|>$_OUTDIR\gdk-pixbuf-2.0\2.10.0\loaders\libpixbufloader-xbm.dll OK
geany-1.30_setup.exe|>$_OUTDIR\gdk-pixbuf-2.0\2.10.0\loaders\libpixbufloader-xpm.dll OK
geany-1.30_setup.exe|>$_OUTDIR\gtk-2.0\2.10.0\immodules.cache OK
geany-1.30_setup.exe|>$_OUTDIR\gtk-2.0\2.10.0\engines\libpixmap.dll OK
geany-1.30_setup.exe|>$_OUTDIR\gtk-2.0\2.10.0\engines\libwimp.dll OK
geany-1.30_setup.exe|>$_OUTDIR\gtk-2.0\modules\libgail.dll OK
geany-1.30_setup.exe|>$_OUTDIR\fontconfig\conf.avail\10-autohint.conf OK
geany-1.30_setup.exe|>$_OUTDIR\fontconfig\conf.avail\10-hinting-full.conf OK
geany-1.30_setup.exe|>$_OUTDIR\fontconfig\conf.avail\10-hinting-medium.conf OK
geany-1.30_setup.exe|>$_OUTDIR\fontconfig\conf.avail\10-hinting-none.conf OK
geany-1.30_setup.exe|>$_OUTDIR\fontconfig\conf.avail\10-no-sub-pixel.conf OK
geany-1.30_setup.exe|>$_OUTDIR\fontconfig\conf.avail\10-sub-pixel-bgr.conf OK
geany-1.30_setup.exe|>$_OUTDIR\fontconfig\conf.avail\10-sub-pixel-rgb.conf OK
geany-1.30_setup.exe|>$_OUTDIR\fontconfig\conf.avail\10-sub-pixel-vbgr.conf OK
geany-1.30_setup.exe|>$_OUTDIR\fontconfig\conf.avail\10-sub-pixel-vrgb.conf OK
geany-1.30_setup.exe|>$_OUTDIR\fontconfig\conf.avail\10-unhinted.conf OK
geany-1.30_setup.exe|>$_OUTDIR\fontconfig\conf.avail\11-lcdfilter-default.conf OK
geany-1.30_setup.exe|>$_OUTDIR\fontconfig\conf.avail\11-lcdfilter-legacy.conf OK
geany-1.30_setup.exe|>$_OUTDIR\fontconfig\conf.avail\11-lcdfilter-light.conf OK
geany-1.30_setup.exe|>$_OUTDIR\fontconfig\conf.avail\25-unhint-nonlatin.conf OK
geany-1.30_setup.exe|>$_OUTDIR\fontconfig\conf.avail\65-khmer.conf OK
geany-1.30_setup.exe|>$_OUTDIR\fontconfig\conf.avail\70-no-bitmaps.conf OK
geany-1.30_setup.exe|>$_OUTDIR\fontconfig\conf.avail\70-yes-bitmaps.conf OK
geany-1.30_setup.exe|>$_OUTDIR\gettext-0.19.8\its\appdata.its OK
geany-1.30_setup.exe|>$_OUTDIR\gettext-0.19.8\its\appdata.loc OK
geany-1.30_setup.exe|>$_OUTDIR\gettext-0.19.8\its\glade.loc OK
geany-1.30_setup.exe|>$_OUTDIR\gettext-0.19.8\its\glade1.its OK
geany-1.30_setup.exe|>$_OUTDIR\gettext-0.19.8\its\glade2.its OK
geany-1.30_setup.exe|>$_OUTDIR\gettext-0.19.8\its\gsettings.its OK
geany-1.30_setup.exe|>$_OUTDIR\gettext-0.19.8\its\gsettings.loc OK
geany-1.30_setup.exe|>$_OUTDIR\gettext-0.19.8\its\gtkbuilder.its OK
geany-1.30_setup.exe|>$_OUTDIR\glib-2.0\schemas\gschema.dtd OK
geany-1.30_setup.exe|>$_OUTDIR\licenses\pango\COPYING OK
geany-1.30_setup.exe|>$_OUTDIR\licenses\bzip2\LICENSE OK
geany-1.30_setup.exe|>$_OUTDIR\licenses\cairo\COPYING OK
geany-1.30_setup.exe|>$_OUTDIR\licenses\cairo\COPYING-LGPL-2.1 OK
geany-1.30_setup.exe|>$_OUTDIR\licenses\cairo\COPYING-MPL-1.1 OK
geany-1.30_setup.exe|>$_OUTDIR\licenses\expat\COPYING OK
geany-1.30_setup.exe|>$_OUTDIR\licenses\fontconfig\COPYING OK
geany-1.30_setup.exe|>$_OUTDIR\licenses\freetype\FTL.TXT OK
geany-1.30_setup.exe|>$_OUTDIR\licenses\freetype\GPLv2.TXT OK
geany-1.30_setup.exe|>$_OUTDIR\licenses\freetype\LICENSE.TXT OK
geany-1.30_setup.exe|>$_OUTDIR\licenses\graphite2\LICENSE OK
geany-1.30_setup.exe|>$_OUTDIR\licenses\gcc-libs\COPYING.RUNTIME OK
geany-1.30_setup.exe|>$_OUTDIR\licenses\gettext\COPYING OK
geany-1.30_setup.exe|>$_OUTDIR\licenses\gcc-libs\README OK
geany-1.30_setup.exe|>$_OUTDIR\licenses\gettext\gettext-runtime\COPYING OK
geany-1.30_setup.exe|>$_OUTDIR\licenses\gettext\gettext-runtime\intl\COPYING.LIB OK
geany-1.30_setup.exe|>$_OUTDIR\licenses\gettext\gettext-runtime\libasprintf\COPYING OK
geany-1.30_setup.exe|>$_OUTDIR\licenses\gettext\gettext-tools\COPYING OK
geany-1.30_setup.exe|>$_OUTDIR\licenses\gettext\gettext-tools\gnulib-lib\libxml\COPYING OK
geany-1.30_setup.exe|>$_OUTDIR\licenses\graphite2\COPYING OK
geany-1.30_setup.exe|>$_OUTDIR\licenses\harfbuzz\COPYING OK
geany-1.30_setup.exe|>$_OUTDIR\licenses\libffi\LICENSE OK
geany-1.30_setup.exe|>$_OUTDIR\licenses\libiconv\libcharset\COPYING.LIB OK
geany-1.30_setup.exe|>$_OUTDIR\licenses\libiconv\README OK
geany-1.30_setup.exe|>$_OUTDIR\licenses\libpng\LICENSE OK
geany-1.30_setup.exe|>$_OUTDIR\licenses\libwinpthread\COPYING OK
geany-1.30_setup.exe|>$_OUTDIR\licenses\libwinpthread\mingw-w64-libraries\winpthreads\COPYING OK
geany-1.30_setup.exe|>$_OUTDIR\licenses\pango\README OK
geany-1.30_setup.exe|>$_OUTDIR\licenses\pcre\COPYING OK
geany-1.30_setup.exe|>$_OUTDIR\licenses\pcre\LICENCE OK
geany-1.30_setup.exe|>$_OUTDIR\licenses\pixman\COPYING OK
geany-1.30_setup.exe|>$_OUTDIR\licenses\zlib\LICENSE OK
geany-1.30_setup.exe|>$_OUTDIR\themes\Default\gtk-2.0-key\gtkrc OK
geany-1.30_setup.exe|>$_OUTDIR\themes\Emacs\gtk-2.0-key\gtkrc OK
geany-1.30_setup.exe|>$_OUTDIR\themes\MS-Windows\gtk-2.0\gtkrc OK
geany-1.30_setup.exe|>$_OUTDIR\themes\Raleigh\gtk-2.0\gtkrc OK
geany-1.30_setup.exe|>$_OUTDIR\thumbnailers\gdk-pixbuf-thumbnailer.thumbnailer OK
geany-1.30_setup.exe|>$_OUTDIR\geany\app.h OK
geany-1.30_setup.exe|>$_OUTDIR\geany\build.h OK
geany-1.30_setup.exe|>$_OUTDIR\geany\dialogs.h OK
geany-1.30_setup.exe|>$_OUTDIR\geany\document.h OK
geany-1.30_setup.exe|>$_OUTDIR\geany\editor.h OK
geany-1.30_setup.exe|>$_OUTDIR\geany\encodings.h OK
geany-1.30_setup.exe|>$_OUTDIR\geany\filetypes.h OK
geany-1.30_setup.exe|>$_OUTDIR\geany\geany.h OK
geany-1.30_setup.exe|>$_OUTDIR\geany\geanyfunctions.h OK
geany-1.30_setup.exe|>$_OUTDIR\geany\geanyplugin.h OK
geany-1.30_setup.exe|>$_OUTDIR\geany\gtkcompat.h OK
geany-1.30_setup.exe|>$_OUTDIR\geany\highlighting.h OK
geany-1.30_setup.exe|>$_OUTDIR\geany\keybindings.h OK
geany-1.30_setup.exe|>$_OUTDIR\geany\main.h OK
geany-1.30_setup.exe|>$_OUTDIR\geany\msgwindow.h OK
geany-1.30_setup.exe|>$_OUTDIR\geany\navqueue.h OK
geany-1.30_setup.exe|>$_OUTDIR\geany\plugindata.h OK
geany-1.30_setup.exe|>$_OUTDIR\geany\pluginutils.h OK
geany-1.30_setup.exe|>$_OUTDIR\geany\prefs.h OK
geany-1.30_setup.exe|>$_OUTDIR\geany\project.h OK
geany-1.30_setup.exe|>$_OUTDIR\geany\sciwrappers.h OK
geany-1.30_setup.exe|>$_OUTDIR\geany\search.h OK
geany-1.30_setup.exe|>$_OUTDIR\geany\spawn.h OK
geany-1.30_setup.exe|>$_OUTDIR\geany\stash.h OK
geany-1.30_setup.exe|>$_OUTDIR\geany\support.h OK
geany-1.30_setup.exe|>$_OUTDIR\geany\symbols.h OK
geany-1.30_setup.exe|>$_OUTDIR\geany\templates.h OK
geany-1.30_setup.exe|>$_OUTDIR\geany\toolbar.h OK
geany-1.30_setup.exe|>$_OUTDIR\geany\ui_utils.h OK
geany-1.30_setup.exe|>$_OUTDIR\geany\utils.h OK
geany-1.30_setup.exe|>$_OUTDIR\geany\gtkdoc\geany-gtkdoc.h OK
geany-1.30_setup.exe|>$_OUTDIR\geany\gtkdoc\geany-sciwrappers-gtkdoc.h OK
geany-1.30_setup.exe|>$_OUTDIR\geany\scintilla\SciLexer.h OK
geany-1.30_setup.exe|>$_OUTDIR\geany\scintilla\Sci_Position.h OK
geany-1.30_setup.exe|>$_OUTDIR\geany\scintilla\Scintilla.h OK
geany-1.30_setup.exe|>$_OUTDIR\geany\scintilla\Scintilla.iface OK
geany-1.30_setup.exe|>$_OUTDIR\geany\scintilla\ScintillaWidget.h OK
geany-1.30_setup.exe|>$_OUTDIR\geany\tagmanager\tm_parser.h OK
geany-1.30_setup.exe|>$_OUTDIR\geany\tagmanager\tm_source_file.h OK
geany-1.30_setup.exe|>$_OUTDIR\geany\tagmanager\tm_tag.h OK
geany-1.30_setup.exe|>$_OUTDIR\geany\tagmanager\tm_workspace.h OK
geany-1.30_setup.exe|>$INSTDIR\lib\pkgconfig\geany.pc OK
geany-1.30_setup.exe OK
#
# Number of scanned files: 1042
# Number of scanned folders: 0
# Number of infected files: 0
# Total size of scanned files: 89018707
# Virus database: 170305-3, 03/05/17
# Total scan time: 0:0:29


















AVG
scan report: Clean
AVG AntiVirus command line scanner
Copyright (c) 1992 - 2016 AVG Technologies
Program version 2016.0.7999, engine 2016.0.4756
Virus Database: Version 4756/14064 2017-03-05
geany-1.30_setup.exe is OK.

------------------------------------------------------------
Test started: 6.3.2017 9:08:04
Duration of test: 32 second(s)
------------------------------------------------------------
Objects scanned : 1048
Found infections : 0
Rootkits found : 0
Found high severity : 0
Found med severity : 0
Found info severity : 0
Rootkits fixed : 0
Fixed high severity : 0
Fixed med severity : 0
Fixed info severity : 0
------------------------------------------------------------


















Avira
scan report: Clean
Avira / Windows Version 1.9.161.2
Copyright (c) 2010 by Avira GmbH
All rights reserved.

engine set: 8.3.42.196
VDF Version: 7.12.158.52


Scan start time: 3/6/2017 11:08:32 AM
Command line: g:\scancl.exe --nombr --showall --verboselog /a /z /s --log=output.tmp geany-1.30_setup.exe

configuration file: g:\scancl.conf
geany-1.30_setup.exe
Date: 06.03.2017 Time: 11:07:56 Size: 15123096



Statistics :
Directories............... : 0
Archives.................. : 1
Files..................... : 1050
Infected.............. : 0
Warnings.............. : 0
Suspicious............ : 0
Infections................ : 0
Time...................... : 00:00:09



















Kaspersky
scan report: Clean
; --- Settings ---
; Action on detect: Disinfect automatically
; Scan objects: All objects
; Use iChecker: No
; Use iSwift: No
; Try disinfect: No
; Try delete: No
; Try delete container: No
; Exclude by mask: No
; Include by mask: No
; Objects to scan:
; "geany-1.30_setup.exe" Enable = Yes Recursive = No
; ------------------
2017-03-06 11:08:07 Scan_Objects$1233 starting 1%
2017-03-06 11:08:07 Scan_Objects$1233 running 1%
2017-03-06 11:08:08 geany-1.30_setup.exe archive NSIS
2017-03-06 11:08:08 geany-1.30_setup.exe//data0001 ok
2017-03-06 11:08:09 geany-1.30_setup.exe//$PLUGINSDIR\System.dll ok
2017-03-06 11:08:09 geany-1.30_setup.exe//$PLUGINSDIR\UserInfo.dll ok
2017-03-06 11:08:09 geany-1.30_setup.exe//data0004 ok
2017-03-06 11:08:09 geany-1.30_setup.exe//data0005 ok
2017-03-06 11:08:09 geany-1.30_setup.exe//$PLUGINSDIR\modern-wizard.bmp ok
2017-03-06 11:08:09 geany-1.30_setup.exe//$PLUGINSDIR\nsDialogs.dll ok
2017-03-06 11:08:10 geany-1.30_setup.exe//$PLUGINSDIR\StartMenu.dll ok
2017-03-06 11:08:10 geany-1.30_setup.exe//Authors.txt ok
2017-03-06 11:08:10 geany-1.30_setup.exe//Changelog.txt ok
2017-03-06 11:08:10 geany-1.30_setup.exe//Copying.txt ok
2017-03-06 11:08:10 geany-1.30_setup.exe//News.txt ok
2017-03-06 11:08:10 geany-1.30_setup.exe//Readme.txt ok
2017-03-06 11:08:10 geany-1.30_setup.exe//Thanks.txt ok
2017-03-06 11:08:10 geany-1.30_setup.exe//Todo.txt ok
2017-03-06 11:08:10 geany-1.30_setup.exe//geany.exe ok
2017-03-06 11:08:12 geany-1.30_setup.exe//libgeany-0.dll ok
2017-03-06 11:08:12 geany-1.30_setup.exe//libgcc_s_dw2-1.dll ok
2017-03-06 11:08:13 geany-1.30_setup.exe//libstdc++-6.dll ok
2017-03-06 11:08:13 geany-1.30_setup.exe//libwinpthread-1.dll ok
2017-03-06 11:08:13 geany-1.30_setup.exe//geany-run-helper.bat ok
2017-03-06 11:08:13 geany-1.30_setup.exe//GPL-2 ok
2017-03-06 11:08:13 geany-1.30_setup.exe//filetype_extensions.conf ok
2017-03-06 11:08:13 geany-1.30_setup.exe//geany.glade ok
2017-03-06 11:08:13 geany-1.30_setup.exe//geany.gtkrc ok
2017-03-06 11:08:13 geany-1.30_setup.exe//snippets.conf ok
2017-03-06 11:08:13 geany-1.30_setup.exe//ui_toolbar.xml ok
2017-03-06 11:08:13 geany-1.30_setup.exe//filetypes.Arduino.conf ok
2017-03-06 11:08:13 geany-1.30_setup.exe//filetypes.CUDA.conf ok
2017-03-06 11:08:13 geany-1.30_setup.exe//filetypes.Clojure.conf ok
2017-03-06 11:08:13 geany-1.30_setup.exe//filetypes.Cython.conf ok
2017-03-06 11:08:14 geany-1.30_setup.exe//filetypes.Genie.conf ok
2017-03-06 11:08:14 geany-1.30_setup.exe//filetypes.Graphviz.conf ok
2017-03-06 11:08:14 geany-1.30_setup.exe//filetypes.JSON.conf ok
2017-03-06 11:08:14 geany-1.30_setup.exe//filetypes.Scala.conf ok
2017-03-06 11:08:14 geany-1.30_setup.exe//filetypes.abaqus ok
2017-03-06 11:08:14 geany-1.30_setup.exe//filetypes.abc ok
2017-03-06 11:08:14 geany-1.30_setup.exe//filetypes.actionscript ok
2017-03-06 11:08:14 geany-1.30_setup.exe//filetypes.ada ok
2017-03-06 11:08:14 geany-1.30_setup.exe//filetypes.asciidoc ok
2017-03-06 11:08:14 geany-1.30_setup.exe//filetypes.asm ok
2017-03-06 11:08:14 geany-1.30_setup.exe//filetypes.batch ok
2017-03-06 11:08:14 geany-1.30_setup.exe//filetypes.c ok
2017-03-06 11:08:14 geany-1.30_setup.exe//filetypes.caml ok
2017-03-06 11:08:14 geany-1.30_setup.exe//filetypes.cmake ok
2017-03-06 11:08:14 geany-1.30_setup.exe//filetypes.cobol ok
2017-03-06 11:08:14 geany-1.30_setup.exe//filetypes.coffeescript ok
2017-03-06 11:08:14 geany-1.30_setup.exe//filetypes.common ok
2017-03-06 11:08:14 geany-1.30_setup.exe//filetypes.conf ok
2017-03-06 11:08:14 geany-1.30_setup.exe//filetypes.cpp ok
2017-03-06 11:08:14 geany-1.30_setup.exe//filetypes.cs ok
2017-03-06 11:08:14 geany-1.30_setup.exe//filetypes.css ok
2017-03-06 11:08:14 geany-1.30_setup.exe//filetypes.d ok
2017-03-06 11:08:14 geany-1.30_setup.exe//filetypes.diff ok
2017-03-06 11:08:14 geany-1.30_setup.exe//filetypes.docbook ok
2017-03-06 11:08:14 geany-1.30_setup.exe//filetypes.erlang ok
2017-03-06 11:08:14 geany-1.30_setup.exe//filetypes.f77 ok
2017-03-06 11:08:14 geany-1.30_setup.exe//filetypes.ferite ok
2017-03-06 11:08:14 geany-1.30_setup.exe//filetypes.forth ok
2017-03-06 11:08:14 geany-1.30_setup.exe//filetypes.fortran ok
2017-03-06 11:08:14 geany-1.30_setup.exe//filetypes.freebasic ok
2017-03-06 11:08:14 geany-1.30_setup.exe//filetypes.glsl ok
2017-03-06 11:08:14 geany-1.30_setup.exe//filetypes.go ok
2017-03-06 11:08:14 geany-1.30_setup.exe//filetypes.haskell ok
2017-03-06 11:08:14 geany-1.30_setup.exe//filetypes.haxe ok
2017-03-06 11:08:14 geany-1.30_setup.exe//filetypes.html ok
2017-03-06 11:08:14 geany-1.30_setup.exe//filetypes.java ok
2017-03-06 11:08:14 geany-1.30_setup.exe//filetypes.javascript ok
2017-03-06 11:08:14 geany-1.30_setup.exe//filetypes.latex ok
2017-03-06 11:08:14 geany-1.30_setup.exe//filetypes.lisp ok
2017-03-06 11:08:14 geany-1.30_setup.exe//filetypes.lua ok
2017-03-06 11:08:15 geany-1.30_setup.exe//filetypes.makefile ok
2017-03-06 11:08:15 geany-1.30_setup.exe//filetypes.markdown ok
2017-03-06 11:08:15 geany-1.30_setup.exe//filetypes.matlab ok
2017-03-06 11:08:15 geany-1.30_setup.exe//filetypes.nsis ok
2017-03-06 11:08:15 geany-1.30_setup.exe//filetypes.objectivec ok
2017-03-06 11:08:15 geany-1.30_setup.exe//filetypes.pascal ok
2017-03-06 11:08:15 geany-1.30_setup.exe//filetypes.perl ok
2017-03-06 11:08:15 geany-1.30_setup.exe//filetypes.php ok
2017-03-06 11:08:15 geany-1.30_setup.exe//filetypes.po ok
2017-03-06 11:08:15 geany-1.30_setup.exe//filetypes.powershell ok
2017-03-06 11:08:15 geany-1.30_setup.exe//filetypes.python ok
2017-03-06 11:08:15 geany-1.30_setup.exe//filetypes.r ok
2017-03-06 11:08:15 geany-1.30_setup.exe//filetypes.restructuredtext ok
2017-03-06 11:08:15 geany-1.30_setup.exe//filetypes.ruby ok
2017-03-06 11:08:15 geany-1.30_setup.exe//filetypes.rust ok
2017-03-06 11:08:15 geany-1.30_setup.exe//filetypes.sh ok
2017-03-06 11:08:15 geany-1.30_setup.exe//filetypes.sql ok
2017-03-06 11:08:15 geany-1.30_setup.exe//filetypes.tcl ok
2017-03-06 11:08:15 geany-1.30_setup.exe//filetypes.txt2tags ok
2017-03-06 11:08:15 geany-1.30_setup.exe//filetypes.vala ok
2017-03-06 11:08:15 geany-1.30_setup.exe//filetypes.verilog ok
2017-03-06 11:08:15 geany-1.30_setup.exe//filetypes.vhdl ok
2017-03-06 11:08:15 geany-1.30_setup.exe//filetypes.xml ok
2017-03-06 11:08:15 geany-1.30_setup.exe//filetypes.yaml ok
2017-03-06 11:08:15 geany-1.30_setup.exe//filetypes.zephir ok
2017-03-06 11:08:15 geany-1.30_setup.exe//bsd ok
2017-03-06 11:08:15 geany-1.30_setup.exe//changelog ok
2017-03-06 11:08:15 geany-1.30_setup.exe//fileheader ok
2017-03-06 11:08:15 geany-1.30_setup.exe//function ok
2017-03-06 11:08:15 geany-1.30_setup.exe//gpl ok
2017-03-06 11:08:15 geany-1.30_setup.exe//file.html ok
2017-03-06 11:08:15 geany-1.30_setup.exe//file.php ok
2017-03-06 11:08:15 geany-1.30_setup.exe//file.rb ok
2017-03-06 11:08:15 geany-1.30_setup.exe//file.tex ok
2017-03-06 11:08:15 geany-1.30_setup.exe//file_html5.html ok
2017-03-06 11:08:15 geany-1.30_setup.exe//main.c ok
2017-03-06 11:08:15 geany-1.30_setup.exe//main.cxx ok
2017-03-06 11:08:16 geany-1.30_setup.exe//main.d ok
2017-03-06 11:08:16 geany-1.30_setup.exe//main.java ok
2017-03-06 11:08:16 geany-1.30_setup.exe//main.py ok
2017-03-06 11:08:16 geany-1.30_setup.exe//main.vala ok
2017-03-06 11:08:16 geany-1.30_setup.exe//module.erl ok
2017-03-06 11:08:16 geany-1.30_setup.exe//program.pas ok
2017-03-06 11:08:16 geany-1.30_setup.exe//alt.conf ok
2017-03-06 11:08:16 geany-1.30_setup.exe//bespin.conf ok
2017-03-06 11:08:16 geany-1.30_setup.exe//black.conf ok
2017-03-06 11:08:16 geany-1.30_setup.exe//darcula.conf ok
2017-03-06 11:08:16 geany-1.30_setup.exe//dark-colors.conf ok
2017-03-06 11:08:16 geany-1.30_setup.exe//dark-fruit-salad.conf ok
2017-03-06 11:08:16 geany-1.30_setup.exe//dark.conf ok
2017-03-06 11:08:16 geany-1.30_setup.exe//fluffy.conf ok
2017-03-06 11:08:16 geany-1.30_setup.exe//gedit.conf ok
2017-03-06 11:08:16 geany-1.30_setup.exe//github.conf ok
2017-03-06 11:08:16 geany-1.30_setup.exe//himbeere.conf ok
2017-03-06 11:08:16 geany-1.30_setup.exe//inkpot.conf ok
2017-03-06 11:08:16 geany-1.30_setup.exe//kugel.conf ok
2017-03-06 11:08:16 geany-1.30_setup.exe//mc.conf ok
2017-03-06 11:08:16 geany-1.30_setup.exe//metallic-bottle.conf ok
2017-03-06 11:08:16 geany-1.30_setup.exe//monokai.conf ok
2017-03-06 11:08:16 geany-1.30_setup.exe//notepad-plus-plus.conf ok
2017-03-06 11:08:16 geany-1.30_setup.exe//oblivion2.conf ok
2017-03-06 11:08:16 geany-1.30_setup.exe//pygments.conf ok
2017-03-06 11:08:16 geany-1.30_setup.exe//railcasts2.conf ok
2017-03-06 11:08:16 geany-1.30_setup.exe//retro.conf ok
2017-03-06 11:08:16 geany-1.30_setup.exe//sleepy-pastel.conf ok
2017-03-06 11:08:16 geany-1.30_setup.exe//slushpoppies.conf ok
2017-03-06 11:08:16 geany-1.30_setup.exe//solarized-dark.conf ok
2017-03-06 11:08:16 geany-1.30_setup.exe//solarized-light.conf ok
2017-03-06 11:08:16 geany-1.30_setup.exe//spyder-dark.conf ok
2017-03-06 11:08:16 geany-1.30_setup.exe//steampunk.conf ok
2017-03-06 11:08:16 geany-1.30_setup.exe//tango-dark.conf ok
2017-03-06 11:08:16 geany-1.30_setup.exe//tango-light.conf ok
2017-03-06 11:08:16 geany-1.30_setup.exe//tinge.conf ok
2017-03-06 11:08:16 geany-1.30_setup.exe//ubuntu.conf ok
2017-03-06 11:08:16 geany-1.30_setup.exe//vibrant-ink.conf ok
2017-03-06 11:08:16 geany-1.30_setup.exe//zenburn.conf ok
2017-03-06 11:08:16 geany-1.30_setup.exe//index.theme ok
2017-03-06 11:08:16 geany-1.30_setup.exe//geany-save-all.png ok
2017-03-06 11:08:16 geany-1.30_setup.exe//geany-save-all.png ok
2017-03-06 11:08:16 geany-1.30_setup.exe//geany-save-all.png ok
2017-03-06 11:08:16 geany-1.30_setup.exe//geany-save-all.png ok
2017-03-06 11:08:16 geany-1.30_setup.exe//geany-save-all.svg ok
2017-03-06 11:08:16 geany-1.30_setup.exe//index.theme ok
2017-03-06 11:08:16 geany-1.30_setup.exe//geany-build.png ok
2017-03-06 11:08:16 geany-1.30_setup.exe//geany-close-all.png ok
2017-03-06 11:08:16 geany-1.30_setup.exe//geany-save-all.png ok
2017-03-06 11:08:16 geany-1.30_setup.exe//classviewer-class.png ok
2017-03-06 11:08:16 geany-1.30_setup.exe//classviewer-macro.png ok
2017-03-06 11:08:17 geany-1.30_setup.exe//classviewer-member.png ok
2017-03-06 11:08:17 geany-1.30_setup.exe//classviewer-method.png ok
2017-03-06 11:08:17 geany-1.30_setup.exe//classviewer-namespace.png ok
2017-03-06 11:08:17 geany-1.30_setup.exe//classviewer-other.png ok
2017-03-06 11:08:17 geany-1.30_setup.exe//classviewer-struct.png ok
2017-03-06 11:08:17 geany-1.30_setup.exe//classviewer-var.png ok
2017-03-06 11:08:17 geany-1.30_setup.exe//geany.png ok
2017-03-06 11:08:17 geany-1.30_setup.exe//geany-build.png ok
2017-03-06 11:08:17 geany-1.30_setup.exe//geany-close-all.png ok
2017-03-06 11:08:17 geany-1.30_setup.exe//geany-save-all.png ok
2017-03-06 11:08:17 geany-1.30_setup.exe//geany-build.png ok
2017-03-06 11:08:17 geany-1.30_setup.exe//geany-close-all.png ok
2017-03-06 11:08:17 geany-1.30_setup.exe//geany-save-all.png ok
2017-03-06 11:08:17 geany-1.30_setup.exe//geany.png ok
2017-03-06 11:08:17 geany-1.30_setup.exe//geany-build.png ok
2017-03-06 11:08:17 geany-1.30_setup.exe//geany-close-all.png ok
2017-03-06 11:08:17 geany-1.30_setup.exe//geany-save-all.png ok
2017-03-06 11:08:17 geany-1.30_setup.exe//geany.png ok
2017-03-06 11:08:17 geany-1.30_setup.exe//geany-build.svg ok
2017-03-06 11:08:17 geany-1.30_setup.exe//geany-close-all.svg ok
2017-03-06 11:08:17 geany-1.30_setup.exe//geany-save-all.svg ok
2017-03-06 11:08:17 geany-1.30_setup.exe//geany.svg ok
2017-03-06 11:08:17 geany-1.30_setup.exe//classbuilder.dll ok
2017-03-06 11:08:17 geany-1.30_setup.exe//export.dll ok
2017-03-06 11:08:17 geany-1.30_setup.exe//filebrowser.dll ok
2017-03-06 11:08:17 geany-1.30_setup.exe//htmlchars.dll ok
2017-03-06 11:08:17 geany-1.30_setup.exe//saveactions.dll ok
2017-03-06 11:08:17 geany-1.30_setup.exe//splitwindow.dll ok
2017-03-06 11:08:17 geany-1.30_setup.exe//geany.mo ok
2017-03-06 11:08:17 geany-1.30_setup.exe//geany.mo ok
2017-03-06 11:08:17 geany-1.30_setup.exe//geany.mo ok
2017-03-06 11:08:18 geany-1.30_setup.exe//geany.mo ok
2017-03-06 11:08:18 geany-1.30_setup.exe//geany.mo ok
2017-03-06 11:08:18 geany-1.30_setup.exe//geany.mo ok
2017-03-06 11:08:18 geany-1.30_setup.exe//geany.mo ok
2017-03-06 11:08:18 geany-1.30_setup.exe//geany.mo ok
2017-03-06 11:08:18 geany-1.30_setup.exe//geany.mo ok
2017-03-06 11:08:18 geany-1.30_setup.exe//geany.mo ok
2017-03-06 11:08:18 geany-1.30_setup.exe//geany.mo ok
2017-03-06 11:08:18 geany-1.30_setup.exe//geany.mo ok
2017-03-06 11:08:18 geany-1.30_setup.exe//geany.mo ok
2017-03-06 11:08:18 geany-1.30_setup.exe//geany.mo ok
2017-03-06 11:08:18 geany-1.30_setup.exe//geany.mo ok
2017-03-06 11:08:18 geany-1.30_setup.exe//geany.mo ok
2017-03-06 11:08:18 geany-1.30_setup.exe//geany.mo ok
2017-03-06 11:08:18 geany-1.30_setup.exe//geany.mo ok
2017-03-06 11:08:18 geany-1.30_setup.exe//geany.mo ok
2017-03-06 11:08:18 geany-1.30_setup.exe//geany.mo ok
2017-03-06 11:08:18 geany-1.30_setup.exe//geany.mo ok
2017-03-06 11:08:18 geany-1.30_setup.exe//geany.mo ok
2017-03-06 11:08:18 geany-1.30_setup.exe//geany.mo ok
2017-03-06 11:08:18 geany-1.30_setup.exe//geany.mo ok
2017-03-06 11:08:18 geany-1.30_setup.exe//geany.mo ok
2017-03-06 11:08:18 geany-1.30_setup.exe//geany.mo ok
2017-03-06 11:08:18 geany-1.30_setup.exe//geany.mo ok
2017-03-06 11:08:18 geany-1.30_setup.exe//geany.mo ok
2017-03-06 11:08:18 geany-1.30_setup.exe//geany.mo ok
2017-03-06 11:08:18 geany-1.30_setup.exe//geany.mo ok
2017-03-06 11:08:18 geany-1.30_setup.exe//geany.mo ok
2017-03-06 11:08:18 geany-1.30_setup.exe//geany.mo ok
2017-03-06 11:08:18 geany-1.30_setup.exe//geany.mo ok
2017-03-06 11:08:18 geany-1.30_setup.exe//geany.mo ok
2017-03-06 11:08:18 geany-1.30_setup.exe//geany.mo ok
2017-03-06 11:08:18 geany-1.30_setup.exe//geany.mo ok
2017-03-06 11:08:19 geany-1.30_setup.exe//geany.mo ok
2017-03-06 11:08:19 geany-1.30_setup.exe//geany.mo ok
2017-03-06 11:08:19 geany-1.30_setup.exe//geany.mo ok
2017-03-06 11:08:19 geany-1.30_setup.exe//geany.mo ok
2017-03-06 11:08:19 geany-1.30_setup.exe//geany.mo ok
2017-03-06 11:08:19 geany-1.30_setup.exe//geany.mo ok
2017-03-06 11:08:19 geany-1.30_setup.exe//geany.mo ok
2017-03-06 11:08:19 geany-1.30_setup.exe//locale.alias ok
2017-03-06 11:08:19 geany-1.30_setup.exe//atk10.mo ok
2017-03-06 11:08:19 geany-1.30_setup.exe//gdk-pixbuf.mo ok
2017-03-06 11:08:19 geany-1.30_setup.exe//glib20.mo ok
2017-03-06 11:08:19 geany-1.30_setup.exe//gtk20-properties.mo ok
2017-03-06 11:08:19 geany-1.30_setup.exe//gtk20.mo ok
2017-03-06 11:08:19 geany-1.30_setup.exe//atk10.mo ok
2017-03-06 11:08:19 geany-1.30_setup.exe//glib20.mo ok
2017-03-06 11:08:19 geany-1.30_setup.exe//gtk20-properties.mo ok
2017-03-06 11:08:19 geany-1.30_setup.exe//gtk20.mo ok
2017-03-06 11:08:19 geany-1.30_setup.exe//atk10.mo ok
2017-03-06 11:08:19 geany-1.30_setup.exe//glib20.mo ok
2017-03-06 11:08:19 geany-1.30_setup.exe//gdk-pixbuf.mo ok
2017-03-06 11:08:19 geany-1.30_setup.exe//gtk20-properties.mo ok
2017-03-06 11:08:19 geany-1.30_setup.exe//gtk20.mo ok
2017-03-06 11:08:19 geany-1.30_setup.exe//atk10.mo ok
2017-03-06 11:08:19 geany-1.30_setup.exe//gdk-pixbuf.mo ok
2017-03-06 11:08:19 geany-1.30_setup.exe//glib20.mo ok
2017-03-06 11:08:19 geany-1.30_setup.exe//gtk20-properties.mo ok
2017-03-06 11:08:19 geany-1.30_setup.exe//gtk20.mo ok
2017-03-06 11:08:19 geany-1.30_setup.exe//atk10.mo ok
2017-03-06 11:08:19 geany-1.30_setup.exe//gdk-pixbuf.mo ok
2017-03-06 11:08:19 geany-1.30_setup.exe//glib20.mo ok
2017-03-06 11:08:19 geany-1.30_setup.exe//gtk20-properties.mo ok
2017-03-06 11:08:19 geany-1.30_setup.exe//gtk20.mo ok
2017-03-06 11:08:19 geany-1.30_setup.exe//atk10.mo ok
2017-03-06 11:08:19 geany-1.30_setup.exe//gdk-pixbuf.mo ok
2017-03-06 11:08:19 geany-1.30_setup.exe//glib20.mo ok
2017-03-06 11:08:20 geany-1.30_setup.exe//gtk20-properties.mo ok
2017-03-06 11:08:20 geany-1.30_setup.exe//gtk20.mo ok
2017-03-06 11:08:20 geany-1.30_setup.exe//atk10.mo ok
2017-03-06 11:08:20 geany-1.30_setup.exe//gdk-pixbuf.mo ok
2017-03-06 11:08:20 geany-1.30_setup.exe//glib20.mo ok
2017-03-06 11:08:20 geany-1.30_setup.exe//gtk20-properties.mo ok
2017-03-06 11:08:20 geany-1.30_setup.exe//gtk20.mo ok
2017-03-06 11:08:20 geany-1.30_setup.exe//gtk20-properties.mo ok
2017-03-06 11:08:20 geany-1.30_setup.exe//gtk20.mo ok
2017-03-06 11:08:20 geany-1.30_setup.exe//atk10.mo ok
2017-03-06 11:08:20 geany-1.30_setup.exe//gdk-pixbuf.mo ok
2017-03-06 11:08:20 geany-1.30_setup.exe//gettext-runtime.mo archive Mail
2017-03-06 11:08:20 geany-1.30_setup.exe//gettext-runtime.mo//text ok
2017-03-06 11:08:20 geany-1.30_setup.exe//gettext-runtime.mo ok
2017-03-06 11:08:20 geany-1.30_setup.exe//gettext-tools.mo ok
2017-03-06 11:08:20 geany-1.30_setup.exe//glib20.mo ok
2017-03-06 11:08:20 geany-1.30_setup.exe//gtk20-properties.mo ok
2017-03-06 11:08:20 geany-1.30_setup.exe//gtk20.mo ok
2017-03-06 11:08:20 geany-1.30_setup.exe//atk10.mo ok
2017-03-06 11:08:20 geany-1.30_setup.exe//gdk-pixbuf.mo ok
2017-03-06 11:08:20 geany-1.30_setup.exe//glib20.mo ok
2017-03-06 11:08:20 geany-1.30_setup.exe//gtk20-properties.mo ok
2017-03-06 11:08:20 geany-1.30_setup.exe//gtk20.mo ok
2017-03-06 11:08:20 geany-1.30_setup.exe//atk10.mo ok
2017-03-06 11:08:20 geany-1.30_setup.exe//gdk-pixbuf.mo ok
2017-03-06 11:08:20 geany-1.30_setup.exe//gettext-runtime.mo ok
2017-03-06 11:08:20 geany-1.30_setup.exe//gettext-tools.mo ok
2017-03-06 11:08:20 geany-1.30_setup.exe//glib20.mo ok
2017-03-06 11:08:20 geany-1.30_setup.exe//gtk20-properties.mo ok
2017-03-06 11:08:20 geany-1.30_setup.exe//gtk20.mo ok
2017-03-06 11:08:20 geany-1.30_setup.exe//atk10.mo ok
2017-03-06 11:08:20 geany-1.30_setup.exe//gdk-pixbuf.mo ok
2017-03-06 11:08:20 geany-1.30_setup.exe//glib20.mo ok
2017-03-06 11:08:20 geany-1.30_setup.exe//gtk20-properties.mo ok
2017-03-06 11:08:20 geany-1.30_setup.exe//gtk20.mo ok
2017-03-06 11:08:20 geany-1.30_setup.exe//atk10.mo ok
2017-03-06 11:08:20 geany-1.30_setup.exe//gdk-pixbuf.mo ok
2017-03-06 11:08:20 geany-1.30_setup.exe//glib20.mo ok
2017-03-06 11:08:20 geany-1.30_setup.exe//gtk20-properties.mo ok
2017-03-06 11:08:20 geany-1.30_setup.exe//gtk20.mo ok
2017-03-06 11:08:20 geany-1.30_setup.exe//gdk-pixbuf.mo ok
2017-03-06 11:08:20 geany-1.30_setup.exe//gtk20-properties.mo ok
2017-03-06 11:08:20 geany-1.30_setup.exe//gtk20.mo ok
2017-03-06 11:08:20 geany-1.30_setup.exe//atk10.mo ok
2017-03-06 11:08:20 geany-1.30_setup.exe//gdk-pixbuf.mo ok
2017-03-06 11:08:20 geany-1.30_setup.exe//glib20.mo ok
2017-03-06 11:08:20 geany-1.30_setup.exe//gtk20-properties.mo ok
2017-03-06 11:08:20 geany-1.30_setup.exe//gtk20.mo ok
2017-03-06 11:08:20 geany-1.30_setup.exe//atk10.mo ok
2017-03-06 11:08:20 geany-1.30_setup.exe//gdk-pixbuf.mo ok
2017-03-06 11:08:20 geany-1.30_setup.exe//gettext-runtime.mo ok
2017-03-06 11:08:20 geany-1.30_setup.exe//gettext-tools.mo ok
2017-03-06 11:08:21 geany-1.30_setup.exe//glib20.mo ok
2017-03-06 11:08:21 geany-1.30_setup.exe//gtk20-properties.mo ok
2017-03-06 11:08:21 geany-1.30_setup.exe//gtk20.mo ok
2017-03-06 11:08:21 geany-1.30_setup.exe//atk10.mo ok
2017-03-06 11:08:21 geany-1.30_setup.exe//gdk-pixbuf.mo ok
2017-03-06 11:08:21 geany-1.30_setup.exe//glib20.mo ok
2017-03-06 11:08:21 geany-1.30_setup.exe//gtk20-properties.mo ok
2017-03-06 11:08:21 geany-1.30_setup.exe//gtk20.mo ok
2017-03-06 11:08:21 geany-1.30_setup.exe//gdk-pixbuf.mo ok
2017-03-06 11:08:21 geany-1.30_setup.exe//gtk20-properties.mo ok
2017-03-06 11:08:21 geany-1.30_setup.exe//gtk20.mo ok
2017-03-06 11:08:21 geany-1.30_setup.exe//atk10.mo ok
2017-03-06 11:08:21 geany-1.30_setup.exe//gdk-pixbuf.mo ok
2017-03-06 11:08:21 geany-1.30_setup.exe//gettext-runtime.mo ok
2017-03-06 11:08:21 geany-1.30_setup.exe//gettext-tools.mo ok
2017-03-06 11:08:21 geany-1.30_setup.exe//glib20.mo ok
2017-03-06 11:08:21 geany-1.30_setup.exe//gtk20-properties.mo ok
2017-03-06 11:08:21 geany-1.30_setup.exe//gtk20.mo ok
2017-03-06 11:08:21 geany-1.30_setup.exe//gdk-pixbuf.mo ok
2017-03-06 11:08:21 geany-1.30_setup.exe//atk10.mo ok
2017-03-06 11:08:21 geany-1.30_setup.exe//gdk-pixbuf.mo ok
2017-03-06 11:08:21 geany-1.30_setup.exe//glib20.mo ok
2017-03-06 11:08:21 geany-1.30_setup.exe//gtk20-properties.mo ok
2017-03-06 11:08:21 geany-1.30_setup.exe//gtk20.mo ok
2017-03-06 11:08:21 geany-1.30_setup.exe//atk10.mo ok
2017-03-06 11:08:21 geany-1.30_setup.exe//gdk-pixbuf.mo ok
2017-03-06 11:08:21 geany-1.30_setup.exe//gettext-runtime.mo ok
2017-03-06 11:08:21 geany-1.30_setup.exe//gettext-tools.mo ok
2017-03-06 11:08:21 geany-1.30_setup.exe//glib20.mo ok
2017-03-06 11:08:21 geany-1.30_setup.exe//gtk20-properties.mo ok
2017-03-06 11:08:21 geany-1.30_setup.exe//gtk20.mo ok
2017-03-06 11:08:21 geany-1.30_setup.exe//atk10.mo ok
2017-03-06 11:08:21 geany-1.30_setup.exe//gdk-pixbuf.mo ok
2017-03-06 11:08:21 geany-1.30_setup.exe//gettext-runtime.mo ok
2017-03-06 11:08:21 geany-1.30_setup.exe//gettext-tools.mo ok
2017-03-06 11:08:21 geany-1.30_setup.exe//glib20.mo ok
2017-03-06 11:08:21 geany-1.30_setup.exe//gtk20-properties.mo ok
2017-03-06 11:08:21 geany-1.30_setup.exe//gtk20.mo ok
2017-03-06 11:08:21 geany-1.30_setup.exe//atk10.mo ok
2017-03-06 11:08:22 geany-1.30_setup.exe//gdk-pixbuf.mo ok
2017-03-06 11:08:22 geany-1.30_setup.exe//glib20.mo ok
2017-03-06 11:08:22 geany-1.30_setup.exe//gtk20-properties.mo ok
2017-03-06 11:08:22 geany-1.30_setup.exe//gtk20.mo ok
2017-03-06 11:08:22 geany-1.30_setup.exe//atk10.mo ok
2017-03-06 11:08:22 geany-1.30_setup.exe//gdk-pixbuf.mo ok
2017-03-06 11:08:22 geany-1.30_setup.exe//gettext-runtime.mo ok
2017-03-06 11:08:22 geany-1.30_setup.exe//gettext-tools.mo ok
2017-03-06 11:08:22 geany-1.30_setup.exe//glib20.mo ok
2017-03-06 11:08:22 geany-1.30_setup.exe//gtk20-properties.mo ok
2017-03-06 11:08:22 geany-1.30_setup.exe//gtk20.mo ok
2017-03-06 11:08:22 geany-1.30_setup.exe//gettext-runtime.mo ok
2017-03-06 11:08:22 geany-1.30_setup.exe//gettext-tools.mo ok
2017-03-06 11:08:22 geany-1.30_setup.exe//gettext-runtime.mo ok
2017-03-06 11:08:22 geany-1.30_setup.exe//gettext-tools.mo ok
2017-03-06 11:08:22 geany-1.30_setup.exe//atk10.mo ok
2017-03-06 11:08:22 geany-1.30_setup.exe//gdk-pixbuf.mo ok
2017-03-06 11:08:22 geany-1.30_setup.exe//glib20.mo ok
2017-03-06 11:08:22 geany-1.30_setup.exe//atk10.mo ok
2017-03-06 11:08:22 geany-1.30_setup.exe//gdk-pixbuf.mo ok
2017-03-06 11:08:22 geany-1.30_setup.exe//glib20.mo ok
2017-03-06 11:08:22 geany-1.30_setup.exe//gtk20-properties.mo ok
2017-03-06 11:08:22 geany-1.30_setup.exe//gtk20.mo ok
2017-03-06 11:08:22 geany-1.30_setup.exe//atk10.mo ok
2017-03-06 11:08:22 geany-1.30_setup.exe//gdk-pixbuf.mo ok
2017-03-06 11:08:22 geany-1.30_setup.exe//glib20.mo ok
2017-03-06 11:08:22 geany-1.30_setup.exe//gtk20-properties.mo ok
2017-03-06 11:08:22 geany-1.30_setup.exe//gtk20.mo ok
2017-03-06 11:08:22 geany-1.30_setup.exe//atk10.mo ok
2017-03-06 11:08:22 geany-1.30_setup.exe//gdk-pixbuf.mo ok
2017-03-06 11:08:22 geany-1.30_setup.exe//gettext-runtime.mo ok
2017-03-06 11:08:22 geany-1.30_setup.exe//glib20.mo ok
2017-03-06 11:08:22 geany-1.30_setup.exe//gtk20-properties.mo ok
2017-03-06 11:08:22 geany-1.30_setup.exe//gtk20.mo ok
2017-03-06 11:08:22 geany-1.30_setup.exe//atk10.mo ok
2017-03-06 11:08:22 geany-1.30_setup.exe//gdk-pixbuf.mo ok
2017-03-06 11:08:22 geany-1.30_setup.exe//gettext-runtime.mo ok
2017-03-06 11:08:22 geany-1.30_setup.exe//gettext-tools.mo ok
2017-03-06 11:08:22 geany-1.30_setup.exe//glib20.mo ok
2017-03-06 11:08:22 geany-1.30_setup.exe//gtk20-properties.mo ok
2017-03-06 11:08:22 geany-1.30_setup.exe//gtk20.mo ok
2017-03-06 11:08:22 geany-1.30_setup.exe//atk10.mo ok
2017-03-06 11:08:22 geany-1.30_setup.exe//gdk-pixbuf.mo ok
2017-03-06 11:08:22 geany-1.30_setup.exe//gettext-runtime.mo ok
2017-03-06 11:08:22 geany-1.30_setup.exe//gettext-tools.mo ok
2017-03-06 11:08:22 geany-1.30_setup.exe//glib20.mo ok
2017-03-06 11:08:22 geany-1.30_setup.exe//gtk20-properties.mo ok
2017-03-06 11:08:22 geany-1.30_setup.exe//gtk20.mo ok
2017-03-06 11:08:22 geany-1.30_setup.exe//atk10.mo ok
2017-03-06 11:08:22 geany-1.30_setup.exe//gdk-pixbuf.mo ok
2017-03-06 11:08:22 geany-1.30_setup.exe//gettext-tools.mo ok
2017-03-06 11:08:22 geany-1.30_setup.exe//glib20.mo ok
2017-03-06 11:08:22 geany-1.30_setup.exe//gtk20-properties.mo ok
2017-03-06 11:08:23 geany-1.30_setup.exe//gtk20.mo ok
2017-03-06 11:08:23 geany-1.30_setup.exe//atk10.mo ok
2017-03-06 11:08:23 geany-1.30_setup.exe//gdk-pixbuf.mo ok
2017-03-06 11:08:23 geany-1.30_setup.exe//glib20.mo ok
2017-03-06 11:08:23 geany-1.30_setup.exe//gtk20-properties.mo ok
2017-03-06 11:08:23 geany-1.30_setup.exe//gtk20.mo ok
2017-03-06 11:08:23 geany-1.30_setup.exe//atk10.mo ok
2017-03-06 11:08:23 geany-1.30_setup.exe//gdk-pixbuf.mo ok
2017-03-06 11:08:23 geany-1.30_setup.exe//gettext-runtime.mo ok
2017-03-06 11:08:23 geany-1.30_setup.exe//gettext-tools.mo ok
2017-03-06 11:08:23 geany-1.30_setup.exe//glib20.mo ok
2017-03-06 11:08:23 geany-1.30_setup.exe//gtk20-properties.mo ok
2017-03-06 11:08:23 geany-1.30_setup.exe//gtk20.mo ok
2017-03-06 11:08:23 geany-1.30_setup.exe//atk10.mo ok
2017-03-06 11:08:23 geany-1.30_setup.exe//gdk-pixbuf.mo ok
2017-03-06 11:08:23 geany-1.30_setup.exe//gettext-runtime.mo ok
2017-03-06 11:08:23 geany-1.30_setup.exe//gettext-tools.mo ok
2017-03-06 11:08:23 geany-1.30_setup.exe//glib20.mo ok
2017-03-06 11:08:23 geany-1.30_setup.exe//gtk20-properties.mo ok
2017-03-06 11:08:23 geany-1.30_setup.exe//gtk20.mo ok
2017-03-06 11:08:23 geany-1.30_setup.exe//gdk-pixbuf.mo ok
2017-03-06 11:08:23 geany-1.30_setup.exe//atk10.mo ok
2017-03-06 11:08:23 geany-1.30_setup.exe//gdk-pixbuf.mo ok
2017-03-06 11:08:23 geany-1.30_setup.exe//gettext-runtime.mo ok
2017-03-06 11:08:23 geany-1.30_setup.exe//glib20.mo ok
2017-03-06 11:08:23 geany-1.30_setup.exe//gtk20-properties.mo ok
2017-03-06 11:08:23 geany-1.30_setup.exe//gtk20.mo ok
2017-03-06 11:08:23 geany-1.30_setup.exe//atk10.mo ok
2017-03-06 11:08:23 geany-1.30_setup.exe//glib20.mo ok
2017-03-06 11:08:23 geany-1.30_setup.exe//atk10.mo ok
2017-03-06 11:08:23 geany-1.30_setup.exe//gdk-pixbuf.mo ok
2017-03-06 11:08:23 geany-1.30_setup.exe//gettext-runtime.mo ok
2017-03-06 11:08:23 geany-1.30_setup.exe//gettext-tools.mo ok
2017-03-06 11:08:23 geany-1.30_setup.exe//glib20.mo ok
2017-03-06 11:08:23 geany-1.30_setup.exe//gtk20-properties.mo ok
2017-03-06 11:08:23 geany-1.30_setup.exe//gtk20.mo ok
2017-03-06 11:08:23 geany-1.30_setup.exe//atk10.mo ok
2017-03-06 11:08:23 geany-1.30_setup.exe//gdk-pixbuf.mo ok
2017-03-06 11:08:23 geany-1.30_setup.exe//glib20.mo ok
2017-03-06 11:08:23 geany-1.30_setup.exe//gtk20-properties.mo ok
2017-03-06 11:08:23 geany-1.30_setup.exe//gtk20.mo ok
2017-03-06 11:08:23 geany-1.30_setup.exe//atk10.mo ok
2017-03-06 11:08:23 geany-1.30_setup.exe//gdk-pixbuf.mo ok
2017-03-06 11:08:23 geany-1.30_setup.exe//glib20.mo ok
2017-03-06 11:08:23 geany-1.30_setup.exe//gtk20-properties.mo ok
2017-03-06 11:08:23 geany-1.30_setup.exe//gtk20.mo ok
2017-03-06 11:08:23 geany-1.30_setup.exe//atk10.mo ok
2017-03-06 11:08:23 geany-1.30_setup.exe//gdk-pixbuf.mo ok
2017-03-06 11:08:23 geany-1.30_setup.exe//glib20.mo ok
2017-03-06 11:08:23 geany-1.30_setup.exe//gtk20-properties.mo ok
2017-03-06 11:08:23 geany-1.30_setup.exe//gtk20.mo ok
2017-03-06 11:08:23 geany-1.30_setup.exe//atk10.mo ok
2017-03-06 11:08:24 geany-1.30_setup.exe//gdk-pixbuf.mo ok
2017-03-06 11:08:24 geany-1.30_setup.exe//gettext-runtime.mo ok
2017-03-06 11:08:24 geany-1.30_setup.exe//glib20.mo ok
2017-03-06 11:08:24 geany-1.30_setup.exe//gtk20-properties.mo ok
2017-03-06 11:08:24 geany-1.30_setup.exe//gtk20.mo ok
2017-03-06 11:08:24 geany-1.30_setup.exe//atk10.mo ok
2017-03-06 11:08:24 geany-1.30_setup.exe//gdk-pixbuf.mo ok
2017-03-06 11:08:24 geany-1.30_setup.exe//gettext-runtime.mo ok
2017-03-06 11:08:24 geany-1.30_setup.exe//glib20.mo ok
2017-03-06 11:08:24 geany-1.30_setup.exe//gtk20-properties.mo ok
2017-03-06 11:08:24 geany-1.30_setup.exe//gtk20.mo ok
2017-03-06 11:08:24 geany-1.30_setup.exe//atk10.mo ok
2017-03-06 11:08:24 geany-1.30_setup.exe//gdk-pixbuf.mo ok
2017-03-06 11:08:24 geany-1.30_setup.exe//glib20.mo ok
2017-03-06 11:08:24 geany-1.30_setup.exe//gtk20-properties.mo ok
2017-03-06 11:08:24 geany-1.30_setup.exe//gtk20.mo ok
2017-03-06 11:08:24 geany-1.30_setup.exe//gdk-pixbuf.mo ok
2017-03-06 11:08:24 geany-1.30_setup.exe//gtk20-properties.mo ok
2017-03-06 11:08:24 geany-1.30_setup.exe//gtk20.mo ok
2017-03-06 11:08:24 geany-1.30_setup.exe//atk10.mo ok
2017-03-06 11:08:24 geany-1.30_setup.exe//gdk-pixbuf.mo ok
2017-03-06 11:08:24 geany-1.30_setup.exe//gettext-runtime.mo ok
2017-03-06 11:08:24 geany-1.30_setup.exe//gettext-tools.mo ok
2017-03-06 11:08:24 geany-1.30_setup.exe//glib20.mo ok
2017-03-06 11:08:24 geany-1.30_setup.exe//gtk20-properties.mo ok
2017-03-06 11:08:24 geany-1.30_setup.exe//gtk20.mo ok
2017-03-06 11:08:24 geany-1.30_setup.exe//gdk-pixbuf.mo ok
2017-03-06 11:08:24 geany-1.30_setup.exe//gtk20-properties.mo ok
2017-03-06 11:08:24 geany-1.30_setup.exe//gtk20.mo ok
2017-03-06 11:08:24 geany-1.30_setup.exe//atk10.mo ok
2017-03-06 11:08:24 geany-1.30_setup.exe//gdk-pixbuf.mo ok
2017-03-06 11:08:24 geany-1.30_setup.exe//glib20.mo ok
2017-03-06 11:08:24 geany-1.30_setup.exe//gtk20-properties.mo ok
2017-03-06 11:08:24 geany-1.30_setup.exe//gtk20.mo ok
2017-03-06 11:08:24 geany-1.30_setup.exe//atk10.mo ok
2017-03-06 11:08:24 geany-1.30_setup.exe//gdk-pixbuf.mo ok
2017-03-06 11:08:24 geany-1.30_setup.exe//gettext-runtime.mo ok
2017-03-06 11:08:24 geany-1.30_setup.exe//gettext-tools.mo ok
2017-03-06 11:08:24 geany-1.30_setup.exe//glib20.mo ok
2017-03-06 11:08:24 geany-1.30_setup.exe//gtk20-properties.mo ok
2017-03-06 11:08:24 geany-1.30_setup.exe//gtk20.mo ok
2017-03-06 11:08:24 geany-1.30_setup.exe//atk10.mo ok
2017-03-06 11:08:24 geany-1.30_setup.exe//gdk-pixbuf.mo ok
2017-03-06 11:08:24 geany-1.30_setup.exe//gettext-runtime.mo ok
2017-03-06 11:08:24 geany-1.30_setup.exe//gettext-tools.mo ok
2017-03-06 11:08:24 geany-1.30_setup.exe//glib20.mo ok
2017-03-06 11:08:24 geany-1.30_setup.exe//gtk20-properties.mo ok
2017-03-06 11:08:24 geany-1.30_setup.exe//gtk20.mo ok
2017-03-06 11:08:24 geany-1.30_setup.exe//atk10.mo ok
2017-03-06 11:08:24 geany-1.30_setup.exe//gdk-pixbuf.mo ok
2017-03-06 11:08:24 geany-1.30_setup.exe//glib20.mo ok
2017-03-06 11:08:24 geany-1.30_setup.exe//gtk20-properties.mo ok
2017-03-06 11:08:24 geany-1.30_setup.exe//gtk20.mo ok
2017-03-06 11:08:24 geany-1.30_setup.exe//atk10.mo ok
2017-03-06 11:08:24 geany-1.30_setup.exe//gdk-pixbuf.mo ok
2017-03-06 11:08:24 geany-1.30_setup.exe//glib20.mo ok
2017-03-06 11:08:24 geany-1.30_setup.exe//gtk20-properties.mo ok
2017-03-06 11:08:24 geany-1.30_setup.exe//gtk20.mo ok
2017-03-06 11:08:24 geany-1.30_setup.exe//atk10.mo ok
2017-03-06 11:08:25 geany-1.30_setup.exe//gdk-pixbuf.mo ok
2017-03-06 11:08:25 geany-1.30_setup.exe//atk10.mo ok
2017-03-06 11:08:25 geany-1.30_setup.exe//gdk-pixbuf.mo ok
2017-03-06 11:08:25 geany-1.30_setup.exe//glib20.mo ok
2017-03-06 11:08:25 geany-1.30_setup.exe//gtk20-properties.mo ok
2017-03-06 11:08:25 geany-1.30_setup.exe//gtk20.mo ok
2017-03-06 11:08:25 geany-1.30_setup.exe//atk10.mo ok
2017-03-06 11:08:25 geany-1.30_setup.exe//gdk-pixbuf.mo ok
2017-03-06 11:08:25 geany-1.30_setup.exe//gettext-runtime.mo ok
2017-03-06 11:08:25 geany-1.30_setup.exe//gettext-tools.mo ok
2017-03-06 11:08:25 geany-1.30_setup.exe//glib20.mo ok
2017-03-06 11:08:25 geany-1.30_setup.exe//gtk20-properties.mo ok
2017-03-06 11:08:25 geany-1.30_setup.exe//gtk20.mo ok
2017-03-06 11:08:25 geany-1.30_setup.exe//atk10.mo ok
2017-03-06 11:08:25 geany-1.30_setup.exe//gdk-pixbuf.mo ok
2017-03-06 11:08:25 geany-1.30_setup.exe//glib20.mo ok
2017-03-06 11:08:25 geany-1.30_setup.exe//gtk20-properties.mo ok
2017-03-06 11:08:25 geany-1.30_setup.exe//gtk20.mo ok
2017-03-06 11:08:25 geany-1.30_setup.exe//atk10.mo ok
2017-03-06 11:08:25 geany-1.30_setup.exe//gdk-pixbuf.mo ok
2017-03-06 11:08:25 geany-1.30_setup.exe//gtk20-properties.mo ok
2017-03-06 11:08:25 geany-1.30_setup.exe//gtk20.mo ok
2017-03-06 11:08:25 geany-1.30_setup.exe//atk10.mo ok
2017-03-06 11:08:25 geany-1.30_setup.exe//gdk-pixbuf.mo ok
2017-03-06 11:08:25 geany-1.30_setup.exe//glib20.mo ok
2017-03-06 11:08:25 geany-1.30_setup.exe//gtk20-properties.mo ok
2017-03-06 11:08:25 geany-1.30_setup.exe//gtk20.mo ok
2017-03-06 11:08:25 geany-1.30_setup.exe//atk10.mo ok
2017-03-06 11:08:25 geany-1.30_setup.exe//gdk-pixbuf.mo ok
2017-03-06 11:08:25 geany-1.30_setup.exe//glib20.mo ok
2017-03-06 11:08:25 geany-1.30_setup.exe//gtk20-properties.mo ok
2017-03-06 11:08:25 geany-1.30_setup.exe//gtk20.mo ok
2017-03-06 11:08:25 geany-1.30_setup.exe//atk10.mo ok
2017-03-06 11:08:25 geany-1.30_setup.exe//gdk-pixbuf.mo ok
2017-03-06 11:08:25 geany-1.30_setup.exe//glib20.mo ok
2017-03-06 11:08:25 geany-1.30_setup.exe//gtk20-properties.mo ok
2017-03-06 11:08:25 geany-1.30_setup.exe//gtk20.mo ok
2017-03-06 11:08:25 geany-1.30_setup.exe//glib20.mo ok
2017-03-06 11:08:25 geany-1.30_setup.exe//gdk-pixbuf.mo ok
2017-03-06 11:08:25 geany-1.30_setup.exe//gtk20-properties.mo ok
2017-03-06 11:08:25 geany-1.30_setup.exe//gtk20.mo ok
2017-03-06 11:08:25 geany-1.30_setup.exe//atk10.mo ok
2017-03-06 11:08:25 geany-1.30_setup.exe//gdk-pixbuf.mo ok
2017-03-06 11:08:25 geany-1.30_setup.exe//glib20.mo ok
2017-03-06 11:08:26 geany-1.30_setup.exe//gtk20-properties.mo ok
2017-03-06 11:08:26 geany-1.30_setup.exe//gtk20.mo ok
2017-03-06 11:08:26 geany-1.30_setup.exe//atk10.mo ok
2017-03-06 11:08:26 geany-1.30_setup.exe//gdk-pixbuf.mo ok
2017-03-06 11:08:26 geany-1.30_setup.exe//glib20.mo ok
2017-03-06 11:08:26 geany-1.30_setup.exe//gtk20-properties.mo ok
2017-03-06 11:08:26 geany-1.30_setup.exe//gtk20.mo ok
2017-03-06 11:08:26 geany-1.30_setup.exe//atk10.mo ok
2017-03-06 11:08:26 geany-1.30_setup.exe//gdk-pixbuf.mo ok
2017-03-06 11:08:26 geany-1.30_setup.exe//glib20.mo ok
2017-03-06 11:08:26 geany-1.30_setup.exe//gtk20-properties.mo ok
2017-03-06 11:08:26 geany-1.30_setup.exe//gtk20.mo ok
2017-03-06 11:08:26 geany-1.30_setup.exe//atk10.mo ok
2017-03-06 11:08:26 geany-1.30_setup.exe//gdk-pixbuf.mo ok
2017-03-06 11:08:26 geany-1.30_setup.exe//glib20.mo ok
2017-03-06 11:08:26 geany-1.30_setup.exe//gtk20-properties.mo ok
2017-03-06 11:08:26 geany-1.30_setup.exe//gtk20.mo ok
2017-03-06 11:08:26 geany-1.30_setup.exe//atk10.mo ok
2017-03-06 11:08:26 geany-1.30_setup.exe//gdk-pixbuf.mo ok
2017-03-06 11:08:26 geany-1.30_setup.exe//glib20.mo ok
2017-03-06 11:08:26 geany-1.30_setup.exe//gtk20-properties.mo ok
2017-03-06 11:08:26 geany-1.30_setup.exe//gtk20.mo ok
2017-03-06 11:08:26 geany-1.30_setup.exe//gdk-pixbuf.mo ok
2017-03-06 11:08:26 geany-1.30_setup.exe//gtk20-properties.mo ok
2017-03-06 11:08:26 geany-1.30_setup.exe//gtk20.mo ok
2017-03-06 11:08:26 geany-1.30_setup.exe//atk10.mo ok
2017-03-06 11:08:26 geany-1.30_setup.exe//gdk-pixbuf.mo ok
2017-03-06 11:08:26 geany-1.30_setup.exe//gettext-runtime.mo ok
2017-03-06 11:08:26 geany-1.30_setup.exe//gettext-tools.mo ok
2017-03-06 11:08:26 geany-1.30_setup.exe//glib20.mo ok
2017-03-06 11:08:26 geany-1.30_setup.exe//gtk20-properties.mo ok
2017-03-06 11:08:26 geany-1.30_setup.exe//gtk20.mo ok
2017-03-06 11:08:26 geany-1.30_setup.exe//gdk-pixbuf.mo ok
2017-03-06 11:08:26 geany-1.30_setup.exe//glib20.mo ok
2017-03-06 11:08:26 geany-1.30_setup.exe//gtk20-properties.mo ok
2017-03-06 11:08:26 geany-1.30_setup.exe//gtk20.mo ok
2017-03-06 11:08:26 geany-1.30_setup.exe//atk10.mo ok
2017-03-06 11:08:26 geany-1.30_setup.exe//gdk-pixbuf.mo ok
2017-03-06 11:08:26 geany-1.30_setup.exe//glib20.mo ok
2017-03-06 11:08:26 geany-1.30_setup.exe//gtk20-properties.mo ok
2017-03-06 11:08:26 geany-1.30_setup.exe//gtk20.mo ok
2017-03-06 11:08:26 geany-1.30_setup.exe//atk10.mo ok
2017-03-06 11:08:26 geany-1.30_setup.exe//gdk-pixbuf.mo ok
2017-03-06 11:08:26 geany-1.30_setup.exe//gettext-runtime.mo ok
2017-03-06 11:08:26 geany-1.30_setup.exe//gettext-tools.mo ok
2017-03-06 11:08:26 geany-1.30_setup.exe//glib20.mo ok
2017-03-06 11:08:26 geany-1.30_setup.exe//gtk20-properties.mo ok
2017-03-06 11:08:26 geany-1.30_setup.exe//gtk20.mo ok
2017-03-06 11:08:26 geany-1.30_setup.exe//atk10.mo ok
2017-03-06 11:08:26 geany-1.30_setup.exe//gdk-pixbuf.mo ok
2017-03-06 11:08:26 geany-1.30_setup.exe//gettext-runtime.mo ok
2017-03-06 11:08:26 geany-1.30_setup.exe//gettext-tools.mo ok
2017-03-06 11:08:26 geany-1.30_setup.exe//glib20.mo ok
2017-03-06 11:08:26 geany-1.30_setup.exe//gtk20-properties.mo ok
2017-03-06 11:08:26 geany-1.30_setup.exe//gtk20.mo ok
2017-03-06 11:08:26 geany-1.30_setup.exe//gdk-pixbuf.mo ok
2017-03-06 11:08:26 geany-1.30_setup.exe//gtk20-properties.mo ok
2017-03-06 11:08:26 geany-1.30_setup.exe//gtk20.mo ok
2017-03-06 11:08:26 geany-1.30_setup.exe//atk10.mo ok
2017-03-06 11:08:26 geany-1.30_setup.exe//gdk-pixbuf.mo ok
2017-03-06 11:08:26 geany-1.30_setup.exe//glib20.mo ok
2017-03-06 11:08:27 geany-1.30_setup.exe//gtk20-properties.mo ok
2017-03-06 11:08:27 geany-1.30_setup.exe//gtk20.mo ok
2017-03-06 11:08:27 geany-1.30_setup.exe//atk10.mo ok
2017-03-06 11:08:27 geany-1.30_setup.exe//gdk-pixbuf.mo ok
2017-03-06 11:08:27 geany-1.30_setup.exe//glib20.mo ok
2017-03-06 11:08:27 geany-1.30_setup.exe//gtk20-properties.mo ok
2017-03-06 11:08:27 geany-1.30_setup.exe//gtk20.mo ok
2017-03-06 11:08:27 geany-1.30_setup.exe//atk10.mo ok
2017-03-06 11:08:27 geany-1.30_setup.exe//gdk-pixbuf.mo ok
2017-03-06 11:08:27 geany-1.30_setup.exe//gettext-tools.mo ok
2017-03-06 11:08:27 geany-1.30_setup.exe//glib20.mo ok
2017-03-06 11:08:27 geany-1.30_setup.exe//gtk20-properties.mo ok
2017-03-06 11:08:27 geany-1.30_setup.exe//gtk20.mo ok
2017-03-06 11:08:27 geany-1.30_setup.exe//atk10.mo ok
2017-03-06 11:08:27 geany-1.30_setup.exe//gdk-pixbuf.mo ok
2017-03-06 11:08:27 geany-1.30_setup.exe//gettext-runtime.mo ok
2017-03-06 11:08:27 geany-1.30_setup.exe//gettext-tools.mo ok
2017-03-06 11:08:27 geany-1.30_setup.exe//glib20.mo ok
2017-03-06 11:08:27 geany-1.30_setup.exe//gtk20-properties.mo ok
2017-03-06 11:08:27 geany-1.30_setup.exe//gtk20.mo ok
2017-03-06 11:08:27 geany-1.30_setup.exe//atk10.mo ok
2017-03-06 11:08:27 geany-1.30_setup.exe//gdk-pixbuf.mo ok
2017-03-06 11:08:27 geany-1.30_setup.exe//glib20.mo ok
2017-03-06 11:08:27 geany-1.30_setup.exe//gtk20-properties.mo ok
2017-03-06 11:08:27 geany-1.30_setup.exe//gtk20.mo ok
2017-03-06 11:08:27 geany-1.30_setup.exe//atk10.mo ok
2017-03-06 11:08:27 geany-1.30_setup.exe//gdk-pixbuf.mo ok
2017-03-06 11:08:27 geany-1.30_setup.exe//gettext-runtime.mo ok
2017-03-06 11:08:27 geany-1.30_setup.exe//gettext-tools.mo archive Mail
2017-03-06 11:08:27 geany-1.30_setup.exe//gettext-tools.mo//text ok
2017-03-06 11:08:27 geany-1.30_setup.exe//gettext-tools.mo ok
2017-03-06 11:08:27 geany-1.30_setup.exe//glib20.mo ok
2017-03-06 11:08:27 geany-1.30_setup.exe//gtk20-properties.mo ok
2017-03-06 11:08:27 geany-1.30_setup.exe//gtk20.mo ok
2017-03-06 11:08:27 geany-1.30_setup.exe//atk10.mo ok
2017-03-06 11:08:27 geany-1.30_setup.exe//gdk-pixbuf.mo ok
2017-03-06 11:08:27 geany-1.30_setup.exe//gettext-runtime.mo ok
2017-03-06 11:08:27 geany-1.30_setup.exe//gettext-tools.mo ok
2017-03-06 11:08:27 geany-1.30_setup.exe//glib20.mo ok
2017-03-06 11:08:27 geany-1.30_setup.exe//gtk20-properties.mo ok
2017-03-06 11:08:27 geany-1.30_setup.exe//gtk20.mo ok
2017-03-06 11:08:27 geany-1.30_setup.exe//atk10.mo ok
2017-03-06 11:08:27 geany-1.30_setup.exe//gdk-pixbuf.mo ok
2017-03-06 11:08:27 geany-1.30_setup.exe//gettext-runtime.mo ok
2017-03-06 11:08:27 geany-1.30_setup.exe//gettext-tools.mo ok
2017-03-06 11:08:27 geany-1.30_setup.exe//glib20.mo ok
2017-03-06 11:08:27 geany-1.30_setup.exe//gtk20-properties.mo ok
2017-03-06 11:08:27 geany-1.30_setup.exe//gtk20.mo ok
2017-03-06 11:08:27 geany-1.30_setup.exe//atk10.mo ok
2017-03-06 11:08:27 geany-1.30_setup.exe//gdk-pixbuf.mo ok
2017-03-06 11:08:27 geany-1.30_setup.exe//gettext-runtime.mo ok
2017-03-06 11:08:27 geany-1.30_setup.exe//gettext-tools.mo ok
2017-03-06 11:08:27 geany-1.30_setup.exe//glib20.mo ok
2017-03-06 11:08:27 geany-1.30_setup.exe//gtk20-properties.mo ok
2017-03-06 11:08:27 geany-1.30_setup.exe//gtk20.mo ok
2017-03-06 11:08:27 geany-1.30_setup.exe//atk10.mo ok
2017-03-06 11:08:27 geany-1.30_setup.exe//glib20.mo ok
2017-03-06 11:08:27 geany-1.30_setup.exe//gtk20-properties.mo ok
2017-03-06 11:08:27 geany-1.30_setup.exe//gtk20.mo ok
2017-03-06 11:08:27 geany-1.30_setup.exe//atk10.mo ok
2017-03-06 11:08:27 geany-1.30_setup.exe//gdk-pixbuf.mo ok
2017-03-06 11:08:27 geany-1.30_setup.exe//glib20.mo ok
2017-03-06 11:08:27 geany-1.30_setup.exe//gtk20-properties.mo ok
2017-03-06 11:08:27 geany-1.30_setup.exe//gtk20.mo ok
2017-03-06 11:08:27 geany-1.30_setup.exe//atk10.mo ok
2017-03-06 11:08:28 geany-1.30_setup.exe//gdk-pixbuf.mo ok
2017-03-06 11:08:28 geany-1.30_setup.exe//gettext-runtime.mo ok
2017-03-06 11:08:28 geany-1.30_setup.exe//gettext-tools.mo ok
2017-03-06 11:08:28 geany-1.30_setup.exe//glib20.mo ok
2017-03-06 11:08:28 geany-1.30_setup.exe//gtk20-properties.mo ok
2017-03-06 11:08:28 geany-1.30_setup.exe//gtk20.mo ok
2017-03-06 11:08:28 geany-1.30_setup.exe//atk10.mo ok
2017-03-06 11:08:28 geany-1.30_setup.exe//gdk-pixbuf.mo ok
2017-03-06 11:08:28 geany-1.30_setup.exe//gettext-runtime.mo ok
2017-03-06 11:08:28 geany-1.30_setup.exe//gettext-tools.mo ok
2017-03-06 11:08:28 geany-1.30_setup.exe//glib20.mo ok
2017-03-06 11:08:28 geany-1.30_setup.exe//gtk20-properties.mo ok
2017-03-06 11:08:28 geany-1.30_setup.exe//gtk20.mo ok
2017-03-06 11:08:28 geany-1.30_setup.exe//atk10.mo ok
2017-03-06 11:08:28 geany-1.30_setup.exe//gdk-pixbuf.mo ok
2017-03-06 11:08:28 geany-1.30_setup.exe//glib20.mo ok
2017-03-06 11:08:28 geany-1.30_setup.exe//gtk20-properties.mo ok
2017-03-06 11:08:28 geany-1.30_setup.exe//gtk20.mo ok
2017-03-06 11:08:28 geany-1.30_setup.exe//atk10.mo ok
2017-03-06 11:08:28 geany-1.30_setup.exe//gdk-pixbuf.mo ok
2017-03-06 11:08:28 geany-1.30_setup.exe//gettext-runtime.mo ok
2017-03-06 11:08:28 geany-1.30_setup.exe//gettext-tools.mo ok
2017-03-06 11:08:28 geany-1.30_setup.exe//glib20.mo ok
2017-03-06 11:08:28 geany-1.30_setup.exe//gtk20-properties.mo ok
2017-03-06 11:08:28 geany-1.30_setup.exe//gtk20.mo ok
2017-03-06 11:08:28 geany-1.30_setup.exe//atk10.mo ok
2017-03-06 11:08:28 geany-1.30_setup.exe//gdk-pixbuf.mo ok
2017-03-06 11:08:28 geany-1.30_setup.exe//glib20.mo ok
2017-03-06 11:08:28 geany-1.30_setup.exe//gtk20-properties.mo ok
2017-03-06 11:08:28 geany-1.30_setup.exe//gtk20.mo ok
2017-03-06 11:08:28 geany-1.30_setup.exe//atk10.mo ok
2017-03-06 11:08:28 geany-1.30_setup.exe//gdk-pixbuf.mo ok
2017-03-06 11:08:28 geany-1.30_setup.exe//glib20.mo ok
2017-03-06 11:08:28 geany-1.30_setup.exe//gtk20-properties.mo ok
2017-03-06 11:08:28 geany-1.30_setup.exe//gtk20.mo ok
2017-03-06 11:08:28 geany-1.30_setup.exe//atk10.mo ok
2017-03-06 11:08:28 geany-1.30_setup.exe//gdk-pixbuf.mo ok
2017-03-06 11:08:28 geany-1.30_setup.exe//gettext-runtime.mo ok
2017-03-06 11:08:28 geany-1.30_setup.exe//gettext-tools.mo ok
2017-03-06 11:08:28 geany-1.30_setup.exe//glib20.mo ok
2017-03-06 11:08:28 geany-1.30_setup.exe//gtk20-properties.mo ok
2017-03-06 11:08:28 geany-1.30_setup.exe//gtk20.mo ok
2017-03-06 11:08:28 geany-1.30_setup.exe//atk10.mo ok
2017-03-06 11:08:28 geany-1.30_setup.exe//gdk-pixbuf.mo ok
2017-03-06 11:08:28 geany-1.30_setup.exe//glib20.mo ok
2017-03-06 11:08:28 geany-1.30_setup.exe//gtk20-properties.mo ok
2017-03-06 11:08:28 geany-1.30_setup.exe//gtk20.mo ok
2017-03-06 11:08:28 geany-1.30_setup.exe//atk10.mo ok
2017-03-06 11:08:28 geany-1.30_setup.exe//gdk-pixbuf.mo ok
2017-03-06 11:08:28 geany-1.30_setup.exe//glib20.mo ok
2017-03-06 11:08:28 geany-1.30_setup.exe//gtk20-properties.mo ok
2017-03-06 11:08:28 geany-1.30_setup.exe//gtk20.mo ok
2017-03-06 11:08:28 geany-1.30_setup.exe//atk10.mo ok
2017-03-06 11:08:28 geany-1.30_setup.exe//gdk-pixbuf.mo ok
2017-03-06 11:08:28 geany-1.30_setup.exe//glib20.mo ok
2017-03-06 11:08:28 geany-1.30_setup.exe//atk10.mo ok
2017-03-06 11:08:28 geany-1.30_setup.exe//gdk-pixbuf.mo ok
2017-03-06 11:08:28 geany-1.30_setup.exe//glib20.mo ok
2017-03-06 11:08:28 geany-1.30_setup.exe//gtk20-properties.mo ok
2017-03-06 11:08:29 geany-1.30_setup.exe//gtk20.mo ok
2017-03-06 11:08:29 geany-1.30_setup.exe//atk10.mo ok
2017-03-06 11:08:29 geany-1.30_setup.exe//gdk-pixbuf.mo ok
2017-03-06 11:08:29 geany-1.30_setup.exe//gtk20-properties.mo ok
2017-03-06 11:08:29 geany-1.30_setup.exe//gtk20.mo ok
2017-03-06 11:08:29 geany-1.30_setup.exe//glib20.mo ok
2017-03-06 11:08:29 geany-1.30_setup.exe//atk10.mo ok
2017-03-06 11:08:29 geany-1.30_setup.exe//gdk-pixbuf.mo ok
2017-03-06 11:08:29 geany-1.30_setup.exe//gettext-runtime.mo ok
2017-03-06 11:08:29 geany-1.30_setup.exe//gettext-tools.mo ok
2017-03-06 11:08:29 geany-1.30_setup.exe//glib20.mo ok
2017-03-06 11:08:29 geany-1.30_setup.exe//gtk20-properties.mo ok
2017-03-06 11:08:29 geany-1.30_setup.exe//gtk20.mo ok
2017-03-06 11:08:29 geany-1.30_setup.exe//atk10.mo ok
2017-03-06 11:08:29 geany-1.30_setup.exe//gdk-pixbuf.mo ok
2017-03-06 11:08:29 geany-1.30_setup.exe//glib20.mo ok
2017-03-06 11:08:29 geany-1.30_setup.exe//gtk20-properties.mo ok
2017-03-06 11:08:29 geany-1.30_setup.exe//gtk20.mo ok
2017-03-06 11:08:29 geany-1.30_setup.exe//atk10.mo ok
2017-03-06 11:08:29 geany-1.30_setup.exe//gdk-pixbuf.mo ok
2017-03-06 11:08:29 geany-1.30_setup.exe//glib20.mo ok
2017-03-06 11:08:29 geany-1.30_setup.exe//gtk20-properties.mo ok
2017-03-06 11:08:29 geany-1.30_setup.exe//gtk20.mo ok
2017-03-06 11:08:29 geany-1.30_setup.exe//atk10.mo ok
2017-03-06 11:08:29 geany-1.30_setup.exe//gdk-pixbuf.mo ok
2017-03-06 11:08:29 geany-1.30_setup.exe//gettext-runtime.mo ok
2017-03-06 11:08:29 geany-1.30_setup.exe//gettext-tools.mo ok
2017-03-06 11:08:29 geany-1.30_setup.exe//glib20.mo ok
2017-03-06 11:08:29 geany-1.30_setup.exe//gtk20-properties.mo ok
2017-03-06 11:08:29 geany-1.30_setup.exe//gtk20.mo ok
2017-03-06 11:08:29 geany-1.30_setup.exe//gtk20-properties.mo ok
2017-03-06 11:08:29 geany-1.30_setup.exe//gtk20.mo ok
2017-03-06 11:08:29 geany-1.30_setup.exe//gdk-pixbuf.mo ok
2017-03-06 11:08:29 geany-1.30_setup.exe//gtk20-properties.mo ok
2017-03-06 11:08:29 geany-1.30_setup.exe//gtk20.mo ok
2017-03-06 11:08:29 geany-1.30_setup.exe//gdk-pixbuf.mo ok
2017-03-06 11:08:29 geany-1.30_setup.exe//gtk20-properties.mo ok
2017-03-06 11:08:29 geany-1.30_setup.exe//gtk20.mo ok
2017-03-06 11:08:29 geany-1.30_setup.exe//atk10.mo ok
2017-03-06 11:08:29 geany-1.30_setup.exe//gdk-pixbuf.mo ok
2017-03-06 11:08:29 geany-1.30_setup.exe//gettext-runtime.mo ok
2017-03-06 11:08:29 geany-1.30_setup.exe//gettext-tools.mo ok
2017-03-06 11:08:29 geany-1.30_setup.exe//glib20.mo ok
2017-03-06 11:08:29 geany-1.30_setup.exe//gtk20-properties.mo ok
2017-03-06 11:08:29 geany-1.30_setup.exe//gtk20.mo ok
2017-03-06 11:08:29 geany-1.30_setup.exe//atk10.mo ok
2017-03-06 11:08:29 geany-1.30_setup.exe//gdk-pixbuf.mo ok
2017-03-06 11:08:29 geany-1.30_setup.exe//glib20.mo ok
2017-03-06 11:08:29 geany-1.30_setup.exe//gtk20-properties.mo ok
2017-03-06 11:08:29 geany-1.30_setup.exe//gtk20.mo ok
2017-03-06 11:08:29 geany-1.30_setup.exe//atk10.mo ok
2017-03-06 11:08:29 geany-1.30_setup.exe//gdk-pixbuf.mo ok
2017-03-06 11:08:29 geany-1.30_setup.exe//glib20.mo ok
2017-03-06 11:08:29 geany-1.30_setup.exe//gtk20-properties.mo ok
2017-03-06 11:08:29 geany-1.30_setup.exe//gtk20.mo ok
2017-03-06 11:08:29 geany-1.30_setup.exe//atk10.mo ok
2017-03-06 11:08:29 geany-1.30_setup.exe//gdk-pixbuf.mo ok
2017-03-06 11:08:29 geany-1.30_setup.exe//glib20.mo ok
2017-03-06 11:08:29 geany-1.30_setup.exe//gtk20-properties.mo ok
2017-03-06 11:08:30 geany-1.30_setup.exe//gtk20.mo ok
2017-03-06 11:08:30 geany-1.30_setup.exe//atk10.mo ok
2017-03-06 11:08:30 geany-1.30_setup.exe//gdk-pixbuf.mo ok
2017-03-06 11:08:30 geany-1.30_setup.exe//gettext-runtime.mo ok
2017-03-06 11:08:30 geany-1.30_setup.exe//gettext-tools.mo ok
2017-03-06 11:08:30 geany-1.30_setup.exe//glib20.mo ok
2017-03-06 11:08:30 geany-1.30_setup.exe//gtk20-properties.mo ok
2017-03-06 11:08:30 geany-1.30_setup.exe//gtk20.mo ok
2017-03-06 11:08:30 geany-1.30_setup.exe//atk10.mo ok
2017-03-06 11:08:30 geany-1.30_setup.exe//gdk-pixbuf.mo ok
2017-03-06 11:08:30 geany-1.30_setup.exe//gettext-runtime.mo ok
2017-03-06 11:08:30 geany-1.30_setup.exe//glib20.mo ok
2017-03-06 11:08:30 geany-1.30_setup.exe//gtk20-properties.mo ok
2017-03-06 11:08:30 geany-1.30_setup.exe//gtk20.mo ok
2017-03-06 11:08:30 geany-1.30_setup.exe//atk10.mo ok
2017-03-06 11:08:30 geany-1.30_setup.exe//gdk-pixbuf.mo ok
2017-03-06 11:08:30 geany-1.30_setup.exe//gettext-runtime.mo ok
2017-03-06 11:08:30 geany-1.30_setup.exe//gettext-tools.mo ok
2017-03-06 11:08:30 geany-1.30_setup.exe//glib20.mo ok
2017-03-06 11:08:30 geany-1.30_setup.exe//gtk20-properties.mo ok
2017-03-06 11:08:30 geany-1.30_setup.exe//gtk20.mo ok
2017-03-06 11:08:30 geany-1.30_setup.exe//atk10.mo ok
2017-03-06 11:08:30 geany-1.30_setup.exe//ScintillaLicense.txt ok
2017-03-06 11:08:30 geany-1.30_setup.exe//manual.txt ok
2017-03-06 11:08:30 geany-1.30_setup.exe//index.html ok
2017-03-06 11:08:30 geany-1.30_setup.exe//build_menu_commands_dialog.png ok
2017-03-06 11:08:30 geany-1.30_setup.exe//find_dialog.png ok
2017-03-06 11:08:30 geany-1.30_setup.exe//find_in_files_dialog.png ok
2017-03-06 11:08:30 geany-1.30_setup.exe//main_window.png ok
2017-03-06 11:08:30 geany-1.30_setup.exe//pref_dialog_edit_completions.png ok
2017-03-06 11:08:30 geany-1.30_setup.exe//pref_dialog_edit_display.png ok
2017-03-06 11:08:30 geany-1.30_setup.exe//pref_dialog_edit_features.png ok
2017-03-06 11:08:30 geany-1.30_setup.exe//pref_dialog_edit_indentation.png ok
2017-03-06 11:08:30 geany-1.30_setup.exe//pref_dialog_files.png ok
2017-03-06 11:08:30 geany-1.30_setup.exe//pref_dialog_gen_misc.png ok
2017-03-06 11:08:30 geany-1.30_setup.exe//pref_dialog_gen_startup.png ok
2017-03-06 11:08:31 geany-1.30_setup.exe//pref_dialog_interface_interface.png ok
2017-03-06 11:08:31 geany-1.30_setup.exe//pref_dialog_interface_notebook.png ok
2017-03-06 11:08:31 geany-1.30_setup.exe//pref_dialog_interface_toolbar.png ok
2017-03-06 11:08:31 geany-1.30_setup.exe//pref_dialog_keys.png ok
2017-03-06 11:08:31 geany-1.30_setup.exe//pref_dialog_printing.png ok
2017-03-06 11:08:31 geany-1.30_setup.exe//pref_dialog_templ.png ok
2017-03-06 11:08:31 geany-1.30_setup.exe//pref_dialog_tools.png ok
2017-03-06 11:08:31 geany-1.30_setup.exe//pref_dialog_various.png ok
2017-03-06 11:08:31 geany-1.30_setup.exe//pref_dialog_vte.png ok
2017-03-06 11:08:31 geany-1.30_setup.exe//replace_dialog.png ok
2017-03-06 11:08:31 geany-1.30_setup.exe//entities.html.tags ok
2017-03-06 11:08:31 geany-1.30_setup.exe//std.pas.tags ok
2017-03-06 11:08:31 geany-1.30_setup.exe//std.php.tags ok
2017-03-06 11:08:31 geany-1.30_setup.exe//std.py.tags ok
2017-03-06 11:08:31 geany-1.30_setup.exe//std99.c.tags ok
2017-03-06 11:08:31 geany-1.30_setup.exe//ReadMe.Dependencies.Geany.txt ok
2017-03-06 11:08:31 geany-1.30_setup.exe//grep.exe ok
2017-03-06 11:08:31 geany-1.30_setup.exe//libasprintf-0.dll ok
2017-03-06 11:08:31 geany-1.30_setup.exe//libatk-1.0-0.dll ok
2017-03-06 11:08:31 geany-1.30_setup.exe//libatomic-1.dll ok
2017-03-06 11:08:32 geany-1.30_setup.exe//libbz2-1.dll ok
2017-03-06 11:08:32 geany-1.30_setup.exe//libcairo-2.dll ok
2017-03-06 11:08:32 geany-1.30_setup.exe//libcairo-gobject-2.dll ok
2017-03-06 11:08:32 geany-1.30_setup.exe//libcairo-script-interpreter-2.dll ok
2017-03-06 11:08:32 geany-1.30_setup.exe//libcharset-1.dll ok
2017-03-06 11:08:32 geany-1.30_setup.exe//libexpat-1.dll ok
2017-03-06 11:08:32 geany-1.30_setup.exe//libffi-6.dll ok
2017-03-06 11:08:32 geany-1.30_setup.exe//libfontconfig-1.dll ok
2017-03-06 11:08:32 geany-1.30_setup.exe//libfreetype-6.dll ok
2017-03-06 11:08:32 geany-1.30_setup.exe//libgailutil-18.dll ok
2017-03-06 11:08:33 geany-1.30_setup.exe//libgdk-win32-2.0-0.dll ok
2017-03-06 11:08:33 geany-1.30_setup.exe//libgdk_pixbuf-2.0-0.dll ok
2017-03-06 11:08:33 geany-1.30_setup.exe//libgettextlib-0-19-8-1.dll ok
2017-03-06 11:08:33 geany-1.30_setup.exe//libgettextpo-0.dll ok
2017-03-06 11:08:33 geany-1.30_setup.exe//libgettextsrc-0-19-8-1.dll ok
2017-03-06 11:08:34 geany-1.30_setup.exe//libgio-2.0-0.dll ok
2017-03-06 11:08:34 geany-1.30_setup.exe//libglib-2.0-0.dll ok
2017-03-06 11:08:34 geany-1.30_setup.exe//libgmodule-2.0-0.dll ok
2017-03-06 11:08:35 geany-1.30_setup.exe//libgobject-2.0-0.dll ok
2017-03-06 11:08:35 geany-1.30_setup.exe//libgomp-1.dll ok
2017-03-06 11:08:35 geany-1.30_setup.exe//libgraphite2.dll ok
2017-03-06 11:08:35 geany-1.30_setup.exe//libgthread-2.0-0.dll ok
2017-03-06 11:08:36 geany-1.30_setup.exe//libgtk-win32-2.0-0.dll ok
2017-03-06 11:08:36 geany-1.30_setup.exe//libharfbuzz-0.dll ok
2017-03-06 11:08:36 geany-1.30_setup.exe//libharfbuzz-gobject-0.dll ok
2017-03-06 11:08:36 geany-1.30_setup.exe//libharfbuzz-icu-0.dll ok
2017-03-06 11:08:36 geany-1.30_setup.exe//libiconv-2.dll ok
2017-03-06 11:08:36 geany-1.30_setup.exe//libintl-8.dll ok
2017-03-06 11:08:37 geany-1.30_setup.exe//libminizip-1.dll ok
2017-03-06 11:08:37 geany-1.30_setup.exe//libpango-1.0-0.dll ok
2017-03-06 11:08:37 geany-1.30_setup.exe//libpangocairo-1.0-0.dll ok
2017-03-06 11:08:37 geany-1.30_setup.exe//libpangoft2-1.0-0.dll ok
2017-03-06 11:08:37 geany-1.30_setup.exe//libpangowin32-1.0-0.dll ok
2017-03-06 11:08:37 geany-1.30_setup.exe//libpcre-1.dll ok
2017-03-06 11:08:37 geany-1.30_setup.exe//libpcre16-0.dll ok
2017-03-06 11:08:37 geany-1.30_setup.exe//libpcre32-0.dll ok
2017-03-06 11:08:37 geany-1.30_setup.exe//libpcrecpp-0.dll ok
2017-03-06 11:08:37 geany-1.30_setup.exe//libpcreposix-0.dll ok
2017-03-06 11:08:37 geany-1.30_setup.exe//libpixman-1-0.dll ok
2017-03-06 11:08:38 geany-1.30_setup.exe//libpng16-16.dll ok
2017-03-06 11:08:38 geany-1.30_setup.exe//libquadmath-0.dll ok
2017-03-06 11:08:38 geany-1.30_setup.exe//libssp-0.dll ok
2017-03-06 11:08:39 geany-1.30_setup.exe//msys-2.0.dll ok
2017-03-06 11:08:39 geany-1.30_setup.exe//msys-gcc_s-1.dll ok
2017-03-06 11:08:39 geany-1.30_setup.exe//msys-iconv-2.dll ok
2017-03-06 11:08:39 geany-1.30_setup.exe//msys-intl-8.dll ok
2017-03-06 11:08:39 geany-1.30_setup.exe//msys-pcre-1.dll ok
2017-03-06 11:08:39 geany-1.30_setup.exe//sort.exe ok
2017-03-06 11:08:39 geany-1.30_setup.exe//zlib1.dll ok
2017-03-06 11:08:40 geany-1.30_setup.exe//fonts.conf ok
2017-03-06 11:08:40 geany-1.30_setup.exe//10-hinting-slight.conf ok
2017-03-06 11:08:40 geany-1.30_setup.exe//10-scale-bitmap-fonts.conf ok
2017-03-06 11:08:40 geany-1.30_setup.exe//20-unhint-small-vera.conf ok
2017-03-06 11:08:40 geany-1.30_setup.exe//30-metric-aliases.conf ok
2017-03-06 11:08:40 geany-1.30_setup.exe//30-urw-aliases.conf ok
2017-03-06 11:08:40 geany-1.30_setup.exe//40-nonlatin.conf ok
2017-03-06 11:08:40 geany-1.30_setup.exe//45-latin.conf ok
2017-03-06 11:08:40 geany-1.30_setup.exe//49-sansserif.conf ok
2017-03-06 11:08:40 geany-1.30_setup.exe//50-user.conf ok
2017-03-06 11:08:40 geany-1.30_setup.exe//51-local.conf ok
2017-03-06 11:08:40 geany-1.30_setup.exe//60-latin.conf ok
2017-03-06 11:08:40 geany-1.30_setup.exe//65-fonts-persian.conf ok
2017-03-06 11:08:40 geany-1.30_setup.exe//65-nonlatin.conf ok
2017-03-06 11:08:40 geany-1.30_setup.exe//69-unifont.conf ok
2017-03-06 11:08:40 geany-1.30_setup.exe//80-delicious.conf ok
2017-03-06 11:08:40 geany-1.30_setup.exe//90-synthetic.conf ok
2017-03-06 11:08:40 geany-1.30_setup.exe//README ok
2017-03-06 11:08:40 geany-1.30_setup.exe//im-multipress.conf ok
2017-03-06 11:08:40 geany-1.30_setup.exe//loaders.cache ok
2017-03-06 11:08:40 geany-1.30_setup.exe//libpixbufloader-ani.dll ok
2017-03-06 11:08:40 geany-1.30_setup.exe//libpixbufloader-bmp.dll ok
2017-03-06 11:08:40 geany-1.30_setup.exe//libpixbufloader-gif.dll ok
2017-03-06 11:08:40 geany-1.30_setup.exe//libpixbufloader-icns.dll ok
2017-03-06 11:08:40 geany-1.30_setup.exe//libpixbufloader-ico.dll ok
2017-03-06 11:08:40 geany-1.30_setup.exe//libpixbufloader-jpeg.dll ok
2017-03-06 11:08:40 geany-1.30_setup.exe//libpixbufloader-pnm.dll ok
2017-03-06 11:08:40 geany-1.30_setup.exe//libpixbufloader-qtif.dll ok
2017-03-06 11:08:40 geany-1.30_setup.exe//libpixbufloader-tga.dll ok
2017-03-06 11:08:40 geany-1.30_setup.exe//libpixbufloader-tiff.dll ok
2017-03-06 11:08:40 geany-1.30_setup.exe//libpixbufloader-xbm.dll ok
2017-03-06 11:08:40 geany-1.30_setup.exe//libpixbufloader-xpm.dll ok
2017-03-06 11:08:40 geany-1.30_setup.exe//immodules.cache ok
2017-03-06 11:08:40 geany-1.30_setup.exe//libpixmap.dll ok
2017-03-06 11:08:41 geany-1.30_setup.exe//libwimp.dll ok
2017-03-06 11:08:41 geany-1.30_setup.exe//libgail.dll ok
2017-03-06 11:08:41 geany-1.30_setup.exe//10-autohint.conf ok
2017-03-06 11:08:41 geany-1.30_setup.exe//10-hinting-full.conf ok
2017-03-06 11:08:41 geany-1.30_setup.exe//10-hinting-medium.conf ok
2017-03-06 11:08:41 geany-1.30_setup.exe//10-hinting-none.conf ok
2017-03-06 11:08:41 geany-1.30_setup.exe//10-no-sub-pixel.conf ok
2017-03-06 11:08:41 geany-1.30_setup.exe//10-sub-pixel-bgr.conf ok
2017-03-06 11:08:41 geany-1.30_setup.exe//10-sub-pixel-rgb.conf ok
2017-03-06 11:08:41 geany-1.30_setup.exe//10-sub-pixel-vbgr.conf ok
2017-03-06 11:08:41 geany-1.30_setup.exe//10-sub-pixel-vrgb.conf ok
2017-03-06 11:08:41 geany-1.30_setup.exe//10-unhinted.conf ok
2017-03-06 11:08:41 geany-1.30_setup.exe//11-lcdfilter-default.conf ok
2017-03-06 11:08:41 geany-1.30_setup.exe//11-lcdfilter-legacy.conf ok
2017-03-06 11:08:41 geany-1.30_setup.exe//11-lcdfilter-light.conf ok
2017-03-06 11:08:41 geany-1.30_setup.exe//25-unhint-nonlatin.conf ok
2017-03-06 11:08:41 geany-1.30_setup.exe//65-khmer.conf ok
2017-03-06 11:08:41 geany-1.30_setup.exe//70-no-bitmaps.conf ok
2017-03-06 11:08:41 geany-1.30_setup.exe//70-yes-bitmaps.conf ok
2017-03-06 11:08:41 geany-1.30_setup.exe//appdata.its ok
2017-03-06 11:08:41 geany-1.30_setup.exe//appdata.loc ok
2017-03-06 11:08:41 geany-1.30_setup.exe//glade.loc ok
2017-03-06 11:08:41 geany-1.30_setup.exe//glade1.its ok
2017-03-06 11:08:41 geany-1.30_setup.exe//glade2.its ok
2017-03-06 11:08:41 geany-1.30_setup.exe//gsettings.its ok
2017-03-06 11:08:41 geany-1.30_setup.exe//gsettings.loc ok
2017-03-06 11:08:41 geany-1.30_setup.exe//gtkbuilder.its ok
2017-03-06 11:08:42 geany-1.30_setup.exe//gschema.dtd ok
2017-03-06 11:08:42 geany-1.30_setup.exe//COPYING ok
2017-03-06 11:08:42 geany-1.30_setup.exe//LICENSE ok
2017-03-06 11:08:42 geany-1.30_setup.exe//COPYING ok
2017-03-06 11:08:42 geany-1.30_setup.exe//COPYING-LGPL-2.1 ok
2017-03-06 11:08:42 geany-1.30_setup.exe//COPYING-MPL-1.1 ok
2017-03-06 11:08:42 geany-1.30_setup.exe//COPYING ok
2017-03-06 11:08:42 geany-1.30_setup.exe//COPYING ok
2017-03-06 11:08:42 geany-1.30_setup.exe//FTL.TXT ok
2017-03-06 11:08:42 geany-1.30_setup.exe//GPLv2.TXT ok
2017-03-06 11:08:42 geany-1.30_setup.exe//LICENSE.TXT ok
2017-03-06 11:08:42 geany-1.30_setup.exe//COPYING.LIB ok
2017-03-06 11:08:42 geany-1.30_setup.exe//COPYING.RUNTIME ok
2017-03-06 11:08:42 geany-1.30_setup.exe//COPYING3 ok
2017-03-06 11:08:42 geany-1.30_setup.exe//README ok
2017-03-06 11:08:42 geany-1.30_setup.exe//COPYING ok
2017-03-06 11:08:42 geany-1.30_setup.exe//COPYING.LIB ok
2017-03-06 11:08:42 geany-1.30_setup.exe//COPYING ok
2017-03-06 11:08:42 geany-1.30_setup.exe//COPYING ok
2017-03-06 11:08:42 geany-1.30_setup.exe//COPYING ok
2017-03-06 11:08:42 geany-1.30_setup.exe//COPYING ok
2017-03-06 11:08:42 geany-1.30_setup.exe//COPYING ok
2017-03-06 11:08:42 geany-1.30_setup.exe//LICENSE ok
2017-03-06 11:08:42 geany-1.30_setup.exe//COPYING.LIB ok
2017-03-06 11:08:42 geany-1.30_setup.exe//README ok
2017-03-06 11:08:42 geany-1.30_setup.exe//LICENSE ok
2017-03-06 11:08:42 geany-1.30_setup.exe//COPYING ok
2017-03-06 11:08:42 geany-1.30_setup.exe//COPYING ok
2017-03-06 11:08:42 geany-1.30_setup.exe//README ok
2017-03-06 11:08:42 geany-1.30_setup.exe//COPYING ok
2017-03-06 11:08:42 geany-1.30_setup.exe//LICENCE ok
2017-03-06 11:08:42 geany-1.30_setup.exe//COPYING ok
2017-03-06 11:08:42 geany-1.30_setup.exe//LICENSE ok
2017-03-06 11:08:42 geany-1.30_setup.exe//gtkrc ok
2017-03-06 11:08:42 geany-1.30_setup.exe//gtkrc ok
2017-03-06 11:08:42 geany-1.30_setup.exe//gtkrc ok
2017-03-06 11:08:42 geany-1.30_setup.exe//gtkrc ok
2017-03-06 11:08:42 geany-1.30_setup.exe//gdk-pixbuf-thumbnailer.thumbnailer ok
2017-03-06 11:08:42 geany-1.30_setup.exe//app.h ok
2017-03-06 11:08:42 geany-1.30_setup.exe//build.h ok
2017-03-06 11:08:42 geany-1.30_setup.exe//dialogs.h ok
2017-03-06 11:08:42 geany-1.30_setup.exe//document.h ok
2017-03-06 11:08:42 geany-1.30_setup.exe//editor.h ok
2017-03-06 11:08:42 geany-1.30_setup.exe//encodings.h ok
2017-03-06 11:08:42 geany-1.30_setup.exe//filetypes.h ok
2017-03-06 11:08:42 geany-1.30_setup.exe//geany.h ok
2017-03-06 11:08:42 geany-1.30_setup.exe//geanyfunctions.h ok
2017-03-06 11:08:42 geany-1.30_setup.exe//geanyplugin.h ok
2017-03-06 11:08:42 geany-1.30_setup.exe//gtkcompat.h ok
2017-03-06 11:08:42 geany-1.30_setup.exe//highlighting.h ok
2017-03-06 11:08:42 geany-1.30_setup.exe//keybindings.h ok
2017-03-06 11:08:42 geany-1.30_setup.exe//main.h ok
2017-03-06 11:08:42 geany-1.30_setup.exe//msgwindow.h ok
2017-03-06 11:08:42 geany-1.30_setup.exe//navqueue.h ok
2017-03-06 11:08:42 geany-1.30_setup.exe//plugindata.h ok
2017-03-06 11:08:42 geany-1.30_setup.exe//pluginutils.h ok
2017-03-06 11:08:42 geany-1.30_setup.exe//prefs.h ok
2017-03-06 11:08:42 geany-1.30_setup.exe//project.h ok
2017-03-06 11:08:42 geany-1.30_setup.exe//sciwrappers.h ok
2017-03-06 11:08:42 geany-1.30_setup.exe//search.h ok
2017-03-06 11:08:42 geany-1.30_setup.exe//spawn.h ok
2017-03-06 11:08:42 geany-1.30_setup.exe//stash.h ok
2017-03-06 11:08:42 geany-1.30_setup.exe//support.h ok
2017-03-06 11:08:42 geany-1.30_setup.exe//symbols.h ok
2017-03-06 11:08:42 geany-1.30_setup.exe//templates.h ok
2017-03-06 11:08:42 geany-1.30_setup.exe//toolbar.h ok
2017-03-06 11:08:42 geany-1.30_setup.exe//ui_utils.h ok
2017-03-06 11:08:42 geany-1.30_setup.exe//utils.h ok
2017-03-06 11:08:42 geany-1.30_setup.exe//geany-gtkdoc.h ok
2017-03-06 11:08:42 geany-1.30_setup.exe//geany-sciwrappers-gtkdoc.h ok
2017-03-06 11:08:42 geany-1.30_setup.exe//SciLexer.h ok
2017-03-06 11:08:42 geany-1.30_setup.exe//Sci_Position.h ok
2017-03-06 11:08:42 geany-1.30_setup.exe//Scintilla.h ok
2017-03-06 11:08:42 geany-1.30_setup.exe//Scintilla.iface packed Creak
2017-03-06 11:08:42 geany-1.30_setup.exe//Scintilla.iface ok
2017-03-06 11:08:42 geany-1.30_setup.exe//Scintilla.iface ok
2017-03-06 11:08:42 geany-1.30_setup.exe//ScintillaWidget.h ok
2017-03-06 11:08:42 geany-1.30_setup.exe//tm_parser.h ok
2017-03-06 11:08:42 geany-1.30_setup.exe//tm_source_file.h ok
2017-03-06 11:08:42 geany-1.30_setup.exe//tm_tag.h ok
2017-03-06 11:08:42 geany-1.30_setup.exe//tm_workspace.h ok
2017-03-06 11:08:42 geany-1.30_setup.exe//geany.pc ok
2017-03-06 11:08:42 geany-1.30_setup.exe//data1044 ok
2017-03-06 11:08:42 geany-1.30_setup.exe//data1045 ok
2017-03-06 11:08:50 geany-1.30_setup.exe ok
2017-03-06 11:08:52 Scan_Objects$1233 completed
; --- Statistics ---
; Time Start: 2017-03-06 11:08:06
; Time Finish: 2017-03-06 11:08:52
; Processed objects: 1049
; Total OK: 1049
; Total detected: 0
; Suspicions: 0
; Total skipped: 0
; Password protected: 0
; Corrupted: 0
; Errors: 0
; ------------------


















NOD32
scan report: Clean

ECLS Command-line scanner, version 10.0.386.0, (C) 1992-2016 ESET, spol. s r.o.
Module loader, version 1009 (20161205), build 1014
Module perseus, version 1512 (20170220), build 1833
Module scanner, version 15040 (20170306), build 32616
Module archiver, version 1260 (20170213), build 1302
Module advheur, version 1176 (20170116), build 1143
Module cleaner, version 1130 (20161219), build 1163

Command line: /log-rewrite /log-all /files /no-boots /no-heur /no-adv-heur /mail /sfx /rtp /adware /unsafe /unwanted /pattern /action=none /no-quarantine /log-file=output.tmp geany-1.30_setup.exe

Scan started at: 03/06/17 11:08:00
name="geany-1.30_setup.exe", threat="is OK", action="", info=""
name="geany-1.30_setup.exe - NSIS - Entries.bin", threat="is OK", action="", info=""
name="geany-1.30_setup.exe - NSIS - Strings.txt", threat="is OK", action="", info=""
name="geany-1.30_setup.exe - NSIS - Script.nsi", threat="is OK", action="", info=""
name="geany-1.30_setup.exe - NSIS - modern-wizard.bmp", threat="is OK", action="", info=""
name="geany-1.30_setup.exe - NSIS - nsDialogs.dll", threat="is OK", action="", info=""
name="geany-1.30_setup.exe - NSIS - System.dll", threat="is OK", action="", info=""
name="geany-1.30_setup.exe - NSIS - StartMenu.dll", threat="is OK", action="", info=""
name="geany-1.30_setup.exe - NSIS - Authors.txt", threat="is OK", action="", info=""
name="geany-1.30_setup.exe - NSIS - Changelog.txt", threat="is OK", action="", info=""
name="geany-1.30_setup.exe - NSIS - Copying.txt", threat="is OK", action="", info=""
name="geany-1.30_setup.exe - NSIS - News.txt", threat="is OK", action="", info=""
name="geany-1.30_setup.exe - NSIS - Readme.txt", threat="is OK", action="", info=""
name="geany-1.30_setup.exe - NSIS - Thanks.txt", threat="is OK", action="", info=""
name="geany-1.30_setup.exe - NSIS - Todo.txt", threat="is OK", action="", info=""
name="geany-1.30_setup.exe - NSIS - geany.exe", threat="is OK", action="", info=""
name="geany-1.30_setup.exe - NSIS - libgeany-0.dll", threat="is OK", action="", info=""
name="geany-1.30_setup.exe - NSIS - libgcc_s_dw2-1.dll", threat="is OK", action="", info=""
name="geany-1.30_setup.exe - NSIS - libstdc++-6.dll", threat="is OK", action="", info=""
name="geany-1.30_setup.exe - NSIS - libwinpthread-1.dll", threat="is OK", action="", info=""
name="geany-1.30_setup.exe - NSIS - geany-run-helper.bat", threat="is OK", action="", info=""
name="geany-1.30_setup.exe - NSIS - GPL-2", threat="is OK", action="", info=""
name="geany-1.30_setup.exe - NSIS - filetype_extensions.conf", threat="is OK", action="", info=""
name="geany-1.30_setup.exe - NSIS - geany.glade", threat="is OK", action="", info=""
name="geany-1.30_setup.exe - NSIS - geany.gtkrc", threat="is OK", action="", info=""
name="geany-1.30_setup.exe - NSIS - snippets.conf", threat="is OK", action="", info=""
name="geany-1.30_setup.exe - NSIS - ui_toolbar.xml", threat="is OK", action="", info=""
name="geany-1.30_setup.exe - NSIS - filetypes.Arduino.conf", threat="is OK", action="", info=""
name="geany-1.30_setup.exe - NSIS - filetypes.CUDA.conf", threat="is OK", action="", info=""
name="geany-1.30_setup.exe - NSIS - filetypes.Clojure.conf", threat="is OK", action="", info=""
name="geany-1.30_setup.exe - NSIS - filetypes.Cython.conf", threat="is OK", action="", info=""
name="geany-1.30_setup.exe - NSIS - filetypes.Genie.conf", threat="is OK", action="", info=""
name="geany-1.30_setup.exe - NSIS - filetypes.Graphviz.conf", threat="is OK", action="", info=""
name="geany-1.30_setup.exe - NSIS - filetypes.JSON.conf", threat="is OK", action="", info=""
name="geany-1.30_setup.exe - NSIS - filetypes.Scala.conf", threat="is OK", action="", info=""
name="geany-1.30_setup.exe - NSIS - filetypes.abaqus", threat="is OK", action="", info=""
name="geany-1.30_setup.exe - NSIS - filetypes.abc", threat="is OK", action="", info=""
name="geany-1.30_setup.exe - NSIS - filetypes.actionscript", threat="is OK", action="", info=""
name="geany-1.30_setup.exe - NSIS - filetypes.ada", threat="is OK", action="", info=""
name="geany-1.30_setup.exe - NSIS - filetypes.asciidoc", threat="is OK", action="", info=""
name="geany-1.30_setup.exe - NSIS - filetypes.asm", threat="is OK", action="", info=""
name="geany-1.30_setup.exe - NSIS - filetypes.batch", threat="is OK", action="", info=""
name="geany-1.30_setup.exe - NSIS - filetypes.c", threat="is OK", action="", info=""
name="geany-1.30_setup.exe - NSIS - filetypes.caml", threat="is OK", action="", info=""
name="geany-1.30_setup.exe - NSIS - filetypes.cmake", threat="is OK", action="", info=""
name="geany-1.30_setup.exe - NSIS - filetypes.cobol", threat="is OK", action="", info=""
name="geany-1.30_setup.exe - NSIS - filetypes.coffeescript", threat="is OK", action="", info=""
name="geany-1.30_setup.exe - NSIS - filetypes.common", threat="is OK", action="", info=""
name="geany-1.30_setup.exe - NSIS - filetypes.conf", threat="is OK", action="", info=""
name="geany-1.30_setup.exe - NSIS - filetypes.cpp", threat="is OK", action="", info=""
name="geany-1.30_setup.exe - NSIS - filetypes.cs", threat="is OK", action="", info=""
name="geany-1.30_setup.exe - NSIS - filetypes.css", threat="is OK", action="", info=""
name="geany-1.30_setup.exe - NSIS - filetypes.d", threat="is OK", action="", info=""
name="geany-1.30_setup.exe - NSIS - filetypes.diff", threat="is OK", action="", info=""
name="geany-1.30_setup.exe - NSIS - filetypes.docbook", threat="is OK", action="", info=""
name="geany-1.30_setup.exe - NSIS - filetypes.erlang", threat="is OK", action="", info=""
name="geany-1.30_setup.exe - NSIS - filetypes.f77", threat="is OK", action="", info=""
name="geany-1.30_setup.exe - NSIS - filetypes.ferite", threat="is OK", action="", info=""
name="geany-1.30_setup.exe - NSIS - filetypes.forth", threat="is OK", action="", info=""
name="geany-1.30_setup.exe - NSIS - filetypes.fortran", threat="is OK", action="", info=""
name="geany-1.30_setup.exe - NSIS - filetypes.freebasic", threat="is OK", action="", info=""
name="geany-1.30_setup.exe - NSIS - filetypes.glsl", threat="is OK", action="", info=""
name="geany-1.30_setup.exe - NSIS - filetypes.go", threat="is OK", action="", info=""
name="geany-1.30_setup.exe - NSIS - filetypes.haskell", threat="is OK", action="", info=""
name="geany-1.30_setup.exe - NSIS - filetypes.haxe", threat="is OK", action="", info=""
name="geany-1.30_setup.exe - NSIS - filetypes.html", threat="is OK", action="", info=""
name="geany-1.30_setup.exe - NSIS - filetypes.java", threat="is OK", action="", info=""
name="geany-1.30_setup.exe - NSIS - filetypes.javascript", threat="is OK", action="", info=""
name="geany-1.30_setup.exe - NSIS - filetypes.latex", threat="is OK", action="", info=""
name="geany-1.30_setup.exe - NSIS - filetypes.lisp", threat="is OK", action="", info=""
name="geany-1.30_setup.exe - NSIS - filetypes.lua", threat="is OK", action="", info=""
name="geany-1.30_setup.exe - NSIS - filetypes.makefile", threat="is OK", action="", info=""
name="geany-1.30_setup.exe - NSIS - filetypes.markdown", threat="is OK", action="", info=""
name="geany-1.30_setup.exe - NSIS - filetypes.matlab", threat="is OK", action="", info=""
name="geany-1.30_setup.exe - NSIS - filetypes.nsis", threat="is OK", action="", info=""
name="geany-1.30_setup.exe - NSIS - filetypes.objectivec", threat="is OK", action="", info=""
name="geany-1.30_setup.exe - NSIS - filetypes.pascal", threat="is OK", action="", info=""
name="geany-1.30_setup.exe - NSIS - filetypes.perl", threat="is OK", action="", info=""
name="geany-1.30_setup.exe - NSIS - filetypes.php", threat="is OK", action="", info=""
name="geany-1.30_setup.exe - NSIS - filetypes.po", threat="is OK", action="", info=""
name="geany-1.30_setup.exe - NSIS - filetypes.powershell", threat="is OK", action="", info=""
name="geany-1.30_setup.exe - NSIS - filetypes.python", threat="is OK", action="", info=""
name="geany-1.30_setup.exe - NSIS - filetypes.r", threat="is OK", action="", info=""
name="geany-1.30_setup.exe - NSIS - filetypes.restructuredtext", threat="is OK", action="", info=""
name="geany-1.30_setup.exe - NSIS - filetypes.ruby", threat="is OK", action="", info=""
name="geany-1.30_setup.exe - NSIS - filetypes.rust", threat="is OK", action="", info=""
name="geany-1.30_setup.exe - NSIS - filetypes.sh", threat="is OK", action="", info=""
name="geany-1.30_setup.exe - NSIS - filetypes.sql", threat="is OK", action="", info=""
name="geany-1.30_setup.exe - NSIS - filetypes.tcl", threat="is OK", action="", info=""
name="geany-1.30_setup.exe - NSIS - filetypes.txt2tags", threat="is OK", action="", info=""
name="geany-1.30_setup.exe - NSIS - filetypes.vala", threat="is OK", action="", info=""
name="geany-1.30_setup.exe - NSIS - filetypes.verilog", threat="is OK", action="", info=""
name="geany-1.30_setup.exe - NSIS - filetypes.vhdl", threat="is OK", action="", info=""
name="geany-1.30_setup.exe - NSIS - filetypes.xml", threat="is OK", action="", info=""
name="geany-1.30_setup.exe - NSIS - filetypes.yaml", threat="is OK", action="", info=""
name="geany-1.30_setup.exe - NSIS - filetypes.zephir", threat="is OK", action="", info=""
name="geany-1.30_setup.exe - NSIS - bsd", threat="is OK", action="", info=""
name="geany-1.30_setup.exe - NSIS - changelog", threat="is OK", action="", info=""
name="geany-1.30_setup.exe - NSIS - fileheader", threat="is OK", action="", info=""
name="geany-1.30_setup.exe - NSIS - function", threat="is OK", action="", info=""
name="geany-1.30_setup.exe - NSIS - gpl", threat="is OK", action="", info=""
name="geany-1.30_setup.exe - NSIS - file.html", threat="is OK", action="", info=""
name="geany-1.30_setup.exe - NSIS - file.php", threat="is OK", action="", info=""
name="geany-1.30_setup.exe - NSIS - file.rb", threat="is OK", action="", info=""
name="geany-1.30_setup.exe - NSIS - file.tex", threat="is OK", action="", info=""
name="geany-1.30_setup.exe - NSIS - file_html5.html", threat="is OK", action="", info=""
name="geany-1.30_setup.exe - NSIS - main.c", threat="is OK", action="", info=""
name="geany-1.30_setup.exe - NSIS - main.cxx", threat="is OK", action="", info=""
name="geany-1.30_setup.exe - NSIS - main.d", threat="is OK", action="", info=""
name="geany-1.30_setup.exe - NSIS - main.java", threat="is OK", action="", info=""
name="geany-1.30_setup.exe - NSIS - main.py", threat="is OK", action="", info=""
name="geany-1.30_setup.exe - NSIS - main.vala", threat="is OK", action="", info=""
name="geany-1.30_setup.exe - NSIS - module.erl", threat="is OK", action="", info=""
name="geany-1.30_setup.exe - NSIS - program.pas", threat="is OK", action="", info=""
name="geany-1.30_setup.exe - NSIS - alt.conf", threat="is OK", action="", info=""
name="geany-1.30_setup.exe - NSIS - bespin.conf", threat="is OK", action="", info=""
name="geany-1.30_setup.exe - NSIS - black.conf", threat="is OK", action="", info=""
name="geany-1.30_setup.exe - NSIS - darcula.conf", threat="is OK", action="", info=""
name="geany-1.30_setup.exe - NSIS - dark-colors.conf", threat="is OK", action="", info=""
name="geany-1.30_setup.exe - NSIS - dark-fruit-salad.conf", threat="is OK", action="", info=""
name="geany-1.30_setup.exe - NSIS - dark.conf", threat="is OK", action="", info=""
name="geany-1.30_setup.exe - NSIS - fluffy.conf", threat="is OK", action="", info=""
name="geany-1.30_setup.exe - NSIS - gedit.conf", threat="is OK", action="", info=""
name="geany-1.30_setup.exe - NSIS - github.conf", threat="is OK", action="", info=""
name="geany-1.30_setup.exe - NSIS - himbeere.conf", threat="is OK", action="", info=""
name="geany-1.30_setup.exe - NSIS - inkpot.conf", threat="is OK", action="", info=""
name="geany-1.30_setup.exe - NSIS - kugel.conf", threat="is OK", action="", info=""
name="geany-1.30_setup.exe - NSIS - mc.conf", threat="is OK", action="", info=""
name="geany-1.30_setup.exe - NSIS - metallic-bottle.conf", threat="is OK", action="", info=""
name="geany-1.30_setup.exe - NSIS - monokai.conf", threat="is OK", action="", info=""
name="geany-1.30_setup.exe - NSIS - notepad-plus-plus.conf", threat="is OK", action="", info=""
name="geany-1.30_setup.exe - NSIS - oblivion2.conf", threat="is OK", action="", info=""
name="geany-1.30_setup.exe - NSIS - pygments.conf", threat="is OK", action="", info=""
name="geany-1.30_setup.exe - NSIS - railcasts2.conf", threat="is OK", action="", info=""
name="geany-1.30_setup.exe - NSIS - retro.conf", threat="is OK", action="", info=""
name="geany-1.30_setup.exe - NSIS - sleepy-pastel.conf", threat="is OK", action="", info=""
name="geany-1.30_setup.exe - NSIS - slushpoppies.conf", threat="is OK", action="", info=""
name="geany-1.30_setup.exe - NSIS - solarized-dark.conf", threat="is OK", action="", info=""
name="geany-1.30_setup.exe - NSIS - solarized-light.conf", threat="is OK", action="", info=""
name="geany-1.30_setup.exe - NSIS - spyder-dark.conf", threat="is OK", action="", info=""
name="geany-1.30_setup.exe - NSIS - steampunk.conf", threat="is OK", action="", info=""
name="geany-1.30_setup.exe - NSIS - tango-dark.conf", threat="is OK", action="", info=""
name="geany-1.30_setup.exe - NSIS - tango-light.conf", threat="is OK", action="", info=""
name="geany-1.30_setup.exe - NSIS - tinge.conf", threat="is OK", action="", info=""
name="geany-1.30_setup.exe - NSIS - ubuntu.conf", threat="is OK", action="", info=""
name="geany-1.30_setup.exe - NSIS - vibrant-ink.conf", threat="is OK", action="", info=""
name="geany-1.30_setup.exe - NSIS - zenburn.conf", threat="is OK", action="", info=""
name="geany-1.30_setup.exe - NSIS - index.theme", threat="is OK", action="", info=""
name="geany-1.30_setup.exe - NSIS - geany-save-all.png", threat="is OK", action="", info=""
name="geany-1.30_setup.exe - NSIS - geany-save-all.png", threat="is OK", action="", info=""
name="geany-1.30_setup.exe - NSIS - geany-save-all.png", threat="is OK", action="", info=""
name="geany-1.30_setup.exe - NSIS - geany-save-all.png", threat="is OK", action="", info=""
name="geany-1.30_setup.exe - NSIS - geany-save-all.svg", threat="is OK", action="", info=""
name="geany-1.30_setup.exe - NSIS - index.theme", threat="is OK", action="", info=""
name="geany-1.30_setup.exe - NSIS - geany-build.png", threat="is OK", action="", info=""
name="geany-1.30_setup.exe - NSIS - geany-close-all.png", threat="is OK", action="", info=""
name="geany-1.30_setup.exe - NSIS - geany-save-all.png", threat="is OK", action="", info=""
name="geany-1.30_setup.exe - NSIS - classviewer-class.png", threat="is OK", action="", info=""
name="geany-1.30_setup.exe - NSIS - classviewer-macro.png", threat="is OK", action="", info=""
name="geany-1.30_setup.exe - NSIS - classviewer-member.png", threat="is OK", action="", info=""
name="geany-1.30_setup.exe - NSIS - classviewer-method.png", threat="is OK", action="", info=""
name="geany-1.30_setup.exe - NSIS - classviewer-namespace.png", threat="is OK", action="", info=""
name="geany-1.30_setup.exe - NSIS - classviewer-other.png", threat="is OK", action="", info=""
name="geany-1.30_setup.exe - NSIS - classviewer-struct.png", threat="is OK", action="", info=""
name="geany-1.30_setup.exe - NSIS - classviewer-var.png", threat="is OK", action="", info=""
name="geany-1.30_setup.exe - NSIS - geany.png", threat="is OK", action="", info=""
name="geany-1.30_setup.exe - NSIS - geany-build.png", threat="is OK", action="", info=""
name="geany-1.30_setup.exe - NSIS - geany-close-all.png", threat="is OK", action="", info=""
name="geany-1.30_setup.exe - NSIS - geany-save-all.png", threat="is OK", action="", info=""
name="geany-1.30_setup.exe - NSIS - geany-build.png", threat="is OK", action="", info=""
name="geany-1.30_setup.exe - NSIS - geany-close-all.png", threat="is OK", action="", info=""
name="geany-1.30_setup.exe - NSIS - geany-save-all.png", threat="is OK", action="", info=""
name="geany-1.30_setup.exe - NSIS - geany.png", threat="is OK", action="", info=""
name="geany-1.30_setup.exe - NSIS - geany-build.png", threat="is OK", action="", info=""
name="geany-1.30_setup.exe - NSIS - geany-close-all.png", threat="is OK", action="", info=""
name="geany-1.30_setup.exe - NSIS - geany-save-all.png", threat="is OK", action="", info=""
name="geany-1.30_setup.exe - NSIS - geany.png", threat="is OK", action="", info=""
name="geany-1.30_setup.exe - NSIS - geany-build.svg", threat="is OK", action="", info=""
name="geany-1.30_setup.exe - NSIS - geany-close-all.svg", threat="is OK", action="", info=""
name="geany-1.30_setup.exe - NSIS - geany-save-all.svg", threat="is OK", action="", info=""
name="geany-1.30_setup.exe - NSIS - geany.svg", threat="is OK", action="", info=""
name="geany-1.30_setup.exe - NSIS - classbuilder.dll", threat="is OK", action="", info=""
name="geany-1.30_setup.exe - NSIS - export.dll", threat="is OK", action="", info=""
name="geany-1.30_setup.exe - NSIS - filebrowser.dll", threat="is OK", action="", info=""
name="geany-1.30_setup.exe - NSIS - htmlchars.dll", threat="is OK", action="", info=""
name="geany-1.30_setup.exe - NSIS - saveactions.dll", threat="is OK", action="", info=""
name="geany-1.30_setup.exe - NSIS - splitwindow.dll", threat="is OK", action="", info=""
name="geany-1.30_setup.exe - NSIS - geany.mo", threat="is OK", action="", info=""
name="geany-1.30_setup.exe - NSIS - geany.mo", threat="is OK", action="", info=""
name="geany-1.30_setup.exe - NSIS - geany.mo", threat="is OK", action="", info=""
name="geany-1.30_setup.exe - NSIS - geany.mo", threat="is OK", action="", info=""
name="geany-1.30_setup.exe - NSIS - geany.mo", threat="is OK", action="", info=""
name="geany-1.30_setup.exe - NSIS - geany.mo", threat="is OK", action="", info=""
name="geany-1.30_setup.exe - NSIS - geany.mo", threat="is OK", action="", info=""
name="geany-1.30_setup.exe - NSIS - geany.mo", threat="is OK", action="", info=""
name="geany-1.30_setup.exe - NSIS - geany.mo", threat="is OK", action="", info=""
name="geany-1.30_setup.exe - NSIS - geany.mo", threat="is OK", action="", info=""
name="geany-1.30_setup.exe - NSIS - geany.mo", threat="is OK", action="", info=""
name="geany-1.30_setup.exe - NSIS - geany.mo", threat="is OK", action="", info=""
name="geany-1.30_setup.exe - NSIS - geany.mo", threat="is OK", action="", info=""
name="geany-1.30_setup.exe - NSIS - geany.mo", threat="is OK", action="", info=""
name="geany-1.30_setup.exe - NSIS - geany.mo", threat="is OK", action="", info=""
name="geany-1.30_setup.exe - NSIS - geany.mo", threat="is OK", action="", info=""
name="geany-1.30_setup.exe - NSIS - geany.mo", threat="is OK", action="", info=""
name="geany-1.30_setup.exe - NSIS - geany.mo", threat="is OK", action="", info=""
name="geany-1.30_setup.exe - NSIS - geany.mo", threat="is OK", action="", info=""
name="geany-1.30_setup.exe - NSIS - geany.mo", threat="is OK", action="", info=""
name="geany-1.30_setup.exe - NSIS - geany.mo", threat="is OK", action="", info=""
name="geany-1.30_setup.exe - NSIS - geany.mo", threat="is OK", action="", info=""
name="geany-1.30_setup.exe - NSIS - geany.mo", threat="is OK", action="", info=""
name="geany-1.30_setup.exe - NSIS - geany.mo", threat="is OK", action="", info=""
name="geany-1.30_setup.exe - NSIS - geany.mo", threat="is OK", action="", info=""
name="geany-1.30_setup.exe - NSIS - geany.mo", threat="is OK", action="", info=""
name="geany-1.30_setup.exe - NSIS - geany.mo", threat="is OK", action="", info=""
name="geany-1.30_setup.exe - NSIS - geany.mo", threat="is OK", action="", info=""
name="geany-1.30_setup.exe - NSIS - geany.mo", threat="is OK", action="", info=""
name="geany-1.30_setup.exe - NSIS - geany.mo", threat="is OK", action="", info=""
name="geany-1.30_setup.exe - NSIS - geany.mo", threat="is OK", action="", info=""
name="geany-1.30_setup.exe - NSIS - geany.mo", threat="is OK", action="", info=""
name="geany-1.30_setup.exe - NSIS - geany.mo", threat="is OK", action="", info=""
name="geany-1.30_setup.exe - NSIS - geany.mo", threat="is OK", action="", info=""
name="geany-1.30_setup.exe - NSIS - geany.mo", threat="is OK", action="", info=""
name="geany-1.30_setup.exe - NSIS - geany.mo", threat="is OK", action="", info=""
name="geany-1.30_setup.exe - NSIS - geany.mo", threat="is OK", action="", info=""
name="geany-1.30_setup.exe - NSIS - geany.mo", threat="is OK", action="", info=""
name="geany-1.30_setup.exe - NSIS - geany.mo", threat="is OK", action="", info=""
name="geany-1.30_setup.exe - NSIS - geany.mo", threat="is OK", action="", info=""
name="geany-1.30_setup.exe - NSIS - geany.mo", threat="is OK", action="", info=""
name="geany-1.30_setup.exe - NSIS - geany.mo", threat="is OK", action="", info=""
name="geany-1.30_setup.exe - NSIS - geany.mo", threat="is OK", action="", info=""
name="geany-1.30_setup.exe - NSIS - locale.alias", threat="is OK", action="", info=""
name="geany-1.30_setup.exe - NSIS - atk10.mo", threat="is OK", action="", info=""
name="geany-1.30_setup.exe - NSIS - gdk-pixbuf.mo", threat="is OK", action="", info=""
name="geany-1.30_setup.exe - NSIS - glib20.mo", threat="is OK", action="", info=""
name="geany-1.30_setup.exe - NSIS - gtk20-properties.mo", threat="is OK", action="", info=""
name="geany-1.30_setup.exe - NSIS - gtk20.mo", threat="is OK", action="", info=""
name="geany-1.30_setup.exe - NSIS - atk10.mo", threat="is OK", action="", info=""
name="geany-1.30_setup.exe - NSIS - glib20.mo", threat="is OK", action="", info=""
name="geany-1.30_setup.exe - NSIS - gtk20-properties.mo", threat="is OK", action="", info=""
name="geany-1.30_setup.exe - NSIS - gtk20.mo", threat="is OK", action="", info=""
name="geany-1.30_setup.exe - NSIS - atk10.mo", threat="is OK", action="", info=""
name="geany-1.30_setup.exe - NSIS - glib20.mo", threat="is OK", action="", info=""
name="geany-1.30_setup.exe - NSIS - gdk-pixbuf.mo", threat="is OK", action="", info=""
name="geany-1.30_setup.exe - NSIS - gtk20-properties.mo", threat="is OK", action="", info=""
name="geany-1.30_setup.exe - NSIS - gtk20.mo", threat="is OK", action="", info=""
name="geany-1.30_setup.exe - NSIS - atk10.mo", threat="is OK", action="", info=""
name="geany-1.30_setup.exe - NSIS - gdk-pixbuf.mo", threat="is OK", action="", info=""
name="geany-1.30_setup.exe - NSIS - glib20.mo", threat="is OK", action="", info=""
name="geany-1.30_setup.exe - NSIS - gtk20-properties.mo", threat="is OK", action="", info=""
name="geany-1.30_setup.exe - NSIS - gtk20.mo", threat="is OK", action="", info=""
name="geany-1.30_setup.exe - NSIS - atk10.mo", threat="is OK", action="", info=""
name="geany-1.30_setup.exe - NSIS - gdk-pixbuf.mo", threat="is OK", action="", info=""
name="geany-1.30_setup.exe - NSIS - glib20.mo", threat="is OK", action="", info=""
name="geany-1.30_setup.exe - NSIS - gtk20-properties.mo", threat="is OK", action="", info=""
name="geany-1.30_setup.exe - NSIS - gtk20.mo", threat="is OK", action="", info=""
name="geany-1.30_setup.exe - NSIS - atk10.mo", threat="is OK", action="", info=""
name="geany-1.30_setup.exe - NSIS - gdk-pixbuf.mo", threat="is OK", action="", info=""
name="geany-1.30_setup.exe - NSIS - glib20.mo", threat="is OK", action="", info=""
name="geany-1.30_setup.exe - NSIS - gtk20-properties.mo", threat="is OK", action="", info=""
name="geany-1.30_setup.exe - NSIS - gtk20.mo", threat="is OK", action="", info=""
name="geany-1.30_setup.exe - NSIS - atk10.mo", threat="is OK", action="", info=""
name="geany-1.30_setup.exe - NSIS - gdk-pixbuf.mo", threat="is OK", action="", info=""
name="geany-1.30_setup.exe - NSIS - glib20.mo", threat="is OK", action="", info=""
name="geany-1.30_setup.exe - NSIS - gtk20-properties.mo", threat="is OK", action="", info=""
name="geany-1.30_setup.exe - NSIS - gtk20.mo", threat="is OK", action="", info=""
name="geany-1.30_setup.exe - NSIS - gtk20-properties.mo", threat="is OK", action="", info=""
name="geany-1.30_setup.exe - NSIS - gtk20.mo", threat="is OK", action="", info=""
name="geany-1.30_setup.exe - NSIS - atk10.mo", threat="is OK", action="", info=""
name="geany-1.30_setup.exe - NSIS - gdk-pixbuf.mo", threat="is OK", action="", info=""
name="geany-1.30_setup.exe - NSIS - gettext-runtime.mo", threat="is OK", action="", info=""
name="geany-1.30_setup.exe - NSIS - gettext-tools.mo", threat="is OK", action="", info=""
name="geany-1.30_setup.exe - NSIS - glib20.mo", threat="is OK", action="", info=""
name="geany-1.30_setup.exe - NSIS - gtk20-properties.mo", threat="is OK", action="", info=""
name="geany-1.30_setup.exe - NSIS - gtk20.mo", threat="is OK", action="", info=""
name="geany-1.30_setup.exe - NSIS - atk10.mo", threat="is OK", action="", info=""
name="geany-1.30_setup.exe - NSIS - gdk-pixbuf.mo", threat="is OK", action="", info=""
name="geany-1.30_setup.exe - NSIS - glib20.mo", threat="is OK", action="", info=""
name="geany-1.30_setup.exe - NSIS - gtk20-properties.mo", threat="is OK", action="", info=""
name="geany-1.30_setup.exe - NSIS - gtk20.mo", threat="is OK", action="", info=""
name="geany-1.30_setup.exe - NSIS - atk10.mo", threat="is OK", action="", info=""
name="geany-1.30_setup.exe - NSIS - gdk-pixbuf.mo", threat="is OK", action="", info=""
name="geany-1.30_setup.exe - NSIS - gettext-runtime.mo", threat="is OK", action="", info=""
name="geany-1.30_setup.exe - NSIS - gettext-tools.mo", threat="is OK", action="", info=""
name="geany-1.30_setup.exe - NSIS - glib20.mo", threat="is OK", action="", info=""
name="geany-1.30_setup.exe - NSIS - gtk20-properties.mo", threat="is OK", action="", info=""
name="geany-1.30_setup.exe - NSIS - gtk20.mo", threat="is OK", action="", info=""
name="geany-1.30_setup.exe - NSIS - atk10.mo", threat="is OK", action="", info=""
name="geany-1.30_setup.exe - NSIS - gdk-pixbuf.mo", threat="is OK", action="", info=""
name="geany-1.30_setup.exe - NSIS - glib20.mo", threat="is OK", action="", info=""
name="geany-1.30_setup.exe - NSIS - gtk20-properties.mo", threat="is OK", action="", info=""
name="geany-1.30_setup.exe - NSIS - gtk20.mo", threat="is OK", action="", info=""
name="geany-1.30_setup.exe - NSIS - atk10.mo", threat="is OK", action="", info=""
name="geany-1.30_setup.exe - NSIS - gdk-pixbuf.mo", threat="is OK", action="", info=""
name="geany-1.30_setup.exe - NSIS - glib20.mo", threat="is OK", action="", info=""
name="geany-1.30_setup.exe - NSIS - gtk20-properties.mo", threat="is OK", action="", info=""
name="geany-1.30_setup.exe - NSIS - gtk20.mo", threat="is OK", action="", info=""
name="geany-1.30_setup.exe - NSIS - gdk-pixbuf.mo", threat="is OK", action="", info=""
name="geany-1.30_setup.exe - NSIS - gtk20-properties.mo", threat="is OK", action="", info=""
name="geany-1.30_setup.exe - NSIS - gtk20.mo", threat="is OK", action="", info=""
name="geany-1.30_setup.exe - NSIS - atk10.mo", threat="is OK", action="", info=""
name="geany-1.30_setup.exe - NSIS - gdk-pixbuf.mo", threat="is OK", action="", info=""
name="geany-1.30_setup.exe - NSIS - glib20.mo", threat="is OK", action="", info=""
name="geany-1.30_setup.exe - NSIS - gtk20-properties.mo", threat="is OK", action="", info=""
name="geany-1.30_setup.exe - NSIS - gtk20.mo", threat="is OK", action="", info=""
name="geany-1.30_setup.exe - NSIS - atk10.mo", threat="is OK", action="", info=""
name="geany-1.30_setup.exe - NSIS - gdk-pixbuf.mo", threat="is OK", action="", info=""
name="geany-1.30_setup.exe - NSIS - gettext-runtime.mo", threat="is OK", action="", info=""
name="geany-1.30_setup.exe - NSIS - gettext-tools.mo", threat="is OK", action="", info=""
name="geany-1.30_setup.exe - NSIS - glib20.mo", threat="is OK", action="", info=""
name="geany-1.30_setup.exe - NSIS - gtk20-properties.mo", threat="is OK", action="", info=""
name="geany-1.30_setup.exe - NSIS - gtk20.mo", threat="is OK", action="", info=""
name="geany-1.30_setup.exe - NSIS - atk10.mo", threat="is OK", action="", info=""
name="geany-1.30_setup.exe - NSIS - gdk-pixbuf.mo", threat="is OK", action="", info=""
name="geany-1.30_setup.exe - NSIS - glib20.mo", threat="is OK", action="", info=""
name="geany-1.30_setup.exe - NSIS - gtk20-properties.mo", threat="is OK", action="", info=""
name="geany-1.30_setup.exe - NSIS - gtk20.mo", threat="is OK", action="", info=""
name="geany-1.30_setup.exe - NSIS - gdk-pixbuf.mo", threat="is OK", action="", info=""
name="geany-1.30_setup.exe - NSIS - gtk20-properties.mo", threat="is OK", action="", info=""
name="geany-1.30_setup.exe - NSIS - gtk20.mo", threat="is OK", action="", info=""
name="geany-1.30_setup.exe - NSIS - atk10.mo", threat="is OK", action="", info=""
name="geany-1.30_setup.exe - NSIS - gdk-pixbuf.mo", threat="is OK", action="", info=""
name="geany-1.30_setup.exe - NSIS - gettext-runtime.mo", threat="is OK", action="", info=""
name="geany-1.30_setup.exe - NSIS - gettext-tools.mo", threat="is OK", action="", info=""
name="geany-1.30_setup.exe - NSIS - glib20.mo", threat="is OK", action="", info=""
name="geany-1.30_setup.exe - NSIS - gtk20-properties.mo", threat="is OK", action="", info=""
name="geany-1.30_setup.exe - NSIS - gtk20.mo", threat="is OK", action="", info=""
name="geany-1.30_setup.exe - NSIS - gdk-pixbuf.mo", threat="is OK", action="", info=""
name="geany-1.30_setup.exe - NSIS - atk10.mo", threat="is OK", action="", info=""
name="geany-1.30_setup.exe - NSIS - gdk-pixbuf.mo", threat="is OK", action="", info=""
name="geany-1.30_setup.exe - NSIS - glib20.mo", threat="is OK", action="", info=""
name="geany-1.30_setup.exe - NSIS - gtk20-properties.mo", threat="is OK", action="", info=""
name="geany-1.30_setup.exe - NSIS - gtk20.mo", threat="is OK", action="", info=""
name="geany-1.30_setup.exe - NSIS - atk10.mo", threat="is OK", action="", info=""
name="geany-1.30_setup.exe - NSIS - gdk-pixbuf.mo", threat="is OK", action="", info=""
name="geany-1.30_setup.exe - NSIS - gettext-runtime.mo", threat="is OK", action="", info=""
name="geany-1.30_setup.exe - NSIS - gettext-tools.mo", threat="is OK", action="", info=""
name="geany-1.30_setup.exe - NSIS - glib20.mo", threat="is OK", action="", info=""
name="geany-1.30_setup.exe - NSIS - gtk20-properties.mo", threat="is OK", action="", info=""
name="geany-1.30_setup.exe - NSIS - gtk20.mo", threat="is OK", action="", info=""
name="geany-1.30_setup.exe - NSIS - atk10.mo", threat="is OK", action="", info=""
name="geany-1.30_setup.exe - NSIS - gdk-pixbuf.mo", threat="is OK", action="", info=""
name="geany-1.30_setup.exe - NSIS - gettext-runtime.mo", threat="is OK", action="", info=""
name="geany-1.30_setup.exe - NSIS - gettext-tools.mo", threat="is OK", action="", info=""
name="geany-1.30_setup.exe - NSIS - glib20.mo", threat="is OK", action="", info=""
name="geany-1.30_setup.exe - NSIS - gtk20-properties.mo", threat="is OK", action="", info=""
name="geany-1.30_setup.exe - NSIS - gtk20.mo", threat="is OK", action="", info=""
name="geany-1.30_setup.exe - NSIS - atk10.mo", threat="is OK", action="", info=""
name="geany-1.30_setup.exe - NSIS - gdk-pixbuf.mo", threat="is OK", action="", info=""
name="geany-1.30_setup.exe - NSIS - glib20.mo", threat="is OK", action="", info=""
name="geany-1.30_setup.exe - NSIS - gtk20-properties.mo", threat="is OK", action="", info=""
name="geany-1.30_setup.exe - NSIS - gtk20.mo", threat="is OK", action="", info=""
name="geany-1.30_setup.exe - NSIS - atk10.mo", threat="is OK", action="", info=""
name="geany-1.30_setup.exe - NSIS - gdk-pixbuf.mo", threat="is OK", action="", info=""
name="geany-1.30_setup.exe - NSIS - gettext-runtime.mo", threat="is OK", action="", info=""
name="geany-1.30_setup.exe - NSIS - gettext-tools.mo", threat="is OK", action="", info=""
name="geany-1.30_setup.exe - NSIS - glib20.mo", threat="is OK", action="", info=""
name="geany-1.30_setup.exe - NSIS - gtk20-properties.mo", threat="is OK", action="", info=""
name="geany-1.30_setup.exe - NSIS - gtk20.mo", threat="is OK", action="", info=""
name="geany-1.30_setup.exe - NSIS - gettext-runtime.mo", threat="is OK", action="", info=""
name="geany-1.30_setup.exe - NSIS - gettext-tools.mo", threat="is OK", action="", info=""
name="geany-1.30_setup.exe - NSIS - gettext-runtime.mo", threat="is OK", action="", info=""
name="geany-1.30_setup.exe - NSIS - gettext-tools.mo", threat="is OK", action="", info=""
name="geany-1.30_setup.exe - NSIS - atk10.mo", threat="is OK", action="", info=""
name="geany-1.30_setup.exe - NSIS - gdk-pixbuf.mo", threat="is OK", action="", info=""
name="geany-1.30_setup.exe - NSIS - glib20.mo", threat="is OK", action="", info=""
name="geany-1.30_setup.exe - NSIS - atk10.mo", threat="is OK", action="", info=""
name="geany-1.30_setup.exe - NSIS - gdk-pixbuf.mo", threat="is OK", action="", info=""
name="geany-1.30_setup.exe - NSIS - glib20.mo", threat="is OK", action="", info=""
name="geany-1.30_setup.exe - NSIS - gtk20-properties.mo", threat="is OK", action="", info=""
name="geany-1.30_setup.exe - NSIS - gtk20.mo", threat="is OK", action="", info=""
name="geany-1.30_setup.exe - NSIS - atk10.mo", threat="is OK", action="", info=""
name="geany-1.30_setup.exe - NSIS - gdk-pixbuf.mo", threat="is OK", action="", info=""
name="geany-1.30_setup.exe - NSIS - glib20.mo", threat="is OK", action="", info=""
name="geany-1.30_setup.exe - NSIS - gtk20-properties.mo", threat="is OK", action="", info=""
name="geany-1.30_setup.exe - NSIS - gtk20.mo", threat="is OK", action="", info=""
name="geany-1.30_setup.exe - NSIS - atk10.mo", threat="is OK", action="", info=""
name="geany-1.30_setup.exe - NSIS - gdk-pixbuf.mo", threat="is OK", action="", info=""
name="geany-1.30_setup.exe - NSIS - gettext-runtime.mo", threat="is OK", action="", info=""
name="geany-1.30_setup.exe - NSIS - glib20.mo", threat="is OK", action="", info=""
name="geany-1.30_setup.exe - NSIS - gtk20-properties.mo", threat="is OK", action="", info=""
name="geany-1.30_setup.exe - NSIS - gtk20.mo", threat="is OK", action="", info=""
name="geany-1.30_setup.exe - NSIS - atk10.mo", threat="is OK", action="", info=""
name="geany-1.30_setup.exe - NSIS - gdk-pixbuf.mo", threat="is OK", action="", info=""
name="geany-1.30_setup.exe - NSIS - gettext-runtime.mo", threat="is OK", action="", info=""
name="geany-1.30_setup.exe - NSIS - gettext-tools.mo", threat="is OK", action="", info=""
name="geany-1.30_setup.exe - NSIS - glib20.mo", threat="is OK", action="", info=""
name="geany-1.30_setup.exe - NSIS - gtk20-properties.mo", threat="is OK", action="", info=""
name="geany-1.30_setup.exe - NSIS - gtk20.mo", threat="is OK", action="", info=""
name="geany-1.30_setup.exe - NSIS - atk10.mo", threat="is OK", action="", info=""
name="geany-1.30_setup.exe - NSIS - gdk-pixbuf.mo", threat="is OK", action="", info=""
name="geany-1.30_setup.exe - NSIS - gettext-runtime.mo", threat="is OK", action="", info=""
name="geany-1.30_setup.exe - NSIS - gettext-tools.mo", threat="is OK", action="", info=""
name="geany-1.30_setup.exe - NSIS - glib20.mo", threat="is OK", action="", info=""
name="geany-1.30_setup.exe - NSIS - gtk20-properties.mo", threat="is OK", action="", info=""
name="geany-1.30_setup.exe - NSIS - gtk20.mo", threat="is OK", action="", info=""
name="geany-1.30_setup.exe - NSIS - atk10.mo", threat="is OK", action="", info=""
name="geany-1.30_setup.exe - NSIS - gdk-pixbuf.mo", threat="is OK", action="", info=""
name="geany-1.30_setup.exe - NSIS - gettext-tools.mo", threat="is OK", action="", info=""
name="geany-1.30_setup.exe - NSIS - glib20.mo", threat="is OK", action="", info=""
name="geany-1.30_setup.exe - NSIS - gtk20-properties.mo", threat="is OK", action="", info=""
name="geany-1.30_setup.exe - NSIS - gtk20.mo", threat="is OK", action="", info=""
name="geany-1.30_setup.exe - NSIS - atk10.mo", threat="is OK", action="", info=""
name="geany-1.30_setup.exe - NSIS - gdk-pixbuf.mo", threat="is OK", action="", info=""
name="geany-1.30_setup.exe - NSIS - glib20.mo", threat="is OK", action="", info=""
name="geany-1.30_setup.exe - NSIS - gtk20-properties.mo", threat="is OK", action="", info=""
name="geany-1.30_setup.exe - NSIS - gtk20.mo", threat="is OK", action="", info=""
name="geany-1.30_setup.exe - NSIS - atk10.mo", threat="is OK", action="", info=""
name="geany-1.30_setup.exe - NSIS - gdk-pixbuf.mo", threat="is OK", action="", info=""
name="geany-1.30_setup.exe - NSIS - gettext-runtime.mo", threat="is OK", action="", info=""
name="geany-1.30_setup.exe - NSIS - gettext-tools.mo", threat="is OK", action="", info=""
name="geany-1.30_setup.exe - NSIS - glib20.mo", threat="is OK", action="", info=""
name="geany-1.30_setup.exe - NSIS - gtk20-properties.mo", threat="is OK", action="", info=""
name="geany-1.30_setup.exe - NSIS - gtk20.mo", threat="is OK", action="", info=""
name="geany-1.30_setup.exe - NSIS - atk10.mo", threat="is OK", action="", info=""
name="geany-1.30_setup.exe - NSIS - gdk-pixbuf.mo", threat="is OK", action="", info=""
name="geany-1.30_setup.exe - NSIS - gettext-runtime.mo", threat="is OK", action="", info=""
name="geany-1.30_setup.exe - NSIS - gettext-tools.mo", threat="is OK", action="", info=""
name="geany-1.30_setup.exe - NSIS - glib20.mo", threat="is OK", action="", info=""
name="geany-1.30_setup.exe - NSIS - gtk20-properties.mo", threat="is OK", action="", info=""
name="geany-1.30_setup.exe - NSIS - gtk20.mo", threat="is OK", action="", info=""
name="geany-1.30_setup.exe - NSIS - gdk-pixbuf.mo", threat="is OK", action="", info=""
name="geany-1.30_setup.exe - NSIS - atk10.mo", threat="is OK", action="", info=""
name="geany-1.30_setup.exe - NSIS - gdk-pixbuf.mo", threat="is OK", action="", info=""
name="geany-1.30_setup.exe - NSIS - gettext-runtime.mo", threat="is OK", action="", info=""
name="geany-1.30_setup.exe - NSIS - glib20.mo", threat="is OK", action="", info=""
name="geany-1.30_setup.exe - NSIS - gtk20-properties.mo", threat="is OK", action="", info=""
name="geany-1.30_setup.exe - NSIS - gtk20.mo", threat="is OK", action="", info=""
name="geany-1.30_setup.exe - NSIS - atk10.mo", threat="is OK", action="", info=""
name="geany-1.30_setup.exe - NSIS - glib20.mo", threat="is OK", action="", info=""
name="geany-1.30_setup.exe - NSIS - atk10.mo", threat="is OK", action="", info=""
name="geany-1.30_setup.exe - NSIS - gdk-pixbuf.mo", threat="is OK", action="", info=""
name="geany-1.30_setup.exe - NSIS - gettext-runtime.mo", threat="is OK", action="", info=""
name="geany-1.30_setup.exe - NSIS - gettext-tools.mo", threat="is OK", action="", info=""
name="geany-1.30_setup.exe - NSIS - glib20.mo", threat="is OK", action="", info=""
name="geany-1.30_setup.exe - NSIS - gtk20-properties.mo", threat="is OK", action="", info=""
name="geany-1.30_setup.exe - NSIS - gtk20.mo", threat="is OK", action="", info=""
name="geany-1.30_setup.exe - NSIS - atk10.mo", threat="is OK", action="", info=""
name="geany-1.30_setup.exe - NSIS - gdk-pixbuf.mo", threat="is OK", action="", info=""
name="geany-1.30_setup.exe - NSIS - glib20.mo", threat="is OK", action="", info=""
name="geany-1.30_setup.exe - NSIS - gtk20-properties.mo", threat="is OK", action="", info=""
name="geany-1.30_setup.exe - NSIS - gtk20.mo", threat="is OK", action="", info=""
name="geany-1.30_setup.exe - NSIS - atk10.mo", threat="is OK", action="", info=""
name="geany-1.30_setup.exe - NSIS - gdk-pixbuf.mo", threat="is OK", action="", info=""
name="geany-1.30_setup.exe - NSIS - glib20.mo", threat="is OK", action="", info=""
name="geany-1.30_setup.exe - NSIS - gtk20-properties.mo", threat="is OK", action="", info=""
name="geany-1.30_setup.exe - NSIS - gtk20.mo", threat="is OK", action="", info=""
name="geany-1.30_setup.exe - NSIS - atk10.mo", threat="is OK", action="", info=""
name="geany-1.30_setup.exe - NSIS - gdk-pixbuf.mo", threat="is OK", action="", info=""
name="geany-1.30_setup.exe - NSIS - glib20.mo", threat="is OK", action="", info=""
name="geany-1.30_setup.exe - NSIS - gtk20-properties.mo", threat="is OK", action="", info=""
name="geany-1.30_setup.exe - NSIS - gtk20.mo", threat="is OK", action="", info=""
name="geany-1.30_setup.exe - NSIS - atk10.mo", threat="is OK", action="", info=""
name="geany-1.30_setup.exe - NSIS - gdk-pixbuf.mo", threat="is OK", action="", info=""
name="geany-1.30_setup.exe - NSIS - gettext-runtime.mo", threat="is OK", action="", info=""
name="geany-1.30_setup.exe - NSIS - glib20.mo", threat="is OK", action="", info=""
name="geany-1.30_setup.exe - NSIS - gtk20-properties.mo", threat="is OK", action="", info=""
name="geany-1.30_setup.exe - NSIS - gtk20.mo", threat="is OK", action="", info=""
name="geany-1.30_setup.exe - NSIS - atk10.mo", threat="is OK", action="", info=""
name="geany-1.30_setup.exe - NSIS - gdk-pixbuf.mo", threat="is OK", action="", info=""
name="geany-1.30_setup.exe - NSIS - gettext-runtime.mo", threat="is OK", action="", info=""
name="geany-1.30_setup.exe - NSIS - glib20.mo", threat="is OK", action="", info=""
name="geany-1.30_setup.exe - NSIS - gtk20-properties.mo", threat="is OK", action="", info=""
name="geany-1.30_setup.exe - NSIS - gtk20.mo", threat="is OK", action="", info=""
name="geany-1.30_setup.exe - NSIS - atk10.mo", threat="is OK", action="", info=""
name="geany-1.30_setup.exe - NSIS - gdk-pixbuf.mo", threat="is OK", action="", info=""
name="geany-1.30_setup.exe - NSIS - glib20.mo", threat="is OK", action="", info=""
name="geany-1.30_setup.exe - NSIS - gtk20-properties.mo", threat="is OK", action="", info=""
name="geany-1.30_setup.exe - NSIS - gtk20.mo", threat="is OK", action="", info=""
name="geany-1.30_setup.exe - NSIS - gdk-pixbuf.mo", threat="is OK", action="", info=""
name="geany-1.30_setup.exe - NSIS - gtk20-properties.mo", threat="is OK", action="", info=""
name="geany-1.30_setup.exe - NSIS - gtk20.mo", threat="is OK", action="", info=""
name="geany-1.30_setup.exe - NSIS - atk10.mo", threat="is OK", action="", info=""
name="geany-1.30_setup.exe - NSIS - gdk-pixbuf.mo", threat="is OK", action="", info=""
name="geany-1.30_setup.exe - NSIS - gettext-runtime.mo", threat="is OK", action="", info=""
name="geany-1.30_setup.exe - NSIS - gettext-tools.mo", threat="is OK", action="", info=""
name="geany-1.30_setup.exe - NSIS - glib20.mo", threat="is OK", action="", info=""
name="geany-1.30_setup.exe - NSIS - gtk20-properties.mo", threat="is OK", action="", info=""
name="geany-1.30_setup.exe - NSIS - gtk20.mo", threat="is OK", action="", info=""
name="geany-1.30_setup.exe - NSIS - gdk-pixbuf.mo", threat="is OK", action="", info=""
name="geany-1.30_setup.exe - NSIS - gtk20-properties.mo", threat="is OK", action="", info=""
name="geany-1.30_setup.exe - NSIS - gtk20.mo", threat="is OK", action="", info=""
name="geany-1.30_setup.exe - NSIS - atk10.mo", threat="is OK", action="", info=""
name="geany-1.30_setup.exe - NSIS - gdk-pixbuf.mo", threat="is OK", action="", info=""
name="geany-1.30_setup.exe - NSIS - glib20.mo", threat="is OK", action="", info=""
name="geany-1.30_setup.exe - NSIS - gtk20-properties.mo", threat="is OK", action="", info=""
name="geany-1.30_setup.exe - NSIS - gtk20.mo", threat="is OK", action="", info=""
name="geany-1.30_setup.exe - NSIS - atk10.mo", threat="is OK", action="", info=""
name="geany-1.30_setup.exe - NSIS - gdk-pixbuf.mo", threat="is OK", action="", info=""
name="geany-1.30_setup.exe - NSIS - gettext-runtime.mo", threat="is OK", action="", info=""
name="geany-1.30_setup.exe - NSIS - gettext-tools.mo", threat="is OK", action="", info=""
name="geany-1.30_setup.exe - NSIS - glib20.mo", threat="is OK", action="", info=""
name="geany-1.30_setup.exe - NSIS - gtk20-properties.mo", threat="is OK", action="", info=""
name="geany-1.30_setup.exe - NSIS - gtk20.mo", threat="is OK", action="", info=""
name="geany-1.30_setup.exe - NSIS - atk10.mo", threat="is OK", action="", info=""
name="geany-1.30_setup.exe - NSIS - gdk-pixbuf.mo", threat="is OK", action="", info=""
name="geany-1.30_setup.exe - NSIS - gettext-runtime.mo", threat="is OK", action="", info=""
name="geany-1.30_setup.exe - NSIS - gettext-tools.mo", threat="is OK", action="", info=""
name="geany-1.30_setup.exe - NSIS - glib20.mo", threat="is OK", action="", info=""
name="geany-1.30_setup.exe - NSIS - gtk20-properties.mo", threat="is OK", action="", info=""
name="geany-1.30_setup.exe - NSIS - gtk20.mo", threat="is OK", action="", info=""
name="geany-1.30_setup.exe - NSIS - atk10.mo", threat="is OK", action="", info=""
name="geany-1.30_setup.exe - NSIS - gdk-pixbuf.mo", threat="is OK", action="", info=""
name="geany-1.30_setup.exe - NSIS - glib20.mo", threat="is OK", action="", info=""
name="geany-1.30_setup.exe - NSIS - gtk20-properties.mo", threat="is OK", action="", info=""
name="geany-1.30_setup.exe - NSIS - gtk20.mo", threat="is OK", action="", info=""
name="geany-1.30_setup.exe - NSIS - atk10.mo", threat="is OK", action="", info=""
name="geany-1.30_setup.exe - NSIS - gdk-pixbuf.mo", threat="is OK", action="", info=""
name="geany-1.30_setup.exe - NSIS - glib20.mo", threat="is OK", action="", info=""
name="geany-1.30_setup.exe - NSIS - gtk20-properties.mo", threat="is OK", action="", info=""
name="geany-1.30_setup.exe - NSIS - gtk20.mo", threat="is OK", action="", info=""
name="geany-1.30_setup.exe - NSIS - atk10.mo", threat="is OK", action="", info=""
name="geany-1.30_setup.exe - NSIS - gdk-pixbuf.mo", threat="is OK", action="", info=""
name="geany-1.30_setup.exe - NSIS - atk10.mo", threat="is OK", action="", info=""
name="geany-1.30_setup.exe - NSIS - gdk-pixbuf.mo", threat="is OK", action="", info=""
name="geany-1.30_setup.exe - NSIS - glib20.mo", threat="is OK", action="", info=""
name="geany-1.30_setup.exe - NSIS - gtk20-properties.mo", threat="is OK", action="", info=""
name="geany-1.30_setup.exe - NSIS - gtk20.mo", threat="is OK", action="", info=""
name="geany-1.30_setup.exe - NSIS - atk10.mo", threat="is OK", action="", info=""
name="geany-1.30_setup.exe - NSIS - gdk-pixbuf.mo", threat="is OK", action="", info=""
name="geany-1.30_setup.exe - NSIS - gettext-runtime.mo", threat="is OK", action="", info=""
name="geany-1.30_setup.exe - NSIS - gettext-tools.mo", threat="is OK", action="", info=""
name="geany-1.30_setup.exe - NSIS - glib20.mo", threat="is OK", action="", info=""
name="geany-1.30_setup.exe - NSIS - gtk20-properties.mo", threat="is OK", action="", info=""
name="geany-1.30_setup.exe - NSIS - gtk20.mo", threat="is OK", action="", info=""
name="geany-1.30_setup.exe - NSIS - atk10.mo", threat="is OK", action="", info=""
name="geany-1.30_setup.exe - NSIS - gdk-pixbuf.mo", threat="is OK", action="", info=""
name="geany-1.30_setup.exe - NSIS - glib20.mo", threat="is OK", action="", info=""
name="geany-1.30_setup.exe - NSIS - gtk20-properties.mo", threat="is OK", action="", info=""
name="geany-1.30_setup.exe - NSIS - gtk20.mo", threat="is OK", action="", info=""
name="geany-1.30_setup.exe - NSIS - atk10.mo", threat="is OK", action="", info=""
name="geany-1.30_setup.exe - NSIS - gdk-pixbuf.mo", threat="is OK", action="", info=""
name="geany-1.30_setup.exe - NSIS - gtk20-properties.mo", threat="is OK", action="", info=""
name="geany-1.30_setup.exe - NSIS - gtk20.mo", threat="is OK", action="", info=""
name="geany-1.30_setup.exe - NSIS - atk10.mo", threat="is OK", action="", info=""
name="geany-1.30_setup.exe - NSIS - gdk-pixbuf.mo", threat="is OK", action="", info=""
name="geany-1.30_setup.exe - NSIS - glib20.mo", threat="is OK", action="", info=""
name="geany-1.30_setup.exe - NSIS - gtk20-properties.mo", threat="is OK", action="", info=""
name="geany-1.30_setup.exe - NSIS - gtk20.mo", threat="is OK", action="", info=""
name="geany-1.30_setup.exe - NSIS - atk10.mo", threat="is OK", action="", info=""
name="geany-1.30_setup.exe - NSIS - gdk-pixbuf.mo", threat="is OK", action="", info=""
name="geany-1.30_setup.exe - NSIS - glib20.mo", threat="is OK", action="", info=""
name="geany-1.30_setup.exe - NSIS - gtk20-properties.mo", threat="is OK", action="", info=""
name="geany-1.30_setup.exe - NSIS - gtk20.mo", threat="is OK", action="", info=""
name="geany-1.30_setup.exe - NSIS - atk10.mo", threat="is OK", action="", info=""
name="geany-1.30_setup.exe - NSIS - gdk-pixbuf.mo", threat="is OK", action="", info=""
name="geany-1.30_setup.exe - NSIS - glib20.mo", threat="is OK", action="", info=""
name="geany-1.30_setup.exe - NSIS - gtk20-properties.mo", threat="is OK", action="", info=""
name="geany-1.30_setup.exe - NSIS - gtk20.mo", threat="is OK", action="", info=""
name="geany-1.30_setup.exe - NSIS - glib20.mo", threat="is OK", action="", info=""
name="geany-1.30_setup.exe - NSIS - gdk-pixbuf.mo", threat="is OK", action="", info=""
name="geany-1.30_setup.exe - NSIS - gtk20-properties.mo", threat="is OK", action="", info=""
name="geany-1.30_setup.exe - NSIS - gtk20.mo", threat="is OK", action="", info=""
name="geany-1.30_setup.exe - NSIS - atk10.mo", threat="is OK", action="", info=""
name="geany-1.30_setup.exe - NSIS - gdk-pixbuf.mo", threat="is OK", action="", info=""
name="geany-1.30_setup.exe - NSIS - glib20.mo", threat="is OK", action="", info=""
name="geany-1.30_setup.exe - NSIS - gtk20-properties.mo", threat="is OK", action="", info=""
name="geany-1.30_setup.exe - NSIS - gtk20.mo", threat="is OK", action="", info=""
name="geany-1.30_setup.exe - NSIS - atk10.mo", threat="is OK", action="", info=""
name="geany-1.30_setup.exe - NSIS - gdk-pixbuf.mo", threat="is OK", action="", info=""
name="geany-1.30_setup.exe - NSIS - glib20.mo", threat="is OK", action="", info=""
name="geany-1.30_setup.exe - NSIS - gtk20-properties.mo", threat="is OK", action="", info=""
name="geany-1.30_setup.exe - NSIS - gtk20.mo", threat="is OK", action="", info=""
name="geany-1.30_setup.exe - NSIS - atk10.mo", threat="is OK", action="", info=""
name="geany-1.30_setup.exe - NSIS - gdk-pixbuf.mo", threat="is OK", action="", info=""
name="geany-1.30_setup.exe - NSIS - glib20.mo", threat="is OK", action="", info=""
name="geany-1.30_setup.exe - NSIS - gtk20-properties.mo", threat="is OK", action="", info=""
name="geany-1.30_setup.exe - NSIS - gtk20.mo", threat="is OK", action="", info=""
name="geany-1.30_setup.exe - NSIS - atk10.mo", threat="is OK", action="", info=""
name="geany-1.30_setup.exe - NSIS - gdk-pixbuf.mo", threat="is OK", action="", info=""
name="geany-1.30_setup.exe - NSIS - glib20.mo", threat="is OK", action="", info=""
name="geany-1.30_setup.exe - NSIS - gtk20-properties.mo", threat="is OK", action="", info=""
name="geany-1.30_setup.exe - NSIS - gtk20.mo", threat="is OK", action="", info=""
name="geany-1.30_setup.exe - NSIS - atk10.mo", threat="is OK", action="", info=""
name="geany-1.30_setup.exe - NSIS - gdk-pixbuf.mo", threat="is OK", action="", info=""
name="geany-1.30_setup.exe - NSIS - glib20.mo", threat="is OK", action="", info=""
name="geany-1.30_setup.exe - NSIS - gtk20-properties.mo", threat="is OK", action="", info=""
name="geany-1.30_setup.exe - NSIS - gtk20.mo", threat="is OK", action="", info=""
name="geany-1.30_setup.exe - NSIS - gdk-pixbuf.mo", threat="is OK", action="", info=""
name="geany-1.30_setup.exe - NSIS - gtk20-properties.mo", threat="is OK", action="", info=""
name="geany-1.30_setup.exe - NSIS - gtk20.mo", threat="is OK", action="", info=""
name="geany-1.30_setup.exe - NSIS - atk10.mo", threat="is OK", action="", info=""
name="geany-1.30_setup.exe - NSIS - gdk-pixbuf.mo", threat="is OK", action="", info=""
name="geany-1.30_setup.exe - NSIS - gettext-runtime.mo", threat="is OK", action="", info=""
name="geany-1.30_setup.exe - NSIS - gettext-tools.mo", threat="is OK", action="", info=""
name="geany-1.30_setup.exe - NSIS - glib20.mo", threat="is OK", action="", info=""
name="geany-1.30_setup.exe - NSIS - gtk20-properties.mo", threat="is OK", action="", info=""
name="geany-1.30_setup.exe - NSIS - gtk20.mo", threat="is OK", action="", info=""
name="geany-1.30_setup.exe - NSIS - gdk-pixbuf.mo", threat="is OK", action="", info=""
name="geany-1.30_setup.exe - NSIS - glib20.mo", threat="is OK", action="", info=""
name="geany-1.30_setup.exe - NSIS - gtk20-properties.mo", threat="is OK", action="", info=""
name="geany-1.30_setup.exe - NSIS - gtk20.mo", threat="is OK", action="", info=""
name="geany-1.30_setup.exe - NSIS - atk10.mo", threat="is OK", action="", info=""
name="geany-1.30_setup.exe - NSIS - gdk-pixbuf.mo", threat="is OK", action="", info=""
name="geany-1.30_setup.exe - NSIS - glib20.mo", threat="is OK", action="", info=""
name="geany-1.30_setup.exe - NSIS - gtk20-properties.mo", threat="is OK", action="", info=""
name="geany-1.30_setup.exe - NSIS - gtk20.mo", threat="is OK", action="", info=""
name="geany-1.30_setup.exe - NSIS - atk10.mo", threat="is OK", action="", info=""
name="geany-1.30_setup.exe - NSIS - gdk-pixbuf.mo", threat="is OK", action="", info=""
name="geany-1.30_setup.exe - NSIS - gettext-runtime.mo", threat="is OK", action="", info=""
name="geany-1.30_setup.exe - NSIS - gettext-tools.mo", threat="is OK", action="", info=""
name="geany-1.30_setup.exe - NSIS - glib20.mo", threat="is OK", action="", info=""
name="geany-1.30_setup.exe - NSIS - gtk20-properties.mo", threat="is OK", action="", info=""
name="geany-1.30_setup.exe - NSIS - gtk20.mo", threat="is OK", action="", info=""
name="geany-1.30_setup.exe - NSIS - atk10.mo", threat="is OK", action="", info=""
name="geany-1.30_setup.exe - NSIS - gdk-pixbuf.mo", threat="is OK", action="", info=""
name="geany-1.30_setup.exe - NSIS - gettext-runtime.mo", threat="is OK", action="", info=""
name="geany-1.30_setup.exe - NSIS - gettext-tools.mo", threat="is OK", action="", info=""
name="geany-1.30_setup.exe - NSIS - glib20.mo", threat="is OK", action="", info=""
name="geany-1.30_setup.exe - NSIS - gtk20-properties.mo", threat="is OK", action="", info=""
name="geany-1.30_setup.exe - NSIS - gtk20.mo", threat="is OK", action="", info=""
name="geany-1.30_setup.exe - NSIS - gdk-pixbuf.mo", threat="is OK", action="", info=""
name="geany-1.30_setup.exe - NSIS - gtk20-properties.mo", threat="is OK", action="", info=""
name="geany-1.30_setup.exe - NSIS - gtk20.mo", threat="is OK", action="", info=""
name="geany-1.30_setup.exe - NSIS - atk10.mo", threat="is OK", action="", info=""
name="geany-1.30_setup.exe - NSIS - gdk-pixbuf.mo", threat="is OK", action="", info=""
name="geany-1.30_setup.exe - NSIS - glib20.mo", threat="is OK", action="", info=""
name="geany-1.30_setup.exe - NSIS - gtk20-properties.mo", threat="is OK", action="", info=""
name="geany-1.30_setup.exe - NSIS - gtk20.mo", threat="is OK", action="", info=""
name="geany-1.30_setup.exe - NSIS - atk10.mo", threat="is OK", action="", info=""
name="geany-1.30_setup.exe - NSIS - gdk-pixbuf.mo", threat="is OK", action="", info=""
name="geany-1.30_setup.exe - NSIS - glib20.mo", threat="is OK", action="", info=""
name="geany-1.30_setup.exe - NSIS - gtk20-properties.mo", threat="is OK", action="", info=""
name="geany-1.30_setup.exe - NSIS - gtk20.mo", threat="is OK", action="", info=""
name="geany-1.30_setup.exe - NSIS - atk10.mo", threat="is OK", action="", info=""
name="geany-1.30_setup.exe - NSIS - gdk-pixbuf.mo", threat="is OK", action="", info=""
name="geany-1.30_setup.exe - NSIS - gettext-tools.mo", threat="is OK", action="", info=""
name="geany-1.30_setup.exe - NSIS - glib20.mo", threat="is OK", action="", info=""
name="geany-1.30_setup.exe - NSIS - gtk20-properties.mo", threat="is OK", action="", info=""
name="geany-1.30_setup.exe - NSIS - gtk20.mo", threat="is OK", action="", info=""
name="geany-1.30_setup.exe - NSIS - atk10.mo", threat="is OK", action="", info=""
name="geany-1.30_setup.exe - NSIS - gdk-pixbuf.mo", threat="is OK", action="", info=""
name="geany-1.30_setup.exe - NSIS - gettext-runtime.mo", threat="is OK", action="", info=""
name="geany-1.30_setup.exe - NSIS - gettext-tools.mo", threat="is OK", action="", info=""
name="geany-1.30_setup.exe - NSIS - glib20.mo", threat="is OK", action="", info=""
name="geany-1.30_setup.exe - NSIS - gtk20-properties.mo", threat="is OK", action="", info=""
name="geany-1.30_setup.exe - NSIS - gtk20.mo", threat="is OK", action="", info=""
name="geany-1.30_setup.exe - NSIS - atk10.mo", threat="is OK", action="", info=""
name="geany-1.30_setup.exe - NSIS - gdk-pixbuf.mo", threat="is OK", action="", info=""
name="geany-1.30_setup.exe - NSIS - glib20.mo", threat="is OK", action="", info=""
name="geany-1.30_setup.exe - NSIS - gtk20-properties.mo", threat="is OK", action="", info=""
name="geany-1.30_setup.exe - NSIS - gtk20.mo", threat="is OK", action="", info=""
name="geany-1.30_setup.exe - NSIS - atk10.mo", threat="is OK", action="", info=""
name="geany-1.30_setup.exe - NSIS - gdk-pixbuf.mo", threat="is OK", action="", info=""
name="geany-1.30_setup.exe - NSIS - gettext-runtime.mo", threat="is OK", action="", info=""
name="geany-1.30_setup.exe - NSIS - gettext-tools.mo", threat="is OK", action="", info=""
name="geany-1.30_setup.exe - NSIS - glib20.mo", threat="is OK", action="", info=""
name="geany-1.30_setup.exe - NSIS - gtk20-properties.mo", threat="is OK", action="", info=""
name="geany-1.30_setup.exe - NSIS - gtk20.mo", threat="is OK", action="", info=""
name="geany-1.30_setup.exe - NSIS - atk10.mo", threat="is OK", action="", info=""
name="geany-1.30_setup.exe - NSIS - gdk-pixbuf.mo", threat="is OK", action="", info=""
name="geany-1.30_setup.exe - NSIS - gettext-runtime.mo", threat="is OK", action="", info=""
name="geany-1.30_setup.exe - NSIS - gettext-tools.mo", threat="is OK", action="", info=""
name="geany-1.30_setup.exe - NSIS - glib20.mo", threat="is OK", action="", info=""
name="geany-1.30_setup.exe - NSIS - gtk20-properties.mo", threat="is OK", action="", info=""
name="geany-1.30_setup.exe - NSIS - gtk20.mo", threat="is OK", action="", info=""
name="geany-1.30_setup.exe - NSIS - atk10.mo", threat="is OK", action="", info=""
name="geany-1.30_setup.exe - NSIS - gdk-pixbuf.mo", threat="is OK", action="", info=""
name="geany-1.30_setup.exe - NSIS - gettext-runtime.mo", threat="is OK", action="", info=""
name="geany-1.30_setup.exe - NSIS - gettext-tools.mo", threat="is OK", action="", info=""
name="geany-1.30_setup.exe - NSIS - glib20.mo", threat="is OK", action="", info=""
name="geany-1.30_setup.exe - NSIS - gtk20-properties.mo", threat="is OK", action="", info=""
name="geany-1.30_setup.exe - NSIS - gtk20.mo", threat="is OK", action="", info=""
name="geany-1.30_setup.exe - NSIS - atk10.mo", threat="is OK", action="", info=""
name="geany-1.30_setup.exe - NSIS - gdk-pixbuf.mo", threat="is OK", action="", info=""
name="geany-1.30_setup.exe - NSIS - gettext-runtime.mo", threat="is OK", action="", info=""
name="geany-1.30_setup.exe - NSIS - gettext-tools.mo", threat="is OK", action="", info=""
name="geany-1.30_setup.exe - NSIS - glib20.mo", threat="is OK", action="", info=""
name="geany-1.30_setup.exe - NSIS - gtk20-properties.mo", threat="is OK", action="", info=""
name="geany-1.30_setup.exe - NSIS - gtk20.mo", threat="is OK", action="", info=""
name="geany-1.30_setup.exe - NSIS - atk10.mo", threat="is OK", action="", info=""
name="geany-1.30_setup.exe - NSIS - glib20.mo", threat="is OK", action="", info=""
name="geany-1.30_setup.exe - NSIS - gtk20-properties.mo", threat="is OK", action="", info=""
name="geany-1.30_setup.exe - NSIS - gtk20.mo", threat="is OK", action="", info=""
name="geany-1.30_setup.exe - NSIS - atk10.mo", threat="is OK", action="", info=""
name="geany-1.30_setup.exe - NSIS - gdk-pixbuf.mo", threat="is OK", action="", info=""
name="geany-1.30_setup.exe - NSIS - glib20.mo", threat="is OK", action="", info=""
name="geany-1.30_setup.exe - NSIS - gtk20-properties.mo", threat="is OK", action="", info=""
name="geany-1.30_setup.exe - NSIS - gtk20.mo", threat="is OK", action="", info=""
name="geany-1.30_setup.exe - NSIS - atk10.mo", threat="is OK", action="", info=""
name="geany-1.30_setup.exe - NSIS - gdk-pixbuf.mo", threat="is OK", action="", info=""
name="geany-1.30_setup.exe - NSIS - gettext-runtime.mo", threat="is OK", action="", info=""
name="geany-1.30_setup.exe - NSIS - gettext-tools.mo", threat="is OK", action="", info=""
name="geany-1.30_setup.exe - NSIS - glib20.mo", threat="is OK", action="", info=""
name="geany-1.30_setup.exe - NSIS - gtk20-properties.mo", threat="is OK", action="", info=""
name="geany-1.30_setup.exe - NSIS - gtk20.mo", threat="is OK", action="", info=""
name="geany-1.30_setup.exe - NSIS - atk10.mo", threat="is OK", action="", info=""
name="geany-1.30_setup.exe - NSIS - gdk-pixbuf.mo", threat="is OK", action="", info=""
name="geany-1.30_setup.exe - NSIS - gettext-runtime.mo", threat="is OK", action="", info=""
name="geany-1.30_setup.exe - NSIS - gettext-tools.mo", threat="is OK", action="", info=""
name="geany-1.30_setup.exe - NSIS - glib20.mo", threat="is OK", action="", info=""
name="geany-1.30_setup.exe - NSIS - gtk20-properties.mo", threat="is OK", action="", info=""
name="geany-1.30_setup.exe - NSIS - gtk20.mo", threat="is OK", action="", info=""
name="geany-1.30_setup.exe - NSIS - atk10.mo", threat="is OK", action="", info=""
name="geany-1.30_setup.exe - NSIS - gdk-pixbuf.mo", threat="is OK", action="", info=""
name="geany-1.30_setup.exe - NSIS - glib20.mo", threat="is OK", action="", info=""
name="geany-1.30_setup.exe - NSIS - gtk20-properties.mo", threat="is OK", action="", info=""
name="geany-1.30_setup.exe - NSIS - gtk20.mo", threat="is OK", action="", info=""
name="geany-1.30_setup.exe - NSIS - atk10.mo", threat="is OK", action="", info=""
name="geany-1.30_setup.exe - NSIS - gdk-pixbuf.mo", threat="is OK", action="", info=""
name="geany-1.30_setup.exe - NSIS - gettext-runtime.mo", threat="is OK", action="", info=""
name="geany-1.30_setup.exe - NSIS - gettext-tools.mo", threat="is OK", action="", info=""
name="geany-1.30_setup.exe - NSIS - glib20.mo", threat="is OK", action="", info=""
name="geany-1.30_setup.exe - NSIS - gtk20-properties.mo", threat="is OK", action="", info=""
name="geany-1.30_setup.exe - NSIS - gtk20.mo", threat="is OK", action="", info=""
name="geany-1.30_setup.exe - NSIS - atk10.mo", threat="is OK", action="", info=""
name="geany-1.30_setup.exe - NSIS - gdk-pixbuf.mo", threat="is OK", action="", info=""
name="geany-1.30_setup.exe - NSIS - glib20.mo", threat="is OK", action="", info=""
name="geany-1.30_setup.exe - NSIS - gtk20-properties.mo", threat="is OK", action="", info=""
name="geany-1.30_setup.exe - NSIS - gtk20.mo", threat="is OK", action="", info=""
name="geany-1.30_setup.exe - NSIS - atk10.mo", threat="is OK", action="", info=""
name="geany-1.30_setup.exe - NSIS - gdk-pixbuf.mo", threat="is OK", action="", info=""
name="geany-1.30_setup.exe - NSIS - glib20.mo", threat="is OK", action="", info=""
name="geany-1.30_setup.exe - NSIS - gtk20-properties.mo", threat="is OK", action="", info=""
name="geany-1.30_setup.exe - NSIS - gtk20.mo", threat="is OK", action="", info=""
name="geany-1.30_setup.exe - NSIS - atk10.mo", threat="is OK", action="", info=""
name="geany-1.30_setup.exe - NSIS - gdk-pixbuf.mo", threat="is OK", action="", info=""
name="geany-1.30_setup.exe - NSIS - gettext-runtime.mo", threat="is OK", action="", info=""
name="geany-1.30_setup.exe - NSIS - gettext-tools.mo", threat="is OK", action="", info=""
name="geany-1.30_setup.exe - NSIS - glib20.mo", threat="is OK", action="", info=""
name="geany-1.30_setup.exe - NSIS - gtk20-properties.mo", threat="is OK", action="", info=""
name="geany-1.30_setup.exe - NSIS - gtk20.mo", threat="is OK", action="", info=""
name="geany-1.30_setup.exe - NSIS - atk10.mo", threat="is OK", action="", info=""
name="geany-1.30_setup.exe - NSIS - gdk-pixbuf.mo", threat="is OK", action="", info=""
name="geany-1.30_setup.exe - NSIS - glib20.mo", threat="is OK", action="", info=""
name="geany-1.30_setup.exe - NSIS - gtk20-properties.mo", threat="is OK", action="", info=""
name="geany-1.30_setup.exe - NSIS - gtk20.mo", threat="is OK", action="", info=""
name="geany-1.30_setup.exe - NSIS - atk10.mo", threat="is OK", action="", info=""
name="geany-1.30_setup.exe - NSIS - gdk-pixbuf.mo", threat="is OK", action="", info=""
name="geany-1.30_setup.exe - NSIS - glib20.mo", threat="is OK", action="", info=""
name="geany-1.30_setup.exe - NSIS - gtk20-properties.mo", threat="is OK", action="", info=""
name="geany-1.30_setup.exe - NSIS - gtk20.mo", threat="is OK", action="", info=""
name="geany-1.30_setup.exe - NSIS - atk10.mo", threat="is OK", action="", info=""
name="geany-1.30_setup.exe - NSIS - gdk-pixbuf.mo", threat="is OK", action="", info=""
name="geany-1.30_setup.exe - NSIS - glib20.mo", threat="is OK", action="", info=""
name="geany-1.30_setup.exe - NSIS - atk10.mo", threat="is OK", action="", info=""
name="geany-1.30_setup.exe - NSIS - gdk-pixbuf.mo", threat="is OK", action="", info=""
name="geany-1.30_setup.exe - NSIS - glib20.mo", threat="is OK", action="", info=""
name="geany-1.30_setup.exe - NSIS - gtk20-properties.mo", threat="is OK", action="", info=""
name="geany-1.30_setup.exe - NSIS - gtk20.mo", threat="is OK", action="", info=""
name="geany-1.30_setup.exe - NSIS - atk10.mo", threat="is OK", action="", info=""
name="geany-1.30_setup.exe - NSIS - gdk-pixbuf.mo", threat="is OK", action="", info=""
name="geany-1.30_setup.exe - NSIS - gtk20-properties.mo", threat="is OK", action="", info=""
name="geany-1.30_setup.exe - NSIS - gtk20.mo", threat="is OK", action="", info=""
name="geany-1.30_setup.exe - NSIS - glib20.mo", threat="is OK", action="", info=""
name="geany-1.30_setup.exe - NSIS - atk10.mo", threat="is OK", action="", info=""
name="geany-1.30_setup.exe - NSIS - gdk-pixbuf.mo", threat="is OK", action="", info=""
name="geany-1.30_setup.exe - NSIS - gettext-runtime.mo", threat="is OK", action="", info=""
name="geany-1.30_setup.exe - NSIS - gettext-tools.mo", threat="is OK", action="", info=""
name="geany-1.30_setup.exe - NSIS - glib20.mo", threat="is OK", action="", info=""
name="geany-1.30_setup.exe - NSIS - gtk20-properties.mo", threat="is OK", action="", info=""
name="geany-1.30_setup.exe - NSIS - gtk20.mo", threat="is OK", action="", info=""
name="geany-1.30_setup.exe - NSIS - atk10.mo", threat="is OK", action="", info=""
name="geany-1.30_setup.exe - NSIS - gdk-pixbuf.mo", threat="is OK", action="", info=""
name="geany-1.30_setup.exe - NSIS - glib20.mo", threat="is OK", action="", info=""
name="geany-1.30_setup.exe - NSIS - gtk20-properties.mo", threat="is OK", action="", info=""
name="geany-1.30_setup.exe - NSIS - gtk20.mo", threat="is OK", action="", info=""
name="geany-1.30_setup.exe - NSIS - atk10.mo", threat="is OK", action="", info=""
name="geany-1.30_setup.exe - NSIS - gdk-pixbuf.mo", threat="is OK", action="", info=""
name="geany-1.30_setup.exe - NSIS - glib20.mo", threat="is OK", action="", info=""
name="geany-1.30_setup.exe - NSIS - gtk20-properties.mo", threat="is OK", action="", info=""
name="geany-1.30_setup.exe - NSIS - gtk20.mo", threat="is OK", action="", info=""
name="geany-1.30_setup.exe - NSIS - atk10.mo", threat="is OK", action="", info=""
name="geany-1.30_setup.exe - NSIS - gdk-pixbuf.mo", threat="is OK", action="", info=""
name="geany-1.30_setup.exe - NSIS - gettext-runtime.mo", threat="is OK", action="", info=""
name="geany-1.30_setup.exe - NSIS - gettext-tools.mo", threat="is OK", action="", info=""
name="geany-1.30_setup.exe - NSIS - glib20.mo", threat="is OK", action="", info=""
name="geany-1.30_setup.exe - NSIS - gtk20-properties.mo", threat="is OK", action="", info=""
name="geany-1.30_setup.exe - NSIS - gtk20.mo", threat="is OK", action="", info=""
name="geany-1.30_setup.exe - NSIS - gtk20-properties.mo", threat="is OK", action="", info=""
name="geany-1.30_setup.exe - NSIS - gtk20.mo", threat="is OK", action="", info=""
name="geany-1.30_setup.exe - NSIS - gdk-pixbuf.mo", threat="is OK", action="", info=""
name="geany-1.30_setup.exe - NSIS - gtk20-properties.mo", threat="is OK", action="", info=""
name="geany-1.30_setup.exe - NSIS - gtk20.mo", threat="is OK", action="", info=""
name="geany-1.30_setup.exe - NSIS - gdk-pixbuf.mo", threat="is OK", action="", info=""
name="geany-1.30_setup.exe - NSIS - gtk20-properties.mo", threat="is OK", action="", info=""
name="geany-1.30_setup.exe - NSIS - gtk20.mo", threat="is OK", action="", info=""
name="geany-1.30_setup.exe - NSIS - atk10.mo", threat="is OK", action="", info=""
name="geany-1.30_setup.exe - NSIS - gdk-pixbuf.mo", threat="is OK", action="", info=""
name="geany-1.30_setup.exe - NSIS - gettext-runtime.mo", threat="is OK", action="", info=""
name="geany-1.30_setup.exe - NSIS - gettext-tools.mo", threat="is OK", action="", info=""
name="geany-1.30_setup.exe - NSIS - glib20.mo", threat="is OK", action="", info=""
name="geany-1.30_setup.exe - NSIS - gtk20-properties.mo", threat="is OK", action="", info=""
name="geany-1.30_setup.exe - NSIS - gtk20.mo", threat="is OK", action="", info=""
name="geany-1.30_setup.exe - NSIS - atk10.mo", threat="is OK", action="", info=""
name="geany-1.30_setup.exe - NSIS - gdk-pixbuf.mo", threat="is OK", action="", info=""
name="geany-1.30_setup.exe - NSIS - glib20.mo", threat="is OK", action="", info=""
name="geany-1.30_setup.exe - NSIS - gtk20-properties.mo", threat="is OK", action="", info=""
name="geany-1.30_setup.exe - NSIS - gtk20.mo", threat="is OK", action="", info=""
name="geany-1.30_setup.exe - NSIS - atk10.mo", threat="is OK", action="", info=""
name="geany-1.30_setup.exe - NSIS - gdk-pixbuf.mo", threat="is OK", action="", info=""
name="geany-1.30_setup.exe - NSIS - glib20.mo", threat="is OK", action="", info=""
name="geany-1.30_setup.exe - NSIS - gtk20-properties.mo", threat="is OK", action="", info=""
name="geany-1.30_setup.exe - NSIS - gtk20.mo", threat="is OK", action="", info=""
name="geany-1.30_setup.exe - NSIS - atk10.mo", threat="is OK", action="", info=""
name="geany-1.30_setup.exe - NSIS - gdk-pixbuf.mo", threat="is OK", action="", info=""
name="geany-1.30_setup.exe - NSIS - glib20.mo", threat="is OK", action="", info=""
name="geany-1.30_setup.exe - NSIS - gtk20-properties.mo", threat="is OK", action="", info=""
name="geany-1.30_setup.exe - NSIS - gtk20.mo", threat="is OK", action="", info=""
name="geany-1.30_setup.exe - NSIS - atk10.mo", threat="is OK", action="", info=""
name="geany-1.30_setup.exe - NSIS - gdk-pixbuf.mo", threat="is OK", action="", info=""
name="geany-1.30_setup.exe - NSIS - gettext-runtime.mo", threat="is OK", action="", info=""
name="geany-1.30_setup.exe - NSIS - gettext-tools.mo", threat="is OK", action="", info=""
name="geany-1.30_setup.exe - NSIS - glib20.mo", threat="is OK", action="", info=""
name="geany-1.30_setup.exe - NSIS - gtk20-properties.mo", threat="is OK", action="", info=""
name="geany-1.30_setup.exe - NSIS - gtk20.mo", threat="is OK", action="", info=""
name="geany-1.30_setup.exe - NSIS - atk10.mo", threat="is OK", action="", info=""
name="geany-1.30_setup.exe - NSIS - gdk-pixbuf.mo", threat="is OK", action="", info=""
name="geany-1.30_setup.exe - NSIS - gettext-runtime.mo", threat="is OK", action="", info=""
name="geany-1.30_setup.exe - NSIS - glib20.mo", threat="is OK", action="", info=""
name="geany-1.30_setup.exe - NSIS - gtk20-properties.mo", threat="is OK", action="", info=""
name="geany-1.30_setup.exe - NSIS - gtk20.mo", threat="is OK", action="", info=""
name="geany-1.30_setup.exe - NSIS - atk10.mo", threat="is OK", action="", info=""
name="geany-1.30_setup.exe - NSIS - gdk-pixbuf.mo", threat="is OK", action="", info=""
name="geany-1.30_setup.exe - NSIS - gettext-runtime.mo", threat="is OK", action="", info=""
name="geany-1.30_setup.exe - NSIS - gettext-tools.mo", threat="is OK", action="", info=""
name="geany-1.30_setup.exe - NSIS - glib20.mo", threat="is OK", action="", info=""
name="geany-1.30_setup.exe - NSIS - gtk20-properties.mo", threat="is OK", action="", info=""
name="geany-1.30_setup.exe - NSIS - gtk20.mo", threat="is OK", action="", info=""
name="geany-1.30_setup.exe - NSIS - atk10.mo", threat="is OK", action="", info=""
name="geany-1.30_setup.exe - NSIS - ScintillaLicense.txt", threat="is OK", action="", info=""
name="geany-1.30_setup.exe - NSIS - manual.txt", threat="is OK", action="", info=""
name="geany-1.30_setup.exe - NSIS - index.html", threat="is OK", action="", info=""
name="geany-1.30_setup.exe - NSIS - build_menu_commands_dialog.png", threat="is OK", action="", info=""
name="geany-1.30_setup.exe - NSIS - find_dialog.png", threat="is OK", action="", info=""
name="geany-1.30_setup.exe - NSIS - find_in_files_dialog.png", threat="is OK", action="", info=""
name="geany-1.30_setup.exe - NSIS - main_window.png", threat="is OK", action="", info=""
name="geany-1.30_setup.exe - NSIS - pref_dialog_edit_completions.png", threat="is OK", action="", info=""
name="geany-1.30_setup.exe - NSIS - pref_dialog_edit_display.png", threat="is OK", action="", info=""
name="geany-1.30_setup.exe - NSIS - pref_dialog_edit_features.png", threat="is OK", action="", info=""
name="geany-1.30_setup.exe - NSIS - pref_dialog_edit_indentation.png", threat="is OK", action="", info=""
name="geany-1.30_setup.exe - NSIS - pref_dialog_files.png", threat="is OK", action="", info=""
name="geany-1.30_setup.exe - NSIS - pref_dialog_gen_misc.png", threat="is OK", action="", info=""
name="geany-1.30_setup.exe - NSIS - pref_dialog_gen_startup.png", threat="is OK", action="", info=""
name="geany-1.30_setup.exe - NSIS - pref_dialog_interface_interface.png", threat="is OK", action="", info=""
name="geany-1.30_setup.exe - NSIS - pref_dialog_interface_notebook.png", threat="is OK", action="", info=""
name="geany-1.30_setup.exe - NSIS - pref_dialog_interface_toolbar.png", threat="is OK", action="", info=""
name="geany-1.30_setup.exe - NSIS - pref_dialog_keys.png", threat="is OK", action="", info=""
name="geany-1.30_setup.exe - NSIS - pref_dialog_printing.png", threat="is OK", action="", info=""
name="geany-1.30_setup.exe - NSIS - pref_dialog_templ.png", threat="is OK", action="", info=""
name="geany-1.30_setup.exe - NSIS - pref_dialog_tools.png", threat="is OK", action="", info=""
name="geany-1.30_setup.exe - NSIS - pref_dialog_various.png", threat="is OK", action="", info=""
name="geany-1.30_setup.exe - NSIS - pref_dialog_vte.png", threat="is OK", action="", info=""
name="geany-1.30_setup.exe - NSIS - replace_dialog.png", threat="is OK", action="", info=""
name="geany-1.30_setup.exe - NSIS - entities.html.tags", threat="is OK", action="", info=""
name="geany-1.30_setup.exe - NSIS - std.pas.tags", threat="is OK", action="", info=""
name="geany-1.30_setup.exe - NSIS - std.php.tags", threat="is OK", action="", info=""
name="geany-1.30_setup.exe - NSIS - std.py.tags", threat="is OK", action="", info=""
name="geany-1.30_setup.exe - NSIS - std99.c.tags", threat="is OK", action="", info=""
name="geany-1.30_setup.exe - NSIS - ReadMe.Dependencies.Geany.txt", threat="is OK", action="", info=""
name="geany-1.30_setup.exe - NSIS - grep.exe", threat="is OK", action="", info=""
name="geany-1.30_setup.exe - NSIS - libasprintf-0.dll", threat="is OK", action="", info=""
name="geany-1.30_setup.exe - NSIS - libatk-1.0-0.dll", threat="is OK", action="", info=""
name="geany-1.30_setup.exe - NSIS - libatomic-1.dll", threat="is OK", action="", info=""
name="geany-1.30_setup.exe - NSIS - libbz2-1.dll", threat="is OK", action="", info=""
name="geany-1.30_setup.exe - NSIS - libcairo-2.dll", threat="is OK", action="", info=""
name="geany-1.30_setup.exe - NSIS - libcairo-gobject-2.dll", threat="is OK", action="", info=""
name="geany-1.30_setup.exe - NSIS - libcairo-script-interpreter-2.dll", threat="is OK", action="", info=""
name="geany-1.30_setup.exe - NSIS - libcharset-1.dll", threat="is OK", action="", info=""
name="geany-1.30_setup.exe - NSIS - libexpat-1.dll", threat="is OK", action="", info=""
name="geany-1.30_setup.exe - NSIS - libffi-6.dll", threat="is OK", action="", info=""
name="geany-1.30_setup.exe - NSIS - libfontconfig-1.dll", threat="is OK", action="", info=""
name="geany-1.30_setup.exe - NSIS - libfreetype-6.dll", threat="is OK", action="", info=""
name="geany-1.30_setup.exe - NSIS - libgailutil-18.dll", threat="is OK", action="", info=""
name="geany-1.30_setup.exe - NSIS - libgdk-win32-2.0-0.dll", threat="is OK", action="", info=""
name="geany-1.30_setup.exe - NSIS - libgdk_pixbuf-2.0-0.dll", threat="is OK", action="", info=""
name="geany-1.30_setup.exe - NSIS - libgettextlib-0-19-8-1.dll", threat="is OK", action="", info=""
name="geany-1.30_setup.exe - NSIS - libgettextpo-0.dll", threat="is OK", action="", info=""
name="geany-1.30_setup.exe - NSIS - libgettextsrc-0-19-8-1.dll", threat="is OK", action="", info=""
name="geany-1.30_setup.exe - NSIS - libgio-2.0-0.dll", threat="is OK", action="", info=""
name="geany-1.30_setup.exe - NSIS - libglib-2.0-0.dll", threat="is OK", action="", info=""
name="geany-1.30_setup.exe - NSIS - libgmodule-2.0-0.dll", threat="is OK", action="", info=""
name="geany-1.30_setup.exe - NSIS - libgobject-2.0-0.dll", threat="is OK", action="", info=""
name="geany-1.30_setup.exe - NSIS - libgomp-1.dll", threat="is OK", action="", info=""
name="geany-1.30_setup.exe - NSIS - libgraphite2.dll", threat="is OK", action="", info=""
name="geany-1.30_setup.exe - NSIS - libgthread-2.0-0.dll", threat="is OK", action="", info=""
name="geany-1.30_setup.exe - NSIS - libgtk-win32-2.0-0.dll", threat="is OK", action="", info=""
name="geany-1.30_setup.exe - NSIS - libharfbuzz-0.dll", threat="is OK", action="", info=""
name="geany-1.30_setup.exe - NSIS - libharfbuzz-gobject-0.dll", threat="is OK", action="", info=""
name="geany-1.30_setup.exe - NSIS - libharfbuzz-icu-0.dll", threat="is OK", action="", info=""
name="geany-1.30_setup.exe - NSIS - libiconv-2.dll", threat="is OK", action="", info=""
name="geany-1.30_setup.exe - NSIS - libintl-8.dll", threat="is OK", action="", info=""
name="geany-1.30_setup.exe - NSIS - libminizip-1.dll", threat="is OK", action="", info=""
name="geany-1.30_setup.exe - NSIS - libpango-1.0-0.dll", threat="is OK", action="", info=""
name="geany-1.30_setup.exe - NSIS - libpangocairo-1.0-0.dll", threat="is OK", action="", info=""
name="geany-1.30_setup.exe - NSIS - libpangoft2-1.0-0.dll", threat="is OK", action="", info=""
name="geany-1.30_setup.exe - NSIS - libpangowin32-1.0-0.dll", threat="is OK", action="", info=""
name="geany-1.30_setup.exe - NSIS - libpcre-1.dll", threat="is OK", action="", info=""
name="geany-1.30_setup.exe - NSIS - libpcre16-0.dll", threat="is OK", action="", info=""
name="geany-1.30_setup.exe - NSIS - libpcre32-0.dll", threat="is OK", action="", info=""
name="geany-1.30_setup.exe - NSIS - libpcrecpp-0.dll", threat="is OK", action="", info=""
name="geany-1.30_setup.exe - NSIS - libpcreposix-0.dll", threat="is OK", action="", info=""
name="geany-1.30_setup.exe - NSIS - libpixman-1-0.dll", threat="is OK", action="", info=""
name="geany-1.30_setup.exe - NSIS - libpng16-16.dll", threat="is OK", action="", info=""
name="geany-1.30_setup.exe - NSIS - libquadmath-0.dll", threat="is OK", action="", info=""
name="geany-1.30_setup.exe - NSIS - libssp-0.dll", threat="is OK", action="", info=""
name="geany-1.30_setup.exe - NSIS - msys-2.0.dll", threat="is OK", action="", info=""
name="geany-1.30_setup.exe - NSIS - msys-gcc_s-1.dll", threat="is OK", action="", info=""
name="geany-1.30_setup.exe - NSIS - msys-iconv-2.dll", threat="is OK", action="", info=""
name="geany-1.30_setup.exe - NSIS - msys-intl-8.dll", threat="is OK", action="", info=""
name="geany-1.30_setup.exe - NSIS - msys-pcre-1.dll", threat="is OK", action="", info=""
name="geany-1.30_setup.exe - NSIS - sort.exe", threat="is OK", action="", info=""
name="geany-1.30_setup.exe - NSIS - zlib1.dll", threat="is OK", action="", info=""
name="geany-1.30_setup.exe - NSIS - fonts.conf", threat="is OK", action="", info=""
name="geany-1.30_setup.exe - NSIS - 10-hinting-slight.conf", threat="is OK", action="", info=""
name="geany-1.30_setup.exe - NSIS - 10-scale-bitmap-fonts.conf", threat="is OK", action="", info=""
name="geany-1.30_setup.exe - NSIS - 20-unhint-small-vera.conf", threat="is OK", action="", info=""
name="geany-1.30_setup.exe - NSIS - 30-metric-aliases.conf", threat="is OK", action="", info=""
name="geany-1.30_setup.exe - NSIS - 30-urw-aliases.conf", threat="is OK", action="", info=""
name="geany-1.30_setup.exe - NSIS - 40-nonlatin.conf", threat="is OK", action="", info=""
name="geany-1.30_setup.exe - NSIS - 45-latin.conf", threat="is OK", action="", info=""
name="geany-1.30_setup.exe - NSIS - 49-sansserif.conf", threat="is OK", action="", info=""
name="geany-1.30_setup.exe - NSIS - 50-user.conf", threat="is OK", action="", info=""
name="geany-1.30_setup.exe - NSIS - 51-local.conf", threat="is OK", action="", info=""
name="geany-1.30_setup.exe - NSIS - 60-latin.conf", threat="is OK", action="", info=""
name="geany-1.30_setup.exe - NSIS - 65-fonts-persian.conf", threat="is OK", action="", info=""
name="geany-1.30_setup.exe - NSIS - 65-nonlatin.conf", threat="is OK", action="", info=""
name="geany-1.30_setup.exe - NSIS - 69-unifont.conf", threat="is OK", action="", info=""
name="geany-1.30_setup.exe - NSIS - 80-delicious.conf", threat="is OK", action="", info=""
name="geany-1.30_setup.exe - NSIS - 90-synthetic.conf", threat="is OK", action="", info=""
name="geany-1.30_setup.exe - NSIS - README", threat="is OK", action="", info=""
name="geany-1.30_setup.exe - NSIS - im-multipress.conf", threat="is OK", action="", info=""
name="geany-1.30_setup.exe - NSIS - loaders.cache", threat="is OK", action="", info=""
name="geany-1.30_setup.exe - NSIS - libpixbufloader-ani.dll", threat="is OK", action="", info=""
name="geany-1.30_setup.exe - NSIS - libpixbufloader-bmp.dll", threat="is OK", action="", info=""
name="geany-1.30_setup.exe - NSIS - libpixbufloader-gif.dll", threat="is OK", action="", info=""
name="geany-1.30_setup.exe - NSIS - libpixbufloader-icns.dll", threat="is OK", action="", info=""
name="geany-1.30_setup.exe - NSIS - libpixbufloader-ico.dll", threat="is OK", action="", info=""
name="geany-1.30_setup.exe - NSIS - libpixbufloader-jpeg.dll", threat="is OK", action="", info=""
name="geany-1.30_setup.exe - NSIS - libpixbufloader-pnm.dll", threat="is OK", action="", info=""
name="geany-1.30_setup.exe - NSIS - libpixbufloader-qtif.dll", threat="is OK", action="", info=""
name="geany-1.30_setup.exe - NSIS - libpixbufloader-tga.dll", threat="is OK", action="", info=""
name="geany-1.30_setup.exe - NSIS - libpixbufloader-tiff.dll", threat="is OK", action="", info=""
name="geany-1.30_setup.exe - NSIS - libpixbufloader-xbm.dll", threat="is OK", action="", info=""
name="geany-1.30_setup.exe - NSIS - libpixbufloader-xpm.dll", threat="is OK", action="", info=""
name="geany-1.30_setup.exe - NSIS - immodules.cache", threat="is OK", action="", info=""
name="geany-1.30_setup.exe - NSIS - libpixmap.dll", threat="is OK", action="", info=""
name="geany-1.30_setup.exe - NSIS - libwimp.dll", threat="is OK", action="", info=""
name="geany-1.30_setup.exe - NSIS - libgail.dll", threat="is OK", action="", info=""
name="geany-1.30_setup.exe - NSIS - 10-autohint.conf", threat="is OK", action="", info=""
name="geany-1.30_setup.exe - NSIS - 10-hinting-full.conf", threat="is OK", action="", info=""
name="geany-1.30_setup.exe - NSIS - 10-hinting-medium.conf", threat="is OK", action="", info=""
name="geany-1.30_setup.exe - NSIS - 10-hinting-none.conf", threat="is OK", action="", info=""
name="geany-1.30_setup.exe - NSIS - 10-no-sub-pixel.conf", threat="is OK", action="", info=""
name="geany-1.30_setup.exe - NSIS - 10-sub-pixel-bgr.conf", threat="is OK", action="", info=""
name="geany-1.30_setup.exe - NSIS - 10-sub-pixel-rgb.conf", threat="is OK", action="", info=""
name="geany-1.30_setup.exe - NSIS - 10-sub-pixel-vbgr.conf", threat="is OK", action="", info=""
name="geany-1.30_setup.exe - NSIS - 10-sub-pixel-vrgb.conf", threat="is OK", action="", info=""
name="geany-1.30_setup.exe - NSIS - 10-unhinted.conf", threat="is OK", action="", info=""
name="geany-1.30_setup.exe - NSIS - 11-lcdfilter-default.conf", threat="is OK", action="", info=""
name="geany-1.30_setup.exe - NSIS - 11-lcdfilter-legacy.conf", threat="is OK", action="", info=""
name="geany-1.30_setup.exe - NSIS - 11-lcdfilter-light.conf", threat="is OK", action="", info=""
name="geany-1.30_setup.exe - NSIS - 25-unhint-nonlatin.conf", threat="is OK", action="", info=""
name="geany-1.30_setup.exe - NSIS - 65-khmer.conf", threat="is OK", action="", info=""
name="geany-1.30_setup.exe - NSIS - 70-no-bitmaps.conf", threat="is OK", action="", info=""
name="geany-1.30_setup.exe - NSIS - 70-yes-bitmaps.conf", threat="is OK", action="", info=""
name="geany-1.30_setup.exe - NSIS - appdata.its", threat="is OK", action="", info=""
name="geany-1.30_setup.exe - NSIS - appdata.loc", threat="is OK", action="", info=""
name="geany-1.30_setup.exe - NSIS - glade.loc", threat="is OK", action="", info=""
name="geany-1.30_setup.exe - NSIS - glade1.its", threat="is OK", action="", info=""
name="geany-1.30_setup.exe - NSIS - glade2.its", threat="is OK", action="", info=""
name="geany-1.30_setup.exe - NSIS - gsettings.its", threat="is OK", action="", info=""
name="geany-1.30_setup.exe - NSIS - gsettings.loc", threat="is OK", action="", info=""
name="geany-1.30_setup.exe - NSIS - gtkbuilder.its", threat="is OK", action="", info=""
name="geany-1.30_setup.exe - NSIS - gschema.dtd", threat="is OK", action="", info=""
name="geany-1.30_setup.exe - NSIS - COPYING", threat="is OK", action="", info=""
name="geany-1.30_setup.exe - NSIS - LICENSE", threat="is OK", action="", info=""
name="geany-1.30_setup.exe - NSIS - COPYING", threat="is OK", action="", info=""
name="geany-1.30_setup.exe - NSIS - COPYING-LGPL-2.1", threat="is OK", action="", info=""
name="geany-1.30_setup.exe - NSIS - COPYING-MPL-1.1", threat="is OK", action="", info=""
name="geany-1.30_setup.exe - NSIS - COPYING", threat="is OK", action="", info=""
name="geany-1.30_setup.exe - NSIS - COPYING", threat="is OK", action="", info=""
name="geany-1.30_setup.exe - NSIS - FTL.TXT", threat="is OK", action="", info=""
name="geany-1.30_setup.exe - NSIS - GPLv2.TXT", threat="is OK", action="", info=""
name="geany-1.30_setup.exe - NSIS - LICENSE.TXT", threat="is OK", action="", info=""
name="geany-1.30_setup.exe - NSIS - COPYING.LIB", threat="is OK", action="", info=""
name="geany-1.30_setup.exe - NSIS - COPYING.RUNTIME", threat="is OK", action="", info=""
name="geany-1.30_setup.exe - NSIS - COPYING3", threat="is OK", action="", info=""
name="geany-1.30_setup.exe - NSIS - README", threat="is OK", action="", info=""
name="geany-1.30_setup.exe - NSIS - COPYING", threat="is OK", action="", info=""
name="geany-1.30_setup.exe - NSIS - COPYING.LIB", threat="is OK", action="", info=""
name="geany-1.30_setup.exe - NSIS - COPYING", threat="is OK", action="", info=""
name="geany-1.30_setup.exe - NSIS - COPYING", threat="is OK", action="", info=""
name="geany-1.30_setup.exe - NSIS - COPYING", threat="is OK", action="", info=""
name="geany-1.30_setup.exe - NSIS - COPYING", threat="is OK", action="", info=""
name="geany-1.30_setup.exe - NSIS - COPYING", threat="is OK", action="", info=""
name="geany-1.30_setup.exe - NSIS - LICENSE", threat="is OK", action="", info=""
name="geany-1.30_setup.exe - NSIS - COPYING.LIB", threat="is OK", action="", info=""
name="geany-1.30_setup.exe - NSIS - README", threat="is OK", action="", info=""
name="geany-1.30_setup.exe - NSIS - LICENSE", threat="is OK", action="", info=""
name="geany-1.30_setup.exe - NSIS - COPYING", threat="is OK", action="", info=""
name="geany-1.30_setup.exe - NSIS - COPYING", threat="is OK", action="", info=""
name="geany-1.30_setup.exe - NSIS - README", threat="is OK", action="", info=""
name="geany-1.30_setup.exe - NSIS - COPYING", threat="is OK", action="", info=""
name="geany-1.30_setup.exe - NSIS - LICENCE", threat="is OK", action="", info=""
name="geany-1.30_setup.exe - NSIS - COPYING", threat="is OK", action="", info=""
name="geany-1.30_setup.exe - NSIS - LICENSE", threat="is OK", action="", info=""
name="geany-1.30_setup.exe - NSIS - gtkrc", threat="is OK", action="", info=""
name="geany-1.30_setup.exe - NSIS - gtkrc", threat="is OK", action="", info=""
name="geany-1.30_setup.exe - NSIS - gtkrc", threat="is OK", action="", info=""
name="geany-1.30_setup.exe - NSIS - gtkrc", threat="is OK", action="", info=""
name="geany-1.30_setup.exe - NSIS - gdk-pixbuf-thumbnailer.thumbnailer", threat="is OK", action="", info=""
name="geany-1.30_setup.exe - NSIS - app.h", threat="is OK", action="", info=""
name="geany-1.30_setup.exe - NSIS - build.h", threat="is OK", action="", info=""
name="geany-1.30_setup.exe - NSIS - dialogs.h", threat="is OK", action="", info=""
name="geany-1.30_setup.exe - NSIS - document.h", threat="is OK", action="", info=""
name="geany-1.30_setup.exe - NSIS - editor.h", threat="is OK", action="", info=""
name="geany-1.30_setup.exe - NSIS - encodings.h", threat="is OK", action="", info=""
name="geany-1.30_setup.exe - NSIS - filetypes.h", threat="is OK", action="", info=""
name="geany-1.30_setup.exe - NSIS - geany.h", threat="is OK", action="", info=""
name="geany-1.30_setup.exe - NSIS - geanyfunctions.h", threat="is OK", action="", info=""
name="geany-1.30_setup.exe - NSIS - geanyplugin.h", threat="is OK", action="", info=""
name="geany-1.30_setup.exe - NSIS - gtkcompat.h", threat="is OK", action="", info=""
name="geany-1.30_setup.exe - NSIS - highlighting.h", threat="is OK", action="", info=""
name="geany-1.30_setup.exe - NSIS - keybindings.h", threat="is OK", action="", info=""
name="geany-1.30_setup.exe - NSIS - main.h", threat="is OK", action="", info=""
name="geany-1.30_setup.exe - NSIS - msgwindow.h", threat="is OK", action="", info=""
name="geany-1.30_setup.exe - NSIS - navqueue.h", threat="is OK", action="", info=""
name="geany-1.30_setup.exe - NSIS - plugindata.h", threat="is OK", action="", info=""
name="geany-1.30_setup.exe - NSIS - pluginutils.h", threat="is OK", action="", info=""
name="geany-1.30_setup.exe - NSIS - prefs.h", threat="is OK", action="", info=""
name="geany-1.30_setup.exe - NSIS - project.h", threat="is OK", action="", info=""
name="geany-1.30_setup.exe - NSIS - sciwrappers.h", threat="is OK", action="", info=""
name="geany-1.30_setup.exe - NSIS - search.h", threat="is OK", action="", info=""
name="geany-1.30_setup.exe - NSIS - spawn.h", threat="is OK", action="", info=""
name="geany-1.30_setup.exe - NSIS - stash.h", threat="is OK", action="", info=""
name="geany-1.30_setup.exe - NSIS - support.h", threat="is OK", action="", info=""
name="geany-1.30_setup.exe - NSIS - symbols.h", threat="is OK", action="", info=""
name="geany-1.30_setup.exe - NSIS - templates.h", threat="is OK", action="", info=""
name="geany-1.30_setup.exe - NSIS - toolbar.h", threat="is OK", action="", info=""
name="geany-1.30_setup.exe - NSIS - ui_utils.h", threat="is OK", action="", info=""
name="geany-1.30_setup.exe - NSIS - utils.h", threat="is OK", action="", info=""
name="geany-1.30_setup.exe - NSIS - geany-gtkdoc.h", threat="is OK", action="", info=""
name="geany-1.30_setup.exe - NSIS - geany-sciwrappers-gtkdoc.h", threat="is OK", action="", info=""
name="geany-1.30_setup.exe - NSIS - SciLexer.h", threat="is OK", action="", info=""
name="geany-1.30_setup.exe - NSIS - Sci_Position.h", threat="is OK", action="", info=""
name="geany-1.30_setup.exe - NSIS - Scintilla.h", threat="is OK", action="", info=""
name="geany-1.30_setup.exe - NSIS - Scintilla.iface", threat="is OK", action="", info=""
name="geany-1.30_setup.exe - NSIS - ScintillaWidget.h", threat="is OK", action="", info=""
name="geany-1.30_setup.exe - NSIS - tm_parser.h", threat="is OK", action="", info=""
name="geany-1.30_setup.exe - NSIS - tm_source_file.h", threat="is OK", action="", info=""
name="geany-1.30_setup.exe - NSIS - tm_tag.h", threat="is OK", action="", info=""
name="geany-1.30_setup.exe - NSIS - tm_workspace.h", threat="is OK", action="", info=""
name="geany-1.30_setup.exe - NSIS - geany.pc", threat="is OK", action="", info=""
name="geany-1.30_setup.exe - NSIS - uninst.exe", threat="is OK", action="", info=""
name="geany-1.30_setup.exe - NSIS - uninst.exe - NSIS - Entries.bin", threat="is OK", action="", info=""
name="geany-1.30_setup.exe - NSIS - uninst.exe - NSIS - Strings.txt", threat="i
-Cut-

Scan completed at: 03/06/17 11:08:27
Scan time: 27 sec (0:00:27)
Total: files - 1, objects 1047
Infected: files - 0, objects 0
Cleaned: files - 0, objects 0



















General Security Recommendations
1. Install an antivirus
In order to keep your computer free of malware, we recommend that you always have an antivirus program installed, especially when downloading and installing new programs from the web. At least once a day, run its database update program. This will allow your antivirus to stay up to date with the latest badware threats and better protect your computer data.
If you don't have a powerful antivirus solution already protecting your computer, you should install one from our recommendations: Avast Free, AVG Free, Avira Free, Bitdefender, Kaspersky (50% Discount), NOD32.
2. Choose a safe web browser
An important aspect to keep in mind is what web browser you use. Most browser exploits and viruses target Internet Explorer so it's best you consider an alternative. The safest web browsers available Today are considered to be Mozilla Firefox and Google Chrome. Besides being free, they are both fast, have pop-up blocking, tabbed browsing, with privacy and security features. Give them a try: Download Mozilla Firefox or Download Google Chrome.
3. Learn more about securing your PC
These articles should help you further:
Get the HTML Code for this report
Copy any code from below and paste it into your page.
Graphic Link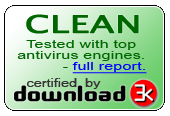 Text Link